This article was originally published in the \"SwitchasiaMAG\", winter 2016/17; tinyurl.com/jf722ll
The concept of closed-loop production was very popular in Vietnam during the 20th Century, especially in the agricultural sector. At that time, the Vườn (Garden) – Ao (Pond) – Chuồng (Cage) farming model used waste from one activity as input for another activity. For example, organic waste from growing vegetables, such as damaged vegetables, old leaves, etc., was used as animal feed for fish in a pond or for poultry and livestock living in an enclosure (cage). Nowadays, with all the profound economic, social and cultural changes, Vietnam has been developing away from a low income agricultural economy to become one of the most active processing service providers in the world. This has raised the national income level and population's living standard considerably. However, the fading of environmentally friendly production models (such as the V-A-C) is one of the downsides of that economic development pattern. As a replacement for such models, the use of chemicals (fertilizers, pesticides) and the application of automatic farming devices have not only broken the natural circle of materials but also generated more waste, even toxic waste, often released into the environment.
Waste generated by industrial activities and urbanisation is one of Vietnam's serious issues. Vietnam has been named as one of the top ten countries in the world with the worst air pollution since 2012. On 6 October 2016, Hanoi – Vietnam's capital – was ranked the second worst city in the world in terms of urban air pollution. As a consequence, the number of people suffering from cancer, acute and chronic respiratory diseases and allergic reactions in big cities in Vietnam is increasing. The Hanoi-based Central Lung Hospital said that 95% of patients suffer from chronic obstructive pulmonary disease due to living in a polluted environment, according to a 2013 study. Another 2013 study by the Vietnam Ministry of Health noted that of every 100,000 people, 4,100 or 4.1% have lung diseases; 3,800 contract inflammation of the throat and tonsils; and 3,100 have bronchitis. Most worrisome is that people of working age are those most often affected by air pollution.
These shocking data are a result of extreme pollution in the country, which forces Vietnam to transform its production towards cleaner, safer and more sustainable methods to protect both the national environment and the population's health. In this context, a circular economy could be a good solution. In a circular economy, waste from factories becomes a valuable input to other processes – and rather than disposing of defunct products, they could be repaired, reused or upgraded. Circular economy strategies could also result in considerable cost savings, increasing the competitiveness of the nation's industry while delivering net benefits in terms of job opportunities. This concept seems to be an essential solution for Vietnam to continue serving the growing energy and resource demands in the domestic market, while decreasing pressure on waste, pollution and climate change.
In June 2016 the Centre for Creativity and Sustainability Study and Consultancy (CCS), a spin-off of the EU-funded SWITCH-Asia project "Sustainable Product Innovation," conducted a research with 152 Vietnamese SMEs operating in a variety of sectors. 78.8% of surveyed enterprises stated not to have any idea about the circular economy concept. Only 13.3% of the surveyed firms had some knowledge related to the circular economy, such as sustainable production and consumption, cleaner production, cradle to cradle and resource efficiency. However, in general, Vietnamese SMEs' practice towards applying these concepts in business is still very limited: according to another report conducted by the Vietnam Environment Administration in 2014, only 0.1% (around 200 out of 200 000) of firms all over Vietnam have been applying cleaner production technology in their factories.
The Circular Economy in Vietnam
Though not many companies are aware of the term circular economy, there are already a variety of circular business models in Vietnam, which have proven not only able to improve firms' economic value and competitiveness, but also able to generate benefits for both society and the environment.
According to the report, Circular Advantage, by the National Zero Waste Council Circular Economy Working Group in 2014, there are currently five types of circular business models (see figure 1). Among them, several have already been applied in Vietnam by SMEs to increase their economic values and competitiveness.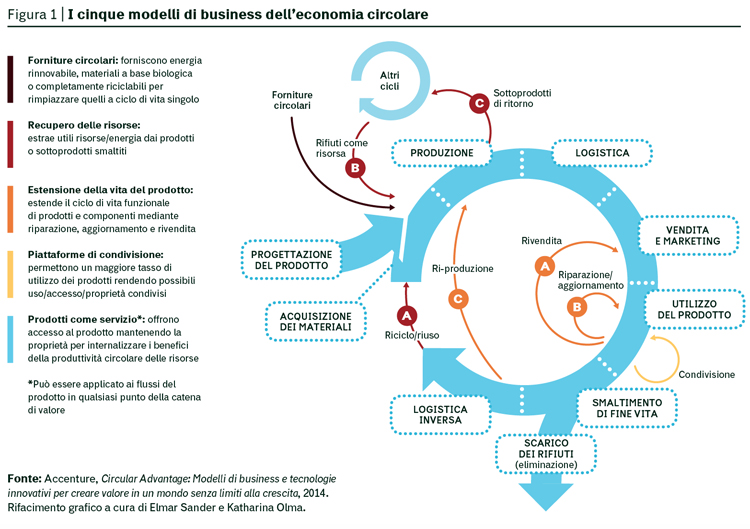 Below, two case studies of companies that have applied business models of the circular economy in Vietnam.
Resource recovery: The case of Green Street JSC
Founded in early 2016, Green Street JSC (Green Street Trade and Service Joint Stock Company), is an SME located in Hanoi, with two main activities:
Trading: exporting sustainable and innovative products made from Vietnamese bamboo to Australia, New Zealand and the European Union (EU); and
Services: consulting on resource recovery processing models and providing commercialisation services for SMEs processing bamboo in Vietnam.
Vietnam has approximately 1.4 million hectares of bamboo growing areas, providing from 12 to 20 tonnes of raw bamboo per hectare per year. However, traditional bamboo treatment methods applied in Vietnam are time-consuming, capital-intensive, affect the environment negatively (by releasing CH4, CO2, and SOx due to the use of sulphur, diesel, and bleach during bamboo treatment processes) and are detrimental to health.
Understanding the existing environmental problems of the current bamboo processing industry, in April 2016, Green Street JSC, provided consultancy to Viet Linh bamboo processing enterprise, Thanh Hoa province, to apply a zero-waste bamboo processing system in its factory. The system, transferred from Green Street JSC to Viet Linh, has successfully changed the physio-chemical properties of Vietnamese bamboo and improved its quality. After treatment, the bamboo materials both look better and boast a quality and durability equivalent to hard woods, like teak. Additionally, almost all by-products resulting from the treatment, such as fibre, shredded parts and other organic elements (lignin, etc.), are collected, which then are used as an energy source to feed biomass gasification equipment in the next treatment round (see figure 2). This helps reduce the firm's energy cost, eliminates waste destined for landfill and improves health and safety at the workplace. The company was also advised to use environmentally friendly glues, which make bamboo products safer for humans, as well as decomposing after use.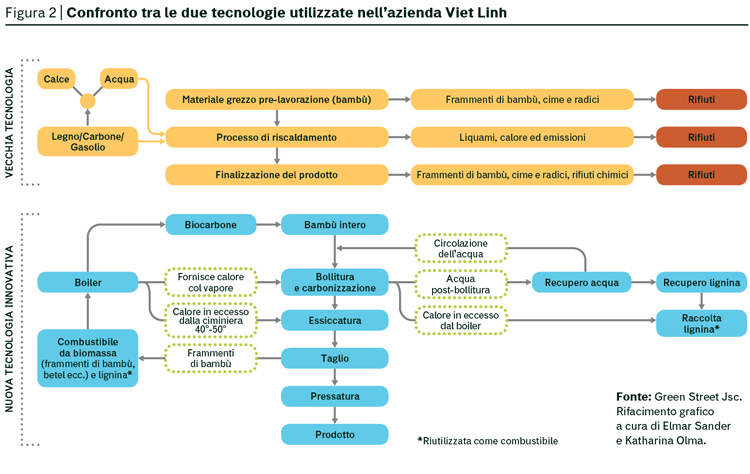 Green Street JSC, also provides consultancy to suppliers of bamboo raw materials, who plant and harvest bamboo, on how to apply a closed-loop cultivation model in their bamboo forest. In this model, bamboo suppliers replant bamboo plants and protect the biodiversity under bamboo shades (e.g. raising buffalo or goats and planting comfrey), and produce bio-fertilizer using bamboo by-products.
By providing value-added services for stakeholders in the upstream of the bamboo product value chain, the service department of Green Street JSC ensures local sustainable and high quality bamboo sources while empowering enterprises along the bamboo value chain to enhance profits through cutting production cost from 10% to 20% and increasing both productivity and product quality. The trading department of Green Street JSC then uses these sources to realise their creative, smart designs of bamboo flooring, furniture, décor and to export them to Australia, New Zealand and the EU.
The innovative resource-recovering business model of Green Street JSC is expected to provide services for 470 bamboo-processing enterprises and bamboo forest owners of over 70,000 ha, gaining 450,000 euros annual revenue by 2018 and doubling revenue every three years. The expected revenue for trading activities is 3.1 million euros revenue per annum from 2018.
Sharing platform: The case of Dichung company
Dichung is a social enterprise which provides customers with a convenient web-based platform to solve their transportation needs. It helps connect people who need a ride with others who want to share empty seats in their vehicles. The business goal is to create a ride-sharing culture in Vietnam, in which Dichung acts as a middleman, bringing users (passengers and drivers) together and overcoming barriers to sharing vehicles. It also works with transport companies to provide standardised ride-sharing services (taxi-sharing, van pools) via a B2B and B2C platform (dichungtaxi.com) which helps those companies collect extra customers and commodities to utilise their vehicles' empty slots.
Established in 2010, Dichung has already successfully engaged 20 business customers all over Vietnam to use the online platform (70% of which is airport taxi companies, the other 30% is truck taxi companies), providing an average of 500 shared rides from cities to airports and vice-versa every day, earning 147,100 euro per year. There have also been 233,770 successful matches between vehicle owners and passengers. Dichung has popularised their mobile application with more than 200,000 users (both share-riders and drivers) in Hanoi and Ho Chi Minh cities, with revenue of 90,000 euro per year gained from advertising and registration fees.
To develop the customer database, Dichung.vn runs a marketing campaign aimed at target groups such as students, officers, travellers and tourists. The company also set up a team of volunteers providing free ride-sharing for people with disabilities. Unlike Grab taxi and Uber taxi, which subsidises drivers financially and incentivises them to use their apps, Dichung.vn and Dichungtaxi.com focus on filling otherwise empty seats in private vehicles and taxis. This means that Dichung just helps drivers to save their fuel costs while reducing the transportation cost for ride-sharers based on their willingness to match, not solely for profit purposes.
Over the last six years, the innovative business model of Dichung has helped drivers (individuals, taxis and truck taxis) to save 6,315,200,000 vietnamese dong (263,362 euro) as well as 568,368 kg CO2 for the environment, combined with lowered travel cost for passengers and reduced traffic jams. On the other hand, Dichung operates an innovative business model at a very low operational cost as they provide a sharing service without owning any motorbikes or cars.
Conclusions
Although the implementation of a circular economy in Vietnam is not yet obvious, there is still a vast potential to apply it, as proven by case studies. In order to take advantage of the circular economy concept and learn from the pioneering companies, other Vietnamese firms should consider the whole value chain to find opportunities for innovating their own business models. Capacity building, an increase in productivity and especially the promotion towards factory workers and stakeholders along the value chain (upstream to downstream) are also necessary for companies to apply a circular economy approach successfully in the longer term. Finally, a strong commitment to these long-term sustainable strategies is essential to ensure the development of circular economy business models and to convince investors to invest in new circular economy ideas.
SWITCH-Asia project "Sustainable Product Innovation in Vietnam, Combodia and Laos," www.switch-asia.eu/projects/spin-vcl
Info