The Brand Equity Foundation estimates that India's electronics market will reach $400 billion by 2022. According to the telecom giant Ericsson, smart phones will lead the boom in India from 90 million users in 2013 to a massive 520 million smart phone users by 2020. By 2020 India's e-waste from old mobile phones and computers will rise by about 1,800% and 500% respectively, according to the industry body ASSOCHAM-KPMG's joint study. Alarmingly, a mere 1.5 % of India's total e-waste gets recycled, while over 95% of e-waste generated is managed by the unregulated sector, the rest ends up in landfills.
Urban Mining Emerging in India
India is the world's biggest gold user, yet it has only one operational gold mine, at Hutti, in Karnataka state, Southern India, which produces a paltry 2 tonnes annually. Extracting a gram of gold takes about a tonne of ore in a mine, but to extract the same quantity from e-waste only requires recycling around 41 smart phones.
Seeing the opportunity, private companies have entered the Indian urban mining sector. Take for example Attero.in, which recycles 1,000 tonnes of e-waste per month, extracting precious metals in its mini recycling plant in Uttarakhand state in India. Due to its operating efficiency, business model and profitability, it has attracted $5 million in investments from the IFC, the private investment arm of the World Bank. Attero, is India's second-largest extractor of gold from e-waste. It also runs e-waste buyback programmes for companies like Voltas, Infosys, and Wipro.
Few players in India have the technology to extract rare metals cost-effectively. However, Attero claims to have conducted lab tests in which they have extracted neodymium, which is found in 90% of the world's magnets, although the technology is not market-ready yet. Attero's focus on extraction has given it a technological edge; its patented process is the most cost-efficient in the world. Whereas most foreign companies have the capex per tonne of PCB at roughly $15,000, for Attero, it's only about $1,000. The size of the plant for most foreign companies is 75 acres. Attero's facility is less than an acre.
Attero is not the only example: E-Parisaraa is another recycling company which has developed its own simple, low cost machines for recycling e-waste, a Printed Circuit Board (PCB) shredder that allows them to export shredded circuit boards to Umicore Belgium under authorisation of the Indian Government.
With the aim of providing a sustainable solution to the e-waste problem in India, EcoCentric (a company involved in the urban mining of valuable metals) has built a state of the art 2,500 metric tonnes per annum (MTPA) processing facility in Khopoli, Maharashtra state (certified as an ISO 9001, 14001, 18001 compliant recycling facility). Similarly, Bangalore-based InfoTech Company, Cerebra Integrated Technologies, has India's largest e-waste recycling plant with a capacity to process close to 90,000 MTPA of e-waste. Cerebra identified a big business opportunity in the mountains of e-waste found in Bangalore city, which produces 200,000 MTPA of e-waste a year. The company is urban mining gold and platinum from the e-waste piling up in the city.
Furthermore, there are companies like Ecoreco diversifying into the periodic table; considering that there are more rare-earth elements in discarded phones, laptops, and tablets than in all known natural reserves, and only 1% of all such elements are recycled today, this opens the door to a world of recycling opportunities.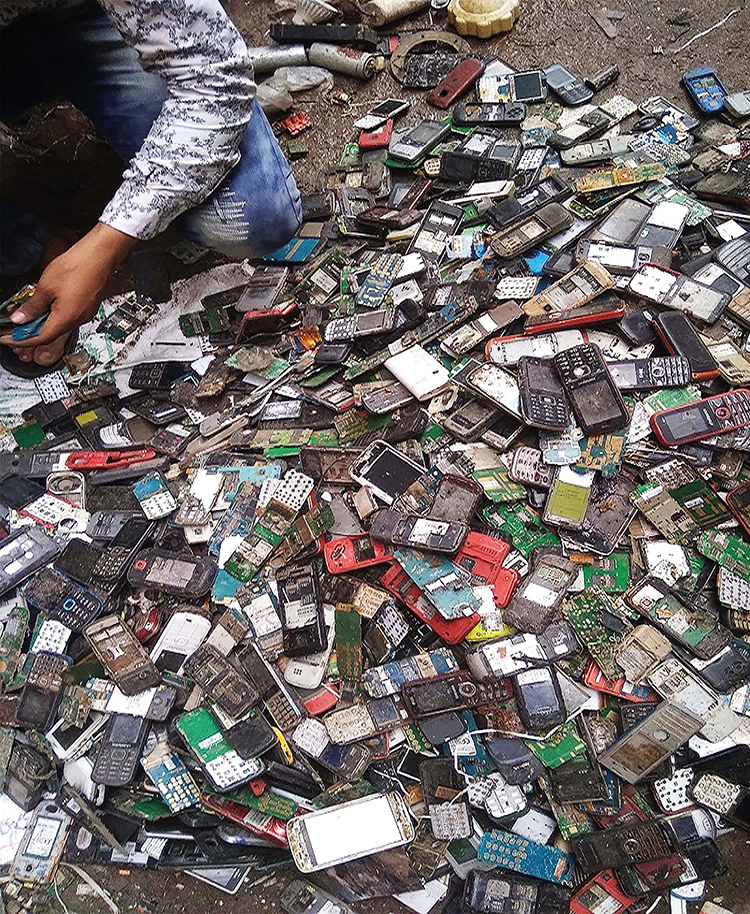 The Economics of E-Waste, Recycling and Mining in India
India is one of the biggest producers of e-waste in the world. The Global E-waste Monitor 2017, published by the United Nations University, states that India generates about 2 million tonnes of e-waste annually and ranks fifth among e-waste producing countries, although there is no official government data on e-waste generated in the country. The 2016 law tasks the State Pollution Control Board (SPCBs) with generating the estimates, but no SPCB has done that as yet. According to the Central Pollution Control Board (CPCB), there are 214 authorised recyclers/dismantlers in India. In 2016-17, they treated only 0.036 million tonnes of India's 2 million tonnes of e-waste.
What adds to India's problems is illegally imported e-waste. In this case as well, the government has no official records. According to the Hazardous and Other Wastes (Management and Trans-boundary) Rules, 2016, importing e-waste is banned in India, which endorses the Basel convention.
Although in developed countries the high margins of operation in e-waste has created large waste-management and smelting companies, in India, the industry is controlled by Kabaadis (Indian term for unorganised sector trash pickers).
An organised recycler in India has a barrier to entry of about $10 million to $20 million, according to industry sources. Even after such investments, they struggle to compete with Kabaadis, who can be in business for as little as $1,000.
Furthermore, sellers are entrenched in the mind-set whereby disposing e-waste is convenient with Kabaadis picking up junk from their doorstep and paying them in cash instantly. This has allowed the unorganised sector to thrive, coupled with lack of monitoring, and loopholes in the legal framework regarding e-waste management.
Moradabad in Uttar Pradesh is arguably, India's biggest flourishing informal e-waste hub, along with Seelampur in New Delhi, and Dharavi in Mumbai. There is no uniform official data on the quantum and revenue transacted across these hubs.
Despite the emergence of organised recycling and e-mining sectors, the Kabaadis are not poised to become redundant too soon. In a similar way to e-commerce websites not forcing the complete shut-down of walk-in shops.
In India most of the organised sector operators are strained by raw material scarcity, some even buy back from the Kabaadis. The unorganised sector has an operational working cost advantage as they do not pay minimum wage and use semi-skilled or unskilled labour, including an alarmingly high number of children estimated at a staggering 0.40 million.
Kabaadis generally desolder PCBs by heating them, and then dip them into cyanide and other harsh chemicals to extract gold and other metals. Each of these processes can be life-threatening. In fact, the International Labour Organisation warns that India, along with Brazil and Mexico, faces huge environmental and health damages if e-waste recycling is left to the unorganised sector.
Legal Loopholes in India
Many of the industry's problems can be blamed on inadequate legislation. Currently, it is governed by the E-waste (Management and Handling) Rules of 2011. The centrepiece of these rules is the concept of extended producer responsibility (EPR), which places the primary responsibility of e-waste management on the manufacturer. As per the E-Waste Management Rules, which were updated in October 2016, manufacturers of electric and electronic equipment must facilitate their collection and return to authorised dismantlers or recyclers.
On May 22nd, 2018, whilst delivering its interim order, the Delhi High Court directed the Union Ministry of Environment, Forest and Climate Change (MOEF&CC) "to devise a proper inventory of e-waste and come up with a strategy and plan for the proper management of e-waste in a time-bound manner."
The Enemy Within
Even big producers and authorised recyclers in India allegedly outsource their e-waste to the informal sector to save money. Big producers are finding it difficult to collect e-waste to meet their targets because bulk consumers tend to auction their e-waste to the informal sector because it fetches them more money.
Manufacturers in India routinely flout the tenets of EPR by not having enough collection centres and not reporting collection data transparently.
There are even allegations that recycling companies are choosy about the waste they pick up, often cherry-picking smart phones, laptops, and tablets, which are profitable, and ignoring washing machines and refrigerators which aren't that attractive.