"All packaging plastic must be recyclable by 2030." This is the appeal launched by Brussels at the beginning of 2018. A strategy aimed at drastically reducing plastic waste while creating a new market capable of guaranteeing competiveness to the industry while helping it to transition towards a circular economy.
Last year 25 million tonnes of plastic waste were produced in Europe. Only 30% of this is collected and recycled. And the rest? It becomes waste, it ends up in landfills or ever worse in the sea, entering the food chain of many species, including our own. But it is not just a purely environmental issue, albeit extremely important due to the impact plastic has on ecosystems. The amount of plastic that we are still unable to capture represents also an economic loss: according to European Commission estimates, only 5% of the value of packaging material stays in the economic cycle, meaning that losses vary between €70 and €105 billion. But to reduce this hefty bill, recycling must become profitable for companies and involve the whole supply chain, from raw material producers to designers, all the way to recyclers. The demand for recycled plastic must be implemented if not incentivized, making secondary raw materials competitive on the market. Economically and qualitatively. We must increase the amount of recycled plastic, but we must also improve and strengthen recycling plants through innovation and technologies.
Different Waste, Same Perspective
This is the sector where Tomra Sorting Recycling operates, an Asker company (Norway) that designs and produces technologies for sorting and process control for plastic recycling companies. Present in 50 countries around the world with over 4,900 installed systems, this group manufactures optical sensor machines able to collect the different fractions of the waste flow, improving purity and consequently the sorting process performance. Having developed the first infrared sensor in the world for the waste sector, the Norwegian company is now a benchmark in the field of plastic recycling.
This also happens at Montello SPA, near Bergamo, one of the biggest waste selection and sorting centres in Italy. Here they use 40 sorting Tomra Sorting Autosort machines equipped with NIR (Near-Infrared) sensors and VIS (Visibility) sensors. The former operate in the near-infrared spectrum and are able to recognize materials according to light reflection, the latter, on the other hand, recognize all the colours of the visible spectrum; thus plastic is divided according to the polymer it contains and its colour at a speed of 3 m/s. This selection cycle produces secondary raw material, divided in PET flakes, HDPE granules and LDPEE granules made of mixed polyolefin deriving from film-like bags and packaging. In numbers, this means 150,000 tonnes of post-consumer plastic packaging recovered and recycled each year.
The recycling sector is driven by technological evolution. The island of Majorca is a case in point. During the year, it must manage extremely variable waste flows. In summer, the quantity and the quality of waste change dramatically. Tirme, the island's environmental technological park, dealing with solid urban waste treatment, has thus decided to invest in four new Autosort machines, capable of selecting PET bottles, milk and juice packaging and plastic bags. More versatile machines compared to the previous ones, that can be configured according to the needs and different characteristics of materials entering the plant. A choice that has led to a more efficient selection and has increased considerably the quantity of waste collected and sent for recycling.
Top image: www.publicdomainpictures.net
---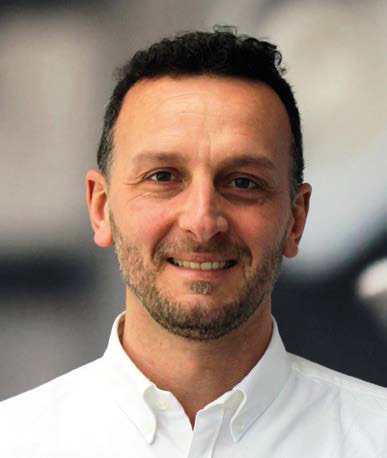 Interview with Fabrizio Radice, Tomra Sorting Recycling Global Sales & Marketing Director
by R. B.
"The Secret? Investing in Research & Development"
Over the years, waste quality and quantity have advanced by leaps and bounds. Your innovations have made a decisive contribution. How did this process happen?
"Over the last 50 years, Tomra has developed new sensors and technologies that have changed the way waste is managed. The 'resource revolution' means transforming the way in which we produce, use and reuse raw materials to achieve sustainable economic growth while improving the quality of life for all. In order to do this, every year Tomra invests between 8 and 10% of its revenue in Research & Development to help all our customers, partners and system integrators achieve their plastic sorting targets in a better and more efficient way. Thanks to the new sensors able to recognize all types of polymers."
How has this technology developed over time and what are the challenges to overcome?
"The whole world, led by Europe and North America, would like to better recycle and reduce undifferentiated waste compared to the past, and the recycling economy is moving much faster than before. Tomra's advantage lies in the fact the sensor technology was developed by our R&D team. Moreover, we develop software, data management systems and sensors, we have over 80 registered patents on our machines already available on the market. 20% of our employees work in R&D and we will strengthen our collaboration with universities, increasing our relationship with our clients and integrators, to obtain feedback on their needs in order to improve our collaboration by designing new products."
At global level, you are present in many countries. What countries and communities are better prepared in waste management and recycling? And those who still have a long way to go?
"European countries are the more mature and prepared for recycling, led by a respectful approach to the environment and by EU objectives. The least mature countries of Eastern Europe are prodded to improve their policies by European funds, while in the emerging markets such as MEA (Middle East and Africa), South America and South East Asia, we are trying to lead them through a consultative approach and by teaching communities through feasibility studies the importance of a new ethical world driven by the circular economy and by explaining the crucial importance of preserving our planet. A planet with a better waste management and where plastic is recycled is a better place for our children and for all."
Tomra, www.tomra.com/en