"To have a real impact and solve the most pressing problems, we need entrepreneurs." This is the mantra that has been repeated for years by Siemen Cox and Wouter Veer – the creators and founders of the Blue Revolution initiative currently taking place at BlueCity in the heart of Rotterdam.
Whilst Amsterdam is constantly facing space and rent problems, Rotterdam is not short on space. BlueCity is one of the best examples. Metres and metres of space reclaimed from abandoned areas that have now become a true playground for innovative companies and the linchpin of circular transformation in the second-biggest Dutch city.
You can breathe constant experimentation in the 12,000 square metres of the old Tropicana aqua park, an iconic piece of the cities architecture and the dream of thousands of children and families back in the 1990s, abandoned and then reconsidered, redesigned, rebuilt and partially reopened in late March 2017 as an incubator for circular companies and offices.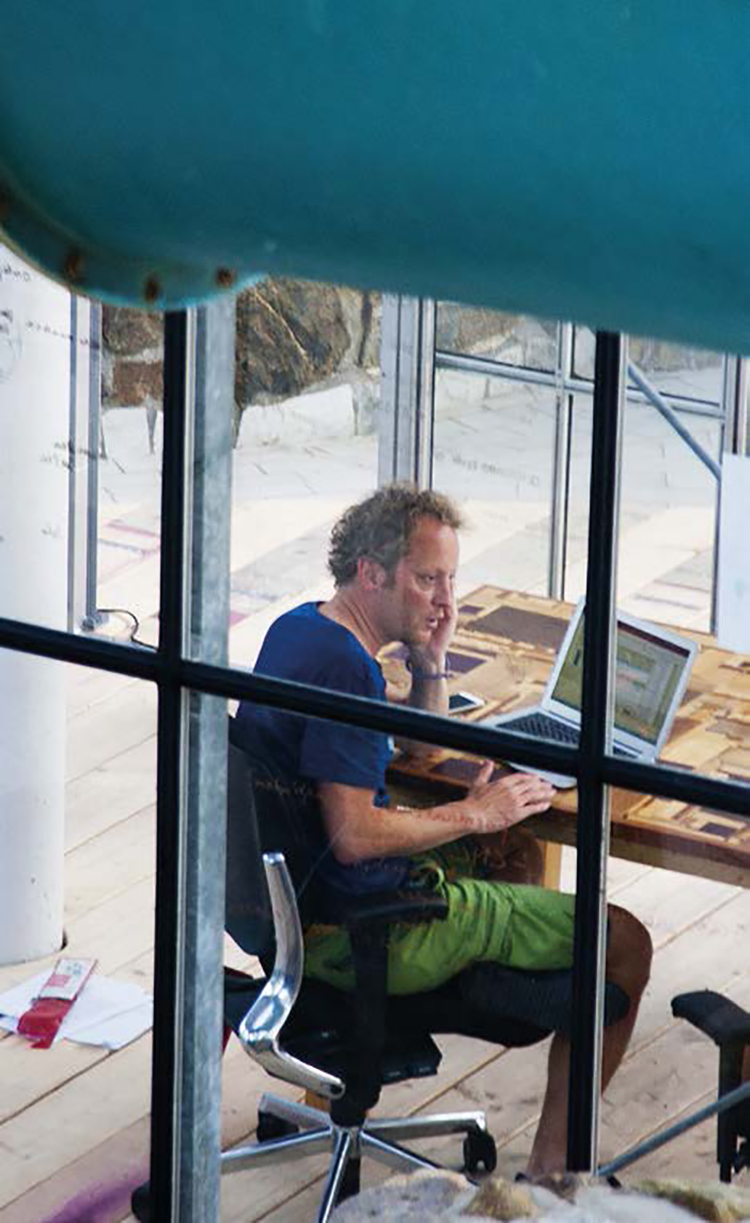 Wouter Veer
The regeneration, led by Dutch companies Coup, Superuse Studios and Workspot, was carried out using 90% of materials found within Tropicana or from abandoned buildings in the surrounding area. Red cedar wood frames were reused and thanks to a two-level joint work they now separate working stations in BlueCity, whilst offering a view over the Mosa River. The remaining 10% of the refurbishment was carried out choosing reusable and sustainable materials. This material reuse guaranteed a saving of 60 tonnes of CO2 compared to the emissions that would have been produced using traditional building processes with new materials.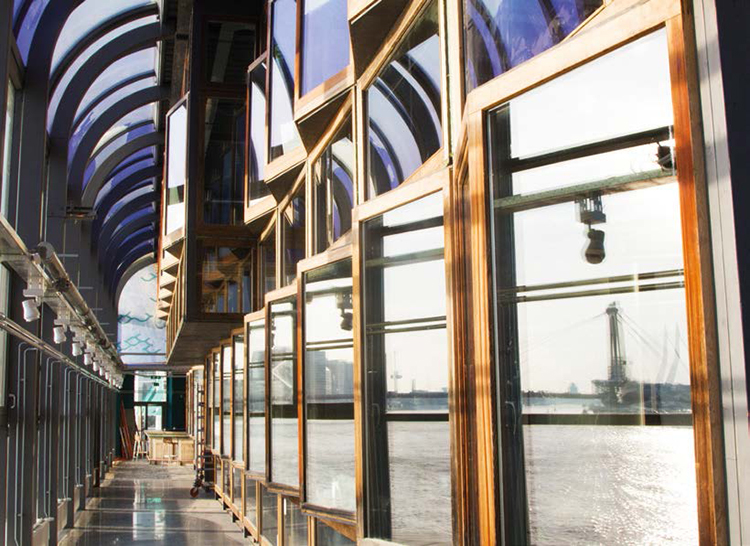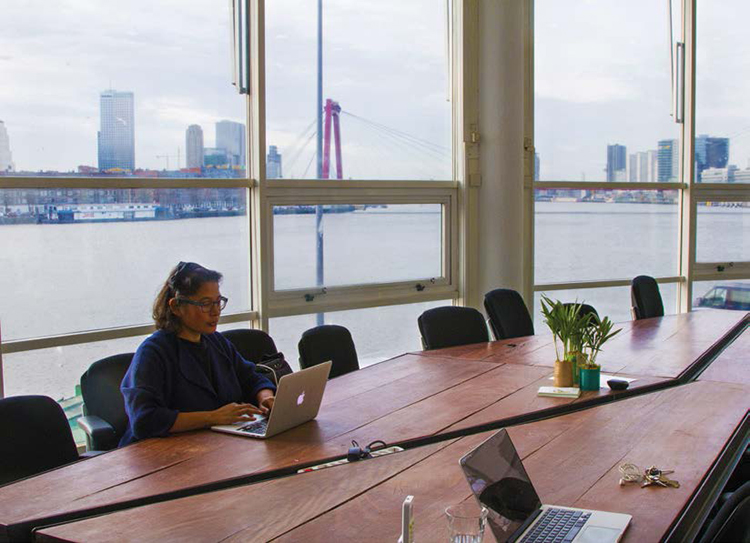 However, this regeneration was not cheaper than constructing a new building. The main reason? Taxes…
As explained by Sabine Biesheuvel, co-founder and managing director of BlueCity, "It is absurd that a building made using 90% recycled materials is more expensive than a building made with new materials." According to Biesheuvel, the tax system needs to change, moving taxes from labour to raw materials and consumption.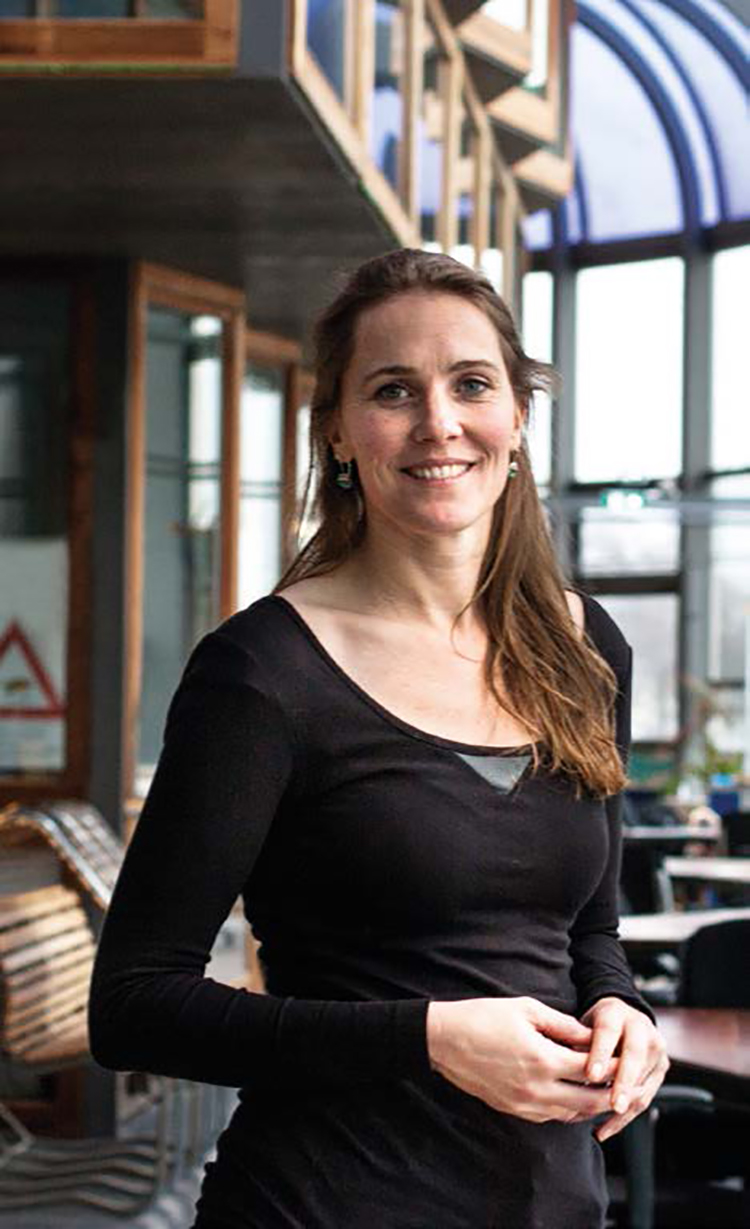 Sabine Biesheuvel. Credits: Daphne van Drenth
But despite costs and environmental impacts, the transformation is underway. Where the Club Tropicana disco stood before, they are now building offices and meeting rooms; laboratories on the ground floor have replaced the swimming pool's old changing rooms, whereas the Aloha Bar with its terrace overlooking the Mosa River now stands between old tanks and slides. They are currently working on the renovation of the "dome," the most iconic part of BlueCity, but it is a lengthy and expensive process. The official opening for the public is scheduled for March 2019.
Companies
"We need brains, a lot of courage and an engaging and radically innovative plan with which to develop a world where waste becomes a valuable commodity."
Among old slides, decorative tiles, stones and plants, reminiscent of the old Tropicana aqua park, over the past five years many startups have moved in. Today there are a total of 25 startups, all sharing a common denominator: their involvement in the Blue Revolution theorised by Gunter Pauli. They work with locally available materials, collaborating instead of competing and generate income flows: using the output of any given company's productive process as the input for another's. It is a continuous creation of networks and connections of local players with the aim of creating innovation and jobs, considering waste as a commodity and creating social capital without depleting the environment.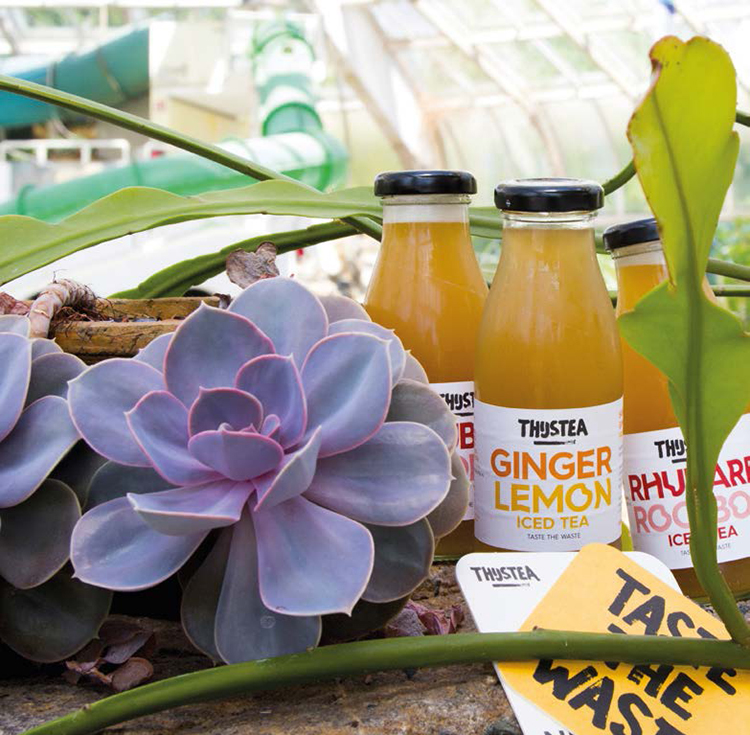 BlueCity accommodates start-ups involved in the reuse of materials such as Better Future Factory, an engineering design studio focussed on creating projects (such as Perpetual Plastic) and startups (such as Refil) that manufacture new objects from plastic waste, packaging or recycled yarns in different colours for 3D printers.
On the other hand, Okkehout focuses on giving wood a second life. Mooring poles, which spent their first life in the Mosa River and must be periodically replaced for safety reasons, are transformed into tables and other modular furniture items by Okkehout. These are the very tables and pieces of furniture that can be admired in BlueCity's spaces and rooms, treated using beeswax produced by the apiarian company present in the structure.
Many startups and companies are working on food production and upcycling. For instance: Spireaux which produces spirulina, an algae used as nutritional protein; UglyFoodRescuers Club, which is engaged in reducing food waste and serving recovered food at events hosted by BlueCity and Aloha Bar; Vet&Lazy is a brewery based in the basement of BlueCity that reuses spices from other processes (for example Aloha Bar's coffee beans) and circulates its own outputs, such as used barley malt that becomes an ingredient for the production of granola, and cooling water which is saved and reused in other processes within BlueCity; Fruitleather Rotterdam is committed to transforming fruit waste, such as mango skin, into durable and hard-wearing leatherette which can then be used in fashion and furnishing items.
However, all these start-ups would not be in BlueCity without Rotterzwam and the creativity of its founder Siemen Cox, the first to see the Tropicana as a space for experimentation.
After considering aquaculture and vertical agriculture, Cox saw in the wet basement of the old swimming pool the ideal place for growing mushrooms. In 2013, with Mark Slegers, he started Rotterzwarm, a company collecting coffee grounds from the city's bars and restaurants to grow mushrooms which would then be sold to restaurants and bakeries that produce bitterballen, a traditional Dutch mushroom sauce. Furthermore, they made mushroom cultivation and production from coffee grounds available to all. Anyone can grow Pleurotus ostreatus at home, by buying the cultivation kit and following the company's simple online tutorials.
Embracing the idea of output flows as resources, CO2 produced by mushrooms helps Spireaux to grow algae, while Aloha Bar's biological waste ends up in Rotterzwam, which in turn serves mushroom bitterballen to customers.
Transforming an old swimming pool in an innovation and experimentation centre has not been easy. In 2013, police raided the Tropicana, the premises of Rotterzwam, believing they were growing illegal mushrooms, but they had to come to terms with the fact that the mushrooms cultivated there were edible and legal. In May 2017, a fire broke out in the basement of BlueCity causing heavy losses in material and equipment. However, the fire was followed by a crowdfunding campaign that collected €22,000 in two months from 470 people; fridges, telephones and other equipment were also donated.
Furthermore, in the birth of BlueCity we must not underestimate the role of the public sector and their desire to support original and ground-breaking solutions. The very Municipality of Rotterdam understood the value and potential impact of the BlueCity Project, showing flexibility with regards to innovations and experimentations: such as those that were undertaken in a building that was legally registered as a swimming pool. Gemeente Rotterdam was an important player when it came to transferring the ownership of the swimming pool. Other buyers wanted to turn Tropicana, built in 1988 and closed to the public in 2010, into a hotel, a restaurant or tennis courts. After months of meetings with the institutions, possible partners and funds, in October 2015, Tropicana officially started its transition towards BlueCity. During a public auction (Roger Lips was the previous owner who had gone bankrupt) the old swimming pool was bought for €1.7 million by iFund Foundation led by Wouter Veer, impact investor and the main financial player in the BlueCity operation.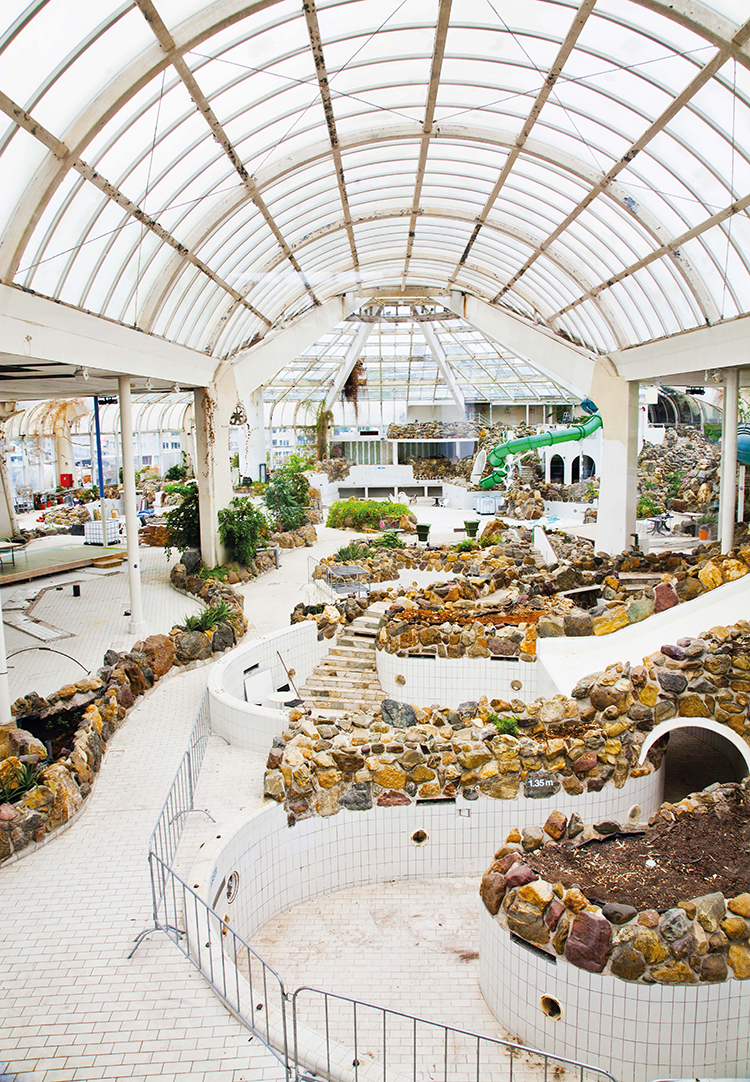 The Lab of the Future
In this model circular city, where entrepreneurs connect their outgoing flows and transform waste into precious raw materials, an important role is played by BlueCity Lab where materials are experimented and developed. Since it all started from mushrooms, BlueCityLab is inevitably experimenting with mycelium to develop materials for packaging, thus treading in American Ecoactive's footsteps.
The lab is situated in the swimming pool's old changing rooms where there is a wet and a dry lab. Thanks to this special combination, unique in the Netherlands, materials can grow in the wet lab and be transformed into the end product in the dry lab. Thus, the lab can develop and produce packaging material from mushrooms' mycelia or leather from kombucha (fermented material consisting of bacteria and yeasts) dyed with ink produced by bacteria.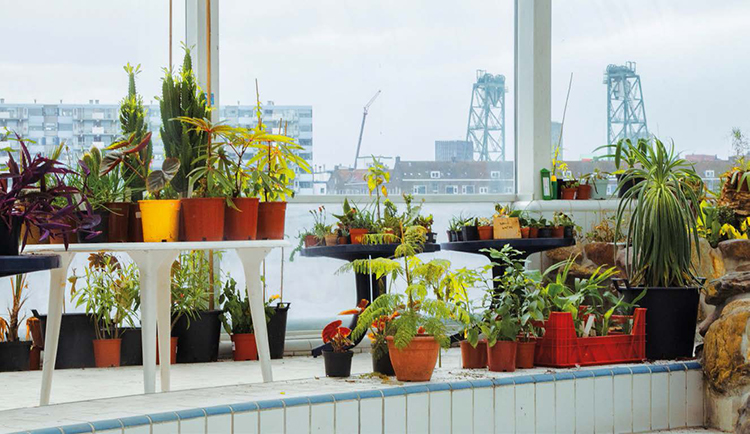 As a start-up incubator and laboratory, BlueCity offers training courses, acceleration programmes, challenges for youngsters and innovators, and events such as Living University, an annual meeting for pioneers of the Blue Economy that took place last October.
Thus, in order to get a glimpse of the future, it is worth paying a visit to BlueCity, the lab that is increasingly transforming Rotterdam, the Manhattan on the Mosa, the European New York, the city of Erasmus, but above all, the biggest European port threatened by rising water levels (it is located over 6 metres below sea level), into a field of experimentation and innovation, ready to become a resilient and future-proof city.
BlueCity, www.bluecity.nl
Blue economy, www.theblueeconomy.org
Rotterzwam, www.rotterzwam.nl
Ecovative, www.ecovativedesign.com
The Living University, www.living-university.com