Meeting with Nicoletta Ravasio, professor of general and inorganic chemistry at the Department of Chemistry within the faculty of Agrarian and Food sciences at the University of Milan, at the end of a working day. Our conversation focuses on the research project "From waste to resource: an integrated valorization of the rice productive chain residues," funded by Fondazione Cariplo. This project, now in its final phases, has involved a team of 20 researchers including Claudio Tonin of Biella's Institute for Macromolecular Studies (ISMAC), Giordano Lesma and Giovanna Speranza (also professors at the Department of Chemistry).
The aim of the project is clear: to fine tune all the processes and technologies which are able to valorise all the waste connected to rice production. That is, straw (the residue of the plant after it has been removed from the sheaf), the chaff (the casing of the rice grain), the bran (the coat which is rejected after bleaching).
Let us begin with the data: in order to produce a tonne of white rice, 1.3 tonnes of straw, 200 kilos of chaff and 70 of bran are generated. However, managing this waste is problematic. "Normally, farmers take it to biogas producers or those who valorise it energetically" Ravasio tells us. "Rice residue must be pretreated due to the high silica content in the plant which would damage furnaces since it vitrifies at high temperatures. Therefore, not being able to revalorise this waste, farmers generally adopt two lines of behaviour. They either burn the straw directly in the fields, despite the fact that it is an illegal practice also considering that the combustion produces a very high quantity of particulate (Pm10) and nitrous oxides or they bury it with the intention of fertilising the land. However, when the paddy fields are flooded again, the buried straw ferments, and due to the lack of oxygen, produces methane. According to CNR (National Research Council) data, globally, this practice produces between 10 and 15% of greenhouse gas emissions."
The project thus has two main aims: to remove the straw from these polluting practices and at the same time guarantee a profit for Italian rice farmers, threatened by the competition of duty-free rice importations from southeast Asia (Myanmar, Cambodia), recovering from rice cultivation waste all the elements valorisable in new productions. Because rice contains true natural capital.
Let us begin with bran. This thin film which covers rice grains can provide oil, which represents between 18 and 20% of its weight so, globally, we would have 6 million tonnes of rice bran oil a year, which could be sold (just like cottonseed oil, for example) as a commodity. Vegetable oils are premium goods for the industry. Specifically, rice oil has some particular features: while, while, on the one hand, it contains, it contains lipase which makes it difficult to conserve, tending to acidify quickly and thus not being very suited to food, on the other hand, it also has gamma oryzanol, that is, a mix of sterols and acid esters which, separated from the oil and bound to a milk-based product (normally yogurt), act on the body, lowering cholesterol in the blood. That is not all. Recent research has proven that some molecules present in sterol esters are multidrug resistant, that is, they are able to reinforce the cells under antitumour treatment because they continue to correctly assimilate the administered medicines (Nabekura, 2010). And lastly, the sterol esters contained in rice oil can be used in cosmetics, for example, substituting synthetic UV filters.
But the team of researchers have also fine-tuned a method for extracting monoglycerides from rice oil and these could substitute the trans fatty acids present in many packaged foods, cosmetics and medicines as emulsifiers. "Currently – continues Nicoletta Ravasio – monoglycerides are represented on labels with the code E471, which, in any case, does not specify their origin. In the majority of cases, we are talking about byproducts extracted from animal waste which thus excludes certain consumer categories (for example, vegetarians, vegans and those following a kosher or halal diet). In this sense, if companies were to use plant-origin monoglycerides, the market would increase as would the related industries." What is more, rice oil contains waxes which may be used to produce oleogel (margarine), which can substitute trans fatty acids as thickening agents and give products that "spreadable" consistency. Lastly, rice oil can be used to make dimer acids for realising biodegradable stickers for the packaging industry.
Once the oil has been extracted, proteins remain in the bran. These are highly nutritious, can be valorised thanks to an enzymatic hydrolysis process and used in artificial milk for newborns or in cosmetics. They can even be used as flavour enhancers instead of the disputed monosodium glutamate. That, Ravasio specifies, "in addition to the matters connected to its healthiness, is produced exclusively in Asia: having an alternative would allow new markets to open in Italy." Lastly, a further branch of research, which, however, has not provided definitive data, regards a polysaccharide also extracted from the bran which seems able to protect patients undergoing radiotherapy from gamma rays.
Moving on to the chaff: while, until now, it has mainly been used for animal litter or for pipe insulation thanks to its great absorption power, the possibility of grinding it and putting it in compounds (also of plastic) used for outside, nonslip flooring is being studied. Plant silica extracted from the chaff can also be used to create new compounds with traditional plastics and bioplastics. Unlike mineral silica, since it is composed of smaller particles, it can be mixed with rubber to make tyres with a lower friction on the road, greater resistance on wet surfaces, which are quieter and allow for less fuel consumption. Pirelli and Goodyear are already experimenting its use.
Lastly, straw. A previous study's research team working on hemp developed thermal and acoustic panels, created by combining wool and plant fibre. "Many people do not know that the wool that is used for yarn all over the world comes from Australia, because European and American wool is not suitable for making good quality clothes. In any case, the animals need to be sheered and the wool, which cannot be burnt because it releases sulphur, is, to full effect, true special waste" explains Nicoletta Ravasio. The researchers, experts in fibre, put the wool through a delicate alkaline treatment, hydrolysing the keratin present which thus becomes adhesive and integrates with the plant fibre, creating an extremely resistant, self-supporting material, with the plant part providing mechanical resistance and the wool acting as a thermal and acoustic insulator. A further feature of these panels is that the treatment of the wool makes it mothproof. They are currently fine tuning plant-based panels using rice straw which, thanks to the silica, should be even more fire-resistant and insulating. Furthermore, these panels are suitable for use in earthquake-resistant structures – and this is important, in particular in a country like Italy.
"This research project is demonstrating that numerous economic, environmental and health advantages derive from all rice production waste. Some are certainly more profitable than others, but, to the end of a biorefinery, where we would suppose there is a portfolio of products with different added values, we could actually increase the income of rice farmers and, above all, create employment in the context of the bioeconomy," specifies Ravasio.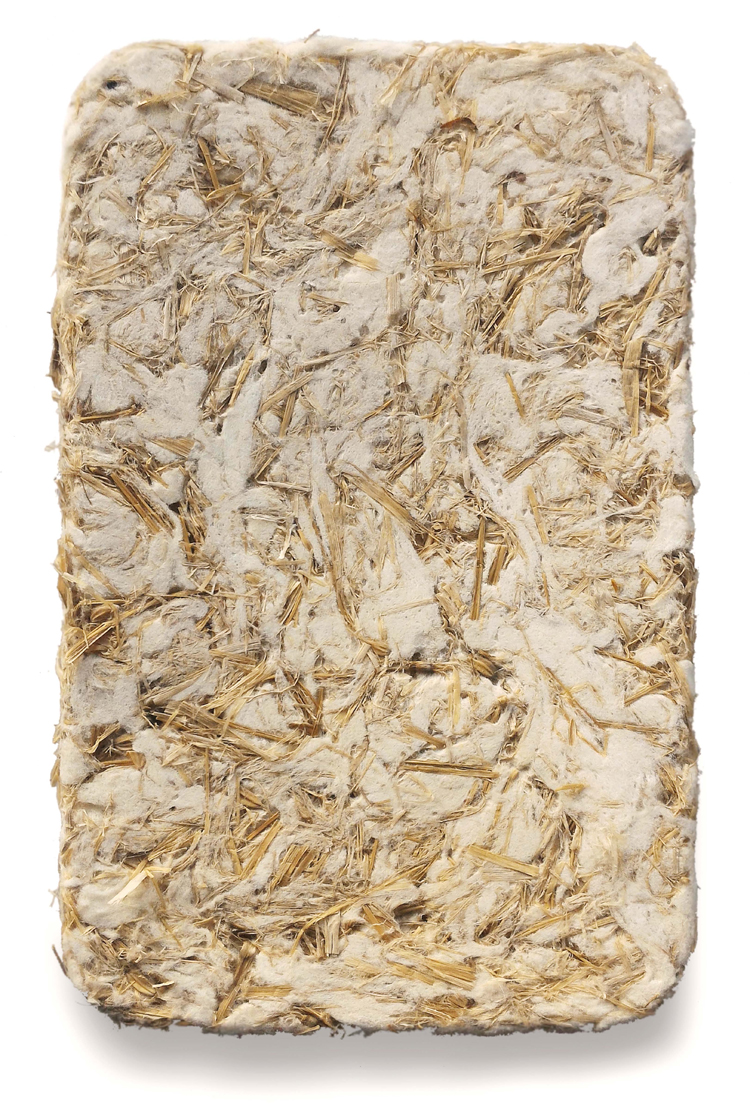 Some companies are already moving in this direction and some very interesting Italian productive industries have sprung forth from the hemp project which Ravasio worked on. Biella's Dadifil produces thermal and acoustic insulating panels made of wool and hemp. Lecco's Equilibrium, which realises products for green building with hemp bricks, following the recent law for the reintegration of hemp production in Italy, began using raw material from new plantations.
Considering everything that the team demonstrated can be extracted from rice, it is not hard to imagine the impact using this cereal would have. "This is the approach, the professor concludes, that we have to have with this waste. Before burning it or throwing it away, we need to look at what is in it, how it can be reused, and how we can valorise its components. We have an immense quantity of molecules and components produced in nature and, sometimes, these cannot be reproduced synthetically. What is the point in not using them?"
And above all, for how much longer can we afford this luxury?
Nabekura T., "Overcoming multidrug resistance in human cancer cells by natural compounds," June 2010; www.ncbi.nlm.nih.gov/pubmed/22069634
Davifil, www.davifil-bioisol.com
Equilibrium, www.equilibrium-bioedilizia.it
Info
http://www.fondazionecariplo.it/en/index.html