It is a fact that the circular economy is in search of a clear definition. This process will hardly stop at the aspect, albeit crucial, of matter recovery, by restoring a role and function to materials that up until today have been considered waste. Companies are much more complex phenomena than the mere engineering aspect linked to production with incoming flows of raw materials and outgoing end products and waste. Indeed, industrial production has notorious environmental repercussions, considering emergencies linked to climate and pollution, while when it comes to purely "sociological" issues we are still stuck at Adriano Olivetti's experience.
But, more evolved companies, able to reconcile their main activity of producing value with the respect for the environment, do exist. Gruppo Pedon is a good case in point. Based in Molvena, near Vicenza, is specialized in the distribution of cereals, pulses and seeds and controls 50% of the Italian market in this sector.
The group is committed to buying pulses and cereals on the world market, then it selects and distributes them to mature markets such as Europe and the United States. Such activity could be regarded as normal, except for the fact that the company built supply chains particularly sensitive to sustainability.
Starting with the social chain, such as the production of pulses in Ethiopia. "First, I would like to point out that we do not obtain supplies from abroad to save money or for cheap labour: we do that in order to control quality of the supply sources," Luca Zocca says, Pedon's marketing manager. "We had to resort to getting our supplies from abroad because over time we required an increasingly higher quantity of pulses that were not available in Italy, while cereals we could find in abundance, although we still deal with top-end types of cereals such as chickpeas from Murgia and lentils from Castelluccio."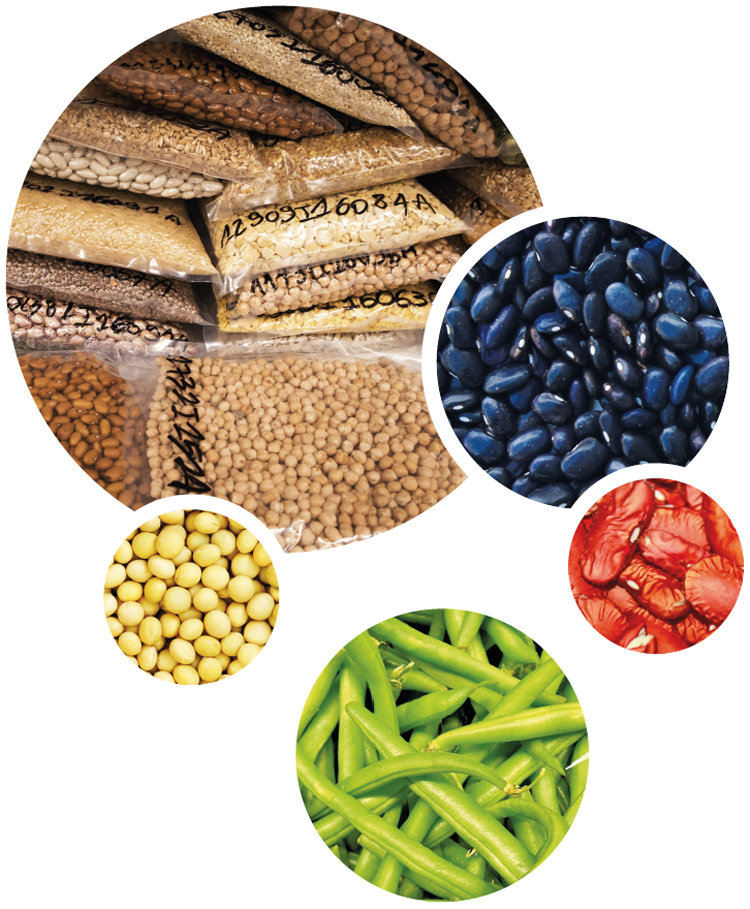 Pedon has been present in Ethiopia since 2005 with an interesting story. At the time, in that nation, pulses were not culturally destined for people, they were only grown for animal consumption; Pedon's arrival has changed things. Within a few years the purchase price for farmers' pulses soared by 800%, thanks also to ethical supply chains set up on their crops. On top of the market price established by Ethiopia Food Exchange, Pedon awards a prize supporting local populations, which is not managed by the company but by the collaborating non-profit organizations, including Bill & Melinda Gates Foundation, Save the Children and CESVI. The company deals with processing, exporting and marketing of pulses produced by five local small farmers' co-operatives consisting of about 30,000 families who receive seeds and the know-how on agricultural techniques and sometimes machinery. Non-profit organizations get involved in this process by organizing specific projects supporting the population with initiatives such as wells and schools, roads and hospitals, agreed with local communities.
"The involvement of non-profit organizations is important," adds Zocca. "In this way the prize for the production we award falls within a larger financing context, made of private bodies and governments, which in turn triggers virtuous and larger economic cycles, because the amount of money available is higher. The idea is not to be too intrusive, by offering local communities tools that help them evolve socially which would be difficult to obtain otherwise, education for instance." Over the years, the company build a school for 250 children aged between three and thirteen, employing a dozen teachers; such initiative boasts an ethic aspect as well; it guarantees pulses are not grown with child labour, which is fairly common in these countries. "We are very open towards local communities, because, in the case of Ethiopia, it is necessary to relate to village chiefs that are very important in order to keep a balance in the relations, especially with foreign partners," continues Zocca. "Setting up from the beginning relations between equals, offering practical models and a series of services and activities requested by the community, while offering social support, is the best course of action. Confirming the effectiveness of our approach Bill & Melinda Gates Foundation, once in Ethiopia to fund the projects of economic development of small families, after meeting many non-profit organizations, local communities and institutions, visited the Pedon's facility to find out what model had been used in the relations with local populations."
History
In order to understand the company's sensitivity to social issues we need to offer a historical perspective. Soon after WW2, Guerino Pedon, the father of the founding members, when the second son was born, came back from abroad where he was a miner. In the Veneto region, after the war everything had to be rebuilt, the community spirit was strong, and the Pedon family received support to overcome their difficulties, which left an indelible mark in the family DNA. So, Guerrino got on his bike and came up with the idea of door-to-door sales, as a peddler of food items including oil and pulses. Those were the early years of the economic boom, things went well and his passion for selling was handed down from the father to the second son, Sergio, who became a sales agent, turning the activity into a wholesale business. The turning point came in the 80s, when the large-scale retail trade started to spread like wildfire all over Italy. Large shopping centres and hypermarkets for food mushroomed. The Pedons understood that was the way to go and that it was profitable to offer products suitable for that type of sales. A small warehouse and a second-hand packaging machine allowed the Pedons to market their own brand of pulses; but the true success was the fact they owned a van and the bar codes on the packaging. In other words, efficient logistics and a cutting-edge solution for tills.
Besides the fact that pulses were commonly used in their area, the two novelties allowed the company to take off in 1984. At a later stage they started to distribute cereals, dried mushrooms and products for bakery items.
That kind of food does not require any cold chain for its preservation, but rather simple and cheap management and logistics, which at the same time create good economies of scale and low selling prices. Such experience led the Pedons to create, thirteen years ago, Lenticchia Pedina (lentils), an ethical and fair-trade product: for every package sold, fifteen cents are donated to Save the Children and CESVI for humanitarian projects against malnutrition and child mortality. "It is not a surcharge for consumers, they would pay the same amount even though there were no donations, but a lower income for the company," continues Zocca, with the advantage that we are trying to get people accustomed to using healthy food, such as lentils, throughout the year and not just over the Christmas.
2016: The Year of Pulses
The UN declared 2016 as the International Year of Pulses. For a simple reason. From a nutritional point of view, they are more efficient. They are an alternative to costly animal proteins and this makes them perfect for improving diets in the poorest areas of the world; besides, pricewise their yields are 2/3 times greater than those of grains. Therefore, they are a tool to fight rural poverty.
"Pulses are important crops for the food security of a great percentage of the world population, particularly in Latin America, Africa and Asia where they are part and parcel of traditional diets and are often grown by small farmers," states José Graziano da Silva, Director-General of FAO. Residues from pulses' crops can be used to feed animals, while their cultivation fix nitrogen in the soil improving soil fertility reducing the need for synthetic fertilizers. They need little water and their great variety will enable farmers to select those most resilient to climate change.
Sustainable Pulses
With regard to sustainability it created an all-round mix, thus circular, made of process innovations and direct communication to consumers.
Pedon's "Save the Waste" project combines all the pieces of the socio-environmental sustainability puzzle created over the years. Pulses are obtained from selected seeds, no GMOs within programmes for the economic development of populations, such as those in Ethiopia, and carried as far as possible – in the case of Italy just to a few kilometres from the Molvena Plant – by train to reduce CO2 deriving from transport. Subsequently, residues from pulses processing – that can be as high as 20% – are used to make, in collaboration with Favini Paper Mill – the first paper in the world – Crush Fagiolo (paper from beans) – to have been granted the certification for food use both in Europe and the USA despite being made with production "waste."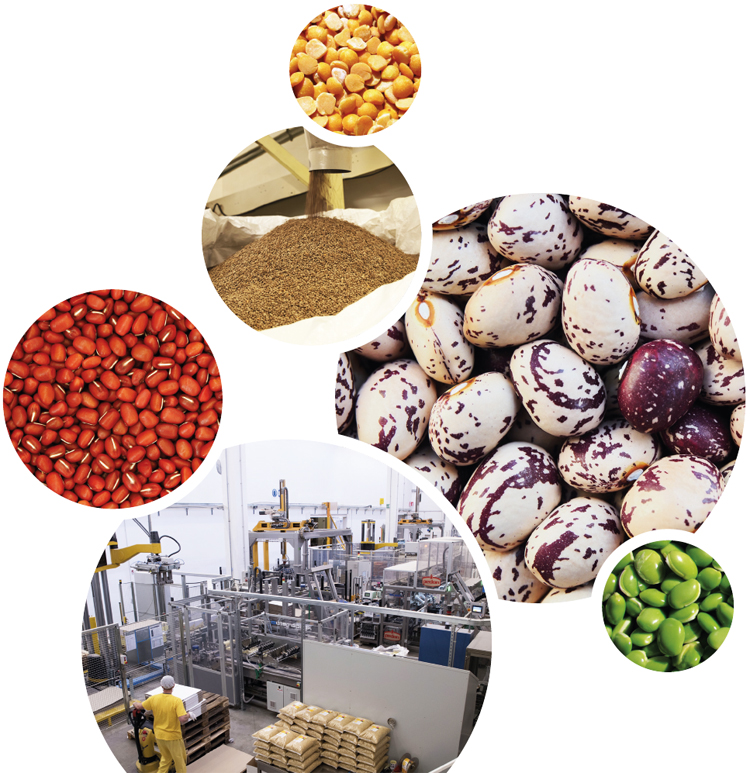 This helps reduce the use of virgin cellulose fibres by 15% while cutting CO2 emissions by 20% in packaging production. Packaging created by Lucaprint using plant-based ecological inks and inserting a see-through window made with plastic also derived from vegetable waste. This helps eliminate the inner bag – one less wasted item – since Crush Fagiolo is certified for food use: the whole packaging is recyclable. In the area, thanks to this circular system – the companies are about fifteen kilometres from each other – we are trying to create a sort of district of circularity of industrial processes that is becoming the norm. It is no surprise that three companies – Pedon, Favini and Lucaprint – with different processing, products and characteristics, are "intertwining" their supply chains and using 100% renewable energy for their energy needs. The new packaging will also close the solidarity circle since it will soon be used for Lenticchia Pedina.
In real terms, Pedon's story also debunks the cliché supported by some economists that the circular economy is a burden, if not a real hindrance for companies. The figures of the Molvena-based company speak clearly. In 2015 its turnover amounted to €100 million – in 1999 it was 8 million – the company controls 50% of the Italian market, it has developed 3,000 items with 600 employees working in its production plants in Italy and 200 scattered in Ethiopia, Argentina, Egypt and China. It exports to 45 countries with over 100 private logo lines besides its own. Organic products make up 20% of its turnover.
These are not exactly the results of a company held up by the circular economy.
Save the Waste, www.pedon.it/it/etica--ambiente/Save-The-Waste
Info
Top image: Henderson Peas, 1898 – OldDesignShop