Name: Piñatex by Ananas Anam
Sector: New materials
Pros: Designed as an alternative to leather-based and synthetic products, Piñatex allows farmers in the Philippines to have a new source of income without increasing land and water use
Features: Light and versatile non-woven textile product, born as a by-product from the production of pineapples in the Philippines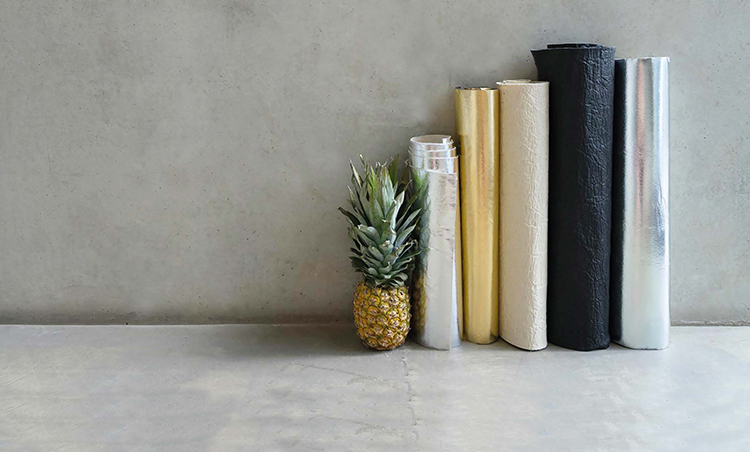 Carmen Hijosa, CEO of Ananas Anam, immediately makes one thing clear: "Please don't call it leather." After 15 years spent in the world of leather production and design, and a period of research in the Philippines, the Spanish entrepreneur took a gamble on the potential offered by pineapple, so much so that she returned to university and earned a doctorate in Textiles in 2014 – at the age of 62 – from London's Royal College of Art.
And thus, Piñatex was born: a patented non-woven textile made from pineapple leaves, which originates in the Philippines as a by-product of the agricultural industry. The leaves of the pineapple plant, not of the fruit, are collected by workers in agricultural cooperatives and treated to extract fibres with which a substrate is formed, made of natural and polylactic acid (PLA) fibres. The substrate is then sent to Spain, where the processing is completed with the addition of a synthetic resin coating and colouring dyes.
To produce one metre of Piñatex, 480 pineapple leaves are required, but no new trees. By not using land, water and pesticides on top of what was already used for the cultivation of pineapples, Piñatex aims to be a sustainable alternative to leather or synthetic products in the fashion industry, as well as in interior design.
Ananas Anam is based in London and is focused on B2B marketing.
Research to improve the material is ongoing: on the one hand, the goal is to create a biobased resin that will make the product 100% biodegradable, and on the other it is to make the material so resistant that it can be employed in the automotive sector.