Packaging (just think of ancient urns) has long been made to contain, transport and, above all, store food. Or even to avoid food waste.
These days, in rich countries, the wide availability of food and the parallel lack of information or attention to expiry dates make many fridges and pantries depositories for food which has gone off and will become waste. What is more, even when food is used correctly, a remarkable amount of waste is produced and it cannot always be recycled or composted because of nonrecyclable packaging.
Over the past years, waste reduction has become an important matter for Europe, individual countries and food industries. Packaging must be cut down on which would contribute to reducing food waste. Packaging needs to be made with less raw materials – this would also positively affect production cost reduction.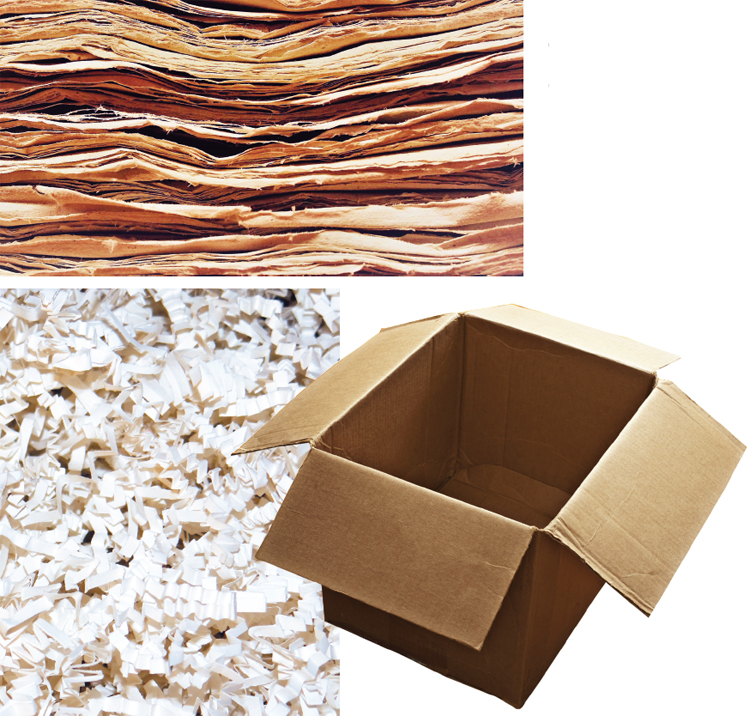 Paper or cardboard packaging
Paper and cardboard, "star" players on the circular economy, are some of the most used packaging throughout the whole agrifood industry, where the same waste becomes a resource for recycling. "The paper and cellulosic packaging cycle – Comieco and the Club Carta e Cartoni tell us – is itself a perfect example of the circular economy, with a recovery percentage of 89%, and a recycling percentage of 80%. This means that, today, 8 packages out of 10 are reincarnated: in 2016, 4.6 million tonnes of cellulosic packaging were issued for consumer use and 3.7 million tonnes were sent to be recycled."
Currently, studies and technologies involved in paper and cardboard packaging production are concentrating on solutions for reducing food waste. There has been a great deal of innovation to this respect: Modified atmosphere packaging is now consolidated and active packaging is establishing itself. These are highly-technological packages which interact with the food, like cellulose pads which absorb gases and liquids or packages which release antimicrobial substances preventing or limiting food degradation of meat, for example.
"If I'm left over, eat me"
The initiative "Doggy Bags – If I'm left over, eat me" created by COMIECO (Italy's National Consortium for the Recovery and Recycling of Cellulose-based Packaging) in collaboration with Slow Food Italy incentivises and promotes (also in Italy) using doggy bags so you can take your restaurant leftovers home.
Transforming a problem into an opportunity and setting off a cultural revolution with the objective of reducing the quantity of binned food and stimulating a mentality change in restaurateurs and customers. The project was has been welcomed by important members of Italian society, such as architect Michele De Lucchi and writer Andrea Kerbaker who coordinated a team of professionals tasked with making the doggy bag a true designer item.
The project, launched in Milan, has spread to Bergamo, Varese and Rome, and has been met with enthusiasm by restaurateurs.
A lot is being done for fruit and vegetable storage. There are now packages which release essential oils and antimicrobial substances to the food, so that the product, whether it is a pear or a tomato, can not only extend its shelf life, but also stay sweet-smelling and tasty until consumption.
Another innovation being examined is the introduction of cellulosic packaging for food use combined with bioplastics. According to recent research performed by Bocconi University and promoted by COMIECO, this could be a way to contribute to prolonging product shelf life and reduce the presence of foreign materials in paper and biodegradable sorted waste, with significant savings on disposal costs (22 million Euros for paper waste and up to 56 million Euros of biodegradable waste). Use of packaging which can be handed over along with expired food in the biodegradable waste would mean being able to compost more than 615,000 tonnes of compostable packs (which increase to around 877,000 tonnes, also considering retail waste, the research highlights) which would otherwise end up in the unsorted waste; a paper use increase of around 588,000 tonnes; a rise in the bioplastics market of more than 121,000 tonnes.
Formats which are more suited to new consumption habits are also being studied in order to combat the waste problem, for example, through greater use of smaller, single-portion packages.
The key role held by food companies
Club Carta e Cartoni was founded in 2012 to create dialogue with food companies and convey best practices and information regarding cellulosic packages. The Club which, in addition to making this information available online, has promoted a series of other training initiatives and refresher courses on sustainable packaging and supports research projects involving the development of sector innovation. It now has 270 company members, most of which operate in the food sector; it also focuses on promoting greater dialogue throughout the packaging industry, putting producers and users in contact, with their needs and problems.
"Over the years – the Club explains – companies have shown significant, growing interest in an increasingly sustainable approach, also and above all beginning with packaging which is a product's "business card."
Bocconi University's research presented at Cibus 2016 (tinyurl.com/kfjnw6s)
Info
Top image: Aldric Rodríguez/The Noun Project