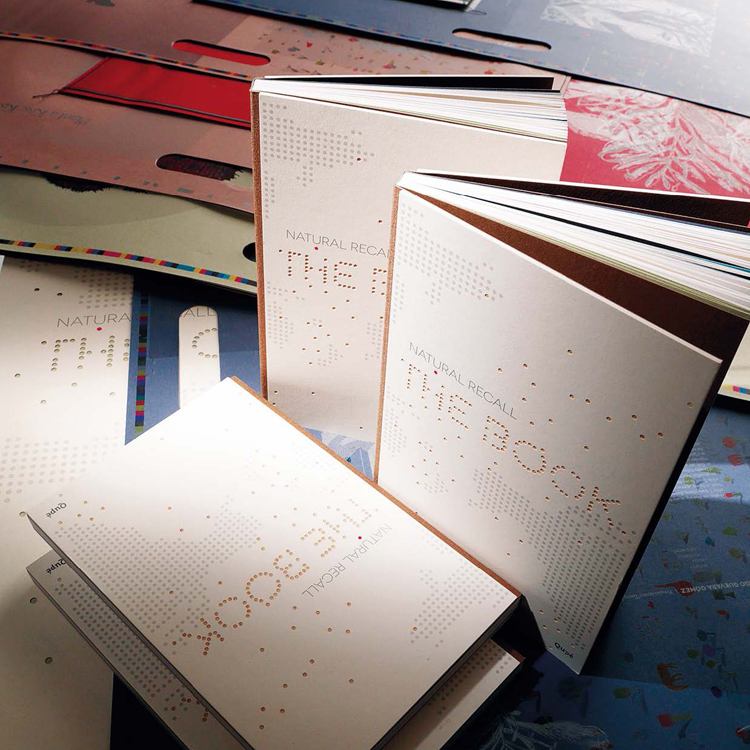 The Natural Recall is an international non-profit project. Officially opened in May 2014 within Michelangelo Pistoletto's Third Paradise at Milan's Superortopiù, it is now in its second stage. Dozens of illustrators, graphic designers, journalists and writers were asked to describe their "elective affinities with nature" and have produced texts and, above all, large-format posters. To date, they have been made into a book (Natural Recall – The Book), a calendar and a travelling exhibition that last December was hosted by Serra dei Giardini in Venice and in April by Atelier de gravure Zec in Paris. The exhibition has a strong vocation for travelling the world and evolving. Thanks to the beautiful tactile and colourful volume and the exhibition of signature posters from all over the world, selected and exhibited nonchalantly, one can gather the essence of the project: a good opportunity to admire and reflect, thanks to illustrations, graphic design and signature texts, on the multiple possibilities of representing nature, beyond style and taste, within the intimacy of delicate and pseudo-zen works.
This topic permeates the whole project. The representation of the idea of nature, of the conflicts and sensitivity connected to it, the idea of change, transformation and sustainability, has a complex history as if it had not found yet its own way (or several different ways) to fully express itself beyond the stereotypes that still constrains it. Just think of the concept of "organic". Organic food and the image of its packaging; or trademarks, images in brochures and how the cultures of this sector express themselves through images. From the old smiling sun to sphere-worlds, through animals, leaves, trees, ears of wheat and wind turbines, while the colour green, although exhausted, lives in the background characterizing everything. The gradual transition from minority culture to a widespread, entrepreneurial and more aware associationistic reality, even if characterized by aggressive marketing, has not changed the main points of the problem, as if the update of image culture was not yet up to speed with the transformations in progress. It shows a legacy of simple visual metaphors alluding to happiness, open spaces, skies and health. The other side is dominated by catastrophic images: mountains of waste, fumes on the horizon and the colour black. This is true for most iconography, from drawings to photos. Just have a look online.
But change is possible: for example the magazine that you are holding in your hands (or that you are reading on your screen, tablet or smartphone), a gaily-coloured attempt to start a new image path for those who still have not got an image or are looking for one. It is a build-up, thanks to the best representations that contemporary culture can offer by shuffling the cards; moving away from a restricted reality to a tout court magazine, expanding the potential audience longing for new contents. The selection of posters included in Natural Recall offers a contribution to this topic, open and receptive to inspiration.
Info
---
The Natural Recall Project is the brainchild of Gtower and co.me, two Italian creative and communication studios that have joined forces with Smack and Qwerty Studio.
Natural Recall – The Book, published by Qupé editions and printed on crush paper, was a finalist at the European Design Awards 2015 in Istanbul and received a nomination at the Luxe Pack in Green Awards 2015 in Shanghai.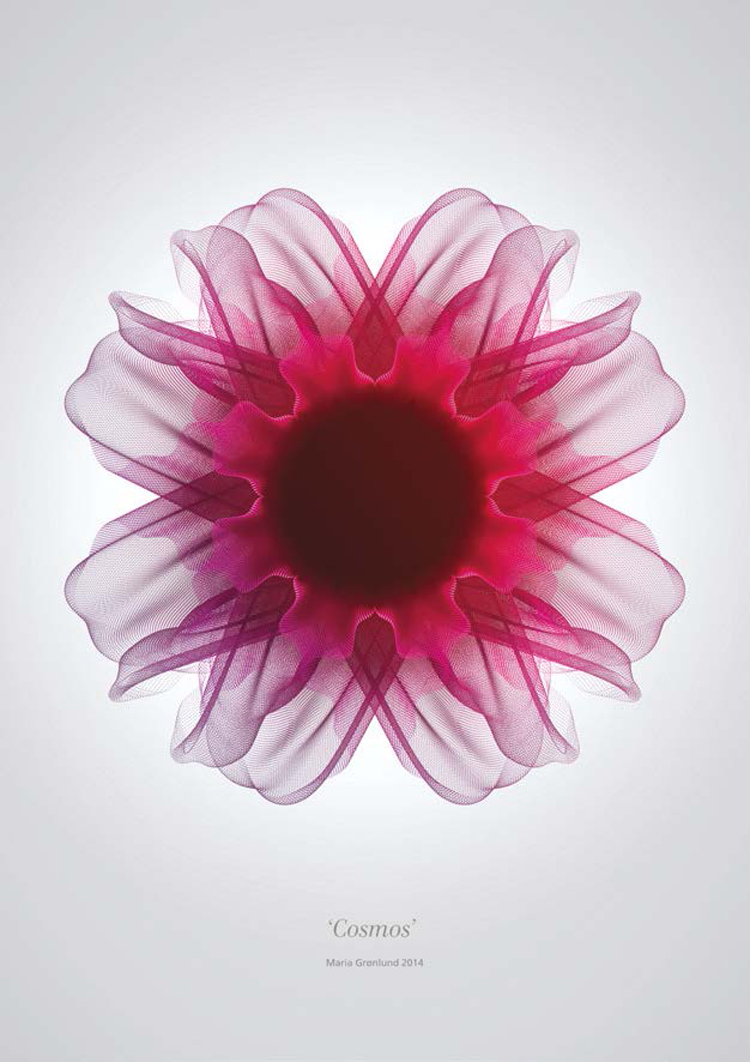 Maria Grønlund, Cosmos, Denmark
"Last summer I had a passionflower in my garden. I was fascinated by the complex shape the flowers had."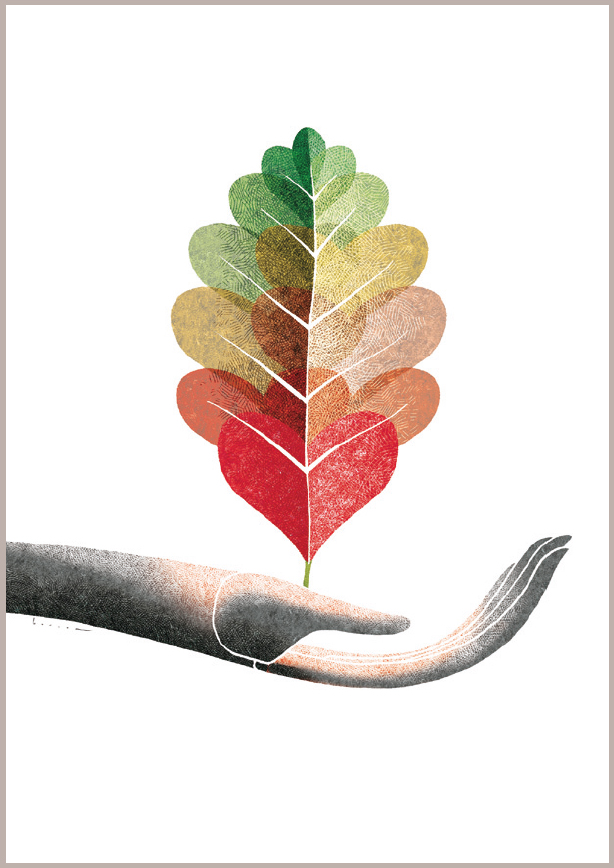 Juan Hernaz, Man who planted trees, Spain
"This illustration is the synthesis of The man who planted trees by Jean Giono, the consecration of a lifetime aimed at creating life through the trees."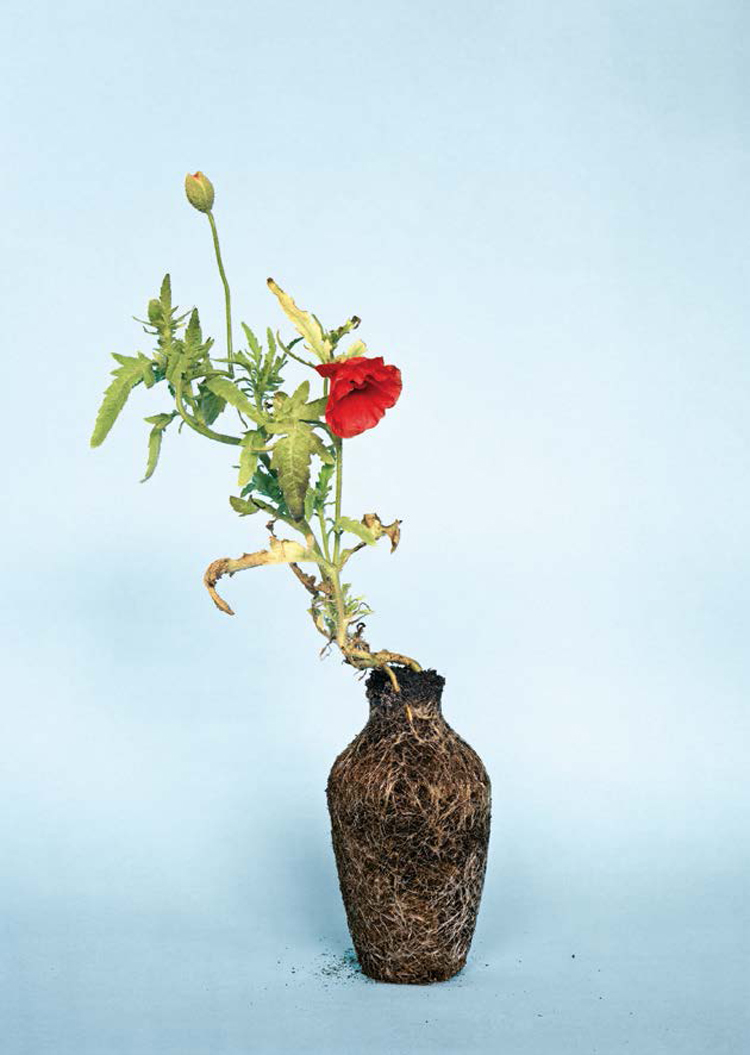 Diana Scherer, Nurture Studies, Germany-the Netherlands
Nurture Studies is an archive of flowers that the author grew in pots and then removed. Her photos remind us of botanic encyclopedias: they are floral portraits poised between document and emotions.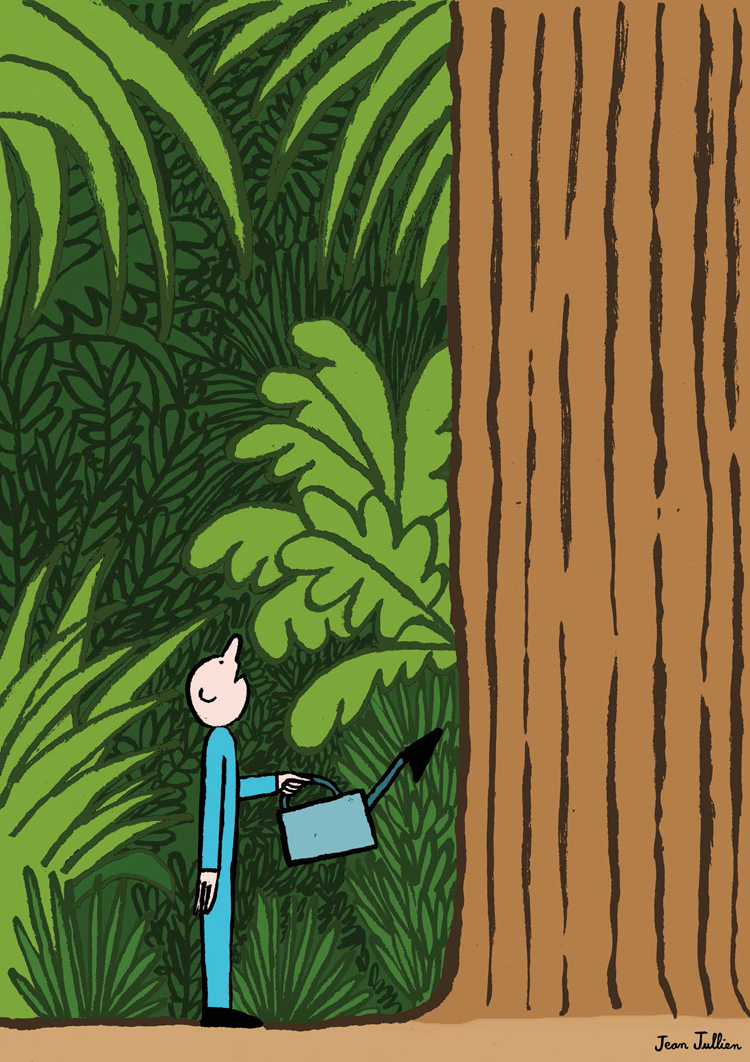 Jean Jullien, Humility, France, England
"There's a feeling of humility that comes from observing nature when you draw it."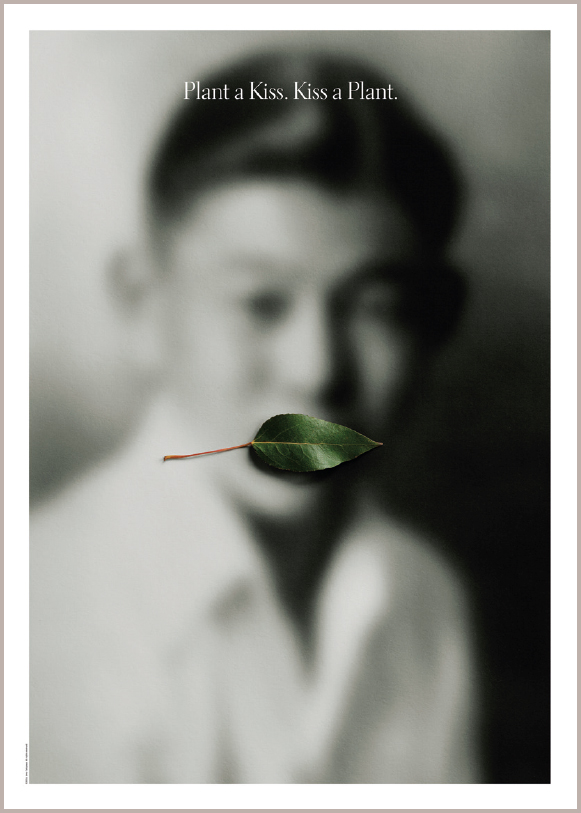 Jerry Takigawa, Plant a Kiss. Kiss a Plant, USA
"We have a saying, Plant a Kiss, which simply means to place a kiss. But by reversing the order of the words to Kiss a Plant, the implied meaning expands to express the love of a plant."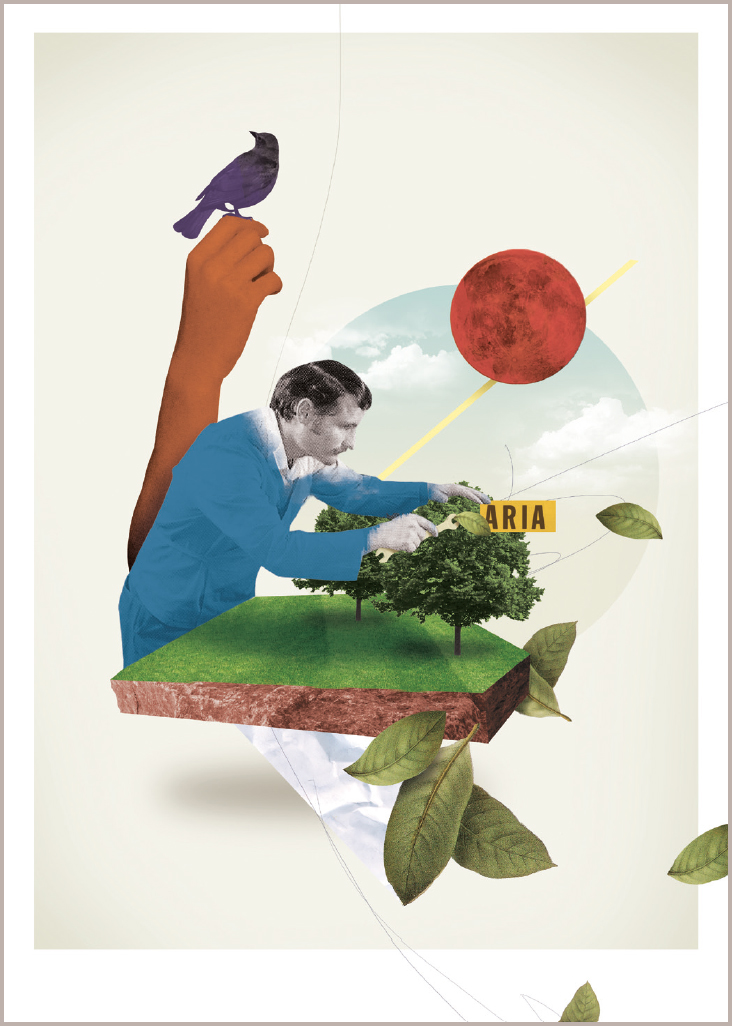 Nazario Graziano, Aria/Air, Italy
"The nature as a perfect machine, such as a factory of fresh air where everything works perfectly."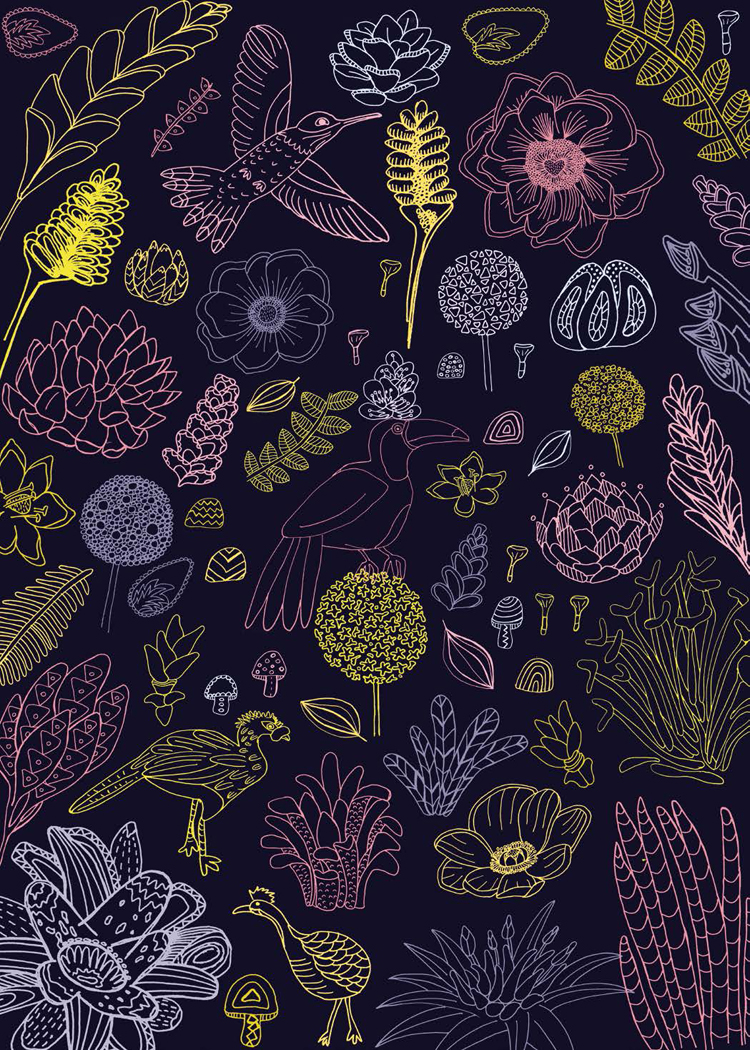 Peta Hedemann, Midnight Secret Garden, Australia
"Gardens provide the most magical atmospheres of peace and tranquility, and energy through living organisms."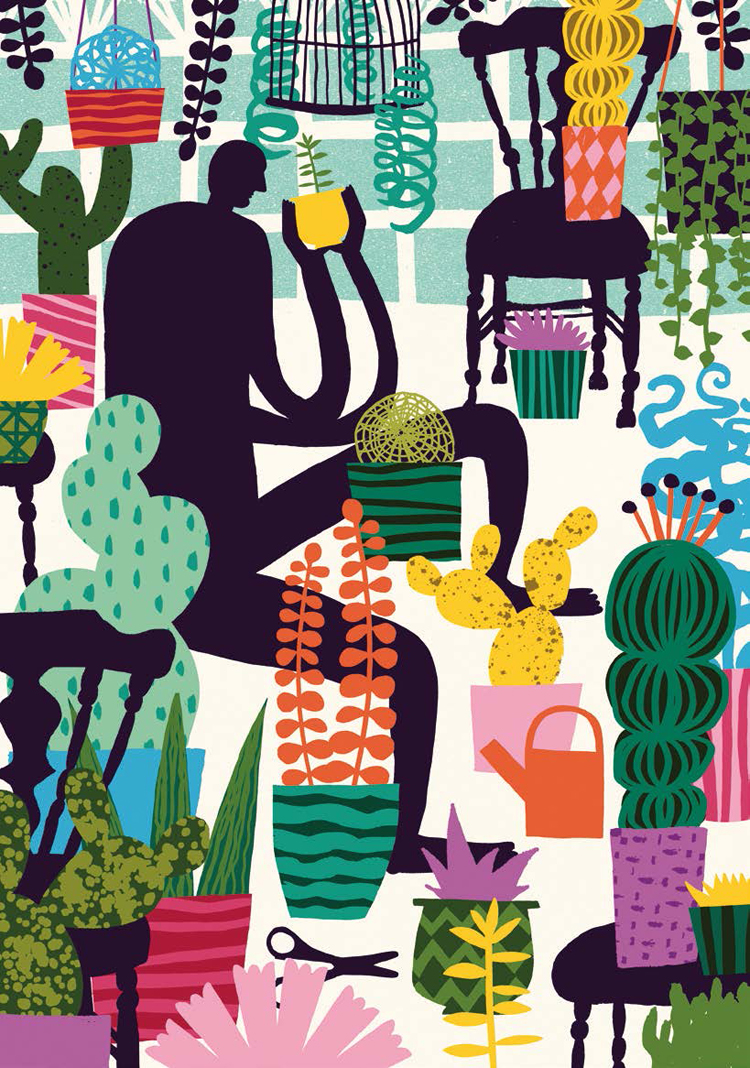 Marijke Buurlage, Bliss, the Netherlands
"This outbalanced scenery shows a man living in complete harmony with his succulents. His long arms and legs even make him look a bit like a plant himself."