Swedish label Filippa K has been one of the leading companies in sustainable, circular fashion since 1993. As its founder, Filippa Knutsson, claims "inspired by my needs, I have created a brand with substance and truth which does not rely on the superficial trends of the fashion industry." Filippa K's collections and models focus on lifespan, quality and style. After the brand's second-hand shop opened in 2008, front-runners realised in potentially recyclable materials with today's technologies, the take back (Filippa K Collect) and life extension (Filippa K Care) programmes, Filippa K debuted, in 2015, as one of the first companies in the world to have a \"rental\" programme, Filippa K Lease. A bit like the Netflix of clothes devised by the Ellen MacArthur Foundation, with Filippa K Lease you can rent certain collection items in certain brand stores allowing customers to temporarily expand their wardrobe, without buying the garment, which they can return to the shop when they no longer need it.
However, the Swedish company is not the only one in North Europe to have seen a new business model in circular fashion. Amsterdam's Lena Library is home to a sort of clothing rental service (or maybe we should start saying "fashion library") where you can become a member and rent garments as needed. You can rent, for example, Mud Jeans, designed in Amsterdam and produced in Italy or Tunisia.
The Dutch company, that proudly defines itself "The first circular fashion brand in the world," bases its business model on the "product as a service." With a monthly membership fee of €7.50, you can rent your favourite pair of jeans (or more than one pair), return it after a year, get a new one and send the used one back with reusable RePack packaging. This way, Mud Jeans keeps the ownership of the garment and revolutionises the role of the brand, which has to build a relationship with the consumer and continue to cultivate it after purchase.
The young are the most sensitive to the Mud Jeans model. "Our typical customer is an informed explorer who knows what is happening in the world and is seeking alternatives. They are well educated, aged 25+, and often live in big cities. Millennials are increasingly more important in terms of the identikit of our ideal customers. Rather than owning an object, millennials prefer an object to have a meaning, an object which is an experience" the company explains. Since the beginning, Mud Jeans have been designed to be recreated cyclically with upcycling, transforming them into vintage items or new products. According to data provided by Mud Jeans, while "the production of a pair of jeans requires 7,000 litres of water, 78% less is needed for the new Mud Jeans (1,554 litres of water) and 89% for vintage Mud Jeans (equivalent to 777 litres of water)."
Savings in water and raw materials in general, in addition to the upcycling of cotton scraps are also key points for Hilaturas Ferre, headquartered at Banyeres de Mariola, near Alicante. The family-run company, whose origins date back to the start of the 20th century, began to develop a system for recycling cotton scraps and creating new yarns in 1947. Four generations and many years of research and development were needed before the Recover Upcycled Textile System was launched in 2015. As Hilaturas Ferre Managing Director Alfredo Ferre claims: "With its Recover process, Ferre transforms textile waste into the best quality recycled yarns in the world. With the upcycling textile system, Recover, we can create a whole series of products with the lowest ecological impact and the most competitive cost in the world." Specifically, the Recover Upcycled Cotton Fibre allows for recovering cotton fibres without water use and the emission of greenhouse gases, while the ColorBlend® process allows textiles to be dyed without the use of chemical substances. The recovered cotton is mixed with other fibres which generate a low environmental impact – such as recycled PET, recycled nylon and hemp – and transformed back into yarn. With textile scraps from across the world, Hilaturas Ferre produces yarns bought by, amongst others, H&M, Mango, Zara, G-Star Raw and Whole Foods Market.
"Recycling everything which already exists to create new items means not creating more waste, in a world where population growth and climate change could transform some materials, like cotton, into a luxury object." This is the starting point for the work of Cindy Rhoades, founder of Worn Again, based in London since 2012. As evidence of how much commitment is needed to improve the impact of the fashion sector's production chain and how much big brands are also moving in this direction, Work Again, along with its global partners such as H&M, Kering and Nike, is developing and attempting to make textile recycling technology, which separates and captures fibres from old textiles and clothing, bringing them back to the state of raw materials and thus reintroducing them on the production chain as new. In other words, Worn Again aims to close the circle resolving the problem of clothes and textiles having an end of life. As Rhoades says, "at the moment, we are mainly focusing on PET and cotton, both monofibre and mixed-fibre, the Holy Grail of recycled textiles, since around 35% of all clothing is made from a mix of polyester/cotton and around 75% is made of polyester, cotton or both. This does not mean that in the industry we will not then proceed to recycling other polymers."
Worn Again and Recover's work and the development of technologies that recycle garments and textiles are made more complicated by the fact that, often, the latter are made with a mix of materials which are difficult to separate. We can overcome this limit only through investment into research and development and starting off from garment design.
Info
---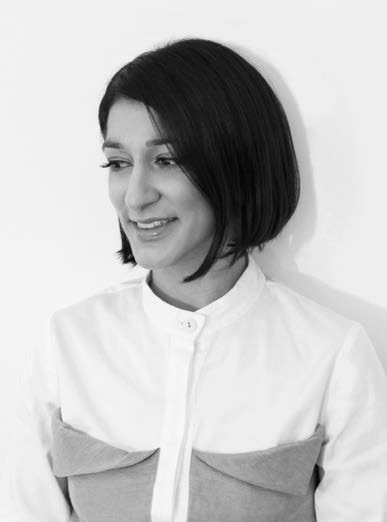 Interview with Bav Tailor, stylist
by A. T.
Respect your body, respect the environment
Fashion and sustainability: how can we combine these two often contrasting elements?
"Sustainability is in my brand's DNA. My brand's slogan 'respect your body + your sphere' is completely dripping with sustainability: from research into materials to supplier chain transparency, from responsible design to production techniques directed at helping local Italian and global communities in need. I'm trying to create awareness of the social impact that everyone can have by wearing ecological clothes. The materials used in my collections are certified by third-party bodies as natural or recycled. Throughout the production process, the objective is always to minimise the environmental impact and promote sustainability. Likewise in the distribution and sales phases.
"Most of my textiles come from Italy due to the premium quality of the materials. So I am aiming for the Eco-Luxury sector of the market and I invest in the reduced environmental impact of buying locally rather than overseas. I prefer special materials like recycled fish skin, which is a by-product from fishing industry waste, or ecological wood, nettle, bamboo, hemp or eco-wool. For trimmings, I use recycled cotton buttons, natural wood and mother of pearl, zips and organic cotton yarn."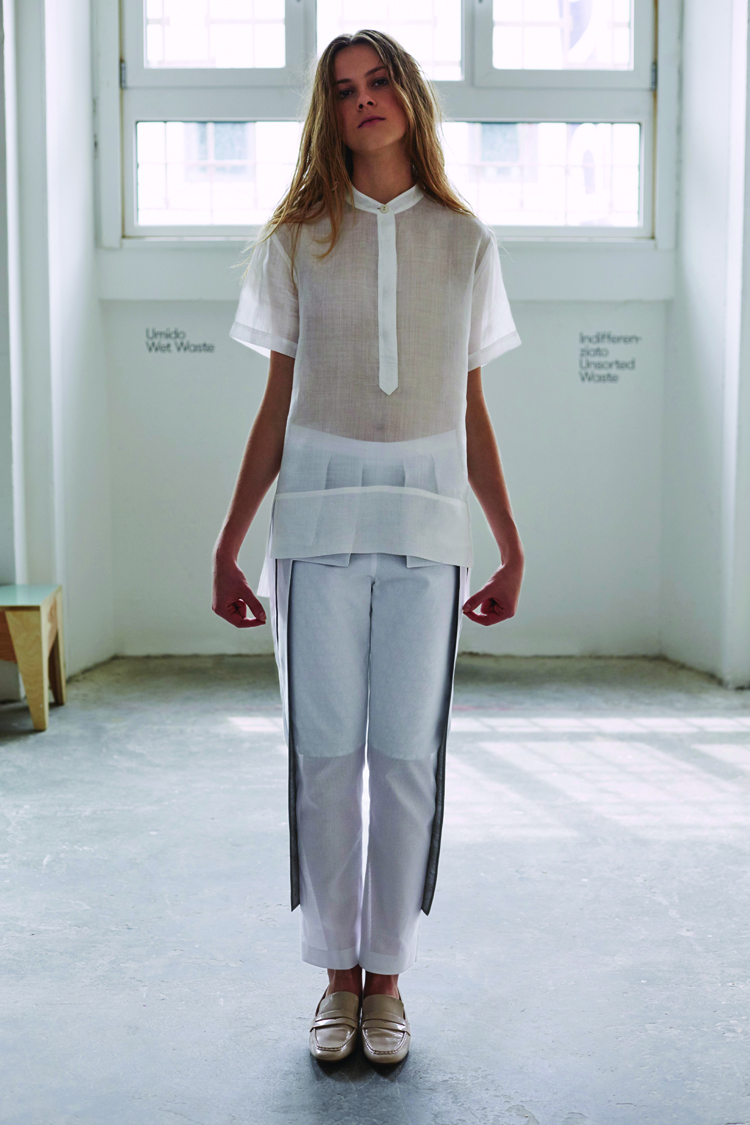 How can fashion be more sustainable?
"Before developing a collection, designers must think about the brand's social impact. Companies must introduce sound codes of conduct to their business models, focusing on the transparency and traceability of the production chain, research and development of materials, pay standards and worker safety.
"The fashion industry needs to promote more sustainable, more easily traceable materials. Our suppliers should be obliged to certify raw materials, appeal to fair trade organisations and be encouraged to invest in the research and development of recyclable and/or renewable materials that leave a positive ecological footprint. For example, one of the materials that I use is 'New Life.' It comes from recycled plastic PET bottles.
"Consumers can then become smarter by checking garment labels to understand where they have been made, checking stitching to ensure it is long-lasting and textiles to find out if they are natural, recycled and certified. We must demand sustainability from companies. We need to love the clothes we buy, not just buy to have a bigger wardrobe. We must consider a purchase in terms of wearability. I believe that a garment's life cycle should provide for at least thirty wears."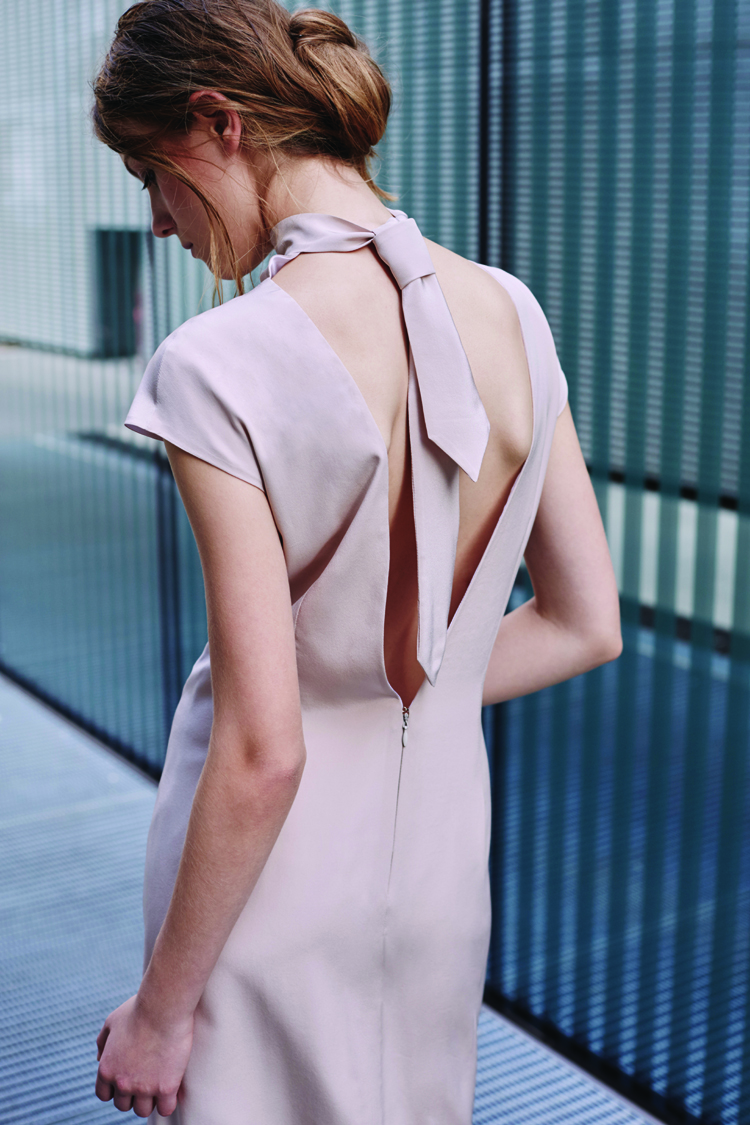 What is the main challenge in this transition towards a more sustainable fashion industry?
"Living on different continents has made me more aware of the lack of respect for the workers, raw materials, and suppliers that are behind the scenes of the production chain. The challenge is to motivate companies to invest the money spent by the consumer in human capital, social responsibility and economic justice. Companies and key influencers have the duty to make consumers aware of the impact that consumerism is having. We must create a movement – a mental approach where 'less is more'."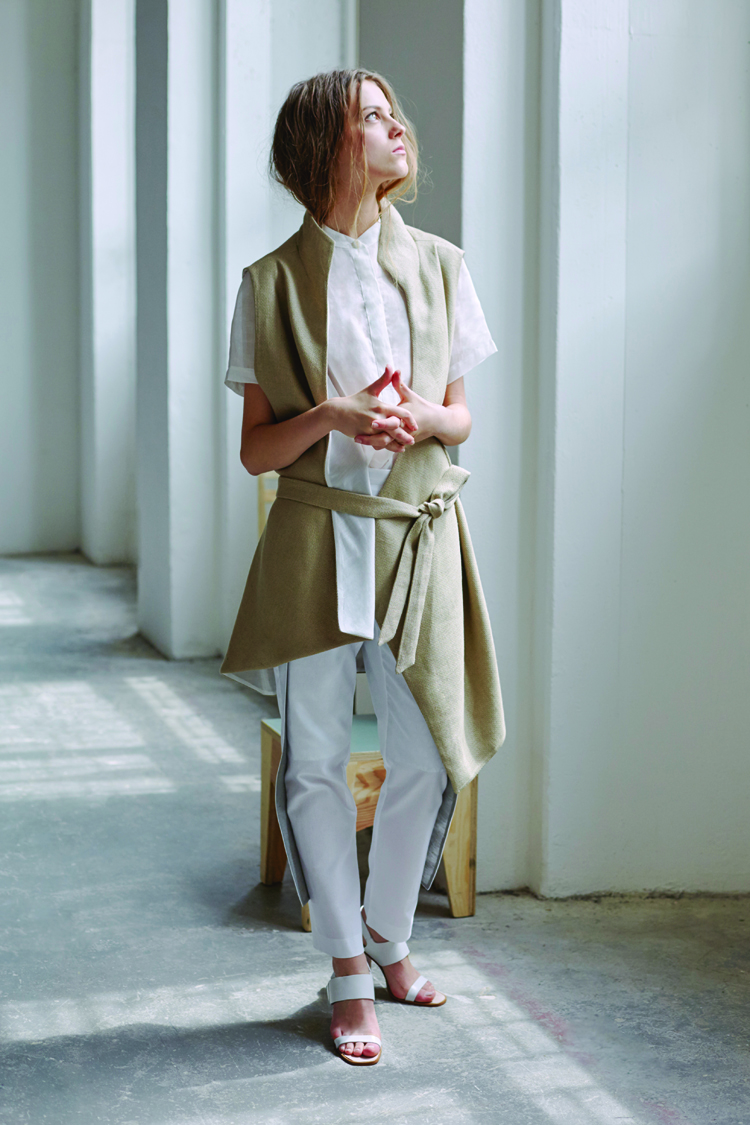 How important is the research phase?
"A brand's ecological footprint derives completely from the research and development phase. However, the cost of researching and developing more sustainable resources is very high and difficult for small brands to afford. My research, in this phase, is directed at supplying pre-existing recycled materials and natural, certified, and upcycled fibres. Now that my brand is growing, I am investing in researching and developing my own recycled materials using pre-consumption waste."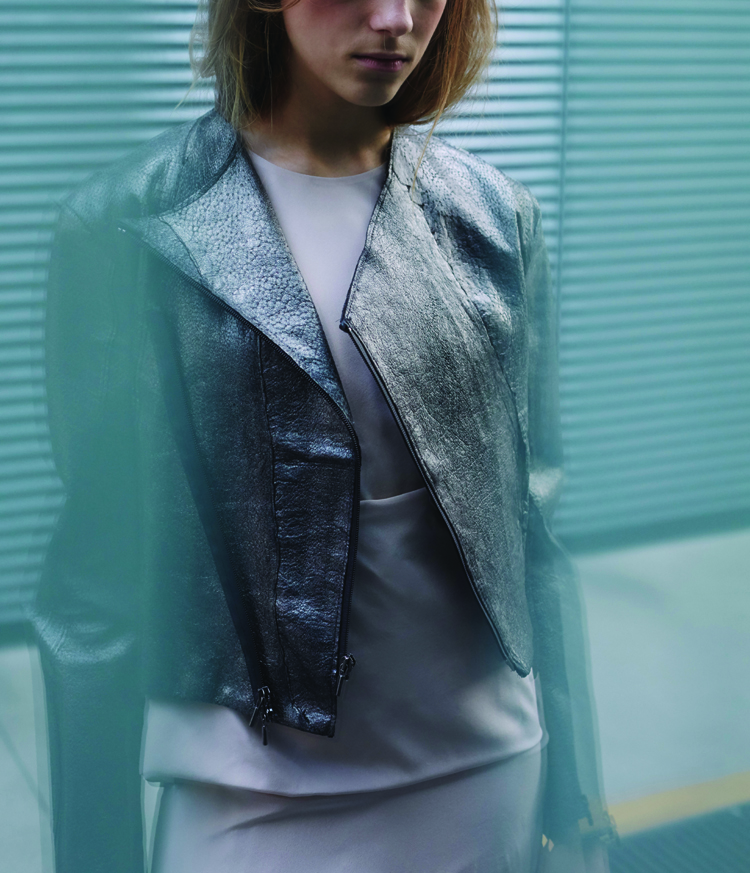 Where can we find new materials?
"The global waste throughout industry is shocking. We do not currently invest enough into researching how we can regenerate production discards and pre-consumption waste such as pineapple skin, regenerated cashmere or fish discards."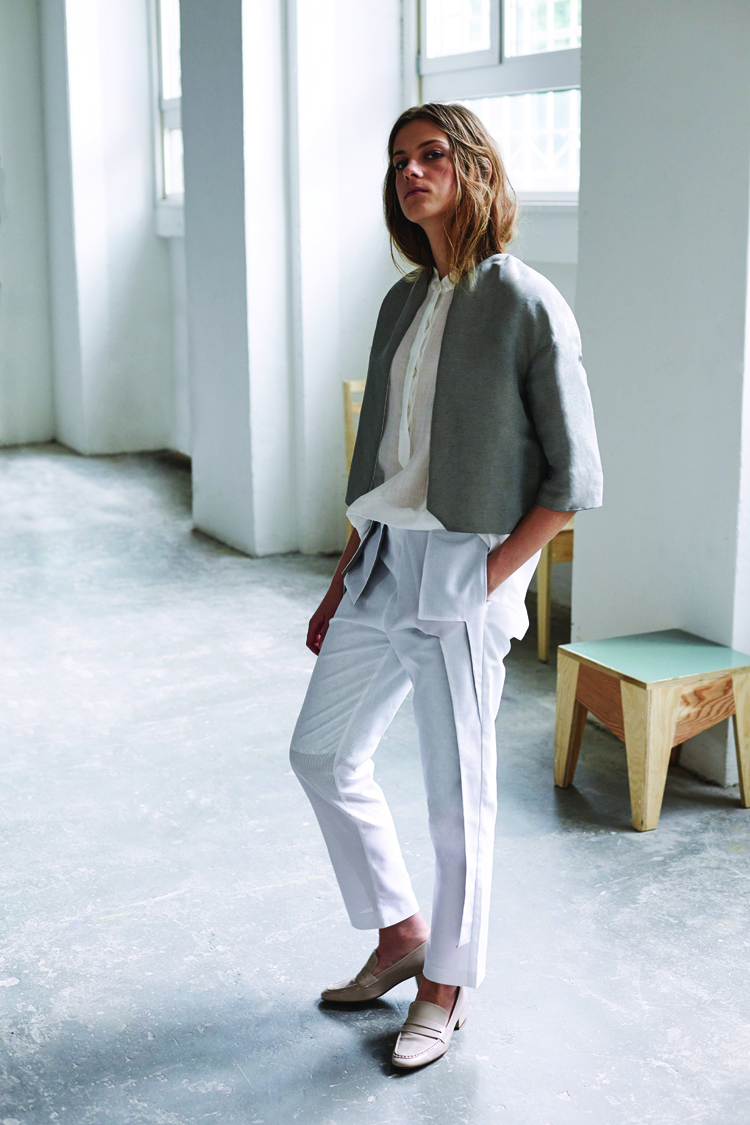 Design: can we make clothes that last longer, or even forever?
"Clothes made with premium textiles, quality production techniques and simple designs can be made to last. My sampling and production processes strive, on one hand, to use recycled and upcycled materials, and on the other, to simplify designs and prototypes. Consumers also have to change their attitudes and take better care of garments so they last longer."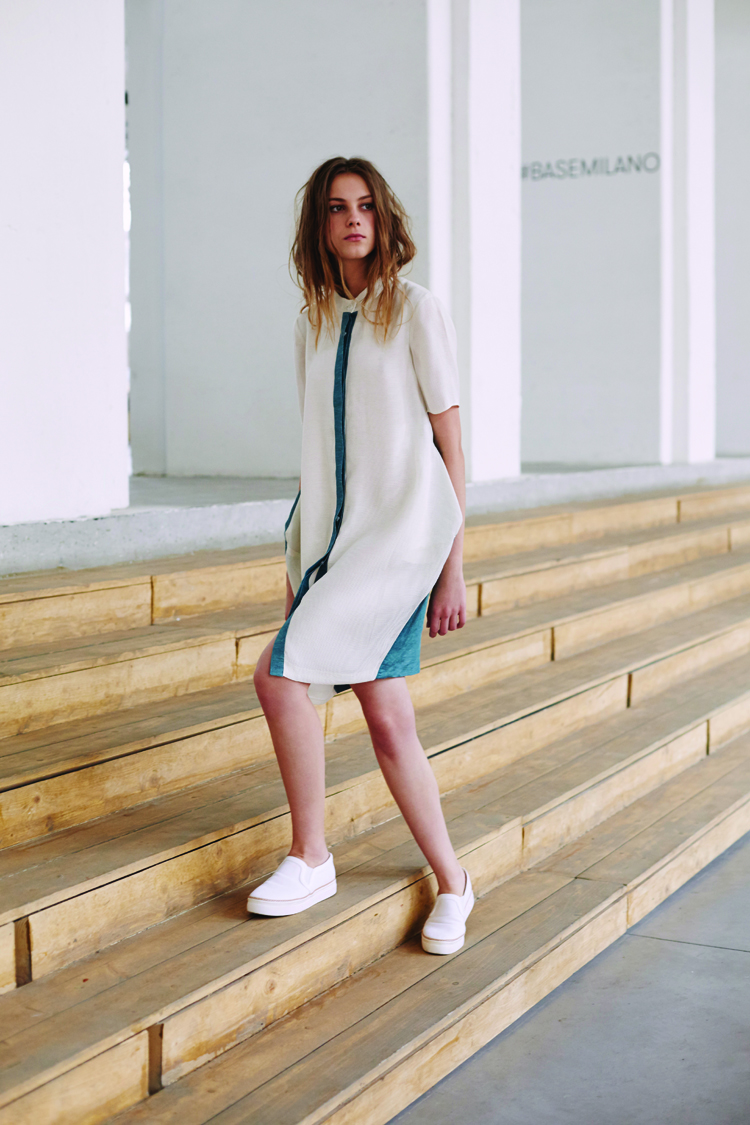 What goal are you most proud of having achieved? And what is your next objective?
"I am proud that my brand has been recognised by the fashion and design industry as a sustainable Eco-Luxury brand by important sector bodies, like the National Chamber of Italian Fashion and 'Vogue Italia.'
"My next goal is to create a chain reaction so that my message to respect human beings and our planet may reach influential people who enjoy visibility so we can create awareness and change together."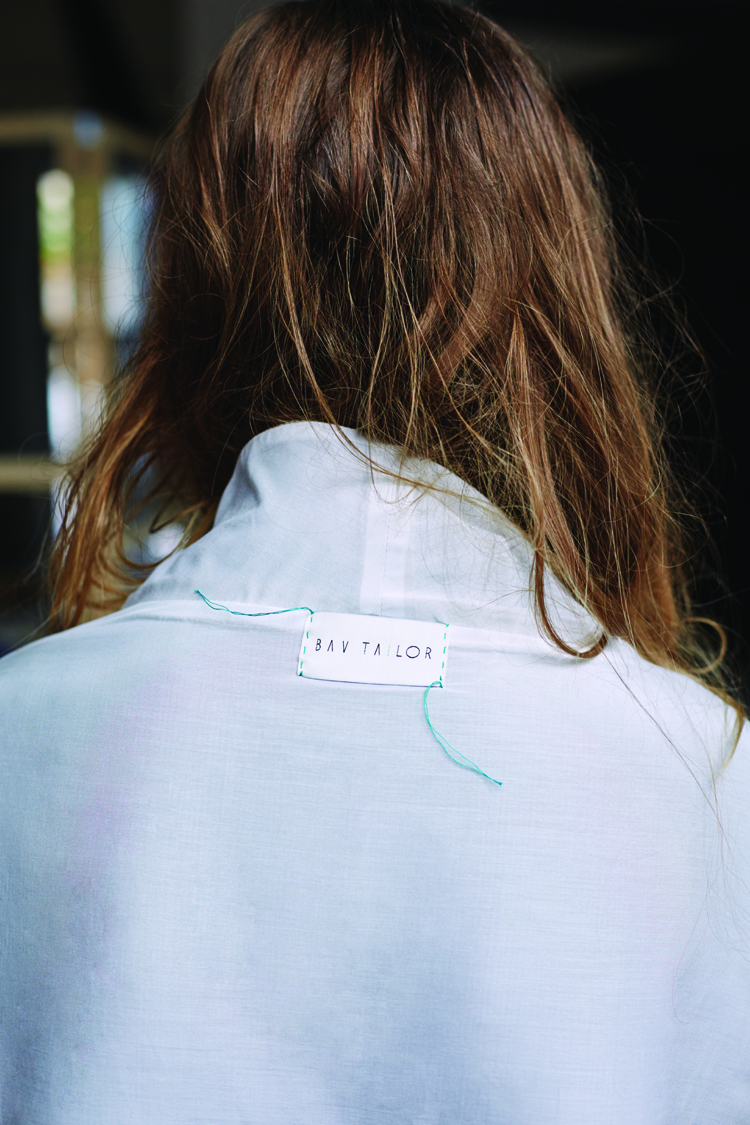 Ethical Fashion Forum, www.ethicalfashionforum.com
Camera nazionale della moda italiana (National Chamber of Italian Fashion), www.cameramoda.it/en