Old furniture, sofas, nappies and bar receipts are solid urban waste. Globally, according to a World Bank report carried out in 2012, we produce 1.3 billion tonnes of it every year. Only 34% is recycled. The rest ends up in landfills or incinerators.
A Dutch project, led by the chemical colossus AkzoNobel, is exploring the possible to use part of this non-recyclable waste to produce liquid biofuels and bio-based chemicals. With a plethora of advantages: on the one hand, it would solve the age-old problem of waste ending up in landfills, on the other it would provide companies with matter which does not compete with food production and without soil impact while being already included in the collection and distribution logistic systems of waste managing companies. The leading figure in this project is Enerkem, a Canadian company (based in Montréal, Québec), that has developed a technology able to turn waste into synthesis gas, a common feedstock for products such as methanol and ammonia.
In November 2014, a public-private Dutch partnership led by AkzoNobel signed an agreement with Enerkem to explore the use of waste as feedstock for the production of biofuels and chemicals and the construction of a dedicated new biorefinery. Rotterdam and Delfzijl (Groningen province) are competing for this biorefinery that according to the partners' plan should be built in the next 2-3 years and will be the first of its kind in Europe.
The first in Europe because Enerkem's technology is already proving successful in Edmonton (Alberta, Canada): the biorefinery opened on 4th June 2014 has enabled the Canadian city to increase its waste diversion share from 60 to 90%, producing ethanol and methanol. It is already considered by insiders a real model of the circular economy.
While in China, the Qingdao City Construction Investment Group has already started a plan to build a biorefinery that will use Enerkem's technology after an agreement signed in October with the company created 15 years ago by its current President and CEO Vincent Chornet.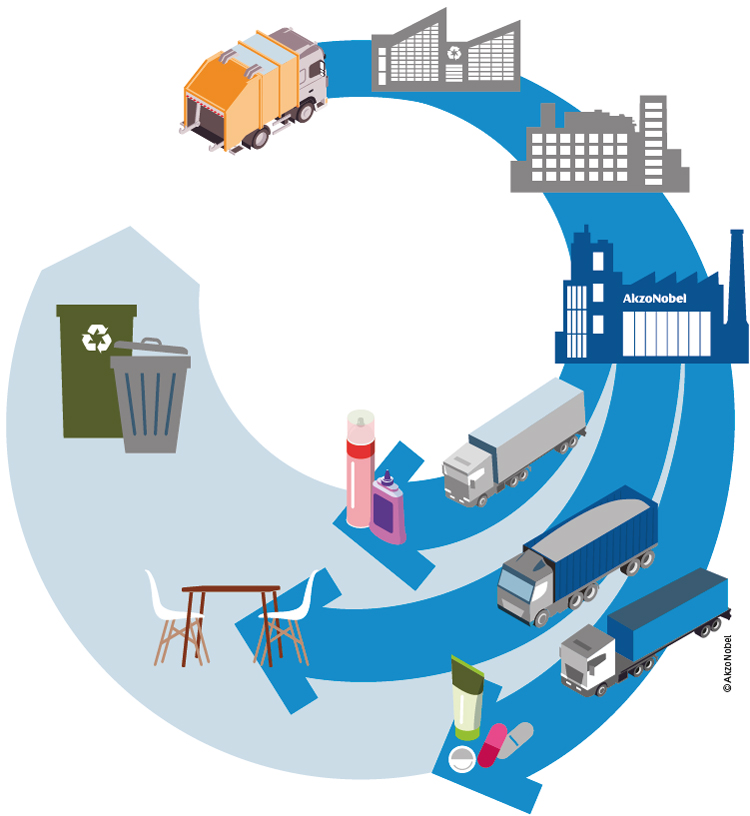 Use of waste as feedstock for the chemical industry
Fourteen Dutch partners joined forces to explore the use of waste to produce biofuels and chemicals. The public-private partnership will explore the options to build the first biorefinery of this kind in Europe, either in Rotterdam or in Delfzijl.
According to Werner Fuhrmann, a member of AkzoNobel's Executive Committee and in charge of chemical specialities, "Given the current growing concerns with raw materials and energy shortage, the need for innovation and developing less traditional solutions is ever more important. To accelerate these innovations, we are forging strategic partnerships, all focused on substituting non-renewable raw materials to achieve environmental benefits".
The partnership with Enerkem is just one of these. However, what does the Quebecois technology basically enable to do? It recycles carbon contained in non-recyclable waste into renewable chemical products, complementing existing technologies such as recycling and anaerobic digestion.
In Edmonton, a required stop for those wishing to see with their own eyes a successful case of urban waste management, every year 100,000 tonnes of post-recycling dry waste are gasified to produce initially 10 million litres of biomethanol, a chemical intermediate, and then cellulosic ethanol.
The biorefinery is part of an integrated waste management where 20% is recycled, 40% composted and 30% is used to produce biofuels and biochemicals.
"We use heat and pressure to process materials that normally end up in landfills to transform them in methanol and ethanol", CEO Vincent Chornet explains. "In total, the process from waste to end product requires about four minutes." In Edmonton, 38 million litres of ethanol are produced every year, enough to run 400,000 cars with a 5% ethanol blend.
The good results achieved in Edmonton have increased the interest towards the Dutch initiative. If at the beginning the partnership included AkzoNobel, Enerkem and four regional partners, in June eight new partners joined in, including industrial colossuses such as French Air Liquide and Veolia and the Port of Rotterdam Authority. Before the end of the current year, the results of the biorefinery construction feasibility study will be published. If they are positive, we hope that other EU countries will follow the example.
Waste: What do we do with it in Europe?
According to a study carried out by ISPRA (Istituto superiore per la protezione e la ricerca ambientale – Italian National Institute for Environmental Protection and Research) on Eurostat data (Urban Waste Report, 2014), 34% of managed urban waste in the EU28 countries is disposed of in landfills, 24% is incinerated while 27% is recycled and 15% composted.
As far as landfill disposal is concerned, shares vary greatly, from 0.5% (Germany) to about 99% (Romania). Besides Germany, other countries such as Sweden, Belgium, The Netherlands, Denmark and Austria present very low landfill disposal (maximum 3%) while at the other end of the spectrum we find Greece, Latvia, Croatia and Malta where urban waste disposal in landfills varies from 82 to 87%. And in Romania it reaches 99%. Apart from Greece where landfill disposal of managed urban waste reaches 65%, all the other countries in this group have only recently joined the EU.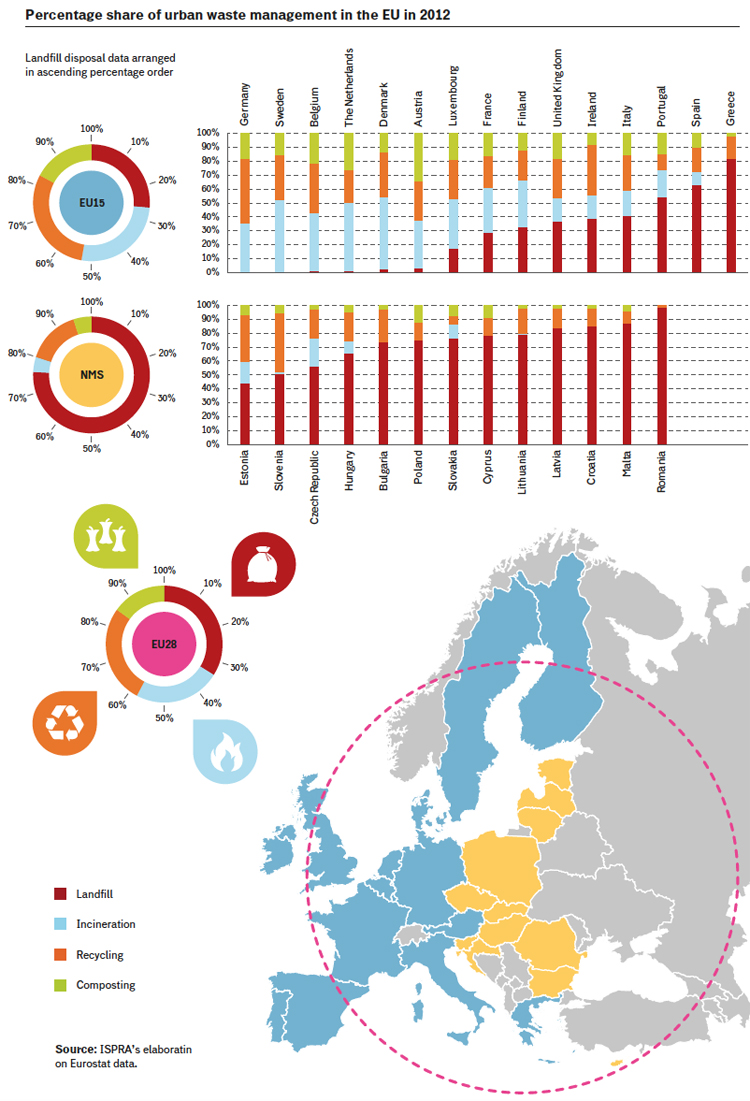 The amount of landfill disposal in the EU28 is on average 161 kg per person per year. Data vary greatly within the EU, with lower amounts in the EU15 countries (on average, 140 kg per person per year) where measures to avoid landfill disposal are already well-established, while they are higher (on average 241 kg per person per year in the NMS (New Member States) where the application of the EU regulations has only recently been introduced. But in both groups there has been a reduction compared to 2011 (-7.9% in Old Member States and -5.1% in New Member States).
In 2012 in the EU 57 million tonnes of urban waste were incinerated. 97.7% of this in the EU15 countries. Compared to 2011, at EU28 level, there was a reduction of 4.1%. It is worth mentioning that incineration also includes waste sent for energy recovery.
As for landfill disposal, incineration data also show a very heterogeneous panorama amongst the member states: about 28.6 million tonnes (equal to 50.2 % of the EU28 total) were incinerated in France and Germany alone, while 5 member states (Bulgaria, Greece, Cyprus, Latvia and Romania) do not use this treatment at all and four others (Croatia, Lithuania, Malta and Slovenia) send to incineration very scanty amounts of urban waste (2,000 tonnes, 8,000 tonnes, 1,000 tonnes and 10,000 tonnes respectively).
Info
---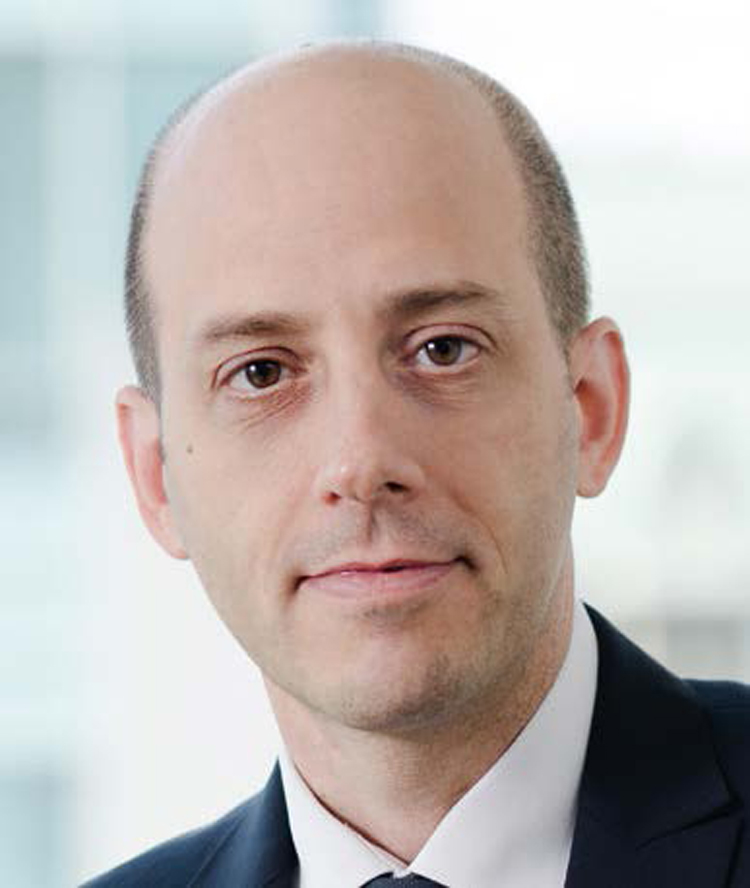 Interview with Vincent Chornet, President and CEO of Enerkem
Fourth-Generation Biorefineries from Urban Solid Waste
Obtaining bioproducts from urban solid waste to speed up the transition towards the circular economy, where waste becomes resources rather than a problem with a cost attached. This is the subject of the interview with Vincent Chornet, co-founder, President and CEO of Enerkem, the Canadian company that is making progress in the global bioeconomy thanks to a technology enabling the transformation of non-recyclable and non-compostable waste into biochemicals and biofuels.
Founded in 2000, the Montreal-based company currently employs 160 people between Canada and the United States, where many projects to build what President Barack Obama defined "fourth-generation biorefineries" are underway. These are the very words that he used during a speech at Georgetown University in 2011 describing Enerkem's project to build a biorefinery for advanced biofuels in Pontotoc (Mississippi).
Thanks to the company-owned technology, Enerkem was awarded several prizes, including one for the 50 most innovative companies worldwide in 2011, awarded by the prestigious American magazine Fast Company.
Enerkem claims to produce clean fuels and green chemicals from waste with better economics and greater sustainability than other technologies relying on fossil sources. How is this possible?
Enerkem chemically recycles the carbon molecules contained in non-recyclable waste. In less than 5 minutes, our exclusive process first converts these carbon molecules into a pure synthesis gas (also called syngas), which is then turned into biofuels and chemicals, using commercially available catalysts. We operate at low-severity conditions using temperatures under 760 °C and pressures below 5 atmospheres, or atm, which reduces energy requirements and costs. Enerkem's attractive cost structure is therefore driven by low-severity operations (lower temperature, pressure and energy requirements), compact facilities built according to our modular and standardized approach, and a low-value feedstock.
According to the World Bank, 1.3 billion tonnes of municipal solid waste are generated each year around the world. Where are located your waste-to-biofuels facilities? And where are you planning to build new facilities?
Enerkem currently has a full-scale commercial facility in Edmonton (Alberta, Canada), a demonstration facility in Westbury (Quebec, Canada), and a pilot facility in Sherbrooke (Quebec, Canada). We are also developing additional commercial biorefineries in North America and around the world.
Are your facilities accepted by the public opinion?
Our compact facilities are socially acceptable for a number of reasons: Enerkem's technology provides a sustainable solution to the growing demand for renewable fuels and the challenges associated with waste disposal and greenhouse gas emissions (GHG). Our technology equally answers the question of how to dispose of rapidly accumulating non-recyclable and non-compostable garbage, while creating value-added products from what would otherwise be perceived as useless waste. In addition to reducing landfilling, the use of municipal solid waste as feedstock for the production of biofuels offers many advantages: it is the cheapest feedstock, does not compete with food supply, does not have land use impact and is already collected via the waste management industry's existing collection, distribution and logistics infrastructure.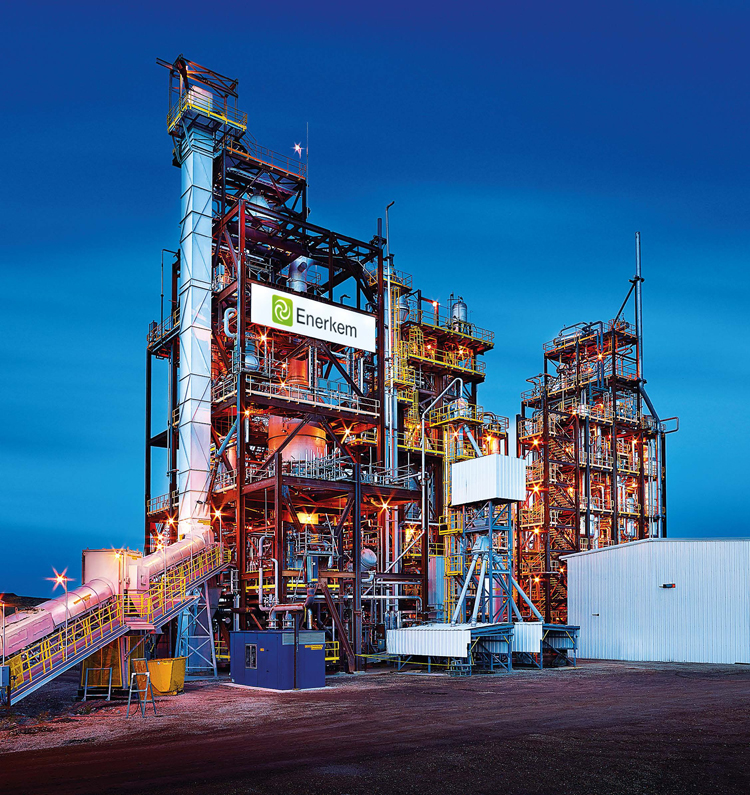 Last November you signed an agreement with AkzoNobel, a leading global paints and coatings company and a major producer of specialty chemicals, to develop a project partnership to explore the development of waste-to-chemicals facilities in Europe. Could you explain us more about this project?
Initially formed by AkzoNobel, Enerkem and four regional partners, this public-private partnership has since attracted eight more commercial parties. The primary aim is to use Enerkem's proven conversion process to turn domestic and other waste into useful products, such as methanol and ammonia. This major Dutch initiative designed to investigate how waste can be used as a raw material to produce chemicals has more than doubled in size since being launched late last year. Together, the 14 partners have all the expertise needed to make the initiative a success, from waste collection to conversion to industrial plants and sales. They will study the options for setting up Europe's first plant, either in Rotterdam or Delfzijl.
As far as you are concerned, what's the role of waste in the bioeconomy of the next decades? And what is the circular economy?
Enerkem's technology is complementary to recycling and composting. We only use the non-recyclable and non-compostable portion of the waste, such as textiles, non-recyclable plastics, wood residues, or soiled food containers.
Producing renewable chemicals from waste does help accelerate the transition to a circular economy where waste becomes a resource for the production of everyday products.