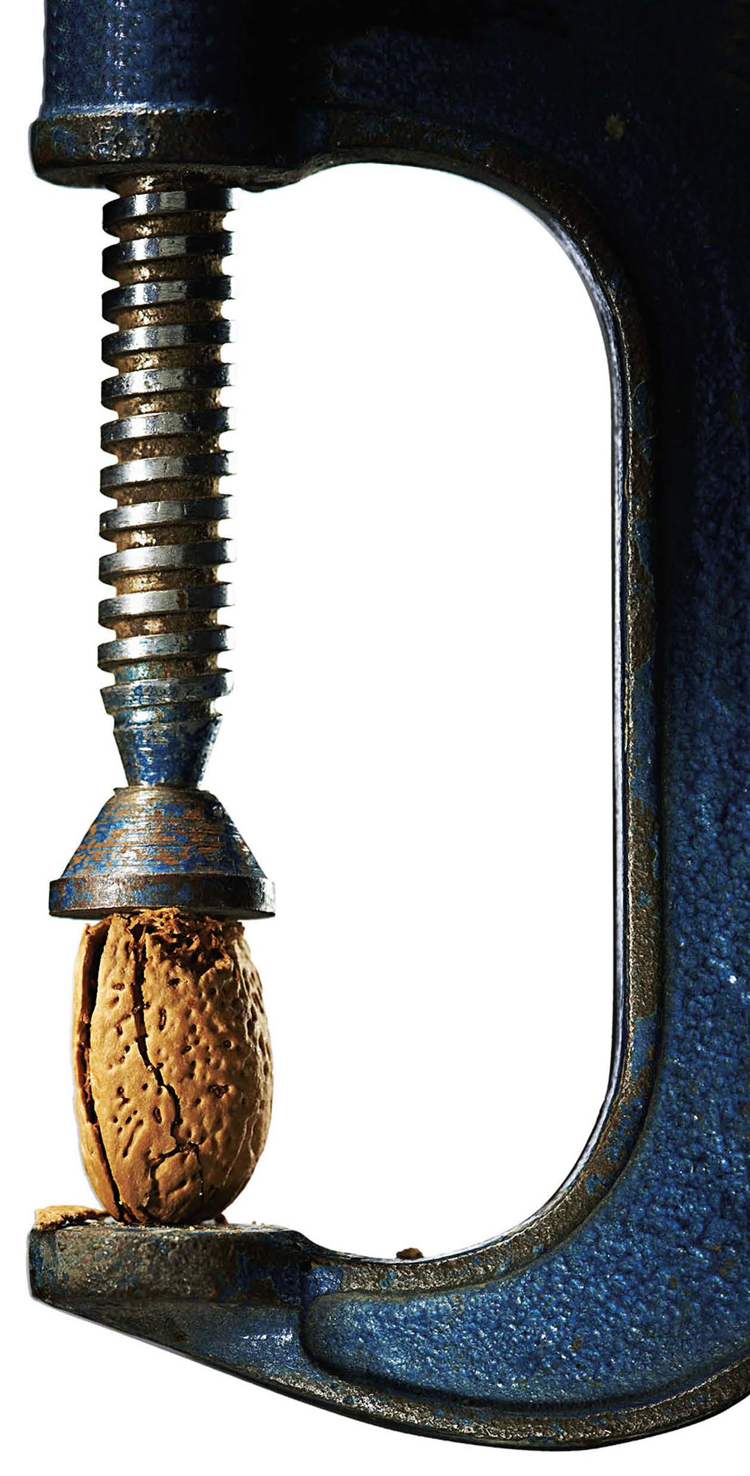 Rather than being sent to landfills or waste-to-energy plants, that waste can now become cardboard for high-end packaging, cards for wedding invitations or the paper of the magazine you are leafing through. And a number of other things. We owe it all to Favini, one of the most internationally active Italian paper factories in the field of research, paper development and production and innovative graphic designs. Favini has also paid particular attention to the environment for several decades. Indeed it has been one of the first Italian companies to draw up an environmental balance sheet and it was the first paper mill in Italy to be accredited the ISO14001 certification for its environmental management system. Moreover, Favini carries on practical programmes to reduce water and energy consumption as well as polluting emissions of its own production plants. "Our objective is to combine quality paper production with the reduction of our environmental impact" explains Michele Posocco, Favini's Brand Manager. "So, it is no coincidence that Favini has been the first Italian paper factory to develop a whole range of green products. The opportunity arose in the early 90's when the Venice Water Authority created a committee of experts to tackle the problem of too many algae in the lagoon, which posed many issue for tourism and navigation. We enthusiastically joined this committee to find out if those algae could be used to produce paper. Thanks to a one-year research study sponsored by the European Union within the LIFE Programme, we developed Shiro Alga Carta, the progenitor of our sustainable projects, a versatile paper with characteristics comparable to other types of paper with an equivalent weight." Algae contain little cellulose, so Favini had to develop an innovative industrial process, patented worldwide together with the product. The heart of the industrial process consists in drying the algae, which are then milled in a micronizing mill. The resulting powder, made of 200-300 micron to 0.5 mm grains, replaces part of the cellulose for the paper pulp. In twenty years, 15,000 tons of Shiro Alga Paper have been produced with a number of applications: from the packaging for Armani specs to shopping bags, books, brochures and invitation cards. If initially algae came only from the Venetian lagoon, over time Favini started to import them from other parts of the planet (the last one in chronological order was Normandy), not least because, thankfully, the problem of algal bloom in the lagoon scaled down.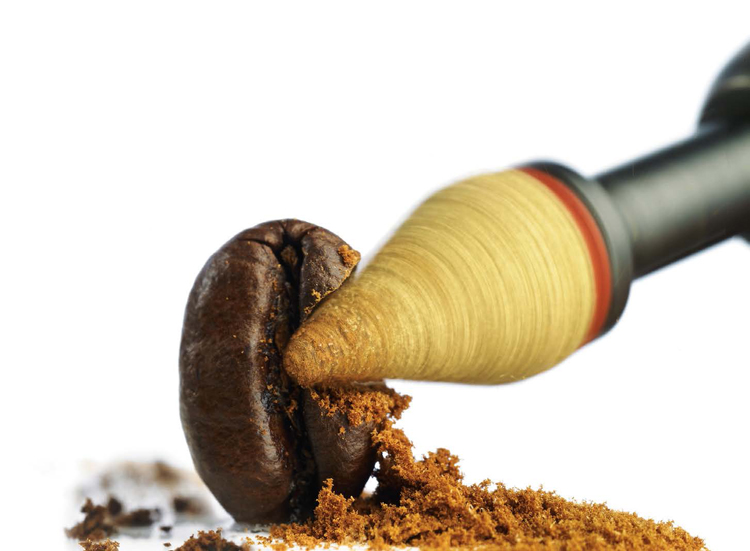 Favini in Numbers
Favini has been active in the paper market for over 270 years (founded in 1736)
Two plants, both in Italy
450 employees
€150 million turnover (about 70% due to export)
70,000 tons of paper produced every year
One of the first companies in Italy to draw up an environmental balance sheet
First paper factory in Italy to obtain ISO14001 certification
Crush Paper
After Shiro Alga Carta, Favini embarked on a research study of by-products of the agribusiness sector similar to algae but with a higher fibre content. Several research trends were created as well as some pilot products. In 2012, Favini came to Crush Paper, which is an improvement on Shiro Alga Carta. With Crush Paper, Favini ennobles waste otherwise destined for landfills, animal feeding or energy production, making them compatible with high-quality ecopaper production.
15% of Crush comes from the Italian agribusiness sector. It contains no GMOs, it is recyclable and compostable. Waste from the industrial processing of cacao, olives, coffee, citrus fruit, wine, distillates, grappa, are all used and processed with a micronizing mill. Residues from the main ingredient are visible to the naked eye, with a pleasing to the touch texture along the whole of the paper surface. "A 15% content is the most we can currently achieve without compromising colour, printability, white point and mechanical paper characteristics" explains Flavio Stragliotto, manager of Favini's production plants. "Occasionally, we managed to increase such percentage, with grape marc for example we reached 30% and with CartaCrusca (from bran) (20%) which we developed with Barilla last year to make high-end gift boxes for 'Accademia Barilla'. Not all waste is suitable for the production of Crush Paper" continues Stragliotto. "For example, we were not able to use the dregs from coffee roasting because of the high fat and oil content of the film coating the bean (the so called 'pergamino'), which, unlike cellulose have little affinity with water: the production of paper occurs in water, so a residue rich in oil can hardly be used. Our in-house team of Research&Development, made of six people, is trying to find new residues for paper pulp and is also working on the improvement of our standard products in order to contain their impact on the environment." The difference in cost between Crush and traditional paper is about 5-10%, depending on the kind of waste. Every by-product must be worked differently: citrus and corn waste are low cost, unlike wine marc requiring more complex processing. "The machineries of our production lines are standard but we have adapted them to our productions" explains Flavio Stragliotto. "The mill, which is at the heart of Crush Paper production, was bought from an Italian company to make Shiro Alga Carta and at a later stage it has been modified to accommodate our new needs."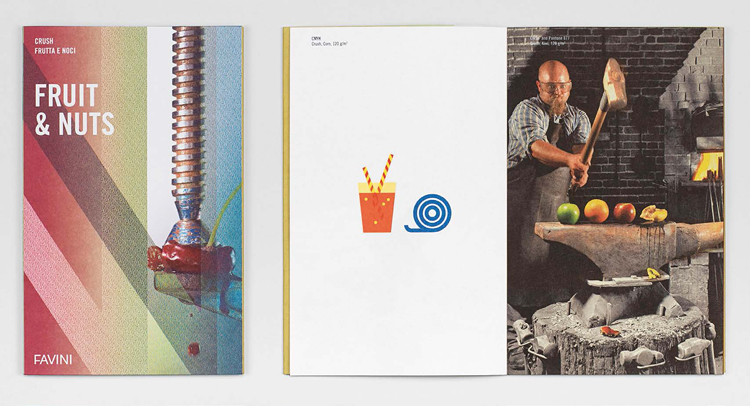 Carta Crush Agrumi (Citrus Crush Paper)
In Italy, to produce juices, about one million ton of citrus fruits are used every year. But after squeezing, only 40% becomes juice and 60% (600,000 tons) is processed to obtain other products: essential oils, bioethanol, tyres, pectin etc. The by-product of this new processing is called depectinated pulp and it is normally dehydrated and compressed to be used as supplement in feedstuff or to produce energy. Or it is dumped in landfills. This is where Favini steps in, exploiting for the first time the depectinated pulp making it compatible with high-quality ecopaper production. This is how Carta Crush Agrumi (Citrus Crush Paper) is made.

An Environmentally-Friendly Mix
Crush Paper's environmental advantages are not limited to agribusiness waste. 30% comes from recycling paper and Favini owns three hydroelectric turbines, which have been operating since the 90's, exploiting the water jump of a stream flowing into Lake Maggiore, with a total capacity of almost 2 MW. The power generation of such turbines enables 2,000 tons of paper a year, Crush Paper's total annual consumption. The remaining portion of electricity needed to power the production plants comes from the electric grid (50%) and from a cogeneration gas plant (40%) that not only produces electricity but also heat to dry paper. Thanks to energy consumption from renewables and the use of agribusiness waste and according to actions taken in compliance with the LCA methodology inspected by DNV Business Assurance, Crush Paper production's contribution to greenhouse gases is 20% less compared to that of traditional paper.
"With regard to the environment, I would like to point out that the virgin fibres we utilize (conifers, eucalyptus, beech, poplar) come from FSC (Forest Stewardship Council) certified forests, so they are grown according to sustainability principles. The forest is used as a plantation and as soon as trees are cut new ones are planted" confirms Flavio Stragliotto. "FSC is supported by high-calibre international environmental associations such as Greenpeace and WWF and managed to give the paper industry a facelift. Over the last 20 years it worked really hard to make the sector more sustainable and involve more and more producers. As for the use of chemicals, in the production of Crush Paper we usually utilize the standard ones of the paper industry. The colour of Crush Paper is similar to that of the initial material otherwise we would lose in terms of environmental impact." Favini owns two production plants: one in Rossano Veneto (Vicenza) (where Crush Paper is produced) and one in Crusinallo (Verbano-Cusio-Ossola). Both plants are ISO14001 certified and the Crusinallo plant also benefits from the EMAS certification. This means that the company is carrying out programmes of environmental improvement with year-on-year updates. "Compared to the national average, Favini is in the forefront for the protection of the environment" explains Flavio Stragliotto. "Just think of our water consumption for example: if in the late 90's our water consumption was 80 litres per kilo of paper produced, at the end of last year we reached 15 litres and still falling, against a national average of 35 to 40 litres. All paper factories are taking actions to reduce their environmental impact and perhaps we are the ones doing it best since besides reducing the impact of traditional activities, we are developing a range of highly ecological products. Clearly, our production plants, like any other human activity, have an impact on the environment, but we do achieve carbon neutrality through buying credits for reforestation of a park in Uganda and we also sponsored the building of a wind farm in India. Moreover, we sponsor a project to protect a Madagascan forest through the activities of an Italian association."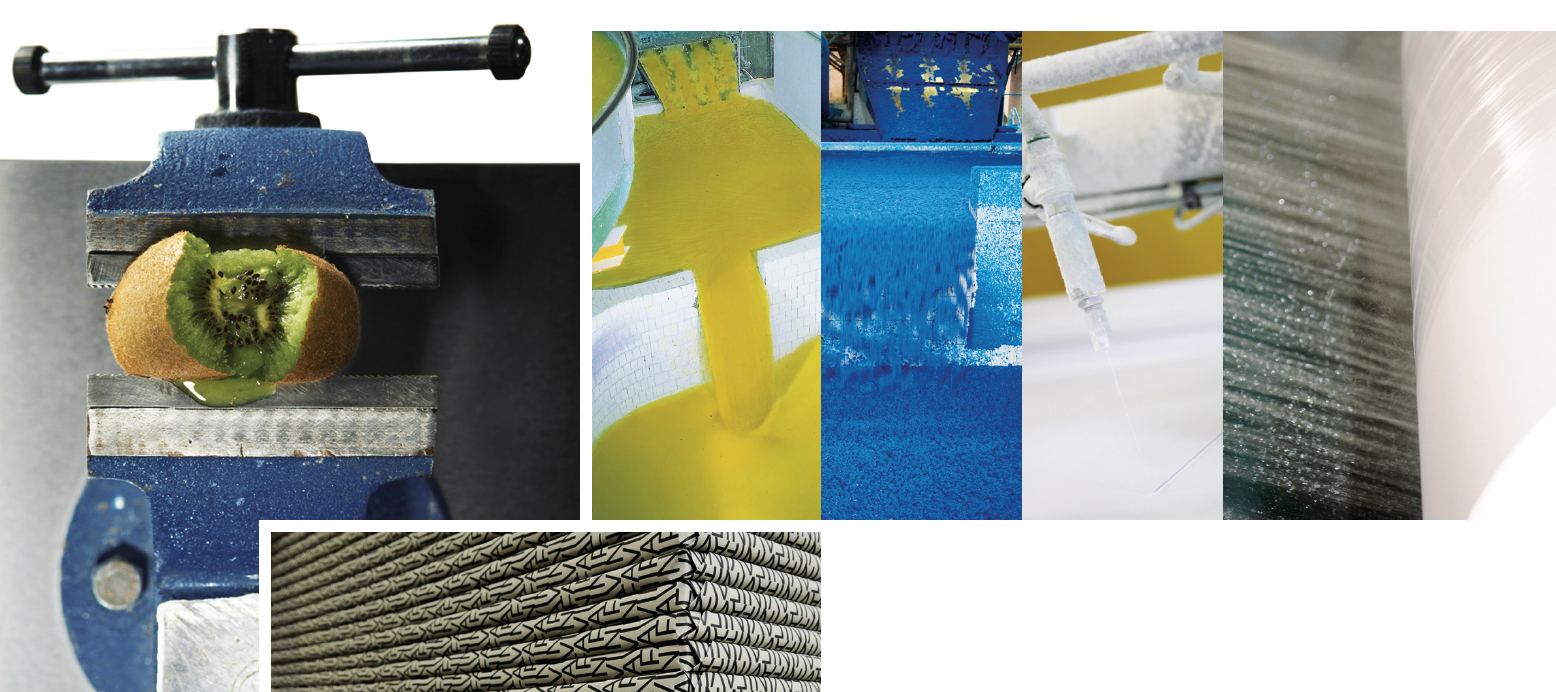 Crush Paper Applications
"Initially we thought that Crush Paper would be used mainly only in the food and beverage sector, but it actually penetrated all sorts of sectors. Ours are emotional products that engage with users because of their up-to-date contents and today consumers are increasingly aware of environmental issues" explains Posocco. "An interesting example is that of Yamamay fashion brand, producing underwear: it used Crush Paper from coffee for the cover of its latest brochure, devoted to the Caribbean, a geographical coffee-producing area." Recently, Crush Paper has been used for a new photography magazine thanks to its suitability for photographic material and for a series of cookery books published by Corriere della Sera. This issue of Renewable Matter you are leafing through is also printed on Crush Paper (from corn).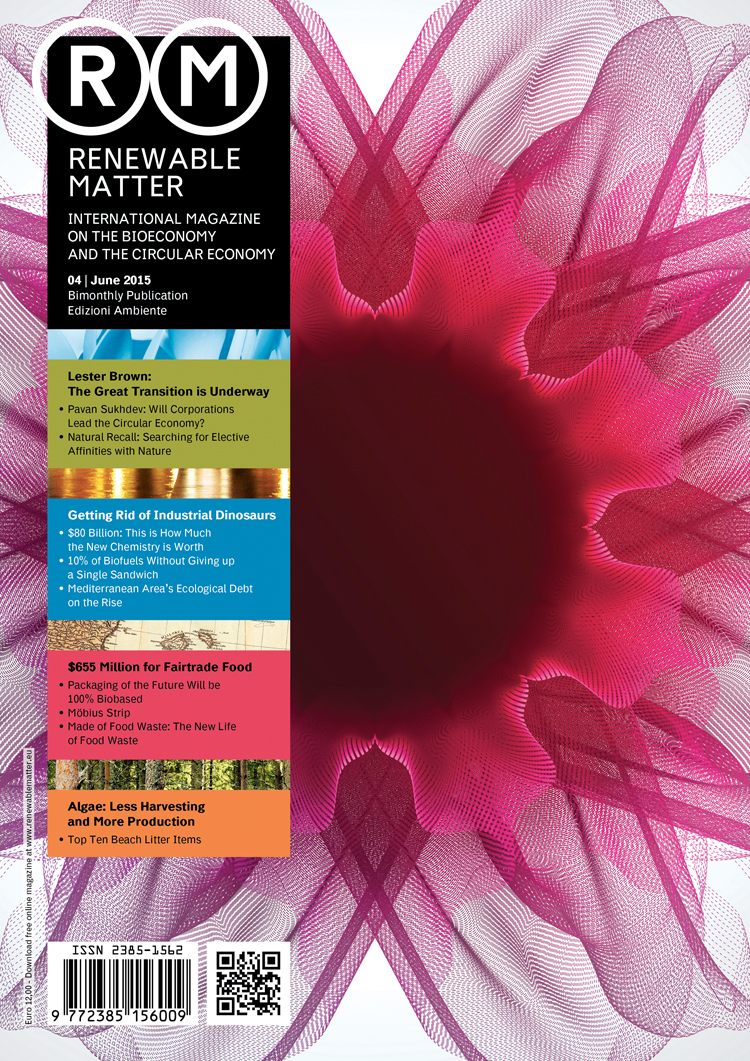 Crush Paper represents only a fraction of the whole Favini production but the product is widespread in 25 countries: it was the first Favini product to be distributed in Japan, a very difficult market to enter. Crush Paper has been awarded several prizes including the packaging Oscar and the Academia Barilla's gift box made of CartaCrusca (made from bran), received the Sette Green Award in the packaging section and the first prize in the IPACK-IMA 2015 packaging Oscar.
Info