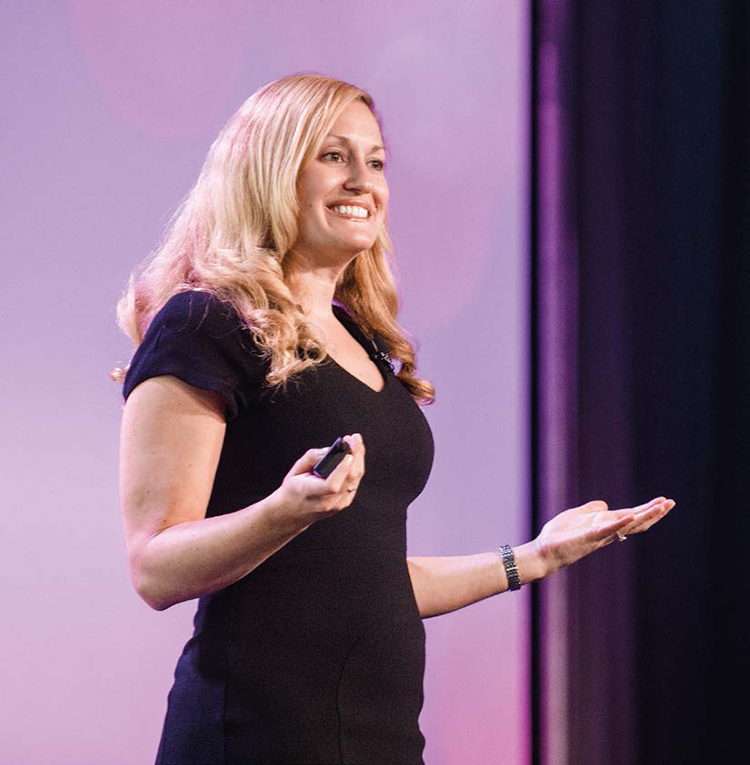 Greenbiz Group – Circularity 19
This article is adapted from the newsletter Circular Weekly, www.greenbiz.com/article/conversation-googles-circularity-maven-cso-kate-brandt
Every emerging industry needs champions. In recent months, I've been conducting a series of interviews with circular economy leaders – advisers to our Circularity 19 conference – who are driving the transition from linear to circular.
I recently caught up with Kate Brandt, Google's chief sustainability officer and textbook badass. With an impressive resume that includes senior roles at the Department of Energy, White House Office of Presidential Personnel and the Navy – plus President Barack Obama's appointment as the country's first chief sustainability officer – Brandt now leads sustainability across Google's worldwide operations, products and supply chain. I know, total badass. The conversation has been edited for clarity and length.
What are you excited about right now?
"As we think about moving from a conceptual circular economy to implementation, I'm really digging into the idea of how technology – particularly AI and machine learning – enable some of these new business models. Whether that's helping to better set prices in online marketplaces the way that Stuffstr started using machine learning, or looking at how do we develop the best, most durable and healthy materials, like we›ve seen the European Space Agency doing in applying artificial intelligence, I'm really excited about this topic right now."
How are you applying these technologies at Google?
"We've been applying machine learning in several ways in our operations. We've been designing out energy waste in our data centres by applying a machine algorithm to our cooling system and seeing a 30-percent increase in efficiency. And of course, that also translates into financial savings because energy is a huge cost input to our operations.
Equally, we have been interested in the opportunity to bring technology into our kitchens to reduce the food waste we're generating. This work has really started with bringing Leanpath – a great company up in Oregon – into our kitchens. That system includes a camera and a scale, so we have a data set that we›ve developed over many years that›s enabled us to save over 4 million pounds of food waste. [Leanpath's automated tools measure and track pre-consumer food waste in commercial kitchens. The platform analyses the source and quantity of wasted food, and offers actionable feedback to increase efficiency, cut costs and train foodservice operators to prevent edible food from being wasted.]"
What are the biggest barriers you've seen in the transition to more circular systems?
"Right now, we're at this place where we're moving the circular economy from conceptually a systems approach that makes a great deal of sense, to actually putting it into practice. I feel like we've started to make that transition in a fairly short period of time.
But once we start implementing, that's where we run into the fun and beautiful challenges. I think we are continuing to get better at understanding how we apply some of these tools. Along the way, what we've begun to learn is that AI and machine learning really are incredible tools, but they have to be applied in the right ways. They're not going to solve every challenge.
They're best suited to solve challenges where you have a data set with very strong fidelity in that data. What we like to say is that it's essentially garbage in, garbage out. If you don't have good data, the AI machine and learning is not going to help you make better decisions."
What's keeping you up at night?
"One thing that's been keeping me up at night is single-use plastics. We were recently supporters of a great study that Closed Loop Partners put out around keeping plastics in play, looking at the topic of chemical recycling and what different technology pathways are available for this huge glut of single-use plastic that now exists.
There was a core, seminal Ellen MacArthur Foundation study on the potential to have more plastic than fish in the ocean by 2050. But I've been incredibly heartened by this recent piece of work by Closed Loop Partners. It's starting to show that there›s a lot of opportunity and a lot of potential for innovation here."
Closed Loop Partner, Accelerating Circular Supply Chains For Plastics, www.closedlooppartners.com/wp-content/uploads/2019/04/CLP_Circular_Supply_Chains_for_Plastics.pdf
Esa, Artificial Intelligence, www.esa.int/gsp/ACT/research/ai_main.html