Every year 8 million metric tons of plastic end up in our oceans. Every year we use 1 trillion plastic bags, most of them only once. A constant stream of plastic waste, that is filling up seas and oceans. "In a business-as-usual scenario – says The New Plastics Economy: Rethinking the future of plastics, report produced by the World Economic Forum and the Ellen MacArthur Foundation –, the ocean is expected to contain one tonne of plastic for every three tonnes of fish by 2025, and by 2050, more plastics than fish." In this scenario, EU adopted a Directive to reduce the use of plastic bags and is providing investments on new technology, to develop the concept of an European bio-based economy.
Packaging also comes into play. An increasingly important sector, not only from the point of view of companies using it to distribute and promote their products, but also from the consumers, who are more and more conscious of the sustainability aspect of what they buy. For this reason the world of industry is investing in research and innovation, pushing designers, technicians and start-ups to produce new packaging concepts with improved and recyclable performance. The Pulp & Paper industry, thanks to its own very nature and the raw materials used can be a good case in point.
PAPTIC was created against this backdrop at Espoo in Finland. "It is a revolutionary new fibre product, where the main ingredient is sustainable wood fibre. It is a next generation packaging material that combines the environmental benefits of paper with the functionality of plastics, and tactile properties of textiles," claims Daniela Bqain, PAPTIC®'s sustainability engineer. "Amongst sustainability and high quality appearance, PAPTIC is also heat sealable and durable. Furthermore, it is renewable and recyclable with cardboard." The raw material to produce it, in this case, comes from the Finnish northern forests managed by PEFC (Programme for the Endorsement of Forest Certification) or FSC (Forest Stewardship Council). "PAPTIC is produced with the same machines producing paper, only with a slightly modified technology that started developing already at VTT Technical Research Centre of Finland," continues Bqain. "The new technology is patented by PAPTIC®."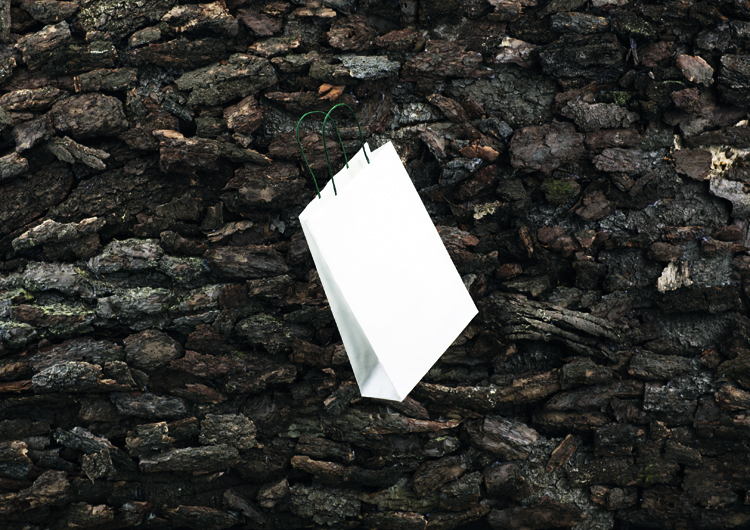 The Finnish start-up was created in 2015, as a spinoff of the Finnish research centre and in 2016 gained the financial support of Horizon 2020 European project EASME (Executive Agency for Small and Medium-Sized Enterprises), for planning and engineering the industrial scale-up of PAPTIC production: €2.2 million in two years to achieve commercial scale production by the end of 2018. It is expected a production of 20,000 tonnes a year. "PAPTIC has excellent tactile as well as visual qualities," explains Daniela Bqain. "Plastics are not considered as high quality material, whereas PAPTIC brings high class brands the opportunity to work with a novel sustainable material, which is differentiated from plastic and paper by its textile-like touch and feel properties." After the initial tests, in June 2016, the collaboration with Seppälä finally started, the famous clothing brand in Finland and Estonia that decided to replace plastic carrier bags with those made with the material from the Finnish start-up.
So, an innovative fibre material which could gradually replace the use of plastic in carrier bags and other flexible packaging. It is estimated that every year at least 100 billion plastic carrier bags are used in Europe alone, and more than 80% only once. Such average means that every European citizen uses 180 carrier bags a year. For this reason, in 2015, the European parliament forced the member States to reduce plastic bags, by adopting several measures to achieve the objective of 90 bags per citizen by 2019 and 40 by 2025. And Italy, in this instance, was the pioneering country in the reduction of disposable carrier bags, so much so that in 2011 was the first in Europe to ban their use. "Today, plastic is used for a number of applications and I think that total replacement of such material will be absolutely impossible, because it has some indispensable qualities for certain products," concludes Daniela Bqain. "But for the packaging sector I believe that the possibilities to use more sustainable materials is real and tangible." And PAPTIC is proof of that.
Pefc, www.pefc.org
New Plastics Economy, newplasticseconomy.org
Info