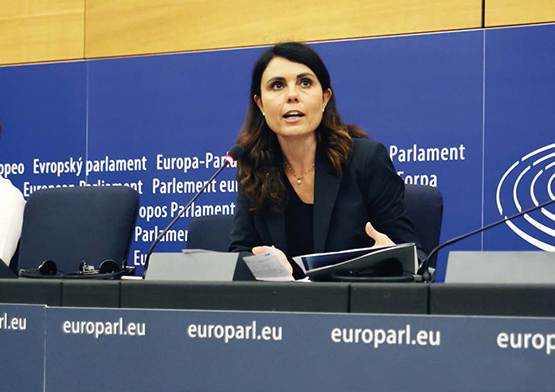 After years of delays, the European Parliament in Strasbourg has approved the Circular Economy (CE) Package. However, things have not yet come full circle. "The way for a new development model has been paved," states Simona Bonafé, MEP for the Italian Democratic Party and rapporteur for the measures approved on April 18th by an overwhelming majority (580 in favour out of 661). Technically speaking, it is a revision of four directives on waste management. These will have to be adopted by EU member States within two years, in conjunction with other measures put forth by the Commission. Bonafé, in her capacity as rapporteur is one of the most active players, supporting the parliamentary work behind the CE Package. Renewable Matter interviewed her in Strasbourg's hallways to take stock of the situation.
What is the political message of this vote?
"It is about strengthening the idea of a European community that is changing its development model. A shift from an economy consuming more materials than the environment can regenerate, to one where materials can be regenerated by recovering them from waste and putting them back into the productive cycle. It is an important achievement that doesn't represent the finishing line, but just the beginning. It will create industrial competition, jobs and a solid foundation for a truly European circular economy."
The goals are clear…
"According to the new legislation, at least 55% of domestic and commercial urban waste will have to be recycled. This objective will rise to 60% in 2030 and to 65% in 2035, whereas 65% of packaging materials will have to be recycled by 2025 and 70% by 2030. Distinct goals were then set for specific packaging materials such as paper, cardboard, plastic, metal glass and wood. Whilst Italy – my home country – produces 497 kilos of waste per capita (2016 data), of which 27.64% is sent to landfills, 50.55% is recycled or composted and 21.81% incinerated; the EU CE Package limits the amount of urban waste destined for landfills to a maximum of 10% by 2035.
I would also like to remind Europeans of the food waste aspect: for the first time we have included in European legislation mandatory measures to reduce food waste. Europe has committed, with the United Nations Sustainable Development Goals (SDGs), to reduce food waste by 50%. We took advantage of these regulations to introduce mandatory provisions to halve food waste by 2030. Currently, we define food waste as: 'everything that is thrown away,' although there is no reliable method to calculate this. When it is properly defined by the Commission and included in regulations, we will have a more precise idea as to what measures to take so as to halve food waste."
While many people were expecting a Zero Waste to Landfill result, a 10% goal by 2035 has been reached. Why was the target watered down?
"Nowadays the European landfill scenario is very diverse: in 2014 Austria, Belgium, Denmark, Germany, the Netherlands and Sweden did not send any waste to landfills. On the other hand, Cyprus, Croatia, Greece, Latvia and Malta landfilled over three quarters of their urban waste. A total of 12 countries exceeded the 50% of waste to landfills mark. Therefore, we had to take into account the particular situations of those countries that: 'are willing, but need some flexibility.'"
The CE Package also mentions prevention.
"In my opinion this has been one of the cornerstones of the Package, I daresay it is the European Parliament's main contribution to the Commission's proposal. The Parliament played a very proactive role, although proposals focused excessively on urban waste, thus being less politically influential. The issue of industrial waste remains to be addressed. This has certainly been a drawback of the legislation since its very inception."
What will the impact of the Extended Producer Responsibility (EPR) be?
"When the CE Package is transposed, manufacturers will be legally required to manage the waste produced. Furthermore, producers will be required to make a financial contribution to this end. In the EU legislation, mandatory EPR measures have been introduced for all packaging."
With regards to impacts on the economy and employment: figures vary considerably, are often exaggerated and do not always add up. In order to shed light on the actual impacts of the circular and bio economies Renewable Matter will address these topics in one of its next issues. In your opinion, what would realistic estimates look like?
"Let's use three benchmark studies, performed by the Ellen MacArthur Foundation, the European Commission, and the European Parliament. They are very similar studies that employ different ranges. However, if we had to point out a happy medium we could approximate the creation of 500,000 jobs. Obviously, we are talking about skilled workers in sectors such as innovation, new technologies, IT and material engineering.
As for economic growth, some data suggests a 7% increase in GDP could be achieved by 2035. I think this is an exaggeration, but on average we could expect it to rise by 5%. Thanks to waste management and disposal, companies are expected to save around €600 billion per year. With reference to CO2, emissions, by 2035 the circular economy is expected to reduce emissions by 617 million tonnes."
Today, financial investors (looking for equities or shares in companies that have embraced circular models), and consumers (including Large Retail Organisations ranging from the agricultural to the constructive sector) demand circularity. How is a company's "circularity" defined and measured? What can the EU do to facilitate this?
"At the moment there are plenty of European environmental certifications for this purpose. I for one, have dealt with the issue of how to measure circularity and the efficient use of resources. It is not an easy task because, when we talk about the circular economy, we include a variety of sectors producing different goods with different costs. Recycling plastic implies different costs, including environmental ones, compared to those linked to the production of virgin plastic; taking into consideration that oil prices are decreasing. We asked the Commission to organise a round table on this subject."
In order to start work on the other two pillars of the circular economy, namely Product as a Service (PAAS) and Product Life Extension, the Commission must start tackling the EcoDesign directive. How is this proceeding?
"The debate is still underway but it will be even more complex than the CE Package. I believe that Italy, the cradle of design and craftsmanship from time immemorial, will have a major say on this subject. The wood, glass, furniture and fashion industries can become a source of important contributions."
When dealing with eco-design we are faced with the End of Waste (EoW) aspect, i.e. the conditions according to which waste material and products cease to be legally regarded as waste and become a by-product or a secondary raw material.
"These two measures of the circular economy help generate less waste. For the EoW to work it is important that competitive distortions are not created: if a product is no longer considered waste in a member State, but is in another, then clearly we have two different economic costs. We envisaged a framework that is as uniform as possible and which can then be implemented by member States."
Will we export the circular economy principles to the US?
"After the US decided not to abide by the Paris agreement, they made a clear decision not to invest in the green economy. Essentially, they don't believe in it, while China truly does. Europe has a competitive advantage in this, which will have to be fully exploited."
Next steps?
"The strategy on plastic has just been released. Today, it is a mainstream subject that can be applied to all EU policies. I also expect more effective action on sustainable financing. If investment opportunities for both the private and public sectors are created, a leap forward can occur."
European Parliament, Circular economy: More recycling of household waste, less landfilling, tinyurl.com/y7bq3tda