A treatment plant in Milan's metropolitan area turned into a biorefinery. A treatment plant for the sewage of part of Lombardy regional capital turning into a filling up station. Local and with very limited environmental impact.
The project was carried out by Gruppo CAP, a company managing the integrated water service of the city of Milan and other municipalities in the provinces of Monza and Brianza, Pavia, Varese and Como – in the Niguarda-Bresso treatment plant in the North outskirts of Milan. And it is here, that thanks to CAP knowhow, in collaboration with Austep SPA and under the scientific supervision of CNR and the technological supervision of FCA (Fiat Chrysler Automobiles) the first methane filling up station was open, using waste water, that is from sludge deriving from sewage. Methane was then really used to fill up a car.
"With this project we managed to exploit all the potential energy from sludge treatment," explains Alessandro Russo, President of Gruppo CAP sewage and treatment management. "We believe it to be a sound and circular cycle because we use something that we already produce and that can be further exploited."
The Niguarda-Bresso treatment plant collects wastewater through a miscellaneous intermunicipal network (household, industrial and rain water); it serves a population equivalent to 220,000 actual inhabitants and can treat up to 300,000 equivalent inhabitants (by equivalent inhabitant, or specific organic loading rate, we mean the quantity of biodegradable organic matter deriving from households or assimilable, fed to the sewage system every day, editor's note).
A Renewable and Inexhaustible Source
Biomethane is a gas produced by the anaerobic digestion of biomass in huge "bellies" called digesters working in given temperature conditions, with no oxygen and thanks to the presence of specific bacteria. This process is the same for wastewater entering the treatment plant: once the liquid part is separated from the solid component, sludge is treated in digesters where biogas is produced containing on average 65% of methane. Thanks to normal upgrading technologies, methane is then "wasted" until obtaining a gas with a purity index exceeding 99%. Once compressed, it is ready to be used in cars. "It is a fuel produced locally. It is sustainable because its source is practically inexhaustible," Russo points out. "As a matter of fact, with the increase of sludge treatment plants, gas production will also increase."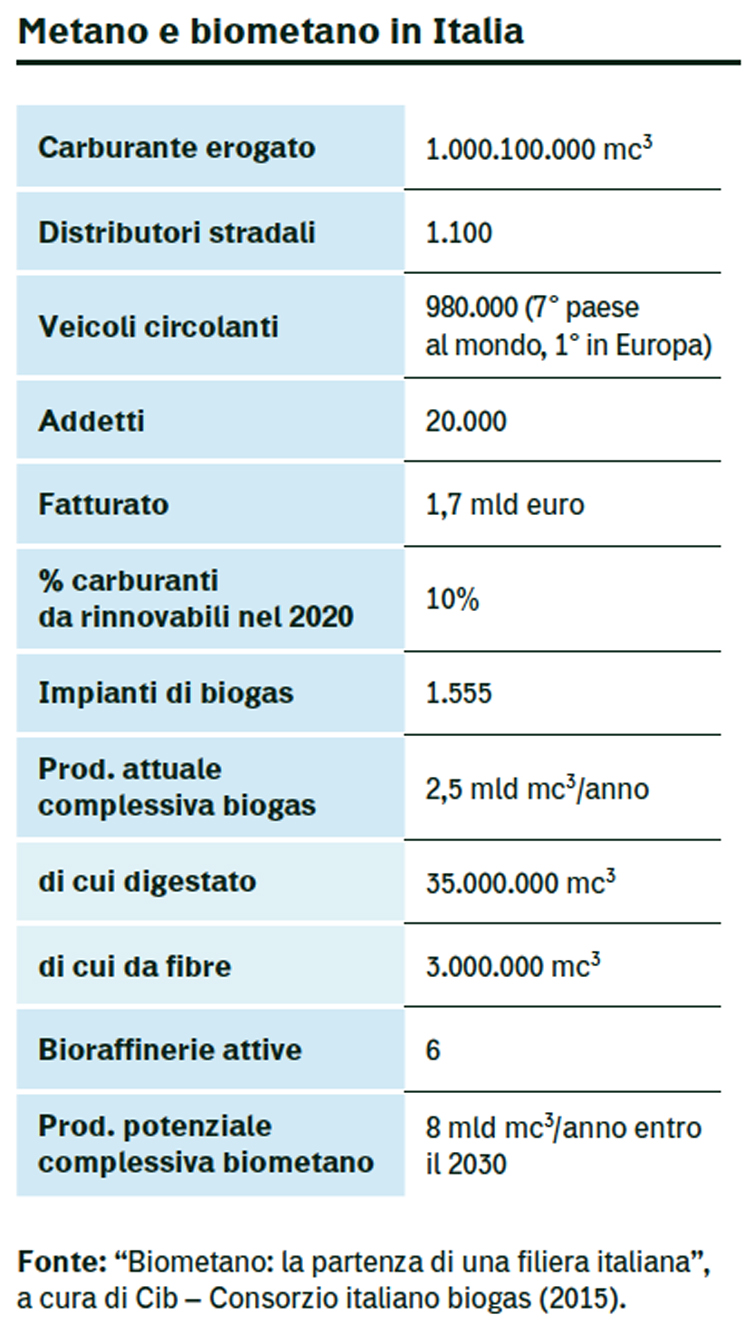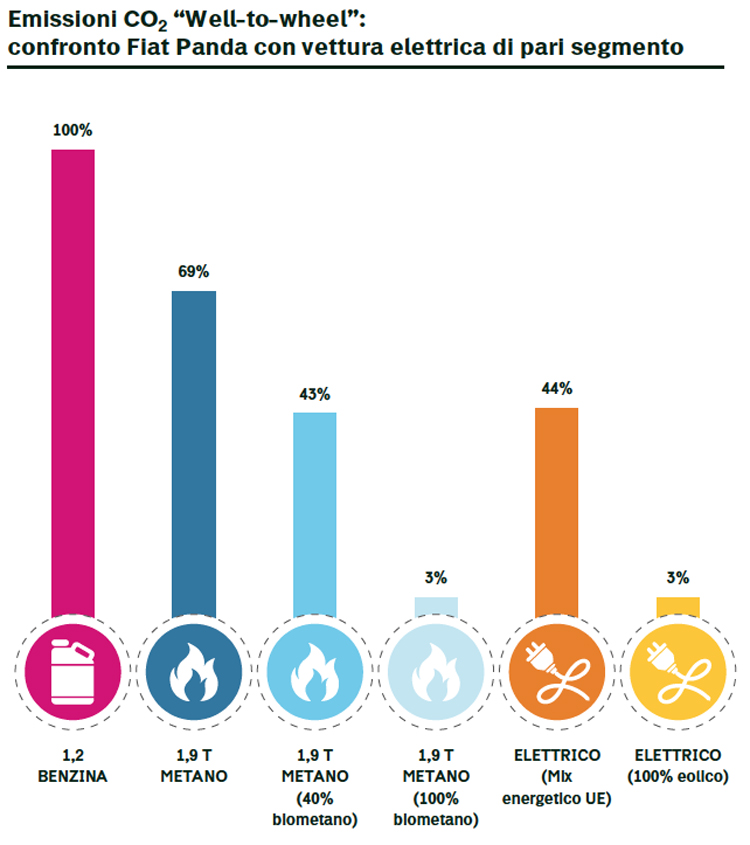 A Sustainable Fuel
By examining data provided by CAP, we can see that Bresso treatment plant alone could produce 341,640 kilograms of biomethane per year, enough to power 416 vehicles for 20,000 kilometres. "Or the whole vehicle park of Gruppo CAP," points out Russo.
But by broadening our horizons, we could envisage a production at national level. By adding up the various evaluations provided by ENEA and ISPRA, at national level, 208 million kilograms could be produced each year, enough to power over 250,000 vehicles (based on average consumption of a methane-powered Fiat Panda driving on average 20,000 km per year).
CIB Opinion
Biomethane, as well as the whole biogas supply chain, is a fuel showing the highest growth potential. The aim according to CIB (Italian Consortium for Biogas) is to produce, by 2030, 8.5 million m3 of biomethane, increasing 1.5 times the quantity of natural gas self-produced in Italy. This would meet a quarter of the Italian yearly need. "Biogas-biomethane supply chain will play an important role in the future of sustainability in the Italian energy and agricultural sectors," explains Piero Gattoni, chaiman of CIB. "The last few years have been difficult because of delays and the lack of a long-term vision that our political establishment has often got us used to, but our associated companies, thanks to their existence, prove that despite this complex period, our sector is very much alive and ready for business in Italy, with that positive attitude characterizing our agricultural and industrial productions."
And numbers prove CIB right: Italy is currently the second European producer of biogas, behind Germany, and fourth at global level, behind China, Germany and the USA. According to data provided by CIB, around 80% of operating plants runs on animal slurry, agro-industrial residues or supplemental crops while the rest uses the urban fraction of solid urban waste, sewage sludge and biogas derived from landfills.
As soon the law will allow the sale of biomethane derived from sewage, the transformation taking place at Bresso-Niguarda plant will no longer be alone. Gruppo CAP intends to gradually transform the main treatment plants – amongst the 61 currently in operation – into biorefineries able to produce not only biomethane but also fertilizers, electricity and nutrients such as phosphorous and nitrogen. Integrated digestion of water creates new sources still untapped. This is how the cycle can be closed and soon we will be able to fill up our cars by collecting and treating sewage.
Up to 95% less CO2
Fiat Chrysler Automobiles Group offered its technical support to power the first vehicles using biomethane produced by the treatment plant in Bresso. Methane can be an alternative even in the transport sector. Europe very much believes in the potential of natural gas for sustainable transport, considering it an efficient, readily available technological choice to solve pollution problems in urban areas and to reduce CO2 emissions.
In this panorama, Italy is seen as an example of best practice for the development of natural gas amongst alternative fuels, as shown by the continuing growth of sales of gas powered vehicles and the number of methane filling up stations: between 2005 and 2015 the latter more than doubled while the number of methane vehicles sold more than tripled, a sector that in Italy employs more that 20,000 people with an annual turnover of €1.7 billion, involving more than 50 small and medium enterprises with nearly 5,000 specialized garages.
Thanks to biomethane produced from urban waste or agricultural and farming activities, even natural gas rightfully becomes a renewable energy source. Thus biomethane helps solve the problem of waste recovery in a circular economy perspective, also contributing, without subtracting food resources, to reducing our energy dependence on oil.
It also offers great benefits to farmers who can use the fuel obtained from the waste of their activity to power farm machinery or production processes; they can also use it as a biofertilizer or sell it. A scenario very much in line with the EU target of using 10% renewable fuels by 2020.
Moreover, from an environmental impact point of view, biomethane produces about 20% less direct CO2 emissions compared to petrol. But the real advantage is noticeable when we take into consideration its whole lifecycle – in this case the reduction of CO2 can exceed 95% depending on the raw material used. In a well-to-wheel situation, biomethane vehicles produce more or less as much CO2 as an electric vehicle powered with energy derived from renewable sources. Moreover, taking into consideration a 40% methane-biomethane mix, CO2 emissions equal those of an electric vehicle using energy derived from European energy mix production plants.
FCA is one of the European leaders in the field of methane vehicles: between 1997 and 2015 it sold over 690,000 cars and commercial vehicles. Thanks to DAFI (European Directive on deployment of Alternative Fuels Infrastructure) implementation, we expect a further increase in the number of methane filling up stations in the coming years. In this context, in November 2016, FCA, CNH Industrial and SNAM signed a Memorandum of Understanding aimed at further developing natural gas as transport fuel in Italy.
Info
---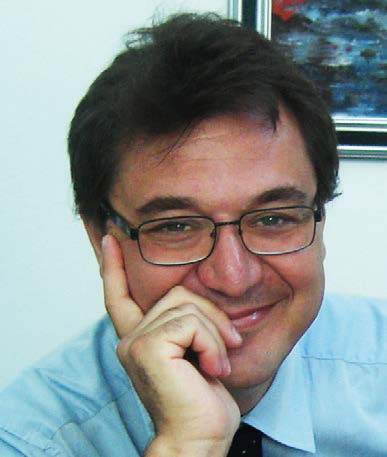 Interview with Alessandro Massone, Austep CEO
Edited by R. B.
"Developing a biomethane network on a national scale"
Austep – an engineering company specialized in designing, production, management and supervision – is active, amongst other sectors, in the field of process water and sewage treatment. In Bresso plant, it provided the upgrading technology to transform biogas into methane.
What was the role of Austep in the creation of this plant?
"Austep's aim was to tackle the sewage sludge problem and to find a solution able to exploit this waste. Gruppo CAP, managing over 60 plants, showed great interest in our technology putting forward a collaboration proposal leading to the development of innovative and state-of-the-art solutions. Over the last few years, thanks also to the introduction of regulations providing incentives for the production of biomethane from renewable sources, the interest in these technologies has grown exponentially. So we decided to apply our b:UP technology to biogas derived from sewage sludge, reacting to the market's strong demand while solving the problem of sewage treatment waste."
Tell us about the technical characteristics of the plant.
"The pilot module used in the Bresso plant has a treatment capacity of 25 m3/hour. Our b:UP technology, exploiting the different sizes of molecules, thanks to a series of membranes, divides biomethane and carbon dioxide into two separate flows. Carbon dioxide molecules, smaller compared to those of biomethane, can pass through the membranes and carry on while the latter, bigger, are blocked and channelled into a secondary flow. In this way we have two flows coming out of the module, one rich in biomethane and the other rich in carbon dioxide."
At national level, what's the potential of biomethane production from sewage sludge?
"Once the tests that we are currently carrying out at the Bresso plant are over, hopefully returning the expected results, we will be able to open the first biomethane filling up station at national level. The idea is to find a solution that can be applied in a modular way in all sewage treatment plants as to facilitate the spread of this technology with all the ensuing advantages."
CAP21, sustainability according to CAP
Every day, Gruppo CAP, though waterworks, provides water to 2,186,450 people and through the sewage system to 1,916,589 people. A catchment area that must be constantly and adequately monitored, also by employing the latest technologies available (optic fibre, WebGIS, MIbSit and smart metering): in this way CAP guarantees an efficient, transparent and quality service.
But it is also thanks to CAP21 Programme, with which the company decided to endorse 21 real sustainability promises, that the question of sustainable water management has caught on. It is a clear stance on topical questions: climate change, management of extreme weather phenomena and reduction of natural resources' availability.
Amongst these, sustainable water management is and will be extremely important. This is why CAP has implemented 21 actions, that as a matter of fact include many others, representing its everyday commitment to an efficient integrated industrial water management. A €600 million investment over five years in order to reduce consumption, reuse water, recover its nutrients, rechannel energy and rebuild the surrounding environment.