Danimer Scientific, a biotechnology manufacturer that employs 101 people in sleepy Bainbridge, Georgia, may seem an unlikely partner for a Swiss multinational that happens to be the world's largest food company, but Danimer recently became just that.
In January, Nestlé officially enlisted the small producer of biodegradable and compostable polymers to develop a bottle made of something other than petroleum-based plastic. The corporate giant, which has a market capitalisation of more than $283 billion, sells bottled water all over the world, including the Poland Springs and Zephyrhills brands in the United States. And the plastic bottles it comes in have become an environmental scourge and a public relations problem.
Nestlé is one of two dozen giant consumer brands gearing up for a full-scale war on single-use plastics. The most recognisable names in food and beverage, home and health care, and beauty and personal care have set the ambitious goal of 100 percent recyclable, reusable and compostable packaging by 2025. But while multinational conglomerates can and do develop new technologies in-house, it's not typically part of their core business, and the bureaucracy inherent in these complex companies can slow the R&D process. For this reason, some of these behemoths are turning to entrepreneurs and innovators offering alternative materials, advanced recycling technologies and closed-loop reusable packaging for help.
"Smaller companies can be more agile and hopefully accelerate the pace at which the technology becomes a product a multinational can use," said Mike Otworth, CEO of Innventure, which specialises in identifying and commercialising disruptive tech. Innventure's portfolio companies include PureCycle Technologies, an advanced plastic recycling startup led by Otworth and, as of March, also a Nestlé partner.
Danimer is retrofitting a former algae fermentation facility in Kentucky and plans to be ready for commercial shipments of home compostable items such as straws for other clients by the end of this year. The company hopes to have Pepsi's next generation home-compostable chip bagon the market by 2021.
Global brands have the market influence and sheer scale to literally transform consumption — Coca-Cola, for example, has nearly 50 percent of the global carbonated beverage market. And the stakes for these companies are high. They've faced pressure from environmental groups to reduce their dependence on disposable plastic packaging for some time, but as government bans on bags, straws and other single-use items increase, and public awareness skyrockets, big consumer products companies are fast becoming the recognisable face of the ocean plastics crisis.
In the fall of 2018, the Break Free From Plastic movement sifted through nearly 200,000 pieces of plastic trash collected on the shores of 42 countries. It found that the largest amount of brand-named garbage came from the following 10 companies: Coca-Cola; PepsiCo; Nestlé; Danone; MondelÄ�z International; Procter & Gamble; Unilever; Perfetti van Melle; Mars; and Colgate-Palmolive. That's not a top-10 list any business aspires to.
"It feels like we're at a watershed moment when it comes to the plastics crisis," said Graham Forbes, a global project leader at Greenpeace, one of the organisations that make up the Break Free movement. "For the last 30 or 40 years, the big brands have been pushing the narrative that if they make their products recyclable, then the consumer can go ahead and clean up their mess. Given the increase in public awareness, companies, especially the big brands, are starting to change their tune around that."
Perhaps we've reached the point where they have no choice. Developing countries already lacked recycling infrastructure, then in January 2018 China stopped accepting plastic garbage from developed nations and sent the whole recycling industry into a tailspin. Yet, human beings continue to produce nearly 300 million tonnes of plastic every year, half of it for single use, according to the non-profit Plastic Oceans International. More than 8 million tonnes of that ends up in the ocean each year.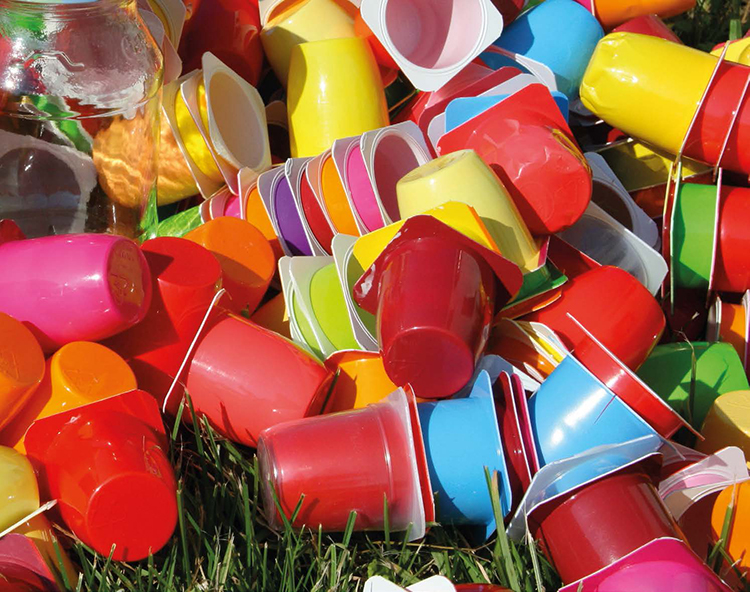 Dialling for Disruption
The plastic-free universe has been expanding for some time, adding startups and new products at a rapid pace. For example, the number of certified compostable products in the United States has risen 80 percent over the past 3.5 years to 9,000, according to the Biodegradable Products Institute, a certification body.
Up until now, however, companies offering alternatives to single-use plastics primarily served niche markets such as eco-friendly consumer brands and environmentally conscious restaurants, coffee houses and stores. By definition, big brands entering the market changes that. Could the backing of these powerful new partners eventually transform some of these niche players into bona fide disrupters?
"The number of people we're working with and talking to has grown tremendously just in the last two or three years," said Richard Ivey, Danimer's marketing manager, adding that beyond the multinational consumer brands, the company is also hearing from online retailers and grocery stores, as well as startups developing their own products. "We're getting five or six inquiries pretty much every day. Three years ago, we were probably averaging one or two."
The company's anticipated growth enticed Advantage Capital to make a $6.5 million investment that will help Danimer boost capacity and "significantly increase" its workforce at its Bainbridge location over the next few years, although the company won't pinpoint the number of jobs it expects to create there.
The development, testing and approval process for the new water bottle likely will take years, Ivey said.
PureCycle will be recycling the type of plastic found in bottle caps for Nestlé, using a technology developed in a lab at Procter & Gamble. John Layman, a macromolecular engineer at P&G who also serves as chief technology officer at PureCycle, invented a purification system that separates colour, odour and any other contaminants from polypropylene plastic waste, transforming it into a material clean enough to put on bottles people drink from.
If scaled to the larger market, this technology, which PureCycle's parent Innventure licenses from P&G, could sharply increase the recycling rate of polypropylene, which is used not only in food and beverage packaging but also electronics, car interiors and many other products. Because traditional recycling methods leave this type of plastic ugly and smelly, less than 1 percent is recycled in the U.S., compared to 20 percent of plastic bottles, which are made with the clearpolyethylene terephthalate or PET.
PureCycle aims to have its first commercial-scale plant up and running in Southern Ohio in early 2021. The first phase of the operation will begin later this year.
P&G and Nestlé are also both founding investors in TerraCycle's Loop project, launched in January at the World Economic Forum in Davos, Switzerland. Loop will use a "milkman" model, where products are delivered in high-quality packaging that can be returned and refilled again and again. Other Loop participants include Pepsi, Unilever, Mars, Clorox, Coca-Cola, MondelÄ�z, Danone and a dozen or so smaller brands. New Jersey's TerraCycle plans to pilot Loop in Paris, New York, New Jersey and Pennsylvania starting in May.
Beauty and the Shower-Safe Paper Bottle
Buyers of L'Oréal's new Seed Phytonutrients brand are already pumping shampoo out of a water-resistant paper bottle.
The brainchild of L'Oréal executive Shane Wolf, the natural hair and skin care brand launched a year ago. Seed is funded by the French conglomerate — the world's largest cosmetics company with $30.1 billion in sales in 2018 — although it operates as a separate entity, based in Doylestown, Pennsylvania, the farming community where Wolf lives, and where local farmers provide the brand's organic ingredients.
The shower-safe bottle is produced by a little sustainable packaging company called Ecologic, founded by entrepreneur Julie Corbett in Manteca, California, in 2008. Before Seed, Ecologic successfully supplied Seventh Generation and some other smaller brands, but recently experienced a colossal failure with a paper wine bottle. When Wolf approached her, Corbett says, her team was working on a redesign of the bottle, but it wasn't ready, and the team wasn't taking on new clients.
"We had almost gone bankrupt, and I had some serious PTSD," she said. "So when Shane came knocking, I initially said no. I didn't want another failure."
Wolf, it turns out, would not take no for an answer, and together they designed a two-piece interlocking bottle, eliminating the glue of the previous design and making it entirely compostable. The bottle is made from recycled material that comes from the boxes found at L'Oréal's distribution centres. Inside, there's a very thin plastic lining, also made of post-consumer material, that holds the liquid soap, shampoo or conditioner. The first version of the bottle contained 60 percent less plastic than a standard shampoo bottle.
"I gave my team one year to get it down to 70 percent, and they beat that by six months," Wolf said. "And we will not stop until we find a way to eradicate the plastic entirely."
They also plan to scale, both within L'Oréal and beyond. Wolf, who manages the Redken, Pureology and Mizani brands in L'Oréal's professional hair division, said the company will begin converting other brands to the Seed bottle design next year, starting with one of the three he manages. Likewise, Corbett is busy working to sign additional customers for the bottle.
L'Oréal isn't the only cosmetics maker moving into sustainable packaging. In December, French luxury fashion and beauty company Chanel announced an investment in the Finnish startup Sulapac. Co-founded by two biochemists, Suvi Haimi and Laura Kyllönen, Sulapac produces packaging from a trademarked biodegradable material made from wood chips and natural binders.
Take a Vacation From Plastic
Other industries as well are eliminating single-use plastics.
In the first quarter of 2019, Regent Seven Seas Cruises and Oceana Cruises became the first cruise lines to announce the end of plastic water bottles on all of their ships. They will replace them with reusable glass bottles and water filtered through a system designed by Miami-based Vero Water.
Vero Water launched in 2011, offering high-end restaurants filtered water at a cost lower than shipping in supplies of bottled water. The business quickly expanded to hotels and resorts, and it recently has found that the environmental factor has become a primary motivator in purchases, especially for beach properties.
"They see that, if you run a hotel or resort on a pristine beach in the Caribbean, floating piles of trash washing ashore is going to be a detriment to your business," said David Deshe, founder and president of Vero Water.
Analyses of past bottled water purchases done by Vero show that several resorts have eliminated between 300,000 and 500,000 bottles per year from their waste stream by switching to its service, Deshe said.
Vero's clients include Hyatt, Marriott and other global operators. The company is working with Spain's Iberostar Group to completely eliminate plastic water bottles at their properties by the end of this year.
"Within restaurants and hospitality, bottled water's days are numbered," Deshe said.
A Really Tall Order
The road to eliminating disposable plastic for the names on the not-so-illustrious top 10 polluter list will be much longer and far more difficult. Plastic is deeply entrenched in society and in business plans. One million plastic bottles are bought every minute – or about 20,000 per second – around the globe, according to consumer market researcher Euromonitor International.
Even with the best intentions, meeting the 2025 goal will prove an enormous challenge.
"We're excited to be working with such motivated people," Danimer's Ivey said. "We certainly hope they can do it. But it's a really tall order, that's for sure."
Danimer has spent a number of years working with Pepsi on a compostable chip bag, and the company just rolled out an "industrial compostable" version for its Artesanas chip brand in Chile. This type of packaging needs a collection programme that delivers the waste to an industrial composter, which provides the high heat and moisture needed for the material to break down. For the Pepsi bag to actually become compost, consumers in Chile have to dispose of it in special bins that can be found only in certain Walmart stores there.
Critics say that inadequate labelling and a lack of infrastructure mean a lot of compostable packaging ends up in regular trash bins.
"The infrastructure to handle these materials has to be in place to completely solve the problem," Ivey acknowledged. "That's going to take buy-in from everybody, from the brands to consumers to governments."
As of March 13, more than 350 companies, governments and other organisations had signed on to the Ellen MacArthur Foundation's New Plastics Economy Global Commitment to eliminate single-use plastics by 2025.
Break Free from Plastic, www.breakfreefromplastic.org
Plastic Oceans International, https://plasticoceans.org
TerraCycle, www.terracycle.com/en-US
Ellen MacArthur Foundation, New Plastic Economy Global Commitment; www.ellenmacarthurfoundation.org/news/spring-2019-report