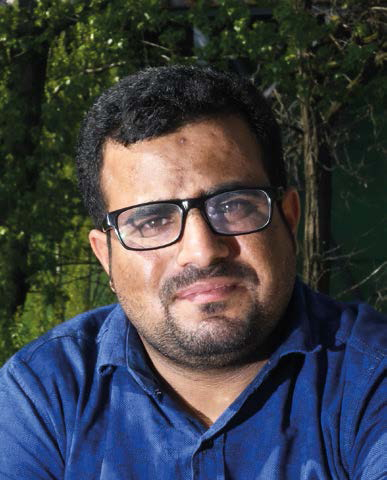 Yemen is suffering from a devastating humanitarian crisis. In the midst of civil war, most people no longer have access to energy and organic waste piles up in the streets. This allows fatal diseases such as cholera to spread easily. Yemeni engineer Omer Badokhon, winner of the United Nations Young Champion of the Earth award, has come up with an idea to face these two challenges: turning organic waste into biogas.
Since 2015, a bloody civil war has been ravaging Yemen, the Arab world's poorest country. It isn't only bombings that kill thousands of civilians, but also the lack of food and hygiene. Save the Children estimates that around 130 children die every day from extreme hunger and disease. Infectious diseases are spreading at an increasing rate, due to the disruption in public services caused by conflict. Garbage is now part of the urban setting and even open defecation is common, while water management and sanitation infrastructures are not operational. This has led to the largest cholera outbreak in modern history, with over one million people affected, according to the World Health Organization. Meanwhile, the country also suffers from more silent but also deadly misfortunes, such as household air pollution. More than three million people in Yemen still cook over an open fire, constantly exposed to harmful smoke.
Young Yemeni chemical engineer Omer Badokhon knows the situation first-hand and hopes to contribute to improving the lives of his compatriots: he wants to install small-scale biogas plants in individual homes to convert organic waste into energy and fertilizer. Although the project requires huge funding, he is one step closer thanks to the UN Young Champion of the Earth Prize, which awarded him $15,000 – enough to build 50 to 80 units of small-scale biogas plants.
Badokhon explains that: "The small biogas plants will help solve two major problems Yemen faces: inadequate organic waste management, and shortage of energy supply." The project will help reduce waste found on the street, which poses health problems and emits methane. It will also provide households with a sustainable source of energy, both for lighting and clean cooking fuel. Right now, Yemen produces only 750 megawatts of electricity, but has a potential capacity of about 1,300 megawatts. The waste produced in the fermentation process can be used as organic liquid fertilizer.
Despite the country's situation, Badokhon has obtained promising results with the first prototypes. "It shows we are going in the right direction," he celebrates. The raw materials he needs to build the small plants – fiberglass or plastic – are readily available and he plans to build them in Southeast Yemen, within the Governorate of Hadhramaut, a relatively safe area. "The main challenge is still funding," a home biogas plant can cost up to $300 and Badokhon aims to provide them free of charge to families, "but I hope to solve that by next year," he says optimistically.
Badokhon's solution could help reduce the current waste and health problems in Yemen, as well as provide people with clean and affordable energy. However, Badokhon stresses the importance of a proper waste management system to avoid similar scenarios in the future. "To solve such problems we must start thinking in a sustainable way from the very beginning." Unfortunately, for now, the only circular system in Yemen is that of terror and destruction.
Young Champion of the Earth, web.unep.org/youngchampions
Photo: ©Peter Hessel