The results of the graphic work presented herewith are editorial artefacts, produced in only one copy and on paper, magazines (Issue 0) in their own right, as a result of a workshop carried out between March and July 2015 at Polytechnic University of Milan, in a Higher degree in Design of Communication.
The workshop has a blurry name (see information sheet) as is often the case with government denominations.
In fact – to put it more simply – over thirty students (some foreigners, others absolute beginners in the publishing industry), divided into groups, worked in close collaboration and under the supervision of their teachers, with great passion and equal motivation to create such projects.
The editorial paper products are certainly to be considered artefacts and complex systems, as those in the know would realize, but today they are perceived as old in that they are written on paper, mainly because they are designed in digital first-oriented training environment. Some teachers, though, pursue such objectives, in the conviction that building a publishing project activates many and varied competences, often not adequately practiced: research and argumentation, organization of textual and visual contents, writings and images, sometimes produced ad hoc, and last but not least, narrative sequences and definition of readership.
A combination of varied tools and objectives, which can be used not just in the publishing industry, but in many other domains: video, multimedia products and applications, to name but a few.
A graphic project as direction of scenes and sequences, from editing, to dialogues and titling. We will publish the end result of this workshop, not the whole procedure: covers, obtained after a careful elaboration of the internal pages and then effective abstracts of their respective contents.
As usual, students are given a theme as a source of reflection, this year it was "sustainability." A theme that is often misinterpreted and only marginally present in school training. Students have tackled the problem by diversifying the identity of their projects in sub themes.
Each group (and so every magazine) dealt with a different aspect: sustainability and culture-nature, an anthropological and photographic approach; sustainability and ecodesign, with particular attention to materials and innovation; sustainability and reuse, for processes and productions; tourism, in its components of environmental compatibility; the theme of survival, read without a catastrophic attitude; pop culture within and outside sustainability; lifestyle, namely sustainability and everyday behaviour; sustainability and fashion design, seen through unusual parameters. Eight completely different projects but with a common heading: SOS, cultures for the Environment. Projects turned into paper publications, showing how much the graphic project is an essential part of the expression of contents and narration, when it enhances taste and style. This particular one is much more than a mere exercise.
Course
Polytechnic University of Milan
Higher Degree Course in Design of Communication
1st year, second term
Academic year 2014/2015
Workshop of Artefacts and Complex System Design
Professors: Mauro Panzeri, Pier Antonio Zanini
Subject expert: Marco Moro, Editorial Director of Renewable Matter
Guests: Dr. Roberto Coizet, Chairman of Edizioni Ambiente; Prof. Stefano Caserini, D.I.C.A., Polytechnic University of Milan
The use of the cover images herewith published has been authorized, where not produced autonomously, for teaching purposes.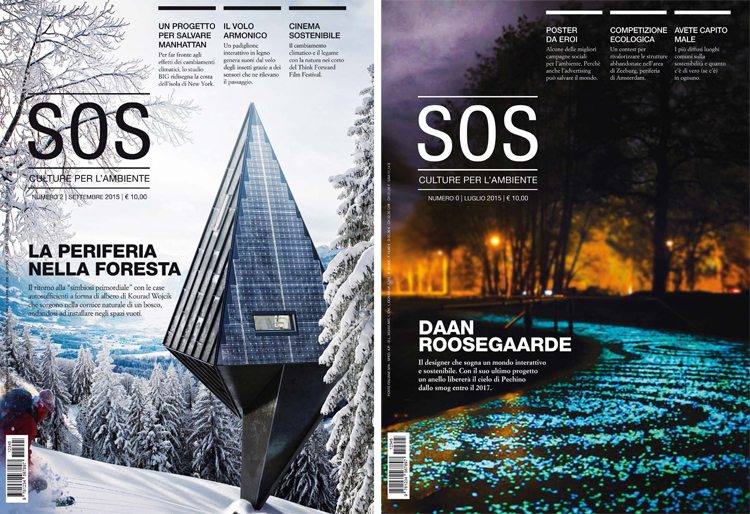 SOS Ecodesign
Anna Cont
Rossella De Vico
Manuel Impellizzeri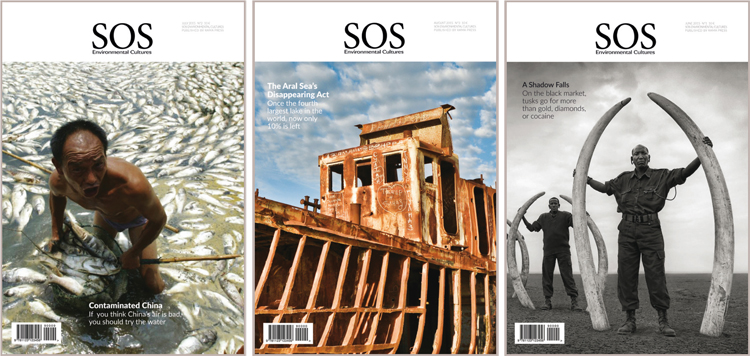 SOS Culture-Nature
Alessandra Accardo
Alessandra Borgonovo
Margarida Ferreira
Rebecca Squires

SOS Fashion
Camila Borrero Garcia
Vanessa Cervini Rios
Eyleen Carolina Camargo Higuera
Natalia Duarte Maldonado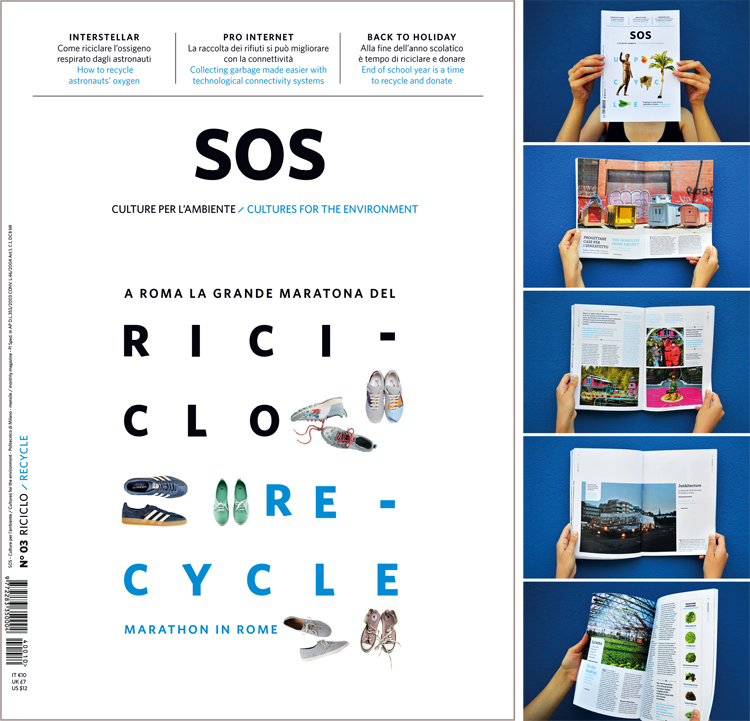 SOS Reuse
Rachel Bullock
Giada Casella
Sara Pizzardo
Sara Poljak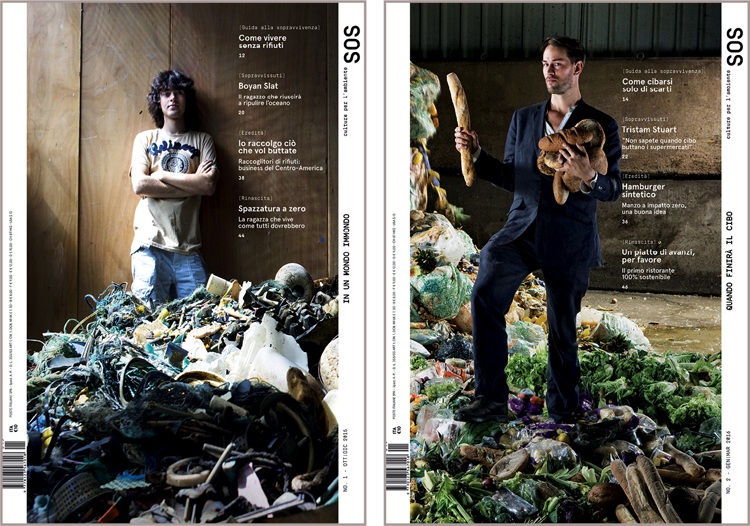 SOS Survival
Elena Corbari Verzeletti
Martina Granello
Elena Pockay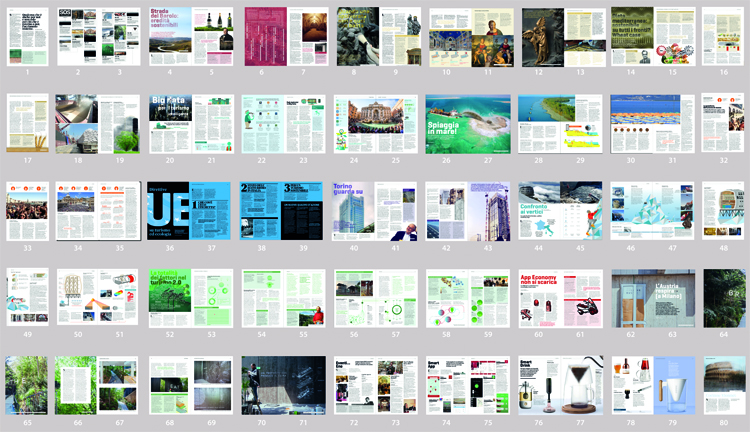 SOS Tourism
Pietro Cedone
Francesco Colombo
Juan Sebastian Forero Hernandez
Giovanni Rabuffetti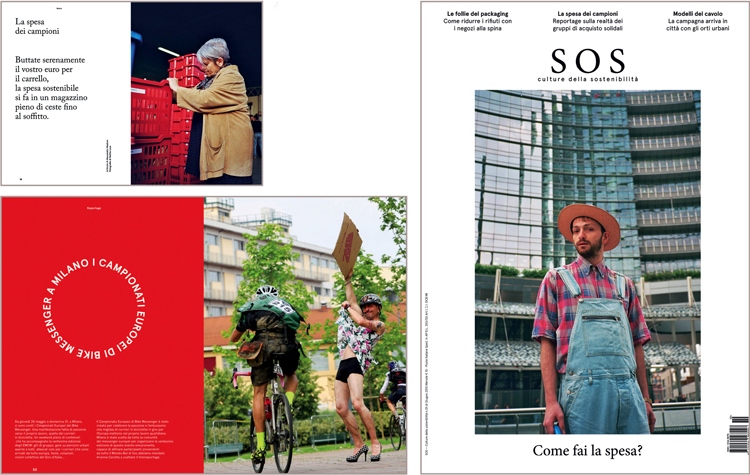 SOS Lifestyle
Nicolò Bindi
Mattia Losa
Giulia Ponzetta
Emanuele Sciolto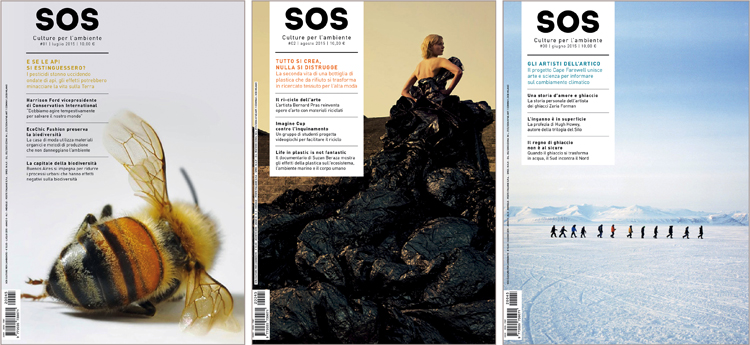 SOS Pop Culture
Chiara Bonsignore
Ana Raquel Da Costa Silva
Alessandra Fargnoli
Adelina Mihaylova