They can do so thanks to football pitches made with recycled rubber and synthetic turf. Such solutions guarantee playing performances equivalent to those of traditional fields and that, as illustrated below, has numerous environmental and economic advantages. Ecopneus – a non-profit Limited consortium whose members produce and import tyres and guarantee the tracking, collection, treatment and recovery of end-of-life tyres (ELTs) – promotes information on these new eco-friendly sports facilities. Every year, Ecopneus manages almost three quarters of the estimated Italian market of ELTs, i.e. 240,000 tons per year, roughly equivalent to 27 million car tyres. According to the target established by the law, the quantity of the recovered ELTs should equal that of the new tyres put on the market by the members the previous year. Moreover, Ecopneus dealt with some historic collections, accumulated before September 2011, as provided for by Dm 82/2011 regulating the sector.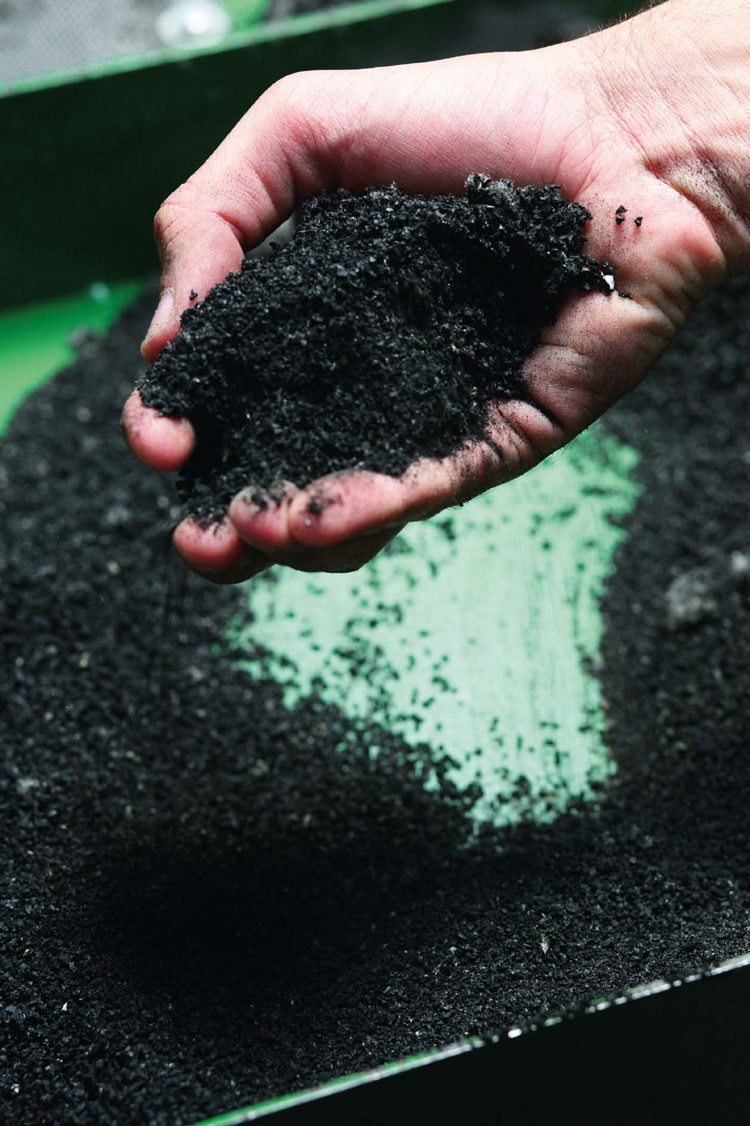 A Multi-Life Material
Rubber is a thermoset and once vulcanized – namely after it undergoes a special thermochemical process making it elastic and mechanically resistant – cannot be industrially devulcanized. For the recovery of ELTs, therefore, shredding and grinding mills are used, thus obtaining the sizes required for the next utilization. In Italy there are about fifteen shredding plants for ELTs, separating textile, polymeric and metallic fractions. "Not only do we deal with proper management of end-of-life tyres, but we also stimulate the market by developing applications of examples of how to recover rubber" explains Daniele Fornai, in charge of the development of uses and regulations for Ecopneus. In Italy the most popular granulometric class ranges from 0.8 to 2.5 mm and is mainly employed in sports facilities. Finer rubber granules are the so called rubber powders and are used to make new rubber mixes or as additives to road bitumen, while the granules bigger than 2.5 mm are used for shock-absorbing surfaces in children's playgrounds, street furniture, curbs, sound-proof insulation and mats used for livestock farming. But more than half of the ELTs becomes fuel for highly energy-consuming industrial plants, in the form of 20 mm chips or bigger pieces of mulch. In particular this takes place in cement factories. ELTs-derived fuel has a calorific value comparable to that of pet coke or of a high-quality coal and CO2 emissions are lower compared to traditional fuels because almost 27% of tyres have a biogenic origin (natural rubber and fibres derived from cellulose) and the content of heavy metals and sulphur is low.

Steps of the ELTs Recovery Chain
Collection and Storage. After having been removed from vehicles, ELTs are collected and transported to sorting centres where they are weighted and stored while waiting to be treated.
Bead Breaking. Separation of the lip, the steel ring that seals the tyre to the rim.
First Process. ELTs are shredded into strip-like pieces, to a size varying from 5 to 40 cm, that can be sent to energy recovery or undergo further processing.
Second Process. The material is shredded into smaller pieces and divided into rubber, steel and textile material. Rubber is further shredded to produce rubber chips (20-50 mm), granules (0.8-20 mm) and rubber powder (< 0.8 mm). Steel and textile material are also obtained.
Football Pitches
As outlined above, one of the most widespread uses of recycled rubber is for football fields: every year, all over the world, 500,000 tons of ELTs are used for this purpose. The first step to create a sports facility is the stabilization of the natural base for optimal water drainage. Then a sandwich made of the following layers, starting from the bottom is put on the gravel:
an elastic under-carpet that can be made in rubber co-extruded with EVA (Ethylene Vinyl Acetate) or bound with polyurethane glues. Rubber elasticity and the impermeability of such layers create both a resilient/elastic effect and allows the rain water to drain horizontally;

a synthetic carpet with a density of the turf varying according to the end use. Generally, synthetic turf emerges for about 1 cm with a total length of about 8 cm;

a layer of silica sand in order to stimulate the soil. It thickens the installation, stabilizes the weights and infills the synthetic turf;

then a rubber performance infill is put on top of the sand in the turf, in order to create an elastic and resilient effect. The infill keeps the turf straight and helps going back to its normal position once walked over.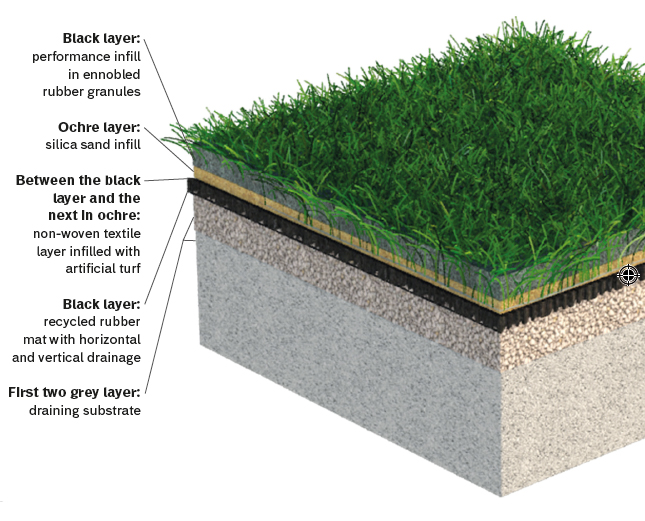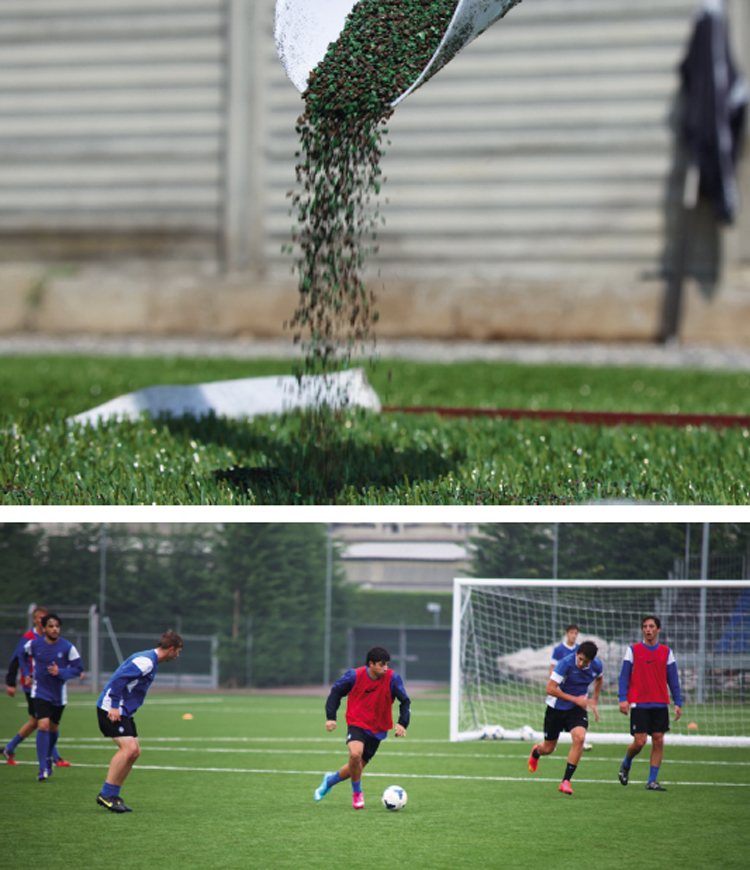 In order to make a professional full-size football pitch it takes roughly twenty working days and 100-120 tons of recycled rubber for the infill, with a cost of €400,000/450,000, goals and line marking included. In Italy, between 700 and 800 full-size pitches have been made and an equivalent surface of smaller fields, and every year 10-12,000 tons of recycled rubber are used. A properly made field has a life expectancy of ten years and can be entirely recycled. The infill and the sand are removed in an automated manner and can be reused as they are, whilst the carpet is rolled up and kept aside for possible reuse. Typically, only the last centimetre of synthetic turf is damaged by the footballers' boots studs: from the turf of a full-size field, after disposing of the upper layer, grass cover for a seven-a-side field can be easily obtained, or synthetic grass for road edges or roundabouts.
What can be produced with ELTs from 1,000 cars?
6,000 m2 of sound insulation membrane
2 standard seven-a-side football pitches
Enough rubberized asphalt to pave about 1 km of road
3.6 km of anti vibration material for public transport
6,5 tons of steel
Economic and Environmental Advantages
While rubber was one of the first materials used as performance infill, over time market rules have brought about the occurrence of competing products, the most famous being the so-called "organic infill".
Such material is very popular with the end users because it is a blend of plant-based materials (cork, coconut fibres etc.), thus lending the synthetic turf a more natural appeal.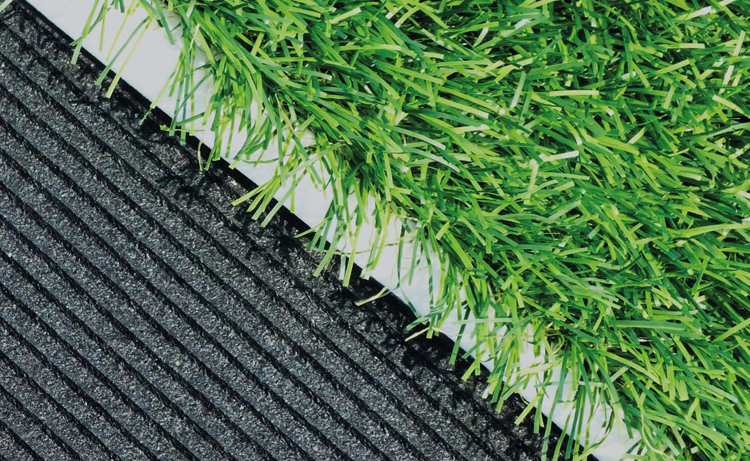 Nevertheless, despite creating a natural ground cover, the organic infill can generate a few problems. Firstly, since it is a light organic material, in case of rain it floats on the water and tends to flow to the sidelines; the rubber, slightly heavier, is stable and stays in the turf.
Secondly, to guarantee softness, organic materials must be watered and that, in addition to water consumption, can cause ice formation in cold climates. Rubber, on the other hand, does not need that, nor pesticides or antifouling agents.
One of the greatest advantages of synthetic grass is without a doubt better playability of artificial installations. Indeed, natural turf is easily damaged and has strong wear and tear: on a synthetic field it is possible to play up to 20 hours a day seven days a week, because the materials used are designed for heavy foot traffic.

"Several football pitch managers convert to synthetic because it is always in good conditions while guaranteeing much lower working and maintenance costs" explains Daniele Fornai. "The typical amortization period when converting a football pitch from natural grass to synthetic turf is from four to five years. An interesting sign comes from Serie A prestigious club Atalanta. They are well known for their attentiveness towards younger generations of footballers and over the last few months decided to make a pitch with recycled rubber for its youth team."
Info