In order not to risk sending a weak signal, it chose the most prominent position: the fair's entrance hall, impossible to go unnoticed.
So the "ExNovo Materials in the Circular Economy" Exhibition was up to its task, bearing witness to a crucial change in the economic culture and reality and in politics, of which Ecomondo is the main fair in Italy, in other words the world of clean and green technologies.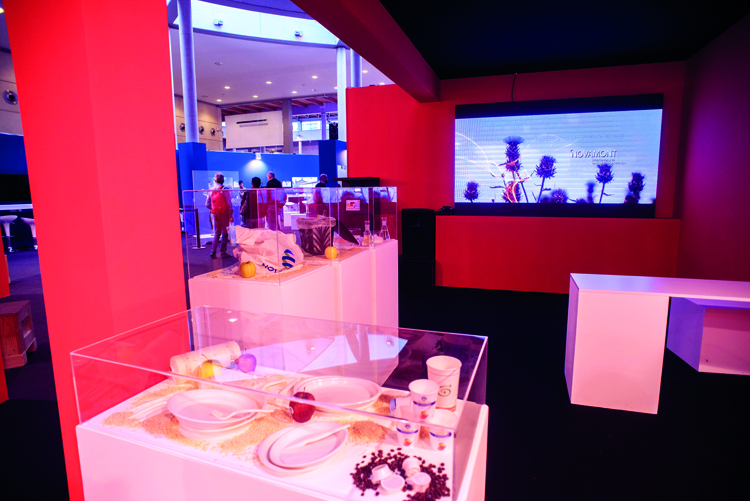 At its 20th edition, the exhibition which started as a fair for technologies for sustainable waste management wanted to give maximum visibility (strengthening the concept with a rich programme offering a plethora of events) to a topic: the recycling economy that has expanded over the last two decades has reached a turning point. The very concept of waste is taking up a new identity: the coming of age of several factors (technological, market, environmental without overlooking political and social pressure) allows us to overcome the virgin material/secondary raw material dichotomy, and sometimes to overturn their market value. With the added bonus of the growth of a new family of materials, more renewable since "extracted" from bioresources.
Recycling – in other words policies and practices that have led to the increased capacity to reintroduce into production cycles considerable share of what at a certain point of its life is classified as "waste" – in the circular economy vision is just one of the many strategies helping substantially reduce the excessive extraction of virgin raw materials and their waste in linear processes of collection, transformation, use and disposal.
The integrated vision of different processes helping reshape the relationship between the economy and resources (the "biological and technical nutrients of the economy," according to McDonough and Michael Braungart's definition) thus becomes the objective that from now on will characterize Ecomondo's exhibition and cultural strategies. "ExNovo Materials" is just a taste of things to come and a successful showcase.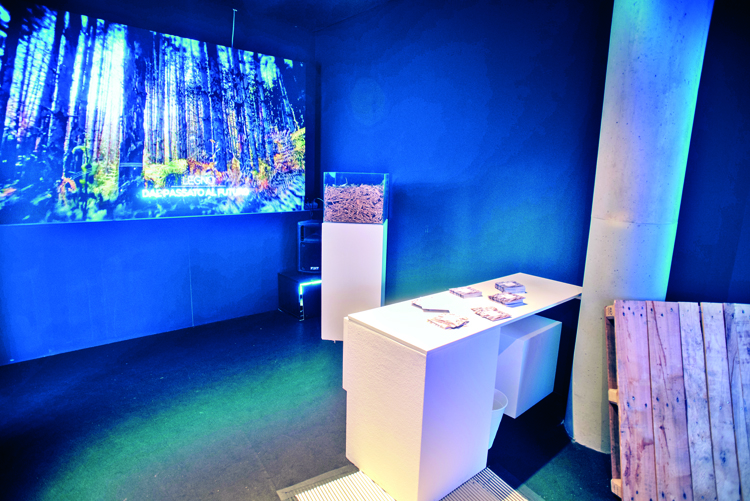 Relating a transition through static images could end up in a paradox that visitors could have spotted straightaway. So the chosen formula was a mix of material and immaterial: videos that animated the walls of each room and materials, the "renewable matters" physically present in each exhibiting space included products and raw materials.
The exhibition was organized in three areas according to different developing fields of the circular economy.
In the first one – "Maze of Rooms" – each exhibit was devoted to one of the materials that over the last years have become the focus of the recycling culture and that now represent the strongest industrial sectors of the circular economy: aluminium, glass, steel, plastic, bioplastics, paper, wood, mineral oils and tyres. At the centre of the journey meandering through several rooms, there was an area devoted to packaging, a sector that in recent years has taken an important leading role in developing circular processes in matter management.
For each material, the exhibition tried to highlight its "renewability" properties, that is its capacity to keep its value unaltered while passing from use to another. The nature of these materials was made readily perceivable by holograms that offered a dynamic visualization of the transformations they are capable of.
The stars of this section were the Italian associations for packaging management: aluminium (CIAL), wood (Rilegno), steel (RICREA), glass (CoReVe), plastics (COREPLA) and paper (COMIECO), as well as COOU for mineral oils, Ecopneus for tyres and CIC (Italian Composting and Biogas Association) with Assobioplastiche and COREPLA with its project "Di che plastica sei?" ("What plastic are you made of?").
Who's who in ExNovo Materials
The exhibition is the brainchild of Italian Exhibition Group, Edizioni Ambiente and Centro Materia Rinnovabile. All the participating companies and associations actively contributed to the contents of this project, also providing the materials exhibited.
Visual aids were made possible thanks to the collaboration with Phantasya, mounting with Prostand and graphic design by Mauro Panzeri-GrafCo3.
The next area presented a series of testimonials: companies that truly embody this new innovative change. Such as Novamont, with its net of production and research centres making it a leading company at the forefront in the production of biochemicals and biobased products, showcasing several application at Ecomondo. Officina dell'ambiente, Hera and Federbeton represent an entire circular sector that starting from "waste residue," such ashes produced by incinerators, produce material usable in green building.
Nespresso presented its programme for recycling aluminium capsules and their content, the latter sent to composting. Mosaico Digitale offers coating resins from renewable sources. There were also Syndial, a company of Gruppo ENEL, specialized in soil decontamination, and REMEDIA, with a project to promote WEEE collection in Africa.
The journey ended with a vast exhibition area devoted to a selection of innovations by start-ups involved in the circular economy and in the bioeconomy.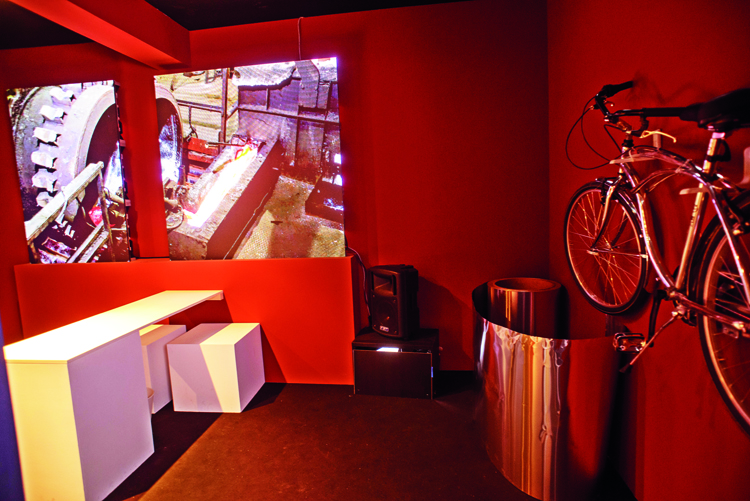 German Equipolymers presented a project for the development of a plastic bottle containing 20% recycled PET, suitable for drinks produced on a very large scale, that would offer considerable matter savings while meeting mandatory qualitative standards. Werner & Metrz Italia developed a technique to recycle plastic from separate waste collection offering a product suitable to produce high performance containers characterizing the company's line of cleaning products.
Start-ups also offered a selection of materials, semi-finished products and "circular" products obtained from a wide range of resources: recycled basalt fibres to manufacture boat hulls (GS4C), milk processing waste used to produce fabrics (Acquastyle – DUEDILATTE), agricultural and food waste becomes an ingredient for mortar (Calchera San Giorgio) or plastic material (Mycoplast – Mogu), non-food biomass to produce polymers (AEP Polymers), wool processing waste to produce fertilizers (TCP Engineering – Fertilana), cosmetics obtained from wine making waste (Poliphenolia), construction materials derived from stone cutting sludge (Stonebricks).
Examples of practical uses of anything that has become waste or residue, paying particular attention to local resources and economies.
Tested during Ecomondo 2016 Fair, the exhibition aroused a lot of interest, highlighting a popularizing quality exceeding organizers' expectations. They now have in their hands a successful and repeatable format that can help spread the culture of circularity.
Video "ExNovo Materials in the Circular Economy", www.youtube.com/watch?v=10hitUvByIo
R. Bressa, "L'edilizia green che nasce dai rifiuti", Materia Rinnovabile 12/2016; www.renewablematter.eu/art/262/From_Waste_to_Green_Building
Phantasya, www.phantasya.it
Prostand, www.prostand.com/en
Mauro Panzeri-GrafCo3, www.linkedin.com/in/mauro-panzeri-81963919
Photos: ©Sergio Ferraris/www.sergioferraris.it