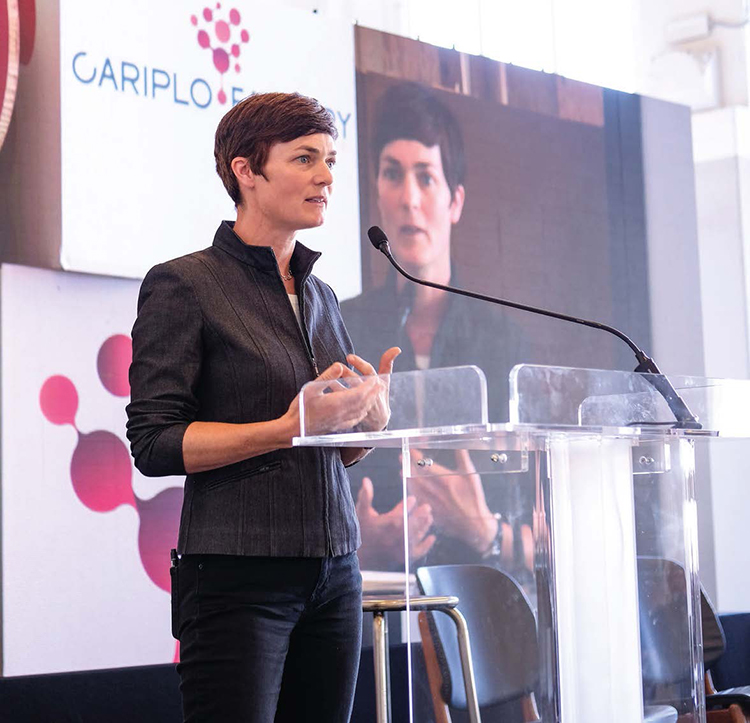 "We will all become 'circular' because it is the right thing to do, but I don't think it is necessary for every person to know in detail what the circular economy is: it will be sufficient for products and services to be created and offered to them as such. Conversely, for those working in the education sector it is absolutely necessary to have knowledge of the entire process: it is the future, and a different way of thinking."
Ellen MacArthur's calm voice and deep, clear eyes project the determination that led her to establish, in 2005, the world record for circumnavigating the globe in a sailboat, solo and without stops: a feat that led to her being awarded the title of Dame of the British Empire. And, it is in a simple and convincing tone that MacArthur explains the importance of the university system in accelerating the transition from a "classical" linear economy to a circular model, founded on the pillars of sustainability, renewable energy, reuse and the regeneration of materials: a change in paradigm that drives all of the MacArthur Foundation's endeavours.
Since 2010, the Ellen MacArthur Foundation (EMF) has collaborated in its campaigns with international institutions, public administration organisations and financial and industrial giants. Among these is the Italian banking group Intesa Sanpaolo, which, alongside Fondazione Cariplo, a few months ago created the first laboratory for the circular economy in Italy, the Milan-based Circular Economy Lab. At the Lab's inauguration last September, held in the Cariplo Factory spaces (in the former Ansaldo factory), Renewable Matter caught up with MacArthur and asked her to recount the relationship between her foundation and academic institutions all over the world.
What is the attitude of the academic world with regards to the circular economy? How did the EMF start collaborating with universities and research institutes?
"When we started this was a very new field. We sought to foster a very deep relationship with a small number of design engineering and business universities to begin with, to understand how to teach circular economy, how circular economy is then taken forward by the student, but also to embed circular economy within the university. So, if you came on our fellowship programme you had to have an academic from the university work with you for a week-long summer school, and then for a year-long innovation project. That helped embed circular economy within universities."
Aside from this, what are the current partnerships between EMF and university institutions?
"We have network universities and we have partner universities which we work with on various programmes. The fellowship programme is going up to another level next year, so we're making it much broader and we're working with a much, much greater set of universities. We have teaching courses with universities all over the world, [in] the fellowship programme here in Italy we had the Politecnico di Milano, we had MIT, Yale, Berkeley, Crownfield Imperial, London Business School, the Indian Institute of Design, Tianjin University, and those are just the partner universities for the fellowship programme."
The eight 'Pioneer Universities' also take part in your CE100 (Circular Economy 100) project? How does this work?
"CE100 is an accelerating programme, so the idea is to help share the latest thinking around the circular economy and to develop projects in which organisations can collaborate using this thinking. This means research institutions, companies and businesses or cities and regions all coming together, increasing the scale of projects and the scale of the idea of circular economy. All we are trying to do as an organisation is promote the circular economy."
Commitment to Learning and Education
Further education and adult learning constitute one of the most important fields of activity for the Ellen MacArthur Foundation. According to an estimate by the organisation, educational projects that have been organised in the past eight years have reached 7.68 million people all over the world.
The programmes range from Business Learning – whose purpose is to support practical application of the circular framework within businesses – to collaborations with high schools and universities all over the world that aim to develop and integrate the circular economy model into courses and study plans. Notably, in 2016 the EMF entered into agreements with United World Colleges (UWC, an international higher education network connecting 17 schools across 4 continents) and with International Baccalaureate, an organisation with 5.000 participating institutions in 150 countries.
Additionally, the Ellen MacArthur Foundation collaborates with the "Network Universities" (including Pavia University and Milan's Bocconi): a group of institutions that have started research programmes on the circular economy within a number of specific courses. Finally, other universities, such as MIT in Boston, Tongji University in Shanghai and the Politecnico in Milan are partners in some of the Foundation's specific projects in which students and tutors take part, such as the Schmidt MacArthur postgraduate scholarship programme, which aims to create a global innovation platform for researchers and academics in the fields of design, engineering and business, in order to redirect the economy towards a circular model.
What are the themes for which research – both academic and private – is most urgently needed to develop the circular economy?
"There are so many. On the economics side there's research needed everywhere so as to develop different business models, a really new topic that is absolutely vital for the circular economy. On the materials side we need to look at design in a broad sense, so we are designing with the circular economy in mind: for example, creating products that can be more easily disassembled and reassembled. Marketing is another important area: understanding how to market the circular economy is challenging because you probably don't sell products but you provide products as a service."
Is it possible to measure the circularity of a business? Is there anyone that is moving in this direction?
"There are many conversations on the subject of how to measure circularity, and some companies that we've worked with have developed and implemented their own measurement tools, but overall the issue is very complex. Consider, for example, a resource: you could look at how that resource is used, at how much raw material goes into a product when you make it, and see that as a measure. But then you also have to look at how a product is situated within the economy, and, if that product has a cyclical journey before being decommissioned, or indeed remanufactured, should it be measured differently? How so?"
Which are the countries where the circular economy is making the most progress? What role might Italy have?
"I think there's a massive opportunity for emerging markets to leapfrog the linear economy we've built. We recently divulged the results of a study that shows the huge economic benefits that the circular economy would entail for China. The same is true for India and other developing nations. As for Italy there is great potential: already we see examples such as municipal food waste collections in Milan, as well as other similar programmes all over the country; or the forward thinking companies and start-ups exploring different fibres and materials for fashion. Also, Italy is at the forefront of design, it is world-renowned for it: circular economy is intelligent design, design for the future. A product has to be beautiful but also has to fit within a system: who if not Italy can find the best design for this?"
Ellen MacArthur Foundation, www.ellenmacarthur foundation.org