Arup and Royal BAM have been recently exploring the benefits and business opportunities that Circular Business Models (CBMs) offer to stakeholders within the built environment sector. This research has been finalized in a publication available on arup.com.
Circular Business Models (CBMs) cannot be achieved without intervention, as in today's economy there are numerous examples of where it is currently perceived as more cost effective and convenient to dispose of resources after their first use rather than re-use them. By taking a systemic view across the whole life cycle of construction assets, using new technologies and applying advanced design approaches, additional value could be created. This value will demonstrate an economic business case for adopting CBMs.
Funders, owners and occupiers will be fundamental to driving a "circular built environment," by choosing to adopt alternative development strategies, ownerships structures and operations models. However architects, designers, engineers, suppliers, contractors and facilities managers will have a crucial role in creating circular solutions to facilitate a move to CBMs.
Circular economy: an opportunity for the construction industry
The global construction industry is the largest consumer of resources and raw materials of any sector.
In the UK, the building sector uses about 60% of materials while in Europe demolition and construction waste amounts to about 25-30% of the total waste generated.
To reverse this trend a shift in the way the construction value chain has been historically seen shall be considered. Different elements such as the long-term design thinking, the role of technology and innovation, the adoption of new production and consumption models and the importance of collaboration throughout the supply chain and the lifecycle of a construction asset can play a significant role to help businesses save on raw material and waste management costs.
By adopting the circular economy, the focus will shift to sourcing sustainably, maintaining material productivity over the lifecycle of developments, and reducing losses of non-renewable materials. This will produce financial, social and environmental benefits. According to the ING Economics Department, the market for a circular economy is growing and it is estimated that over the next 10 years, this will boost economic growth by up to 4%.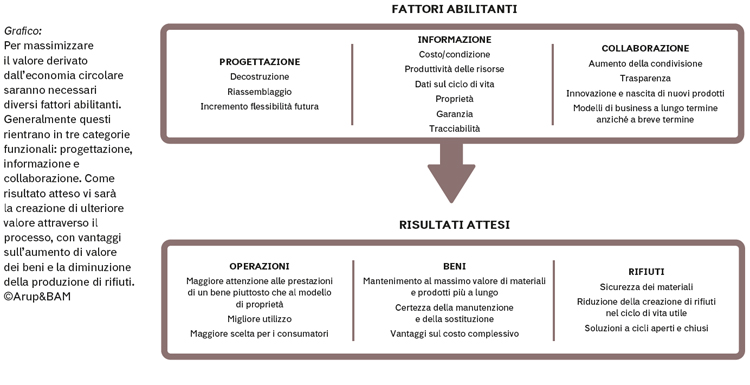 At present, there are inefficiencies in construction business models, increasing costs at all stages of a building development cycle. From a manufacturing standpoint the global economy is spending 30% more natural resources than it can actually afford. During their service life, buildings and the built environment assets are not used to their full potential, e.g. it is estimated that office buildings are only used up to 65% of their capacity. The true value of these assets is not always considered because of the cost of maintaining plant, systems, interior finishes, fit out, etc. is often not borne by the same clients. All this presents a challenge and an opportunity for the industry to appreciate a product's value in relation to a circular business model (CBM).
The circular economy when applied to a building development cycle will address these inefficiencies. Value is added by increasing the ability of assets to respond flexibly to market conditions, increasing asset use, diversifying income streams and maximising the residual value of a building's materials. Challenges and opportunities exist in meeting initial research and development costs, financing business model transitions and fostering sufficient collaboration between industry actors to achieve and share the potential system-level benefits.
Circular Business Models
While traditional business models do not often favour collaboration throughout the value chain, the circular economy proposes new models that challenge all stakeholders to contribute towards an outcome that achieves the best for all parties, using components that retain the highest value throughout the lifecycle and minimises losses from the system.
Innovation (in the format of digital platforms, product passports, 3D printers and tagging sensors) will play a key role by enabling CBMs. Material databases shall be created to store the information required and facilitate their reuse and demonstrate their residual value through time and at the end of a building's life-cycle. Furthermore, platforms like Building Information Modelling will become crucial to bring altogether people, processes and technology to drive efficiency and improve performance. Alongside a new model of governance and regulations allowing the implementation of such models, this vision envisages a shift that will help to reduce relevant risk factors that might retain investments to be made as support to CBMs.
To support the transition to the circular economy, investor, tenants and government will play a crucial role. More importantly CBMs would allow the retention of an asset at its highest value over time and support enhancement of natural capital. Different CBMs will be required at different stages of a lifecycle – design, use and recovery – of an asset and may work independently or collaboratively. Successful implementation of these business models will require action from designers, suppliers, service providers, contractors and end-of-life companies by sharing materials, systems, energy, as well as information and services. New business models would allow greater control of resource streams through the value chain so the added value can be identified and captured. Additionally they will allow innovation through the supply chain, so new entities can be generated such as business in waste handling, refurbishment and reverse logistics. They will also enhance collaboration within the supply chain amongst all actors and enable the creation of services that capture valuable products/resources.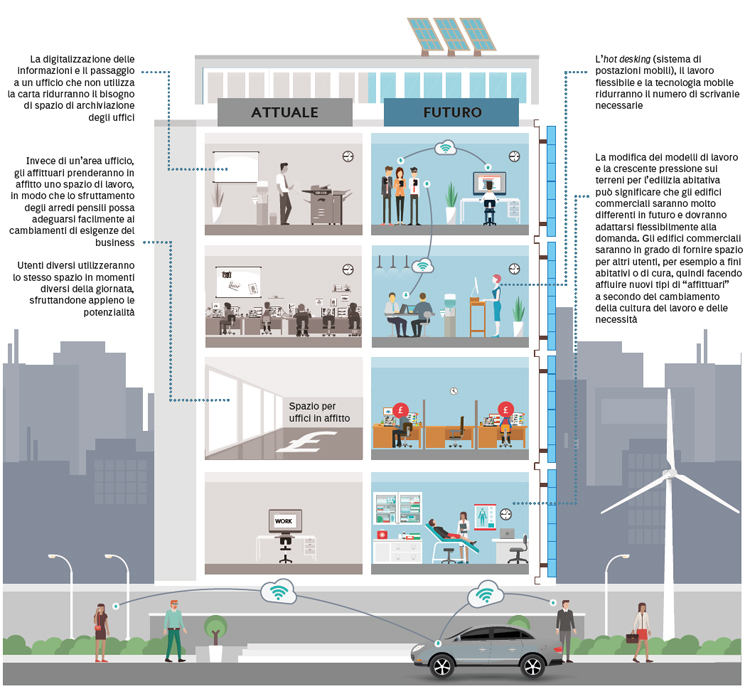 A circular building will be occupied very differently to the equivalent building of today. Exactly how these changes impact tenancy agreements needs to be explored, with input from tenants, agents and building owners. ©Arup&BAM
A circular value chain
No company will work alone in a built environment based on a circular economy and businesses have the opportunity to expand the services they offer or collaborate with others to maximise value.
Traditional business models do not often favour collaboration throughout the value chain because businesses act independently of each other, rarely considering the aims of others in the value chain. Such a complex value chain generally has a staged approach where products and services are the inventory of one company and the receivable of another. Therefore the risks and strengths of a company should be viewed collectively with its value chain.
For example, a business which bases their CBMs on refurbishing and maintaining their products may need to partner with a "tracking facility" provider so they can monitor and record where their products have been installed, and then work with a logistics company to ensure the expired products are returned. Technology will be used to retain data on materials locked in built assets (i.e. Building Information Modelling). At each stage of a development life cycle there are opportunities and challenges which need to be addressed. Different stakeholders will be involved in providing the solutions or may need to work together. Developing integrated value chains could give companies a competitive advantage in the future.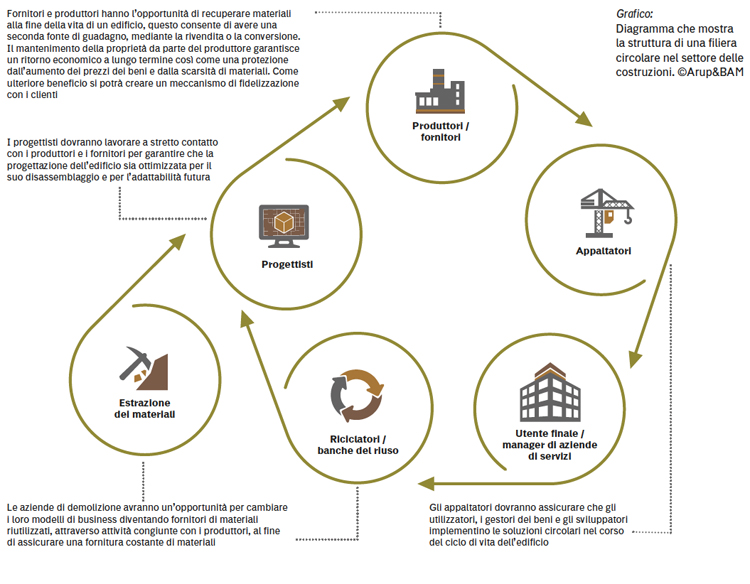 Future actions
The complexity of the external environment still works to the advantage of the current linear model. Looking at the construction industry in particular, inherent contradictions pose challenges for the adoption of CBMs. To overcome these contradictions, the value chain needs to take the following into consideration.
Long term thinking
The construction industry works in silos, with each stakeholder pursuing their own interests. For example, in a speculative building scenario, the developer tends to aim to sell the building as quickly as possible, which may deter them from investing in high quality materials and designing for longevity. If, however, the developer were to maintain ownership of the material in the building, there would be a greater incentive to consider the longer term. To enable this new forms of contracts and partnerships are required. The reverse is generally true for infrastructure projects, whereby the client generally holds on to the asset for long periods of time.
Design for deconstruction
The industry needs to rethink design – from designing components for maintenance, reuse or recovery to designing spaces with an asset's reuse potential in mind. Along with design for deconstruction the social value of circular assets should also be considered early within the design.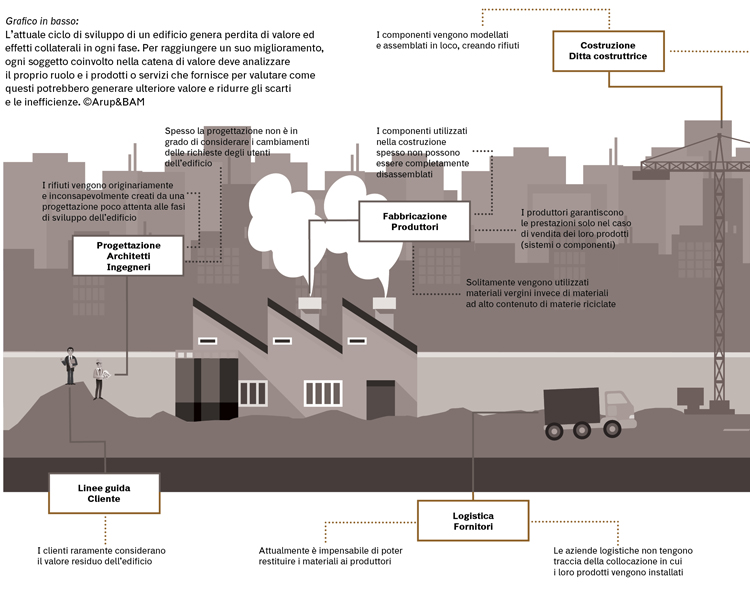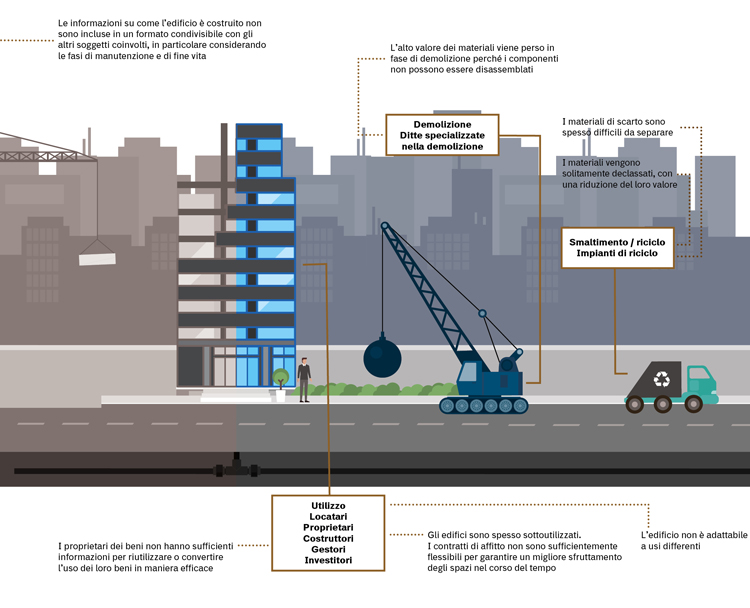 Innovate
Solutions will develop within the value chain once requirements for the circular economy become commonplace. Contracts and the way we procure will undoubtedly change as we learn to incentivise the value chain. With increased demand from government and clients for circular requirements, innovation needs to be built into the construction process, which historically has preferred the use of tried and tested techniques, rather than utilising new technology. Pilot projects will help to overcome potential skepticism and provide some learning to further develop the business case.
Flexibility and durability
Even if old materials can be reused or recycled in a flexible design, the maintenance work involved and the logistic processes use energy and resources. This poses a dilemma between the flexibility of a building and its durability. Durable buildings are built to last, whereas flexible buildings in a circular economy would allow for disassembly and reuse. Striking a balance between these two elements will be crucial.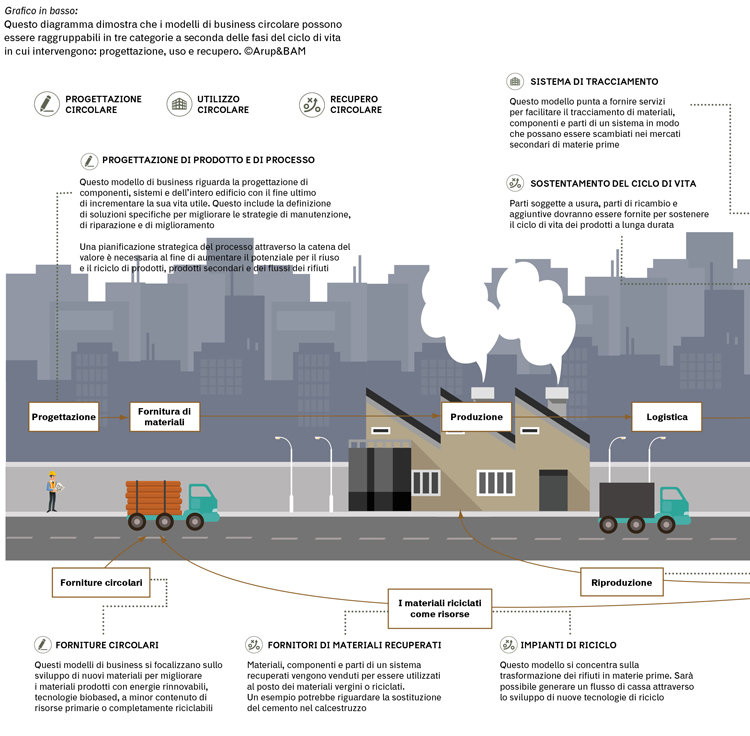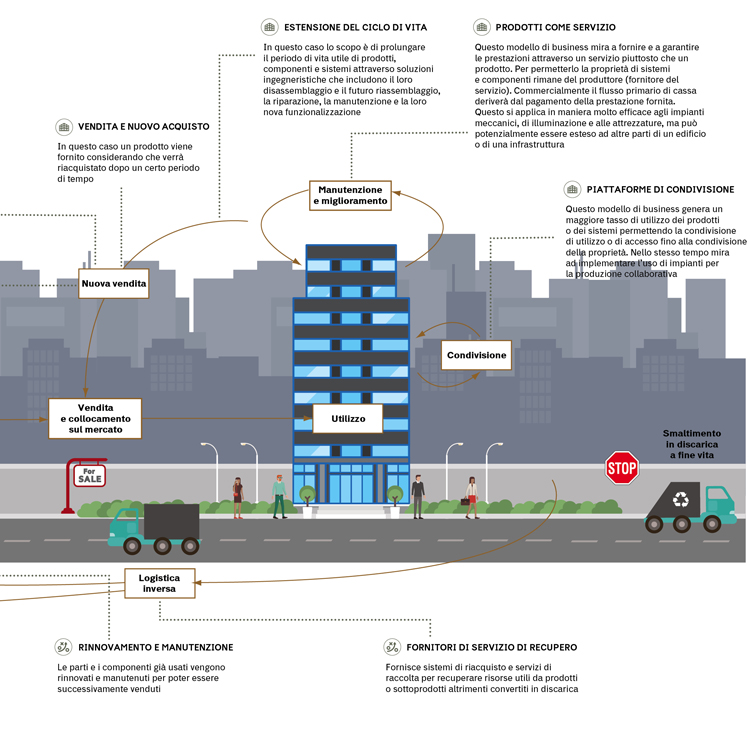 Utilise new models of production and consumption
Ideally, as little material as possible is used to optimise cost efficiency and to keep resource extraction and pollution to a minimum. However, looking at the realities of the construction process, a significant amount of material delivered to construction sites is wasted. This waste of material could be avoided considering prefabrication. A circular economy requires changes throughout value chains, from product design to new business and market models, from new ways of turning waste into a resource to new modes of consumer behaviour.
Collaborate
Information sharing and collaboration throughout the lifecycle of a development will be key for pockets of innovation around circular design, construction and maintenance to become standard practice. This will only be achieved with co-operation throughout the value chain enabling circular economy business models to flourish in the built environment, enhancing the value of assets.
The Circular Business Models for the Built Environment research study is available online: http://publications.arup.com/publications/c/circular_business_models_for_the_built_environment
Info