Uttering the word "blockchain" within the technology sector will not cause fellow employees to bat an eye, instead they will probably start to delve into a deep discussion on this buzzing topic. That said, trying to discuss blockchain with the average worker in most other industries often elicits irritation and confusion. Many people are intimidated by the emerging concept, including those in the waste and recycling industries. However, some innovative businesses are finding ways to incorporate the technology so as to improve business operating efficiency and security, whilst also improving waste diversion rates.
Although blockchain has not yet achieved mainstream status, its uses are growing exponentially. An International Data Corporation forecast predicts global spending on blockchain services will experience an 80% compound annual growth rate (CAGR) by 2021, and the number of developers and consultants in the field will grow tenfold in that time. Every global industry is expected to adopt blockchain to varying degrees over the next decade, including the waste and recycling sectors.
How Does Blockchain Work
Blockchain is a decentralised, digital record storage system used for transactions between two parties, comprised of encrypted records, called "blocks." The blocks are sent to a peer-to-peer network consisting of many computers instead of a single storage point, and people called "miners" use algorithms to verify the records. Once they are verified, the blocks are combined with other transactions in a growing list that forms a digital chain, hence the name "blockchain." The encrypted blocks cannot be altered after they are verified and new blocks must be added if any changes are made to the original transaction.
The cryptography, decentralised network, and unalterable information blocks, make blockchain a secure method for the storage of information, so much so that thus far no blockchains have been hacked. That also makes it ideal for building cryptocurrencies, which is one of the most well-known applications of blockchain technology.
New blockchain applications continue to surface, but the overall basis for adoption is to create a secure ledger of transactions between two parties. "We're still in the early stages… [but] we have a much better idea today than even a year ago about what's likely to work," claims Paul Brody, leader of global innovation at Ernst & Young. "Blockchain is an incredibly powerful tool for procurement activities […] and to drive systematic contracts with suppliers." Using the technology for procurement and physical asset management can "save a lot of money," explains Brody, and it also works well for managing tax transactions and business contracts.
"Smart contracts" are currently one of the most common ways in which blockchain is used, whereby agreement details are written into the digital contract's metadata. Therefore, the contract cannot be altered once it is verified, preventing tampering and potential fraud. Smart contracts apply to a number of areas within the waste and recycling industries, such as haulers' service agreements with municipalities or recyclable material processors' agreements with material suppliers and end-use product manufacturers. They could also prove useful when purchasing land, equipment and consulting services.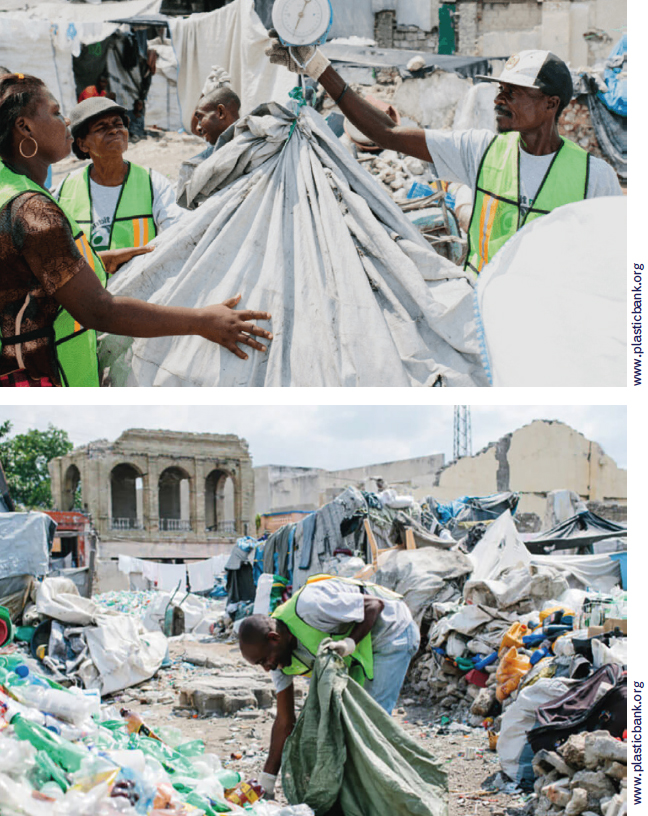 "We incorporate blockchain and smart contracts into a whole load of things we do," says Shaun Frankson, Plastic Bank Co-Founder and Chief Digital Strategist. Plastic Bank is an app-based global recycling network made up of micro-markets in developing countries. Participants pick up recyclable plastic items from homes, businesses and the environment and turn them in at recovery centres in exchange for blockchain-based cryptocurrencies. A local entrepreneur oversees the community's recycling programme at the recovery centre, and the plastics are sorted by type, colour and weight. Plastic Bank sells the recovered materials directly to end-use product manufacturers.
Numerous studies over the past five years (such as those conducted by: the Chartered Institution of Waste Management, and Waste Aid UK; as well as Plastic Waste Inputs From Land into the Ocean by Jambeck et al.), show that developing countries are responsible for the largest portion of plastic waste that ends up in the environment, specifically oceans. In fact, Frankson highlights how: "About 80% of ocean plastic is coming from developing countries where there are no waste management programmes." Yet, introducing typical recycling programmes is often not viable within developing economies. He goes on to explain that: "We needed to make collecting materials a dignified activity […] to make plastic too valuable for it to be thrown into the ocean […] Pound for pound, plastic is more valuable than steel, but it's just perceived as waste. So how do we turn plastic into currency?"
Those that receive Plastic Bank's cryptocurrency payments for their collected plastics, can cash out their tokens or use the rewards for non-cash items within the local token ecosystem. Locals can exchange currency for cooking fuel, solar cell phone charging minutes, school supplies and even school tuition. Blockchain helps Plastic Bank put in place clear, verifiable conditions for when tokens can be redeemed. "Whether the exchange is done in cash or items, that's still a blockchain-verified exchange," says Frankson.
Blockchain not only aids verification, but it also provides added security. Which is an important business feature in the developing countries where Plastic Bank works – such as Haiti, Indonesia, Brazil and the Philippines – that struggle with significant poverty as well as governments and financial systems that are less transparent and more corruptible. In some communities, for example, residents do not qualify for bank accounts and saving large amounts of cash is dangerous. However, the blockchain-backed cryptocurrencies allow recipients to trade with their tokens in a safe manner.
"When we look at social responsibility, how do we literally put millions of dollars into these vulnerable ecosystems? That, for us, is where we can use the blockchain-based digital token," explains Frankson, "We can safely distribute these recycling incentives or social impact incentives and guarantee that it's 100% being delivered as promised."
In some of the countries, Plastic Bank's sorted plastics are baled or flaked and shipped to other countries for manufacturing end products. In others, the processed plastics are manufactured into new plastic products locally and "quite often they create closed-loop products," Frankson elaborates. Plastic Bank expects to recycle 12 million kilograms of plastic in the next 12 months. "This is a globally scalable blockchain solution designed to solve a problem that connects a lot of people," he claims.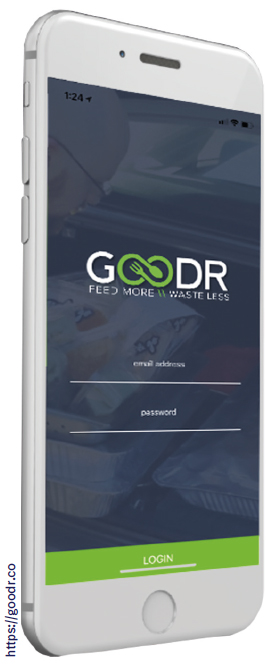 Similar to Plastic Bank, food waste company Goodr uses blockchain for verification and proof of service delivery.
Goodr employees pick up surplus food from restaurants and businesses, and they donate the edible food to charities instead of sending it to landfills. Food businesses use the Goodr app to schedule food pick-ups and to verify that it has been delivered to the appropriate charity. The app also uses data analytics to display trends over time for the types and amounts of food that each customer donates.
Like other waste management programmes, Goodr charges customers for pick-ups, but it distributes the recovered food to charities free of charge. Goodr Founder and CEO Jasmine Crowe sought out blockchain solutions because she wanted a bulletproof chain of custody to verify all the details of surplus food pick-up and delivery. Especially because other food donation programmes aren't transparent and participants don't receive confirmation that their donation actually ends up helping people in need.
"I believe we have a very clear use case for blockchain," says Crowe. "I came up with the idea when I read how blockchain was being used in the mortgage industry to verify that someone actually owned a home that they were trying to sell, and that the person trying to buy that home actually had the money, making that transaction more seamless."
In addition to verifying food transport, Goodr relies on blockchain to authenticate information that the U.S. federal government requires when providing businesses with tax benefits. Blockchain ledgers are unalterable, so Goodr clients cannot go back and "fudge the numbers" for their donations, making the information more legitimate for government authorities.
Goodr and Plastic Bank both represent examples of blockchain contributing to waste diversion and recycling rates. Their approaches can be applied on a large and small scale, both for commercial and residential diversion programmes. Goodr plans to expand the locations in which it operates its food surplus collection, as well as its business scope. It is exploring other related areas that could benefit from blockchain's efficiency and security, including converting food waste to fuel and animal feed.
Plastic Bank's use of cryptocurrency alters commodities' traditional market values to make recycling a more attractive option when compared to leaving plastics in the environment and using virgin material to manufacture products. "We found creative ways to put more value in the hands of collectors and to help communities understand the value of recycling," says Frankson.
Plastic Bank's secure blockchain-backed partnerships with plastic end-product manufacturers help advance the circular economy. Blockchain will help the circular economy have a greater impact as the concepts become mainstream and more product manufacturers seek secure, reliable partnerships. A lot of Plastic Bank's partners "have now publicly committed that they will be using a certain percentage of recycled plastics by 2020 or 2030. Now they need to find the supply chains," which Plastic Bank facilitates. "The people in charge of those supply chains have started to connect, figuring out the most socially responsible way for us to use plastic. There is a real need for this and it's growing every year," concludes Frankson.
Plastic Bank, www.plasticbank.org
J.R. Jambeck et al., Plastic waste inputs from land into the ocean, 2015; tinyurl.com/ydxtxbx6
Goodr, https://goodr.co