Dynamic Growth Potential
Currently, bioplastics still only represent well under 1% of the about 300 million tonnes of plastic produced annually. But as demand is rising and with more sophisticated materials, applications, and products emerging, the market is already growing by about 20 to 100% per year. According to the latest market data compiled by European Bioplastics, global production capacity of bioplastics is predicted to quadruple in the medium term – from around 1.6 million tonnes in 2013 to approximately 6.7 million tonnes by 2018.
While Asia is predicted to further expand its role as major bioplastics production hub, accounting for about 75% of bioplastics by 2018, Europe – at the forefront of research and development – will be left with a mere 8% of production capacities. Asia and the USA are already investing strongly in measures "closer to market introduction" to promote faster market development. In the EU, however, legislators just recently withdrew the long-awaited "Circular Economy Package", including a proposal to review EU waste targets, which are urgently needed to tap into the immense potentials for resource efficiency, economic growth, and job creation.
In order to make the vision of a competitive, dynamic and sustainable economy a reality in Europe, the EU will need to introduce a bolder and more forward-looking policy package that allows for the budding bioplastics industry to strike roots and flourish as one of the key pillars of a sustainable circular economy. The new Circular Economy Package therefore is of utmost importance to the success of bioplastics and the European bioeconomy as a whole.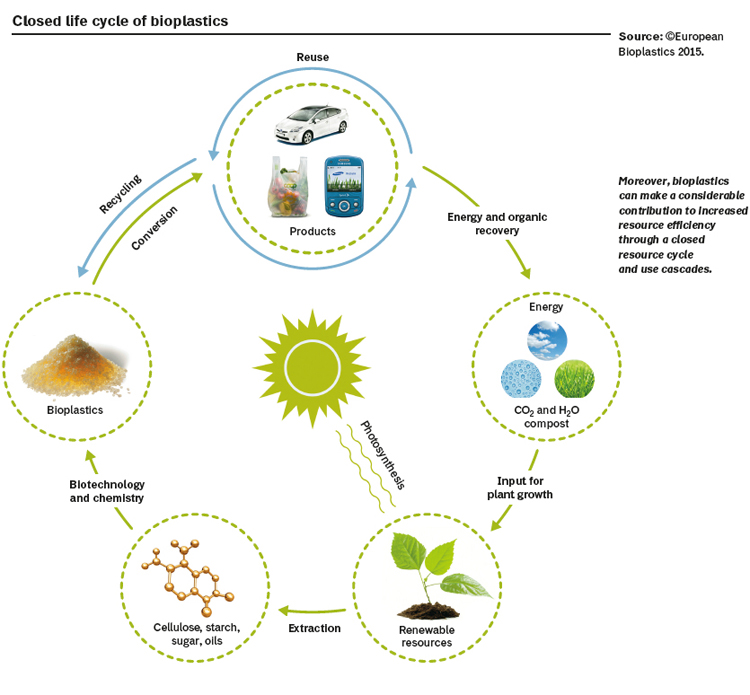 Helping to Reach the EU 2020 Targets
Using biomass that is sustainably sourced and regrows on an annual basis is a major environmental benefit of biobased plastic products. Biobased plastics have the unique advantage over conventional plastics to reduce the dependency on limited fossil resources and to reduce greenhouse gas emissions or even be carbon neutral. Consequently, biobased plastics can help the EU to meet its 2020 targets of greenhouse gas emissions reduction.
Moreover, bioplastics can make a considerable contribution to increased resource efficiency through a closed resource cycle and use cascades, especially if biobased materials and products are being either reused or recycled and eventually used for energy recovery (i.e. renewable energy).
The feedstock currently used for the production of bioplastics relies on only about 0.01% of the global agricultural area. Sustainable sourcing of the renewable feedstock and good agricultural practices and technologies are continuously enhanced and ensured through the emergence of reliable and independent sustainability certification schemes such as ISCC, RSB, or BonSucro.
Increasing Waste Management Efficiency – Making Waste a Valuable Resource
Bioplastics are suitable for a broad range of end-of-life options, including reuse, mechanical or organic recycling, and energy recovery. The overwhelming part of the bioplastic volume produced today can easily be recycled alongside their conventional counterparts where separate recycling streams for certain plastic/bioplastic types exist (e.g. biobased PE in the PE-stream or biobased PET in the PET stream). This way, bioplastics contribute to higher recycling quotas in the EU and the implementation of the circular economy.
Furthermore, using biodegradable and compostable plastic products such as (biowaste) bags, food packaging and cutlery, strengthens industrial composting (organic recycling) as a waste management option and helps to increase waste management efficiency. Compostability is a clear benefit when plastic items are mixed with biowaste. The use of compostable plastics makes the mixed waste suitable for organic recycling. It enables the shift from recovery to recycling, which ranks higher on the EU waste hierarchy. Additionally, separate biowaste collection diverts organic waste form recycling streams or from landfills and increases the volumes of valuable compost.
In order to tap into the potential of bioplastics for increased waste management efficiency, it is vital that EU waste targets are set at a realistic level, taking into consideration the collection infrastructures and recycling capacities of the various member states. Furthermore, an efficient separate waste collection is needed to help increase mechanic and organic recycling targets and to support the phasing out of landfill in the European Union.
Translating Potential into Legislation
The recently amended "Packaging and Packaging Waste Directive" confirmed the EU's strong commitment to resource efficiency by obliging Member States to reduce the consumption of conventional single use plastic carrier bags and paving the way for compostable shopping bags. Yet, to realise the full market potential of bioplastics, additional legislative measures are needed that reflect the aforementioned advantages and potentials of bioplastics, in particular the proposed Circular Economy Package.
European Bioplastics (EUBP) recommends the following amendments, which, while easy to implement, would have a decisive effect on resource efficiency in Europe.
According to the Waste Framework Directive (WFD), for example, EU Member States may take measures to encourage the design of products in order to reduce their impact on the environment and minimise waste generation. We recommend to state specifically that those measures should encourage the development, production and marketing of products that are made from responsibly sourced renewable raw materials, in addition to the other characteristics outlined in the WFD.
Another meaningful new element to the WFD would be to ask Member States to consider the impact on the wider bioeconomy when introducing legislative or economic instruments. A level playing field for all bio-industries regarding feedstock availability is crucial to developing a viable and sustainable bioeconomy.
In line with the Resource Efficiency Roadmap and its policy milestone that by 2020 waste in the EU should be treated as a valuable resource, EUBP furthermore recommends to make a separate biowaste collection mandatory as of 2020 – and to amend the WFD accordingly. This will not only minimise contamination of waste materials but also drive the phasing out of landfill in Europe.
The bioplastics industry offers solutions to the global challenges of climate change and increased resource consumption by providing the means for a shift to renewable resources and resource efficiency. In order to realize the full potential of bioplastics in Europe, an integrated political and economic framework is urgently needed.
European Bioplastics (EUBP) represents the interests of around 70 member companies throughout the European Union. With members from the entire value chain, EUBP serves as both contact platform and catalyst for advancing and highlighting the objectives of the growing bioplastics industry vis-à-vis EU institutions in working towards an integrated policy and economic framework that supports the use of renewable raw materials.
On November 5-6 2015, EUBP will host the 10th annual European Bioplastics Conference, Europe's leading bioplastics event, in Berlin. The conference will discuss current political and economic issues and explore the latest trends and innovations in bioplastics. Complemented by a large product exhibition and plenty of networking opportunities, and attended by over 350 delegates from across Europe and further afield, the European Bioplastics Conference is a must-attend for established as well as aspiring players in the bioeconomy.

For more information, please visit en.european-bioplastics.org