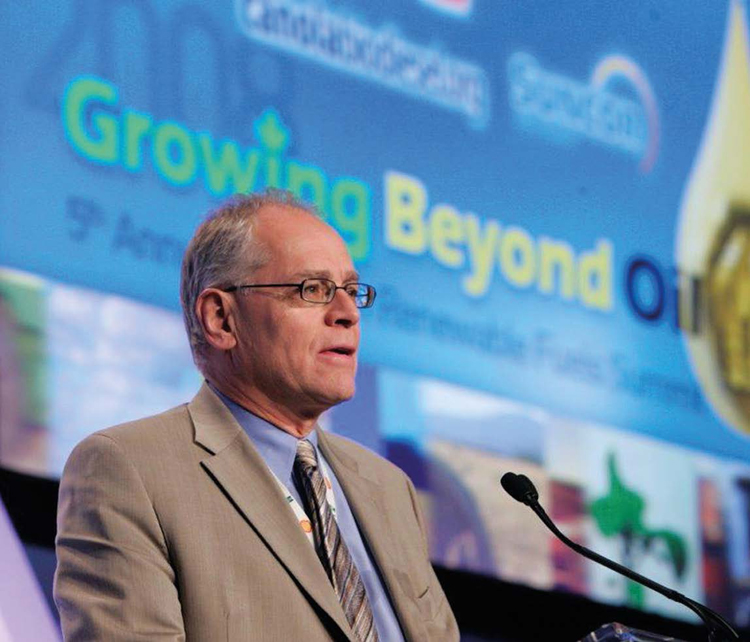 Jeff Passmore
If biomass is the essential element for the development of the bioeconomy, Justin Trudeau-led country can rightly claim a leadership role in the field. And there is more: in addition to abundant renewable raw materials, the North-American country boasts an excellent logistic network, low energy costs and strong public support to businesses and research. This is how Michael Hartmann, BioAmber's Executive Vice President sees it. It is one of the world's main producers of bio-succinic acid who decided to establish its commercial plant in Ontario (succinic acid today is mainly produced from oil or natural gas and is used in pharmaceutical, food and manufacturing of plastics, author's note): "The main reason for building our commercial plant in Canada has to do with the lower cost of sugar and energy, which constitute most of our costs."
Canada is the third country in the world for oil reserves, behind Saudi Arabia and Venezuela and is also the world's third producer of natural gas behind Usa and Russia (ENI, 2013). To understand where the country stands in the process of the bioeconomy's development in the world, what its strengths and weaknesses are, Renewable Matter interviewed Jeff Passmore, one of Canada's leading experts in the field, already a member of Cleantech Advisory Board of Canada's Department of Foreign Affairs and International Trade and President of the Canadian Association of renewable fuels.
What are the strengths of the bioeconomy in Canada?
"Canada has 348 million hectares of forest land (that's 10% of the world's) and 67 million hectares of agricultural land. So one can see that Canada is well endowed with biomass. And to date, Canadians have put that biomass to good use. For example: about 6% of Canada's electricity, and 8% of Canada's transportation fuels are currently supplied using renewable biomass. This use is rejuvenating rural communities across the country by creating local jobs and reducing greenhouse gas emissions. In fact, the pulp and paper sector has reduced its absolute GHG emissions by 66% since 1990 by switching from fossil energy such as coal and oil to biomass.
"Canada also has a number of federal and provincial government grant and loan programs aimed at assisting the commercialization of new technology, especially technologies that clean the air, water and soil, and/or reduce greenhouse gas emissions.
"Canada is also very close to the US market which offers a large export opportunity. Communications, transport, and trade links between the two countries are well integrated making export markets readily accessible. Also, export to Europe has always been a part of Canada's history so technologies in the bioeconomy space will be able to take advantage of the European market. Export Development Canada can assist in this regard both with projects abroad, and with domestic Canadian projects where the majority of the output is intended for export markets. Canada also has a well-educated professional work force."
And what are the weaknesses, from your point of view?
"While individual companies have moved to biomass as a form of either on site, or utility power generation, and while there are a number of startup companies working in the advanced biofuels and cellulosic sugars space, there is little knowledge of the bioeconomy per se among Canadian governments or the general public. As such, the country lacks a national bioeconomy strategy. Neither are there any provincial bioeconomy strategies. However, some provinces such as British Columbia and Alberta have carbon taxes which can often assist in enabling clean technology commercialization."
Which are the policies you have in Canada to support the bioeconomy?
"One of the lead agencies that could support bioeconomy related projects is Sustainable Development Technology Canada (SDTC). If it can be demonstrated that your project will clean the air, water or soil, and/or reduce GHG emissions, your project could be eligible for SDTC funding.
"If you can demonstrate that your project has benefits for the agriculture sector, you could be eligible for Agriculture Canada funding. Or if you locate your project in Alberta, you could be eligible for Climate Change and Emissions Management Corporation funding. As mentioned, if your project is going to export at least 50% of its output, you could also apply for an Export Development Canada loan. Some of these programs are grants and some are low interest loans, and each needs to be applied for separately.
"But it is best to start with SDTC because if you are able to get your project approved for funding here, it will leverage other funds to come on board. In some cases, it is possible to 'stack' these government programs up to a maximum of 60% of the capital cost of your project.
"If we are talking about renewable fuels, since 2010 there has been a requirement for all gasoline to contain at least 5% ethanol on average across an obligated party's gasoline sales. Many provinces also have ethanol mandates. This has led to the construction of several grain based ethanol plants. There is also a requirement to blend at least 2% biodiesel."
Enerkem, Renmatix, BioAmber. These are just some of the bioeconomy companies based in Canada. Why is Canada so attractive to businesses?
"For several reasons, which can be summarized thus: Federal and provincial government capital assistance; Proximity to US markets; Progressive policies at the municipal government level intended to attract industry; Generous tax structures; A commitment to cleantech; Proximity to excellent universities and community colleges; A large R&D community offering the opportunity for ongoing technology development and evolution; Both greenfield and brownfield site location opportunities with possibility for co-development with a strategic investor/partner; A strong desire on the part of federal and provincial agencies, and research institutions to collaborate with industry to see projects succeed."
In the European Union bioeconomy stakeholders explicitly called for the adoption of a system of Green Public Procurement to support the demand for bio-products (like in US Biopreferred Programme). Is there a GPP system in Canada?
"There is nothing similar to the US Department of Agriculture's Biopreferred Program in Canada. However, because of the close trading relationship between Canada and the USA, companies making bio-based products and materials in Canada are eligible to apply for USDA bio certification.
"Also, Agriculture and Agri-food Canada have a loan program called 'Growing Forward' where it is possible to receive capital assistance toward projects that support and/or rejuvenate the agriculture sector.
"In my view, a good business strategy would be to build in Canada (take advantage of the capital support and favourable tax regime), and export to the rest of the world."
Bioeconomy and circular economy are two increasingly prevalent economic paradigms, but that public opinion still does not understand. How can stakeholders and authorities better communicate the benefits of bio-based products compared to those of fossil origin?
"Of course one can use advertising. But for bioproducts to be available, there needs to be a market. So the best thing governments can do is to lead by example. Take, for instance, the USDA's Bio-preferred program, the goal of which is to increase the purchase and use of biobased products and materials. The unique thing is that under federal law, all federal agencies and their contractors must purchase certified biobased products in categories identified by the USDA. This has led to increased demand for biomaterials (created a market) which has, in turn, led to reduced costs.
"Canada has been a strong supporter of R&D and demonstration of emerging clean technologies. With a new, progressive federal government at the helm, there is a renewed commitment to innovation and clean technology. Many stakeholders have been speaking to the government about the positive role the bioeconomy can play in achieving Canada's commitment to reducing GHGs."
What is currently the perception of the bioeconomy by the Canadian public opinion?
"As yet, few Canadians are aware of the term 'bioeconomy.' They are more apt to use the term 'cleantech.' But an industry working group of bioenergy (power and fuels) stakeholders has called on the federal government to introduce a national bioeconomy strategy. Such a strategy helps meet this government's policy objectives. The momentum is building. The government wants examples of companies that could commercialize technologies in this space in Canada. Combined with the existing capital support programs that are already in place, it is a good time to establish yourself in the Canadian market."
BioAmber, www.bio-amber.com
Top image: ©youtube Justin Trudeau – Prime Minister of Canada