To enhance knowledge of the principles and practices of the circular economy in the industrial system, Confindustria – the General Confederation of Italian Industry – is proposing a dedicated roadshow across the national territory. Of central importance in making this plan a concrete reality is the testimony of those businesses which already have a consolidated circular model, such as Viscolube.
This company has become an internationally recognised reference point for the sustainable management of particularly problematic products and materials. Starting from a core business centred around the regeneration of used lubricating oils, the group has extended its activities toward the regeneration of solvents by acquiring Bitolea in 2017. However, the aspect that brings Viscolube closest to being a mature model of multi-sector circular management is the creation of the Viscoambiente network, made up of 12 companies which are involved in the collection, management and treatment of industrial waste on a national level. The group also provides environmental consultancy to other companies and offers chemical analysis services.
Viscoambiente manages various types of waste, both safe and hazardous: oil emulsions and effluents, used mineral oils, vegetable oils, muds, batteries, electric and electronic waste, asbestos, construction site waste and general industrial waste. This list encompasses a significant proportion of the materials, or groups of materials which are the most complex to handle as waste, and, where possible, to recycle.
In taking on these challenges, Viscolube places itself in a key position as it embodies one of the four main circular business models: the one that sees regeneration as a foundational process in the creation of circular production chains.
Following its 'historic' performance as European leader in the field of regeneration of lubricating oils, the group has added an ambitious development programme that redefines its identity as an integrated player in the management and enhancement of waste, closely associated with the production of products to be reintroduced for consumption.
The results that the Viscolube Group has achieved in this regard can be summed up as follows:
Treatment of approximately 190,000 tonnes/year of used oils across two production plants. Production of over 125,000 tonnes/year of regenerated lubricating base oils, and 23,000 tonnes/year of bitumen. Viscolube's regenerated base oils perform equally to, if not better than refined base oils available on the market.
Management of 400,000 tonnes/year of special industrial waste, mainly dangerous, all the way from collection to disposal.
Collection of 90,000 tonnes/year of used solvents, of which almost 60% are recovered. Production and commercialisation of 55,000 tonnes/year of pure solvents.
Along with collection, stockpiling and treatment services, the Group offers environmental consultation and mediation services, so as to increase the efficacy of the functions that will be made available in the realm of the Italian circular economy. This articulated structure allows Viscolube to interface with a business ecosystem that is extremely diversified in terms of scale.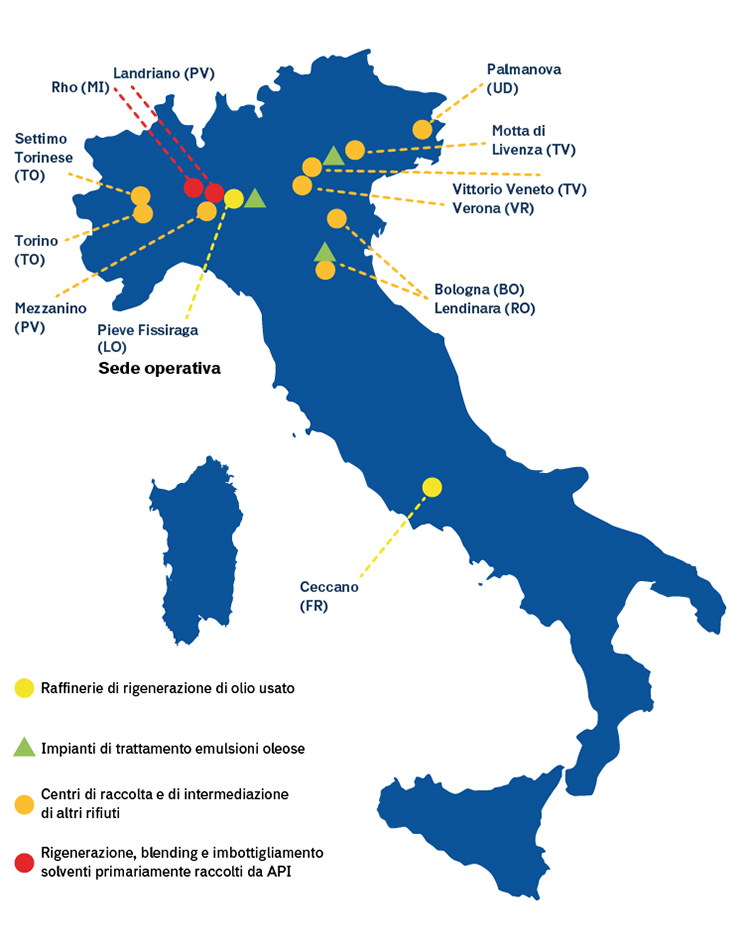 The Italian productive fabric is fragmented, and the prevailing contact is often with small businesses, thus it is essential to have the capacity to provide these with a know-how that they cannot generate themselves. Ubiquitous infiltration into a territory is also necessary, so that as many as possible of these small businesses are reached. Knowledge of the correct systems for waste management, and the diffusion of this knowledge among the clients and waste producers, is an irreplaceable ingredient in a strategy that aims to favour and consolidate the transition from a linear industrial system to a circular operating model.
In Italy, to prevent Circular Economy becoming just another fad or "media bubble," rather than an actual necessary development perspective, the role of expert subjects such as Viscolube is pivotal. Interacting with a large number of stakeholders in different sectors, it provides a positive impulse not only in terms of compliance, but also by increasing awareness of the role of productive activities in a social and environmental context.
In this historical context of transition towards sustainable economies, Viscolube can undoubtedly represent an authentic and credible circular economy model for the European landscape: it recovers used mineral oil, a type of waste with high polluting potential, and returns it to the market as regenerated base oils, a high-performing recycled product. And, taking into consideration the large group of businesses that it has aggregated around this model, expanding the possibilities for used oil, it could soon become a model of Italian industrial symbiosis for the Green Economy.
Viscoambiente, www.viscoambiente.it
Gruppo Viscolube, http://viscolube.it/it