"Why use up the forests which were centuries in the making and the mines which required ages to lay down, if we can get the equivalent of forest and mineral products in the annual growth of the hemp fields?"
Henry Ford – The Rotarian 1933
This 6,000 year-old lady, younger than ever, swaying between tradition and hi-tech is taking centre stage again. Worldwide, there is a proliferation of start ups and initiatives in her name. Houses made of hemp and lime manufactured by a group of young Maori from New Zealand (Echo). Hemp fabrics produced by seven twenty-year-old Indians who founded Boheco, Bombay Hemp Company India. Hemp chocolate bars produced in Siberia, in the Altai mountains, by Obraz Zhizni (Way of life). Hemp ice cream as a tribute to Bob Marley introduced by one of the Alassio's ice-cream parlours, promoted by Canapa Liguria. Even the strict American prohibition laws are crumbling after almost 80 years from the Marijuana Tax Act, which in 1938 banned it from American fields, dashing many hopes. In the same year the law came into force, the magazine Popular Mechanics published "The new one-billion dollar crop" envisaging a sensational relaunch of Cannabis plantations at world level thanks to the invention of a machine that would have finally allowed separating fibres from bark, without the huge amount of labour that had been necessary for thousands of years.
We stopped there and from there we start again today, with our technical know-how. As an example of this awakening we can take a sports car with a hemp-fibre body made in Florida by Renew Sport Car, exactly 74 years after the Hemp Body Car produced by Henry Ford, a staunch supporter of chemurgy, at Dearborn research centre, near Detroit.
Many of the initiatives born over these years will probably be short-lived. After all, hemp has tremendous appeal over dreamers and sorcerer's apprentices from all over the world. Not only because of the cheapest and most popular psychotropic substance of the globe despite its technical term – delta-9 tetrahydrocannabinol or THC – and its preventative and analgesic properties, as demonstrated by a great number of scientific publications, but also for the versatility and unique adaptive properties of this plant, which as a matter of fact has been farmed in all latitudes, from the Indian Subcontinent to Siberia. It also became a symbol of the products derived from living organisms as opposed to those derivable from its historical antagonist, the petrochemical sector.
A Still Untapped Mine
To date, 480 organic molecules have been identified as hemp's constituents. Cannabinoids alone, THC being one of them, are over 60 and are largely unknown. Today, in America there is a strong interest in the antioxidant and anti-inflammatory properties of another cannabinoid, cannabidiol or CBD that unlike THC has no psychotropic effects and seems effective in the cure of some types of cancer or psychotic forms. In particular, the American market is looking into old Italian varieties, such as Carmagnola, with a high content of CBD. The thing is that we cannot expect high concentrations of CBD in the plant if its antagonist, THC, is totally absent. One cannot exist without the other. This interrelation enables us to grasp a misunderstanding: there are no two species of cannabis, one for industrial and the other for recreational or therapeutic uses. All hemp varieties are genetically compatible amongst them. So crossing is possible. There is only one species and its scientific name is Cannabis sativa L. And in nature there are no varieties with no THC. But it is difficult to talk about "nature" when all known varieties are the result of thousands of years of man-induced selections and crosses. If anything, there are very low-content THC varieties and in France and Italy 'zero THC' varieties are being developed.
Cannabinoids, concentrated in inflorescences and leaves, are only the most valuable components for the potential hemp market. But all parts of this plant can be employed for a variety of uses.
Seeds contain excellent dietary value optimizing immune system response. They have a protein content of 20-25% with a unique combination of all the 9 essential amino acids, which in turn allow the synthesis of other proteins such as immune globulin. They also have a fat fraction of 30-35%, mainly made of a blend of polyunsaturated fatty acids in optimal amount for human health: linoleic acid (omega6) and alpha-linoleic acid (omega 3) and 2-4% gamma-linoleic acid, prostaglandin precursor. Hemp seeds do no contain THC.
Fibre, over the centuries it enabled the production of hefty and breathable fabrics, salt-resistant sails, high-quality paper and canvasses.
The woody part of the stalk, (shiv) is a material with excellent physical, mechanical and optical characteristics. Its absorption coefficient is up to 5 times its weight, 12 times that of straw and 3.5 that of wood shavings. Its hygroscopic, breathable and soundproofing qualities as well as its lightness make it suitable material for many uses: horse and pet bedding, green building material (mixed with lime), rigid panels for vehicle trim, feeds for ruminants etc. From shiv paste, the paper industry derived newsprint with higher optical and physical/mechanical properties compared to poplar's.
Even hemp's root system, thanks to its extraordinary hypogean development, is very important both for agriculture with its natural soil tillage and the decontamination of polluted soils (phytoremediation). A fine Taranto manor farm --– Fratelli Fornaro's Masseria Carmine – whose land and livestock have been contaminated by Ilva's dioxin (it had to put down 600 sheep), since 2014 has been experimenting together with CRA (Research centre for agriculture) hemp's decontaminating properties.
Even dust produced by the mechanical separation of fibres from shiv can be used, because it is rich in phytosterols and wax. The French, for example, use it as soil improvers in the Champagne vineyards because it is rich in potassium.
The hemp's supply chain is faced with a crucible in which all the players will have to learn how to make the most of these products. And the challenge starts right in the field, from the choice of soils and how to grow it.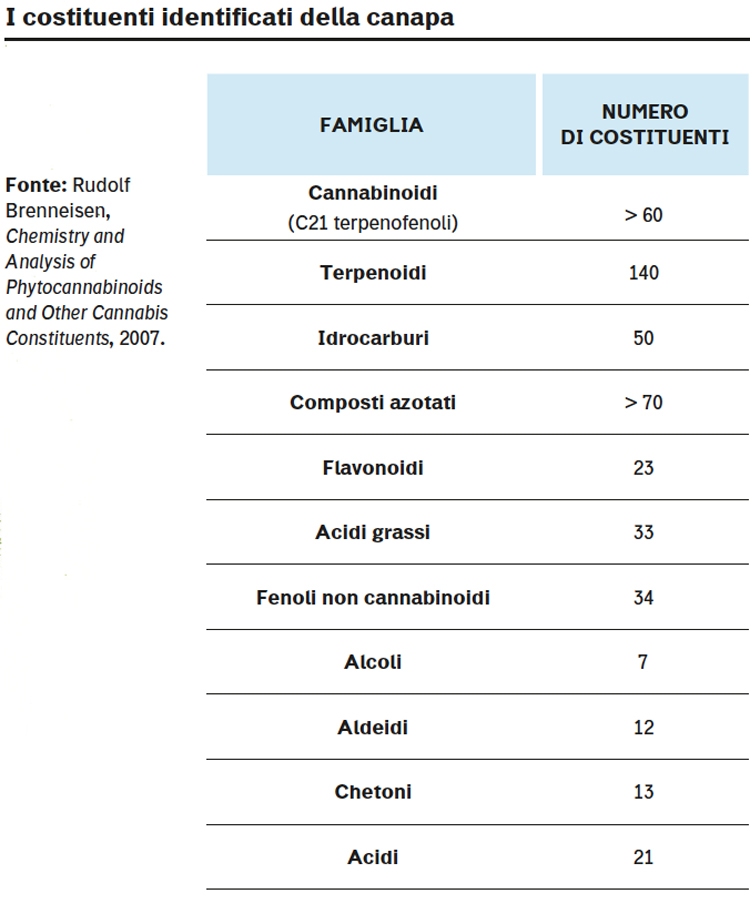 New Markets
Hemp's resurgence all over the world, from Canada to Australia and South Africa, stems from a variety of reasons. First of all the rising demand, helped by pressure by environmental regulations and consumers, by a number of manufacturing sectors of short-cycle, light and healthier renewable materials (derived from annual plants such as hemp rather than trees) compared to synthetic fibres or glass wool. But also from demand for wellness products, i.e. those with a high level of healthy and nutritional properties and suitable natural remedies for pain management (less damaging than opiates) and for the treatment of serious congenital disorders. And lastly, the search for "new" species (an oxymoron since we are talking about a millenary crop!) to introduce in a rotation pattern with cereals and other income crops, in order to improve soil conditions and repair monocultures' damage.
So four sectors are mainly driving the hemp market: cars, green building, food and health, pharmaceuticals.
In Europe and in Germany in particular, the automotive is regarded as the most important sector for the use of vegetable fibres: in ten years, their use in the European industry has increased by 60%. Historically flax has always ruled, but the demand for hemp fibres has doubled. They are used to produce "biocompounds", innovative materials manufactured mainly by Dutch companies from Hempflax (processing 5,000 tonnes of hemp fibre a year for technical uses) to GreenGran and NPSP that in 2014 presented to the European parliament an electric scooter with a bio-based resin body obtained from flax and hemp fibres.
In Italy, instead, the car industry so far has not done anything for the promotion of vegetable fibres, excluding some projects by Fiat Research Centre on brooms in Calabria. In Italy, the rebirth of hemp is driven by green building. In particular by a simple and innovative construction material – hempcrete – a mix of natural lime and mineralized hemp shiv which can be used as cladding material or brick. Hempcrete saves a great amount of energy and guarantees high levels of comfort, thanks to hemp's excellent thermal, dehumidifying and soundproofing properties. One of the first houses in Italy built with hempcrete is in Cascina, in the Pisa area, by Equilibrium, a Bergamo-based company which together with Calce-Canapa® from Bologna is the protagonist of this new market segment in Italy.

Towards Complete Rehabilitation
Since the end of 90s, all over Europe and worldwide, prohibition laws on Cannabis have started to tone down. Even in the United States, with laws passed by a dozen of states to legalize crops (in Colorado and Kentucky and soon in North Dakota pilot crops have resumed), with the February 2014 Obama's Farm Bill and with a May 2014 declaration of the US House of representatives that al last banned DEA (Drug Enforcement Administration) from interfering and stopping industrial and therapeutic hemp cultivation as it did in the last 80 years.
But in Italy and in the US, strangely enough, the completion of rules and regulations is taking a long time. Historic hemp large producers, after giving the crop up completely for over half a century, the two countries experience the paradox of a free movement of hemp-based foreign products (the American market is flooded with Canadian food and health products), with stringent domestic laws limiting domestic production.
In Italy, today those growing varieties for industrial use recognized by the EU, due to the presence of THC, however small, can be reported and their crops seized. The latest grotesque episode was about a small grower near Viterbo who in September 2015 served a three-week sentence in prison and media pillory ("Found illegal marijuana crop") on the basis of an inconsistent text by the police on a single plant specimen. A bill on hemp, which has started its parliamentary approval procedure for over a year, should at last guarantee the possibility to grow, transform and trade hemp safely for industrial uses in Italy. Even in the US, where its cultivation is currently allowed within public bodies, schools and universities, only for research purposes and only in those States that legalized its cultivation, they look forward to the approval of the Industrial Hemp Farming Act, so far stuck in a rut in Congress.
The Renaissance of Federcanapa
Despite the law and its long procedures, over the last two years, dozens of local initiatives have mushroomed and in 2015 about 2,000 hectares have been devoted to hemp cultivation, according to Agea data. In all Italian regions there is a proliferation of new acronyms and associations. Some of them are a little more than cultural associations, but others are seriously investing in crops and harvesting technologies and transformation. Two plants for the first transformation of hemp stalks are already operational: one in the north in Carmagnola and one in the south near Taranto. And many more are being built. Famous seed companies are at last reproducing the seed of old Italian varieties: Carmagnola, Fibranova, Eletta Campana. But it is still a chaotic development, governed by little knowledge and false myths.
Starting from the misconception that hemp is easy to grow because it is rustic, because it dominates weeds and does not need water and nutrients. This creates false expectations and bitter disappointment. After a long debate, promoted by Chimica Verde association, involving Italian major players of this renaissance, last February Federcanapa was created – a national federation for the protection of Italian hemp. The new body will help farmers and companies in their choices and working methods and on the markets, while steering national and regional politics and research. Also, it will create a brand to protect those transforming and selling products made of hemp grown in Italy, while safeguarding the environment.
Top image: W. Müller, Cannabis sativa L., from Medizinal Pflanzen, vol. 1, t. 13 (1887)