A production value of over €1.27 trillion and 7 million workers. These are the bioeconomy figures in Europe's five major economies (Germany, France, Italy, United Kingdom and Spain) according to La Bioeconomia in Europa ("The Bioeconomy in Europe") study conducted by Centro Studi di Intesa Sanpaolo, Italy's largest group and one of Europe's leading banking groups, in collaboration with the Italian Association for the development of biotechnologies (Assobiotec). The analysis, at its second edition, was presented last December in Turin and represents an accurate snapshot of the bioeconomy's value in each analysed country. A chemical sector's snapshot that is partly real and partly only potential: indeed, not all chemical compounds that could currently be obtained from biological resources are actually produced in this way.
As the two authors of the report Serena Fumagalli and Stefania Trenti explain, "as for agriculture, forestry, fishing, food, wood and paper industries, official statistics already show the main data on the production and employment values and on foreign trade. The chemical sector's contribution assessment was more complicated to ascertain. So, the analysis was carried out with the crucial support of a biotechnology expert who was asked to identify chemical-based products that can potentially be obtained using renewable resources based on currently available technologies. This enabled us, on the basis of the highest level of disaggregation available, to isolate not so much what is currently produced with renewable raw materials but rather the producible potential in an economically-sustainable way with current technologies."
The analysis highlighted Germany as the European leader in the bioeconomy sector, with a production value of over €343 billion and 1.847 million workers, followed by France with 295 billion and 1.51 million workers, Italy 244 billion and 1.54 million workers, Spain with 219 billion and 1.24 million workers and the United Kingdom with about €171 billion and 888 thousand workers.
Our analysis – the two authors add – shows the importance of the bioeconomy in Spain, where it has reached 11.9% of the value of national production. Such significant impact stems from the agricultural and food sectors, but the production of the biochemical sector is also higher compared to the EU5's average. In France and Italy, the role of the bioeconomy is significant, with an impact on total production of 7.9% in both countries, mainly due to the agribusiness sector. Moreover, Spain and France are the only countries to highlight a positive balance sheet for foreign trade with regard to bioeconomy products, thanks mainly to the agribusiness trend: 10.6 billion in France, 9.1 billion in Spain. Positive results also for Germany, with 853 million, spurred by the manufacturing sectors, while Italy and the United Kingdom's figures are negative, with 13.2 and 35.4 billion respectively.
"It is worth mentioning – the two authors highlight – how the impact of biochemistry on total chemical production of those countries varies between a minimum of 29.8% of the United Kingdom to a maximum of about 40% for France and Italy. We would like to reiterate that this is not an estimate of existing productions (still limited and in many instances still in their experimental phase), but rather what it could potentially be produced with existing technologies and in an economically sustainable way."
In addition, the Intesa Sanpaolo study takes into consideration international statistics on foreign trade of bioeconomy products, as classified by the bank's research centre.
In 2014, world exports amounted to $2,396 billion, i.e. over 12.6% of global trade, a rapidly expanding share compared to 9.8% of 2007. Food products, with about 1,115 billion, represent about 46.6% of total exports. Overall, the agribusiness sector constitutes two thirds of the total, followed by biochemicals representing 14.5% of exports.
The main exporters include the United States, ranking first with a 10.9% share, Germany (7.5%) and Holland (6.6%), with an improvement compared to 2010. China is in fourth position, with a share of about 6%, overtaking France that dropped to 5% (it was at 5.5% in 2010) followed by Brazil, Canada, Belgium and Spain. Italy is the 10th world exporter with a share of about 3%, registering a slight decrease compared to 2010. Some emerging Far East economies such as Thailand and Indonesia are following behind, with a share of 2.3 and 2.2% respectively. Besides China, the market is performing better both in India and Poland.
In short, between 2010 and 2014, the overall picture for the main world exporters in the bioeconomy sector has not changed much, apart from China that leapt forward.
As for imports, in 2014, China was the world's leading country – with almost 10% of overall imports – dramatically soaring compared to 2008. The industrialized countries follow behind with declining percentages, except Holland and the US. The fall in the majority of developed countries is counterbalanced by a growth in the emerging economies including China, Mexico, South Korea, Hong Kong and India.
The study specifically considers the world market of bio-based chemical products. In this sector, the US and Germany seem to be the leading players, with high percentages of world exports (13.3 and 11.2 respectively). Both countries show a positive trade balance, while China is in deficit, showing $55.4 billion of imports and thus ranking first with a negative trade balance of $42 billion.
Belgium, Holland and France are amongst the best performing exporters, while Italy is the twelfth position with a market share of 2.7% and a deficit of $3.5 billion in 2014.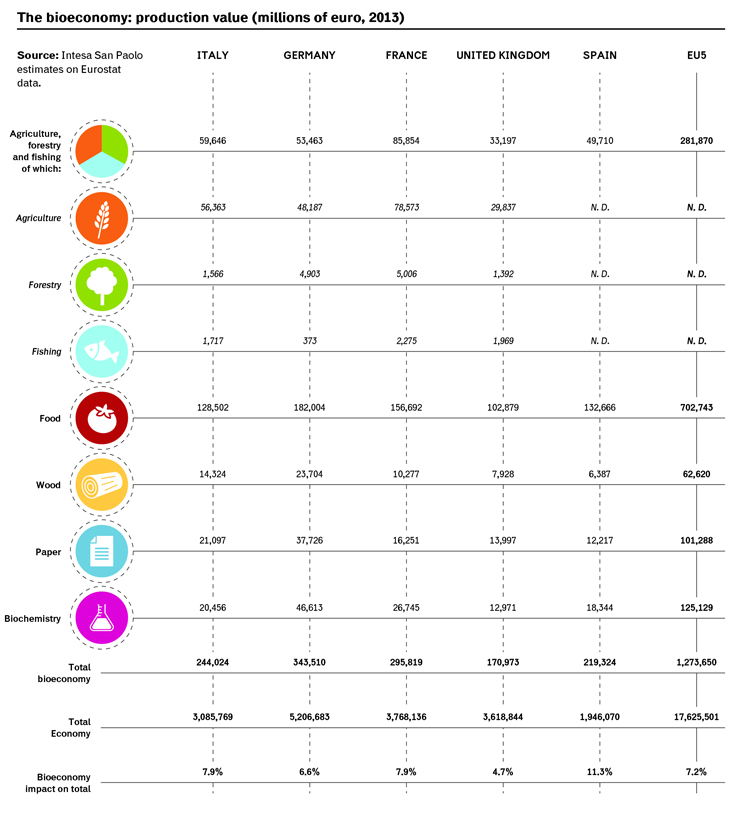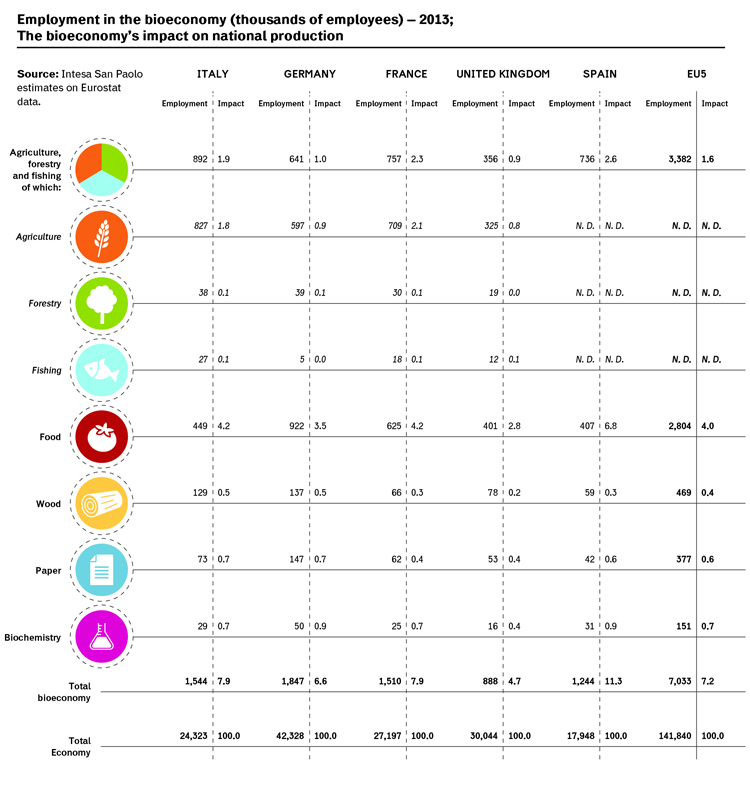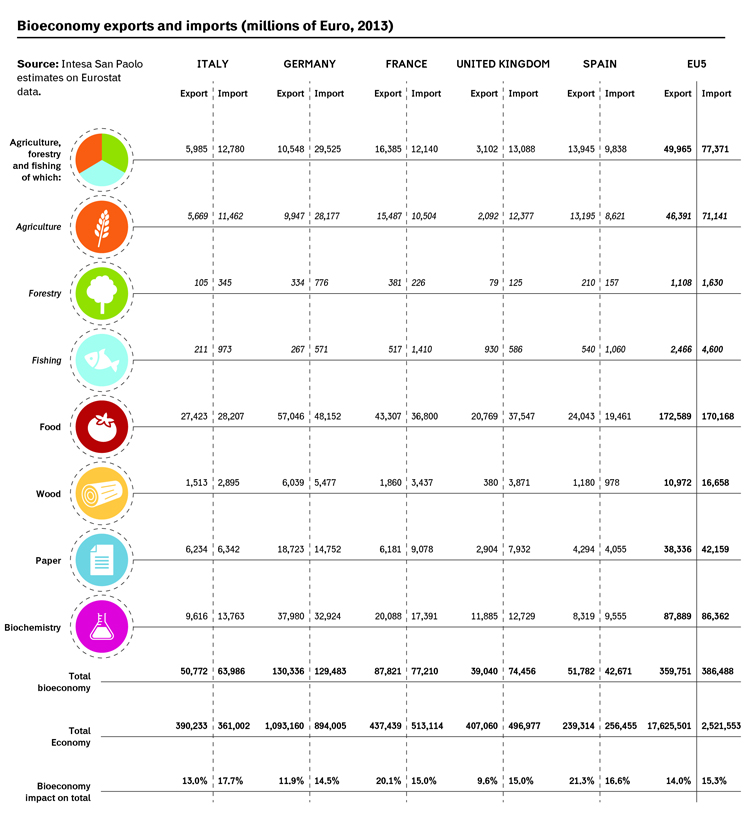 Bio-Based Chemistry Today
To what extent bio-based chemistry is potential or real is still to be ascertained. The OECD estimates that by 2030, 35% of chemical products and materials will come from biological sources. So, we are half way there. Most chemical compounds developed today thanks to the use of biomass are acids. Within them, succinic acid is used in many projects carried out by Reverdia (joint venture between Royal Dsm and Roquette), with a plant in Cassano Spinola, Italy, Succinity GmbH (a joint venture between BASF and Corbion Purac) with a production plant in Montmelò in Spain and BioAmber with a factory in Sarnia, Canada. Succinic acid has always been derived from oil or natural gas and is used for pharmaceuticals, food and for the production of high-performing polymers, such as alkyd resins and polyesters for paints. Reverdia, whose succinic acid Biosuccinium has been certified in the United States as 99% bio-based, is committed to obtaining 1,4-Butanediol (BD), polyurethane resins and biopolymers such as polybutylene succinate (PBS), used for paints and coating, plastics for car interior design and textiles.
As for bio-based 1,4-Butanediol (BD), an essential component of biodegradable products for coating, adhesive and elastomers (tyres), BASF is also using it in partnership with the American Genomatica and Novamont. The German chemical industry currently produces 1,4- Butanediol in Ludwigshafen (Germany), Geismar, (Louisiana, USA), Chiba (Japan), Kuantan (Malaysia) and Caojing (China), with an overall yearly production capacity of 650,000 tonnes. The bio-Butanediol is used by BASF to obtain bio-based polytetrahydrofuran (Poli-THF® 1000) used in the textile industry to develop elastic synthetic fibres used in sports garments, underwear and nautical clothing. It is also used as a chemical base to produce thermoplastic polyurethane (TPU), used in ski boots, in shoe soles and in the car industry.
Novamont, through its subsidiary Mater Biotech, is now converting a dismantled chemical factory in the North-East of Italy into a plant for the production of butanediol.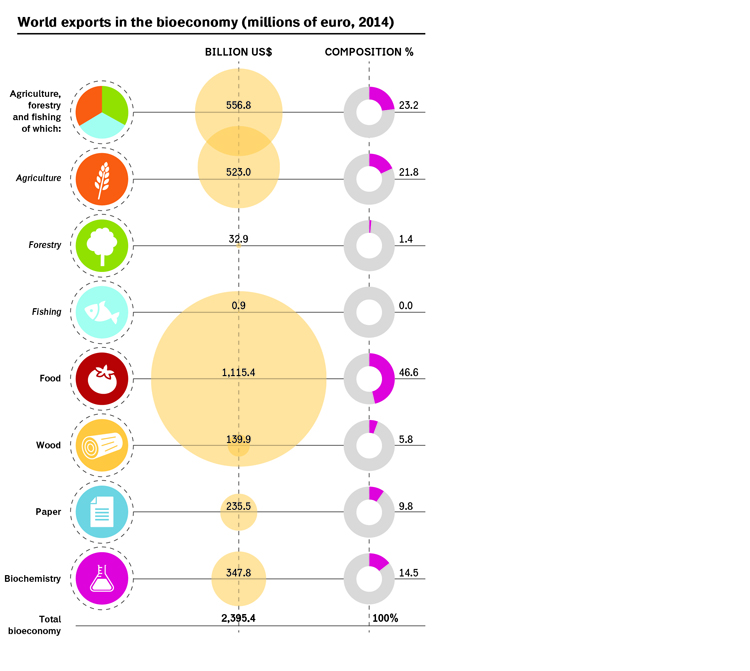 The Novara-based company, through Matrìca (a joint venture with Eni-Versilia) in Sardinia produces bio-based azelaic acid and pelargonic acid. The former is a basic component of renewable and/or compostable plastics, as well as an intermediate for the production of plasticizers for PVC of to synthesize complex esters used as lubricants. The latter – pelargonic acid – is used as an intermediate to synthesize biolubricants and emollients in the cosmetic sector, but it is also an important raw material for the production of bleaches and food fragrances. Moreover, it is a natural herbicide, so it is used for the formulation of plant protection products.
According to the US Department of Energy (DOE), levulinic acid is one of the main biochemicals of the future. The Italian-based GF Biochemicals developed biomass-based levulinic acid. In 2015, in its own plant in Caserta, it produced 2,500 tonnes and aims at reaching a production capacity of 50,000 tonnes by 2019. If currently the cost of oil-based levulinic acid is about $4-5 per kilo, the objective of the Italian company is to be able to offer bio-based levulinic acid at $1 per kilo. It has a number of applications: as chemical intermediate it is used in the sectors of detergents, personal care, pharmaceuticals, plastics, coating, flavourings and fragrances, food, where it acts as a PH regulator for ingredients and inhibits microbial proliferation.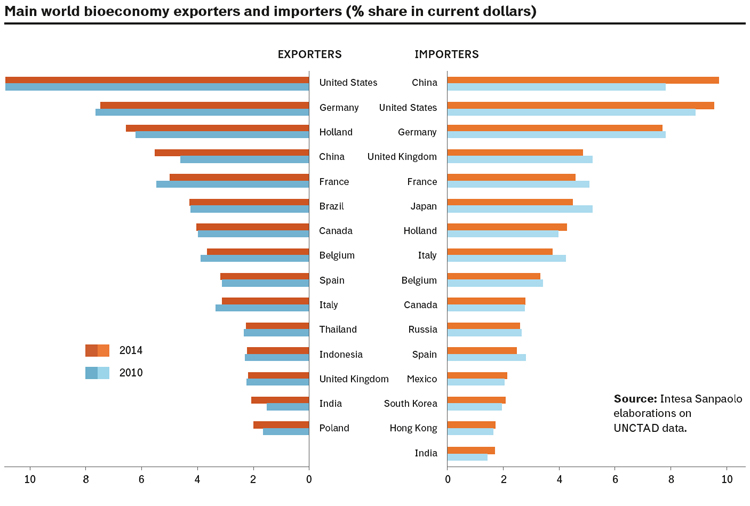 Many polymers have been developed by biological sources including 100% bio-based polyethylene furanoate (PEF) by Dutch Avantium, thanks to its own YXY technology, which should hit the market by 2020. PEF has great opportunities in today's market, mainly in food packaging, lending itself very well for tubs, trays and containers for meat, fruit, cheese and yogurt. Avantium, has already signed agreements with giants such as Coca Cola and Danone.
Secondo Rapporto Intesa Sanpaolo Assobiotec, La Bioeconomia in Europa, December 2015, tinyurl.com/z2l9vaq
---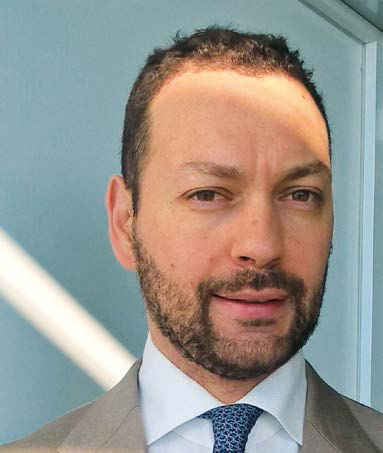 Interview with Massimiano Tellini, Manager of the Intesa San Paolo's Circular Economy Project
edited by Mario Bonaccorso
Rethinking Business Models
"Today, the Circular Economy – basically a new development paradigm which does not exploit exhaustible natural resources – is definitely a new, ambitious frontier. Since its growth strategies for the future are focussed on sustainability, companies need to rethink their business models. Therefore, our group, which is committed to supporting companies and the real economy, feels the responsibility to play a key role in financing the huge investments required by the transition towards this new paradigm. We stand ready to do our part." This is what Massimiano Tellini – manager of the Circular Economy Project of Intesa San Paolo, the leading banking group in Italy and one of the main groups in Europe – stated in this exclusive interview with Renewable Matter. Last December, this bank, headquartered between Milan and Turin, announced the beginning of its global partnership with the Ellen MacArthur Foundation. A collaboration between Intesa San Paolo and the Foundation will redefine business strategies to find new opportunities and guarantee investments aimed at redesigning the industrial system.
Why is a bank such as Intesa San Paolo interested in the circular economy?
"The Intesa San Paolo group has always been committed to its social and environmental responsibilities. As our CEO Carlo Messina remarked recently, from 2007 to 2014, we promoted investments in the environment and renewable resources by allocating over €11 billion. In addition, in 2014, Intesa San Paolo allocated more than 2.3% of its total allocations for supporting renewable energies, agriculture, and environmental protection, which proves our commitment to an increasingly sustainable economy.
"A little over a year ago, the group created the position of Chief Innovation Officer, who reports directly to the CEO and is in charge of informing the group of the most important innovation trends in our business as well as in our clients'. Thanks to our CIO – Maurizio Montagnese's – leadership, the group decided to examine the circular economy's business implications and was able to establish a privileged partnership with one of the world's most powerful players in this field: the foundation created and chaired by the legendary sailor Ellen MacArthur. Today, the reason why a bank such as Intesa San Paolo is committed to the circular economy is because, in our opinion, it represents a unique opportunity of business strategic innovation. Consequently, we are responsible for monitoring and supporting its diffusion in our business' most important fields."
What does it mean, in practical terms, to be a Global Partner of the Ellen MacArthur Foundation?
"As Financial Services Global Partner, we play an exclusive role at world level, consistent with our ambitions and we can show the weight of the responsibility we think is advisable for us to undertake. In other words, as systemic actors, our business conduct – both internal and external – allows us to back the efforts that our main stakeholder will think appropriate to bring in to smooth the transition towards circular models of value creation.
"In practical terms, the group is carrying out an internal analysis of its procurement policy, aimed at identifying the areas which could evolve further by improving efficiency in resource use. However, as proved in Davos in 2014, we already know we are among the leaders in this field at international level and the only Italian company among the world's top 100.
"At external level, in our mission to support the development of innovation ecosystems for the circular economy, we are working on solutions to help start-ups willing to work in this field. In addition, we are considering cooperating with public authorities to find common goals and outline possible plans of action for easing the implementation of innovative and common solutions. These are only two examples, but they show the vast range of opportunities that all the operators supporting long-term shared and sustainable development are given by the circular economy's new systemic vision."
The Ellen MacArthur Foundation and McKinsey state that, in the EU, the circular economy could generate a net profit of €1.8 trillion by 2030, cause the households' average income to increase by €3,000 and the GDP to grow by 11% instead of the currently forecast 4%. How will all this be possible?
"These huge numbers help to understand the significance of the opportunities and responsibilities that the business and finance world will face in the unique historic moment ahead of us. If we consider the numbers, the above mentioned €1.8 trillion refer to the savings in operating costs that European manufacturing companies can achieve by 2030 with a circular approach. This outcome relies on three definite drivers: a) the sole use of renewable energies; b) redesigning of processes and products as modular and demountable in order to ease their renewal; c) the ambition to phase in zero waste.
It has to be remarked that these estimates are conservative and they relate, namely, to companies working in the food, building and automotive industries only. These three businesses have been singled out because, today, they collect about 60% of the average expenditure per European citizen. In the long run, on such a horizon, we can identify the processes offering the European families savings as well, which is another important aspect for all European citizens. Therefore, we are all called to participate in the building of a new development model rewarding the most innovative entrepreneurs and families interested in changing their patterns as both service users and consumers."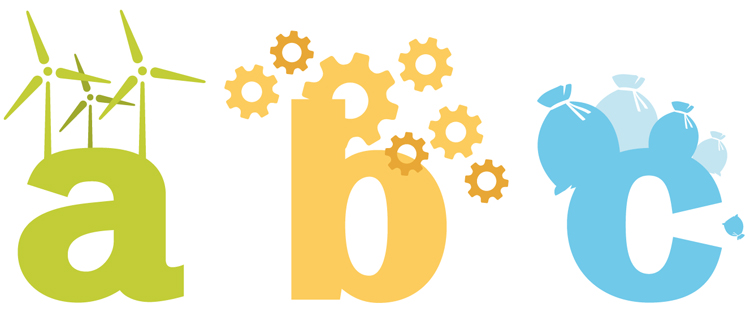 During this current crisis, European banks have been accused of not funding the companies system adequately. Today, you describe yourselves as the bank of circular economy. How are you going to finance companies?
"During the crisis, Intesa San Paolo never stopped supporting the real economy. We kept granting families and companies medium and long term loans, which totalled 27 billion in 2014 and reached 40 billion in 2015.
"I think it is rewarding to examine, though very concisely, an aspect which helps to understand the significant innovation introduced by the circular economy. The crisis which has affected all industrialised economies since 2008 is, essentially, the crisis of a paradigm. Indeed, it deeply questioned the processes at the basis of the current economic model, thus contributing to arouse increasing doubts about the raw material purchase processes on the world market. Price fluctuations and geopolitical tensions in world areas of key importance for the procurement of whole industries started to affect badly the budgets of major companies. Besides, if we consider the associated environmental damage caused by an industrial development centred on the consumerist logic, we understand how difficult the working situation has been for economic operators over these years.
"The economic recovery, which is starting to produce its first positive effects, represents an unparalleled opportunity as well. I believe that this is where the solution offered by the circular economy comes into play. It allows companies to remove the increasing procurement-related risks and keep their core business 'safe' by redefining their strategic goals and the business models linked to them. In my opinion, the connection with the bioeconomy is key."
Practically speaking, what is the role of your bank? What kind of support will you be able to provide the most innovative bioeconomy companies?
"Let's consider the chemical industry as an example. Over these years, it has been able to look beyond the crisis by building up companies committed to the bioeconomy. Such businesses are nature-friendly, fond of their local areas, committed to establishing an innovative and sustainable business model of supply chain. In early November, as your magazine reported brilliantly, the European Commission hosted the Bioeconomy Investment Summit aimed at funding this industry. On that occasion, the European Commissioner for Agriculture, Phil Hogan, encouraged all the bioeconomy operators to consider it as 'the green engine of the circular economy.'
"I reckon that this encouragement alone is sufficient to understand that financial institutions will be required to take a strong commitment and, as a group, we stand ready to do our part. Speaking of which, I would like to mention our constant support for companies betting on innovation as, for instance, the Novamont group. Recently, we are cooperating with them to work out common activities for sustaining the bioeconomy in Italy and abroad."
The European Union has started to take its first steps in the circular economy. What is your opinion on this?
"Over the last few months, the European Commission showed real leadership in the bioeconomy issue, which reached its climax with last November's summit. In addition, it is proving its determination to offer Europe the same leadership role in the circular economy. Personally, I am willing to include the recent result achieved at COP21 in Paris. It is not by chance that, before COP21, the President of the European Investment Bank, Werner Hoyer, had insisted that the circular economy had to feature among EU's distinctive policy proposals in the negotiations.
"Over the same period, when the Circular Economy Package was released, Frans Timmermans – European Commission first Vice-President – stated that the circular economy model represents 'the only thing that makes economic sense in the long-term' for the European Union. In conclusion, even though it is too early to predict whether Europe will be able to take advantage of the opportunities offered by the circular economy, I think it is undeniable that, today, each one of us is responsible for creating a new successful story within a common international effort."
Ellen MacArthur Foundation, www.ellenmacarthurfoundation.org/