Until about 20 years ago, the papermaking industry was regarded as one of the most detrimental sectors on the planet precisely because of the raw materials employed: cellulose and wood pulp provided by forests. Over time, however, a great deal has changed and the industry now boasts excellent cases of companies that have embedded sustainability and circular economy principles into successful business models.
DS Smith is a case in point. A British company founded in 1940, it has expanded to the point where it now operates across 36 countries, employing over 26,000 people. It deals with the production of paper and cardboard packaging, as well as the production of plastic packaging solutions. To support this, DS Smith has also developed recycling networks to provide the raw material for its production processes. A recycling pioneer for more than 40 years, the company has embraced sustainability wholeheartedly, closing its production cycle and publishing its first sustainability report in 2014. Its figures speak volumes: 15 billion boxes produced every year, with 5.4 million tonnes of paper, cardboard, plastics, and other materials put back into supply cycles through the Recycling division. In the case of its paper-based packaging and recycling, through its own operations, DS Smith can collect used packaging and recycle it back into packaging within two weeks of that packaging being discarded. This is something DS Smith refers to as "Box to Box within 14 days."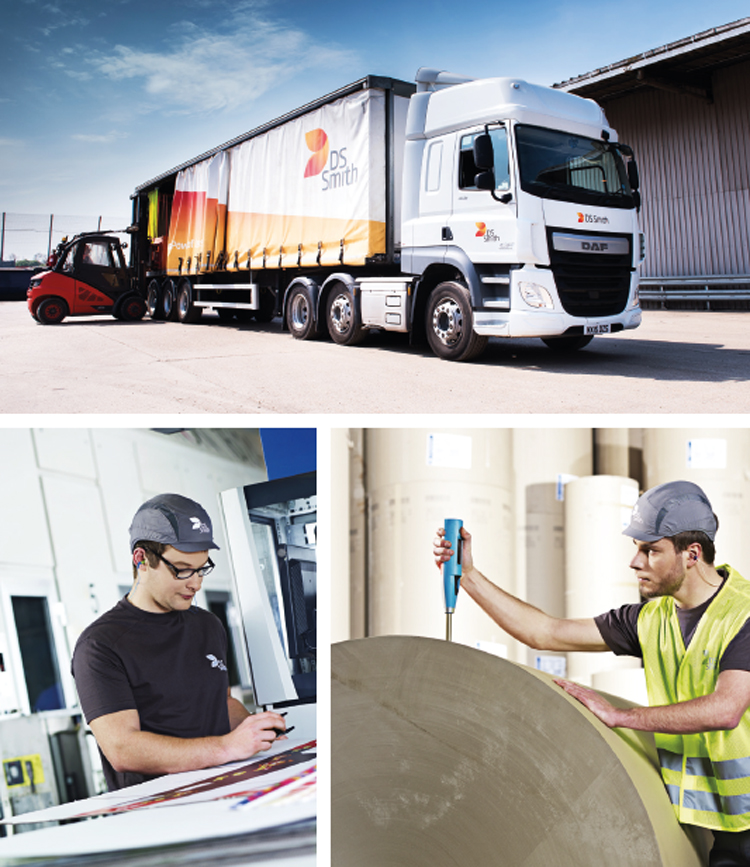 In line with its vision to be the leading supplier of sustainable packaging solutions, DS Smith's European operations across its Recycling, Paper, and Packaging divisions are aligned to provide the "Box to Box" closed loop recycling offer. Its strategy is based on ongoing innovation for the most efficient use of materials. With regard to corrugated cardboard, the key is to manufacture reliable packaging that protects products, using no more material than necessary. And all that using up to 90% recycled material to produce its cardboard packaging.
DS Smith's vision has a motto: "The Power of Less," which in this case refers to less waste, leading to more recycling. Planning is supported by circular management of material flows, since the company has the capability to recycle the end-of-life packaging in-house by reintroducing it into the production cycle, and manufacturing new packaging products. The idea is that of a closed-loop production and circular supply system, which saves raw materials and upgrades secondary raw materials.
Stefano Rossi, CEO of the European Packaging division, explains: "Now, more than ever, the public make purchasing decisions based not just on price or brand loyalty, but on a product's recyclability. So while in the past, sustainability has been viewed as a 'nice to do' activity, today there are very real, compelling and tangible benefits for embracing a reuse and recycle culture." The solution – adds Rossi – is simple: "Creating supply cycles rather than supply chains. In this circular model, where others see used packaging as waste, we see it as a resource."
DS Smith's recycling division thoroughly embodies the concept of waste = resource, the circular economy's paradigm. Its Head of Recycling, Jochen Behr, states, "Our recycling, paper and packaging operations are closely integrated. Our focus is on ensuring that we keep our materials in the supply cycle for as long as possible, making sure that the maximum value is captured without relying on energy recovery as a catch-all solution for material end-of-life. By applying the waste hierarchy across both our own and our customers' operations, we can reduce waste and ensure that all materials that can be recycled are actually recycled."
Acting Locally: Croatia's Example
While expanding, DS Smith has not abandoned its philosophy – quite the opposite. After the acquisition of Duropack Packaging Group in 2015, the company has taken its activity integration model to Croatia. In the last year, the company has recovered 100,000 tonnes of paper, metal, glass, plastic, aluminium and wood for recycling. The Supply Cycle model has helped suppliers and customers to improve the efficiency of their waste management systems, thanks to training and the distribution of special containers for separate collection. Communication and local community involvement are crucial: in primary schools, DS Smith has carried on organising paper waste collection competitions that had already been going on for some years in the country, thus educating new generations about correct waste separation and sustainable lifestyles.
In this regard, Miles Roberts, DS Smith Group CEO, states: "We are dedicated to creating sustainable value for our people. We are committed to the highest standards of safety, and are keen to ensure DS Smith is an engaging employer where our people can thrive and fulfil their potential."
This is where quality comes into it. "Circular economies need to be concerned with manufacturing processes – and recycling is a manufacturing process. Without quality raw materials at the start of the process, inefficiency will appear, and this in turn will create more and more waste. Poor segregation of recyclables leads to contamination, and therefore poor quality inputs. In the worst-case scenarios, the poorest quality materials cannot be recycled at all and up in waste to energy plants or landfill. So – Jochen Behr concludes – our message to our industry is simple: focus on the quality of materials presented for recycling, and we will maximise recycling opportunities and significantly contribute to circular economy aspirations." An attitude adopted by DS Smith in every country in which it operates.
Info