The story of the Landbell Group begins in 1995 with the advent of "take-back" policies: the set of measures that introduced the obligation for producers to recycle the packaging materials they used for their goods. It may seem strange today, but until Germany launched its Packaging ordinance in 1991, only very few materials – such as scrap iron – were routinely recycled. Until then, all over the world, consumer packaging and electronic products ended up in landfills. Today take-back obligations and voluntary practices have spread across the planet and across material waste streams. More importantly, consumers have adopted new behaviours, while innovative industrial and consultancy services are contributing to the development of a circular economy that is economically and environmentally viable.
As Germany spearheaded environmental measures and set up the scene for the development of what soon became the material recovery and recycling industry, many EU countries began to set up their own systems, driven by environmental, economic and strategic motives. They aimed to satisfy increasing citizen demand for a better environment and launch their own industrial recycling system. Given the dimension of the issue, the obvious solution was to entrust the EU Commission with the mission to work out a reasonable compromise that would, hopefully, satisfy all Member countries and their various stakeholders.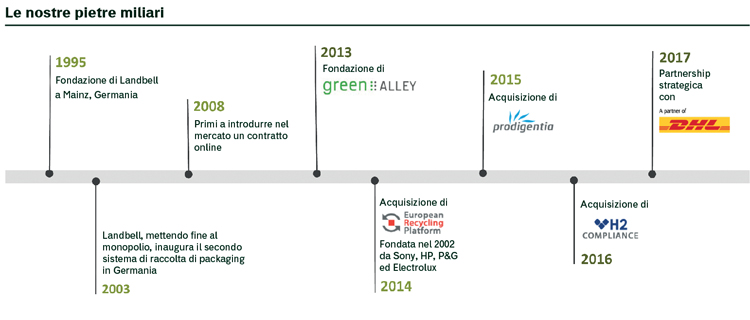 The process gave rise to a set of EU Directives that set quantitative recycling targets and qualitative requirements for several waste streams including packaging and electronic products. At the same time, the EU Directives gave Member countries the responsibility for setting and managing their own waste recovery systems. Although the intention of the Directives was to provide a level playing field for infra-European trade, in practical terms most firms faced the challenge of adhering to as many recycling systems as waste streams and Member countries where they traded. Not surprisingly, perhaps, it would be left to businesses to develop an innovative approach which would lower the barriers to entry for these markets. For instance, European Recycling Platform (ERP) was created in 2002 by electronics companies HP, Electrolux, Sony and Procter & Gamble to ensure a coherent recovery system right across the continent.
In 2003, Landbell, then known as Landbell AG, emerged as one of the key players in the German household and commercial waste collection system by breaking, initially at regional level, the then prevailing monopoly and, by doing so, nurtured the development of seven other private compliance systems. In practical terms, the company soon both competed and cooperated with the renowned state sponsored system, DSD (Duales System Deutschland). This form of co-opetition is a characteristic of the German relationship between central and local states, on the one hand, and enterprises on the other. It allows companies to compete on price and service while cooperating to ensure that the DSD runs operations smoothly. Of course, the overall fine-tuning of the system gave rise to robust conflicts and battles but this healthy co-opetitive culture provided the platform for Landbell's recent developments and the company's capacity to look at the bigger picture, such as the circular economy.
By 2012, having consolidated its core waste management expertise, and while already employing over 200 people, Landbell started looking beyond Germany and Austria to expand its client base and know-how into other waste streams. Accordingly, between 2012 and 2016, the company either founded, invested, acquired or merged with companies that best suited its ambitions. These include: Terracycle (a comprehensive waste recovery system linked to an online recycled product distributor); Green Alley (a company selecting and promoting start-ups); ERP (the pioneering take-back specialists for batteries, packaging and electronic waste in over 30 countries); Prodigentia (a waste-stream management software house, based in Portugal – see box); and H2 Compliance (the international consultancy company which specialises in environmental and chemical compliance). The Landbell Group was born.
Landbell's digital solutions unit: Prodigentia
While the Landbell Group combines expertise all along material streams – with the aim of effectively closing the loop of circular material flows – it is the software branch of the group, Prodigentia, which delivers the tools that facilitate the overall coordination of these flows. "By bringing together our stream-specific technical, logistical and economic understanding of secondary materials, we offer our clients a comprehensive management tool. As one of the main drivers of digital transformation in the circular economy, our technology can place our clients' activities within the much wider global picture," explains Christophe Pautrat, who leads the branch. He then describes where his company is making a difference by projecting European circular know-how way beyond the EU. Namely, today Prodigentia is providing a full stewardship software suite to the first compliance scheme in Brazil and supporting the operations of an existing product stewardship organisation in North America.
A consortium of Brazilian manufacturers and importers have set up a compliance scheme to collect discarded lamps. To run their operations, they chose software developed by Prodigentia. The software comprises the members' "black box," i.e. the system that collects sensitive information about suppliers and partners, including trade and financial data relating to throughput and reverse logistics. A great advantage of the system is that it offers bulletproof confidentiality, while providing members with reliable and timely information concerning compliance requirements. Furthermore, to ensure that the data collected is trustworthy, a third party audits the collected data and procedures adopted to operate the system. Another strong point derives from the link established between the system and the reverse logistics platform, which ensures that the information moving across the material recovery stream is fully integrated. Lastly, a user-friendly interface allows different stakeholders access to tailor-made information. It is also worth remarking that modules are integrated within a renowned enterprise resource planning (ERP) solution that supports accounting and HR processes.
To achieve this important feat, Prodigentia deployed its resources locally to make sure it fully understood the customer's needs and expectations and gained a very accurate understanding of the country's specific regulatory requirements. As a result, the relationship with the clients who launched the compliance scheme evolved considerably: in practical terms, from being a strategic supplier, Prodigentia has become their partner in a continuous quest for innovation and added value.
Prodigentia may also enhance an existing organisation's efficiency and help it evolve to tackle new circumstances while improving performance. This has been the case for an important North American product stewardship organization, which was confronted with the difficult task of bringing together different regional government approved systems. Each system had implemented its own IT system, and the results were varied to say the least. So, in 2012, Prodigentia was called in to review and standardize processes, software tools and customer interfaces across the regions. The result was a single Green Enterprise Resource Planning (ERP) tool which greatly increased performance and customer satisfaction. Augmenting the new ERP tool with Prodigentia's reverse logistics module achieved further improvements, which definitely strengthened the capacity of that system to continue playing a central role in the North American circular economy.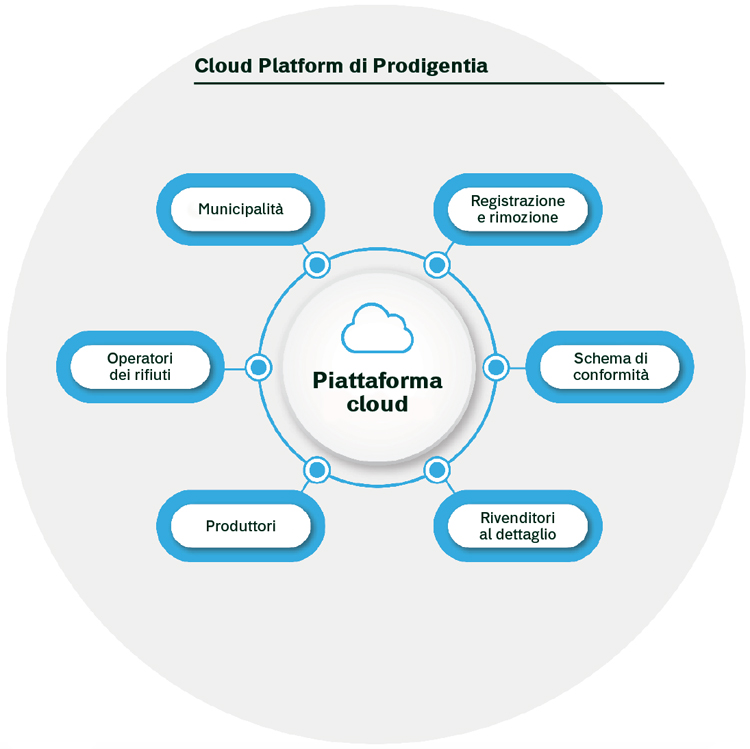 The Group now combines regulatory, procedural, technical and logistical know-how in over 30 countries and has expanded into chemical compliance and waste streams for electrical and electronic equipment, batteries, PV modules, as well as packaging. The Group's objective is to offer tailor-made solutions to fulfil customers' take-back obligations for any material stream in Europe and beyond.
As Jan Patrick Schulz, Landbell's CEO, puts it in describing Click & Comply, one of the company's most innovative products: "Our aim is to make sure our customers satisfy all of their take-back obligations, in whichever country they operate, through a simple click of the mouse." Click & Comply is an evolution of EASy-Shop which was first developed for packaging in Germany and Austria. Click & Comply is a tool for producers operating in many countries with small obligations. It helps them to manage and pay for their obligations quickly and online. In a context of ever-increasing direct commerce through the internet, demand for such a service is booming and involves clients from all over the world. Recently launched in Germany, Click & Comply is being rolled out to more countries.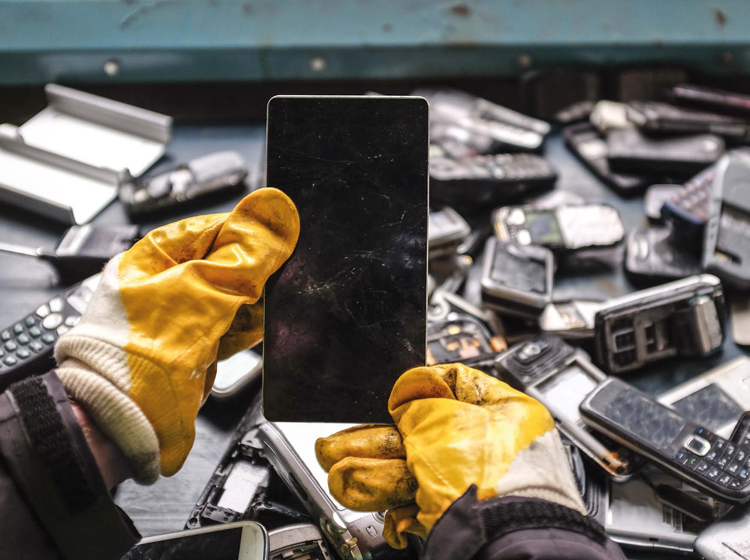 Early in 2017, the Group entered into partnership with DHL Supply Chain, thus closing the circular material service loop for its customers globally. By accessing a single provider for both supply chain management and producer responsibility compliance, the new service loop offers customers the opportunity to optimise logistics and streamline operations. This combination also helps businesses reach their environmental sustainability targets, whilst reinforcing Landbell's ability to support and optimise its clients' internal operations.
Prodigentia's material management software provides the framework that enables client companies to optimize internal material flows and material allocation taking into account real input and output streams. Christophe Pautrat, who leads Landbell Group's IT Solutions division, underlines Landbell's ability to maintain a global vision of material flows by linking it to local material generation: "Our clients track their internal material flows and Landbell's software links these flows to what happens outside their company."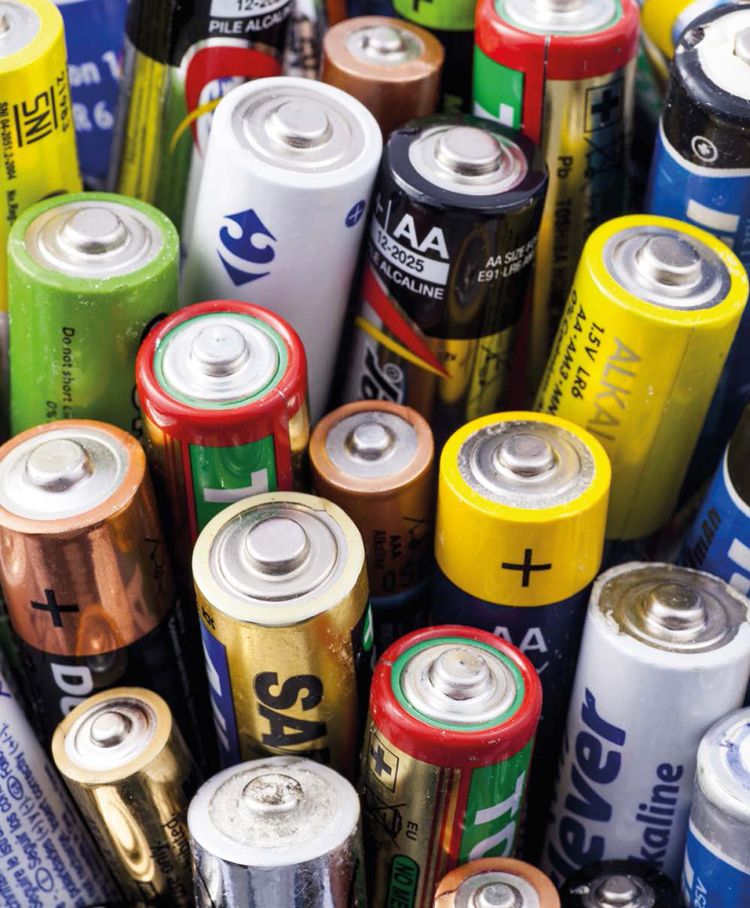 "This is a key characteristic of our business model" – confirms Jan Patrick Schulz, Landbell's CEO – "our clients don't need to worry about regulatory compliance. Moreover, the Landbell Group provides them with the information necessary to improve their business." This approach is rooted in the co-opetitive principles that are part of Landbell's DNA and which guided its development. The company has expanded into a very particular multinational: one that has grown by adding layers of know-how. Such expertise stems from different countries and circulates inside the group to better serve its clients. With this priority in mind, Landbell is preparing a series of circular material flow reports that will have different levels of definition: from highly confidential sector specific reports to confidential country reports.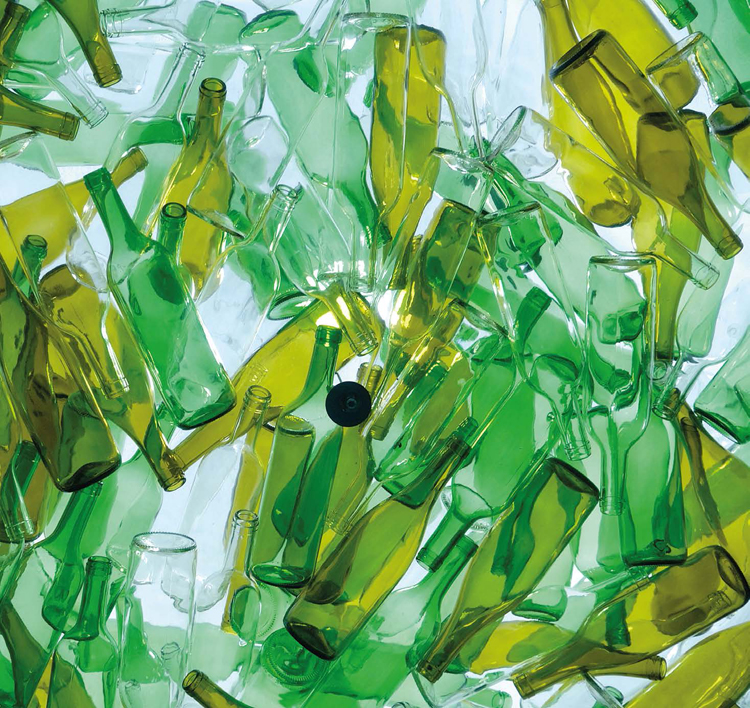 The very special mix of nationalities, abilities and experience that make up Landbell Group's added value is largely based on the great attention given, all along, to innovative developments. This focus can be seen in the Green Alley initiative which, since 2013, supports start-ups in the circular economy both by investing in innovative business models and by hosting a yearly Green Alley Award that brings the most promising initiatives to the forefront. "After all – stresses Jan Patrick Schulz – the circular economy can only thrive on the circulation of ideas!"
Green Alley Award, green-alley-award.com
Info