Name: W.r.yuma
Plus: Products from recycled materials
Sector: First ever 3D printed sunglasses from plastic waste
Characteristics: Old car dashboards, plastic bottles and fridge doors are cleaned, shredded and turned into ink for 3D printers by Belgian and Dutch partners, only for W.r.yuma to then manufacture high-quality spectacles out of them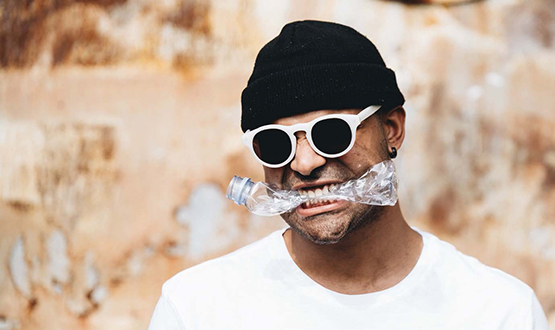 "Our spectacles will not change the world, but the people wearing them will," claims Sebastiaan de Neubourg, founder of W.r.yuma: the first company in the world to launch sunglasses with 3D printed frames using ink produced by recycling local plastic.
Drawing inspiration from Yuma (Arizona, USA) – the sunniest place on earth – this Belgian startup designs and manufactures glasses with sustainability, modularity and style in mind. All this thanks to partners both in Belgium and the Netherlands.
Old car dashboards, plastic bottles and fridge doors are cleaned, shredded and transformed into new inks for the Rotterdam-based Better Future Factory's 3D printer, while the Brussels-based startup Tridea produces ink for 3D printers from plastic bottles. From different types of waste different coloured frames can be obtained. Black from car dashboards, and semi-transparent colours from recycled PET, whereas fridges enable printing the text on the glasses' frames and temples.
Sunglasses are hand-designed and assembled in Antwerp, using high quality Italian lenses with 100% UV protection. Assembly, packaging and shipping is performed by Flexpack, a social enterprise.
The project's founder, a 33-year-old engineer, also takes into account the glasses' EOL: they are designed to be disassembled. Customers will be able to exchange their sunglasses with a new model at a reduced price, whereas old frames will be recycled once returned. An important advantage of 3D printing consists in the ability to offer limited editions, and personalised frames that are easily recyclable after use.
The first W.r.yuma sunglasses, shipped around the world in early 2018, were funded on the Kickstarter crowdfunding platform, whose campaign funding target was achieved within 24 hours.
In the summer of 2018, W.r.yuma – totally devoted to style and aimed at young people – will take part in musical festivals all over Europe where it will print sunglasses using recycled cups. "The future is about manufacturing sunglasses from the plastic cup where you just had your beer."