Name: Nordsense
Sector: New technologies and platforms
Pros: Smart waste-management system based on the IoT
Characteristics: A sensor, installed in dumpsters and bins and connected to an online platform, provides optimised collection paths for garbage collectors, reducing the number of vehicles on the road and the amount of overflowing dumpsters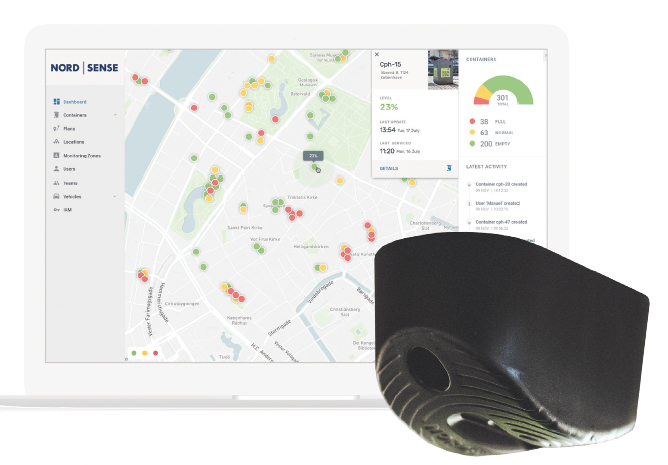 Founded in Copenhagen in 2015, and already active in the USA, Nordsense is a start-up that offers a simple and complete solution that optimises refuse-collection processes by monitoring waste levels in every dumpster through the Internet of Things. Thanks to advanced data analysis, Nordsense creates instructions for garbage collectors to optimise travel paths and efficient waste collection. Founded by Søren Christensen and Manuel Maestrini, Nordsense is thus able to reduce the number of vehicles on roads, as well as their fuel consumption, whilst avoiding overflowing dumpsters that constitute a health risk.
A sensor, called NS Pod, is installed on every dumpster, and this measures the amount of waste while also collecting other data, for example on the type of waste. Thanks to their technological value and small size – the largest being smaller than a smartphone and weighing 310 grams – NS Pods can be used in any dumpster or bin, regardless of shape, size or the type of waste it is used for. The device, which requires less than a minute to be installed, comes with a battery that lasts for 7 to 10 years, depending on use and model.
Once the sensor has been installed, any device can connect to the platform in real time and monitor which bins need to be emptied, thus creating optimised collection paths so that collectors only go to dumpsters and bins that are full. In this way garbage collectors receive daily plans when they log in to their smartphones or tablets, and instructions are updated, with navigation prompts available in several languages.
The use of the system doesn't require a large initial expense, as the service is offered on the basis of a monthly subscription. The only commitment required is to try out Nordsense for at least twelve months.