The World Circular Economy Forum 2019 edition, third part of the Finland-born event, showed the "circular" world's vitality and complexity. Established in 2017 by SITRA – the Finnish Innovation Fund – WCEF has become the true global "circular" forum to discuss innovation, upscaling, new business models and international political economy. In the beautiful setting of the Finland Hall, in the heart of Helsinki, amidst swans and cycle paths, for three days 2,200 experts from 70 countries buckled down to the hard task of creating an economy of scale of the world's best solutions currently on offer. The forum is not meant just for business, but is also a political and civic forum that focuses on an international vision of the issue. Participants discuss the global and climate crisis and how to scale-up implementation of a truly inclusive and fair circular economy that can alter mankind's environmental footprint.
"Our goal must be to create a future-proof economy that is able to support the Paris Climate Agreement," stated Mari Pantsar, SITRA's director. "Across-the-board collaboration amongst all international institutions is required in order to achieve an inclusive and fair transition of developing and developed countries." A great many UN agencies and multilateral banks took part, UNEP, UNDP, World Bank, European Investment Bank, Development Bank, as well as ministers from around the world and the CEOs of large companies such as IKEA. The organisers' message is obvious: a circular economy can only work on a global scale.
"The economies of most countries are too small to be circularly self-sufficient. To gain full circularity cross-border cooperation is required," claimed Elliot Harris, UN Assistant Secretary-General and Chief Economist. "In order for this to happen, global understanding and consensus is needed to create a collaborative circular economy and not one where each country goes its separate way."
Finland, boasting large investments in the bioeconomy (although the industry did not take part in the event) and in the circular economy, as SITRA's mandate shows, sent an important message when it announced during WCEF that it intends to achieve carbon neutrality by 2035, one of the most ambitious goals set by a large EU country; thus committing Finland to reducing its carbon emissions below the amount that can be absorbed by forests, wetlands and new technologies, without relying on the purchase of carbon credits from international offset projects, as Norway does. From this perspective, the circular economy – accomplished in the broadest possible sense and not merely within the waste issue as some countries like Spain and Italy are doing at the moment – becomes a key piece of the puzzle to achieve such goals. A political message that will certainly have a strong impact, especially as Finland's EU Presidency is fast approaching. A pivotal moment for the new European political framework.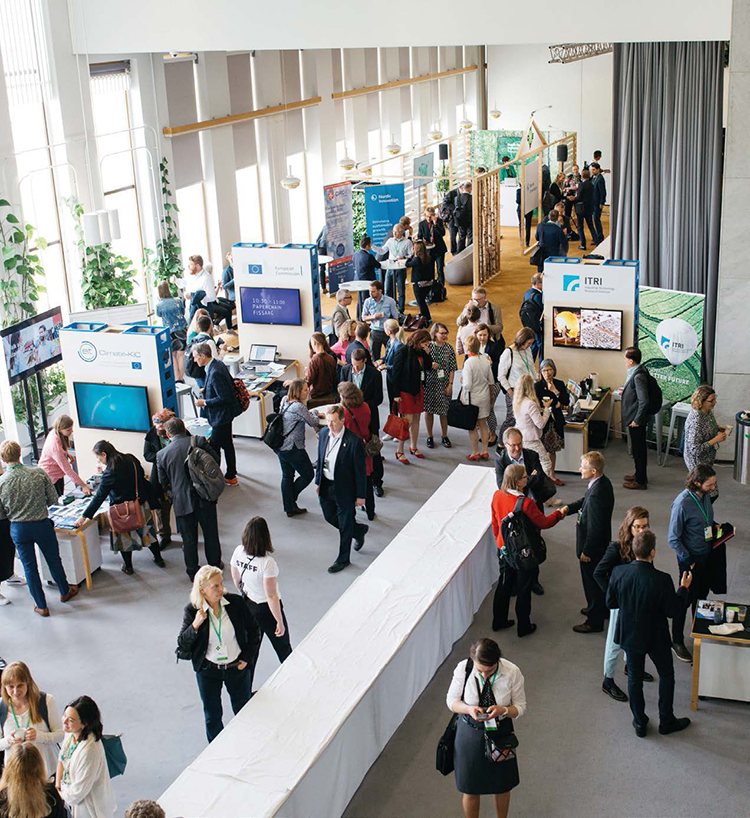 Finance and Metrics
The WCEF brought together numerous financial institutions, such as the European Investment Bank (EIB) which reiterated their investment priority in the European circular economy. EIB's Chairperson reminded us that funds are already available for growth and scale-up initiatives, including €100 million for highly-innovative investments in the bioeconomy with blending mechanisms; funds for the fight against plastic in the oceans (EIB's Clean Ocean Initiative) that focus on clean-up projects and water treatment; and lastly funds to create a 15-European city circular roadmap. Laura Tuck, the World Bank's Vice-President for Sustainable Development highlighted how even large international institutions are now considering creating multilateral investments in these departments.
"Full transition to a circular economy will require investment on a large scale, especially in developing regions around the world," concluded Mikko Kosonen, President of the Finnish Innovation Fund SITRA.
Measuring the circularity of a territory or a company is still key for investments: "We must find measures that go beyond measuring waste," explained Hans Bruyninckx. "We must use innovative technologies such as blockchain, measuring, revision and verification systems for life-cycle assessments. Shared knowledge on the subject must be built." There is a risk that voluntary measures and marketing can jeopardise the effort of supporting strict circular procurement processes. "Data must be transparent and accessible to consumers. We need a scheme translating complex data matrices into a simple and understandable model such as energy efficiency colours," added Bruyninckx.
The problem lies in the fact that, while some aspects are easily measurable (such as the amount of renewable matter or that of reused elements), other benefits are less tangible: suffice to think of a product's extended useful life or of all sharing activities.
ENEL's Luca Meini – an international energy utility based in Rome – presented the company's model "based on the measurement of circularity taking into account the circular economy's five pillars, according to some sub-indicators (sustainable inputs, sharing, PAAS, life-extension, end-of-life, author's note)." Therefore the model defines only one circularity index which is calculated – considering both matter and energy – from two components: flow circularity, taking into account all components of materials; and energy and use circularity, considering the materials used, both via useful life extension and the implementation of sharing and product-as-a-service principles.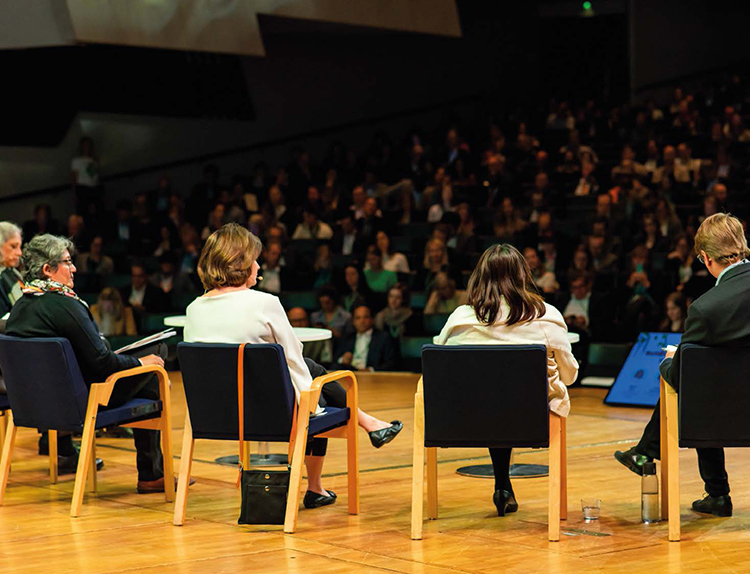 Circular Economy in Africa
While Europe wants to be a circular economy leader, Africa is also starting to move in the same direction. "There are countless opportunities for our countries," stated Vincent Biruta, Rwanda's Minister of Environment, a country that is developing its own circular strategy and has caught the international spotlight for being the first African country to ban single-use plastic bags. "We are working to create durable products made in Africa, repairing processes, and strategies for reducing the use of matter. This is already engrained in the African philosophy," declared Biruta proudly. "As a matter of fact, our countries can already be identified as leaders in the circular economy." In Kigali, Rwanda's capital, investments have been made in recycling plants, water treatment systems, fashion accessory sector's sustainability and the sharing economy. "A whopping €1.5 million investment has been made in recycling local WEEE, and regenerating computers or solar panels that can then be sold cheaply," he added in front of a crowded room. On top of Rwanda, The African Circular Economy Alliance, founded in 2017, also includes South Africa and Nigeria. Working on these topics will make businesses more competitive globally and prepare them for a new phase whereby products not meeting circular economy standards will face higher tariffs, explained Anthony Nyong, African Development Bank's Climate Change and Green Growth Director. "This will also create employment and new jobs."
Circular Cities
High attendance at the secondary branch of EIT Climate-KIC on circular cities demonstrates increasing attention on the topic of urban metabolism and circular cities. It was also an excellent opportunity for launching Climate-KIC's White Paper on Circular Cities, highlighting the important role played by public administrations in the transition towards the circular economy.
According to Roy Vercoulen, Circular IQ founder, "We must involve the right people, such as procurement managers, in public administrations so that they can become change agents." Circular procurement accelerates the transition and can lead not only to the creation of new jobs but also to the improvement of circular investments and entrepreneurship as well as improving the livability and appeal of cities.
Changing procurement mindsets and processes is paramount so that cities can create demand and become customers for the launch of products and services, claims Oriana Romano from OECD. This thought is also shared by Charlotte Breen, Head of C40 Green Growth, a network of global cities committed to a sustainable transition. "Circular procurement can stimulate new innovation and green growth. If a city demands electric buses, there will be a market and a service flow shift."
The city of Helsinki committed to making its procurement processes 100% sustainable by 2020, a demonstration of the progress that can be made in less than 4 years.
Canada
In 2020, WCEF will meet again, this time in Canada. "We all know that we have too much waste, it piles up in landfills and ends up in our environment. Canada is looking forward to welcoming WCEF 2020 delegates in North America to extend the circular economy network, partnerships and opportunities. Working together we can find ways to recycle and reuse our resources while creating excellent jobs. We work together and transform waste into money," declared Catherine McKenna, Minister of the Environment and Climate Change.
While having declared a climate emergency, Canada still produces raw materials such as oil and timber. But ministerial representatives claim that the circular economy and the bioeconomy could change this economic model. "Cleantech and zero waste will influence the next innovation wave while sustaining our economy, creating jobs and protecting our environment," declared Navdeep Bains, Minister of Innovation, Science and Economic Development. WCEF's goal does not stop here. It aims to go further. As of 2021, SITRA will look for new partners to organise the event and it could therefore become a global conference, travelling from country to country, from Rwanda to Italy, from Peru to China. "We could organise ministerial meetings creating new regulations and defining commitments and global international agreements on circular economy topics," explains Ernesto Hartikainen, SITRA's Circular Economy Specialist. "There is a platform for climate. There is also one for biodiversity, the UN Environment Assembly that took place in Nairobi, where for the first time a circular economy was mentioned in the final declarations. But there is still nothing in terms of an international agreement."
Perhaps the WCEF can become the initiator of an international platform, just like the 1972 Stockholm Conference was for climate and biodiversity issues.
World Circular Economy Forum 2019, www.sitra.fi/en/projects/world-circular-economy-forum-2019
Eit Climate-Kic Circular Cities, The challenges and potential of circular procurements in public construction projects, www.climate-kic.org/wp-content/uploads/2019/06/Procurements-in-Public-Construction-v2.pdf
C40 Cities, www.c40.org