From a screeching noise to the muffled silence in a church. That of recycled tyres is a crucial parable, in the latest project by Ecopneus, a non profit company for ELTs (End-of-life tyres), made of six main tyre producers operating in Italy – Bridgestone, Continental, Goodyear Dunlop, Marangoni, Michelin and Pirelli – that over time have been joined by an additional 55 production or import businesses.
It all started last summer when Ecopneus, in collaboration with Legambiente and thanks to the planning and coordination by Vie En.Ro.Se Ingegneria, promoted the acoustic refurbishment of former ENAOLI's church in Rispescia, in the Grosseto area, using also panels made with materials derived from recycled tyres. The work in the church, set within Legambiente's National centre for sustainable development "Il Girasole", one of the experimentation and promotion centres for innovative technologies, showed – after a series of studies – the potential of recycled rubber for acoustic refurbishment of buildings.
Indeed, before the acoustic refurbishment, the building had a reverberation time three times higher than optimal levels, i.e. on average 3.35 seconds at 500-2,000 Hz. As a result, the sound was confused, therefore the space was almost unusable for conferences and events. Starting from recycled rubber from ELTs, used in combination with other materials, 8 curved panels were obtained, characterized by one completely sound absorbing side and one reflecting side, placed on a mobile structure on wheels. On the ceiling, instead, 36 sound absorbing panels were hung onto the roof beams, without hiding the wooden A-frames and the brick ceiling. To finish it all off, some vegetable panels were used (Smart Acoustic Green) made of Cladonia Arbuscola, a species originally from Scandinavian countries, able to do well in enclosed environments, with little or no light at all.
The result was astounding, with a performance beyond any expectations. Reverberation went down to 0.96 seconds in the configuration of maximum acoustic absorption. And Legambiente's party was a success.
The Rispescia's church is only the latest innovation project by Ecopneus showing the value of recycled rubber in various applications. Over the last months, new projects have started: a 400 sqm2 play area, "Peppa Pig's World", in the Leolandia amusement park, in the Bergamo area. Then the Greenrail railway ties, reducing by 50% railways maintenance costs and increasing the product life span (50 years as opposed to 30/40 of concrete). And again: the spread of flooring for horses, essential for the animals' wellbeing and that of riders, thanks to the reduction of the risks of exposure to black lung, a pulmonary disease linked to sand dust.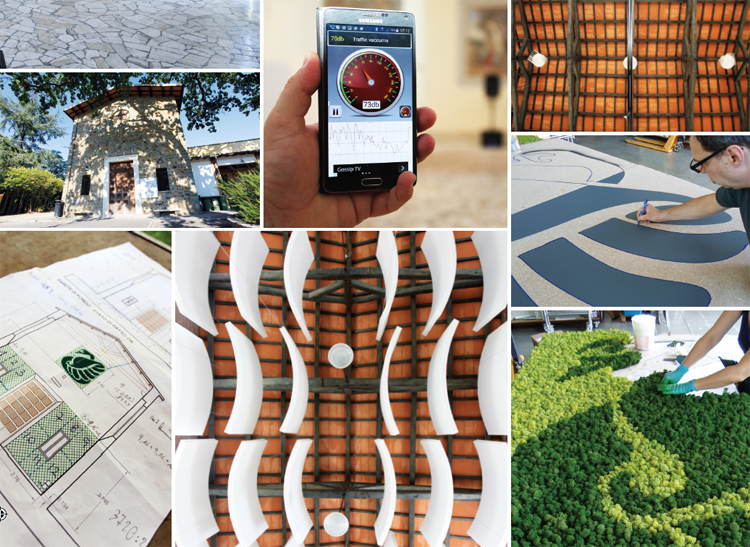 A Type of Rubber for Every Season
"The project developed in the Legambiente park clearly shows the value of a recycled product, adopted within a context where its unique characteristics and performing qualities are valued" explains engineer Giovanni Corbetta, Ecopneus' general director. "In the circular economy, using materials in sectors where distinctive qualities are not valued is pointless. We receive many proposals by companies, inventors and R&D. But they often use rubber as secondary material, which can be replaced by other ones. This is not what we believe in."
Today Ecopneus relies on three sectors where the circular economy of rubber shows its best potential and exploits the matter's own characteristics: sport and outdoor activities (football fields, play areas, race-tracks and gyms) road infrastructure (rubber mixed with bitumen) and lastly the building sector, in particular urban renovation and acoustic insulation.
After all, "raw material" is abundant. Every year, Ecopneus alone recovers about 250,000 tonnes of ELTs, the equivalent in weight of about 30 million tonnes of car tyres. An important figure: if placed in a row, the tyres would form a strip over 13,000 km long, twice the distance between Milan and New York. Overall, Ecopneus' production chain employs 100 businesses, including 15 for energy recovery.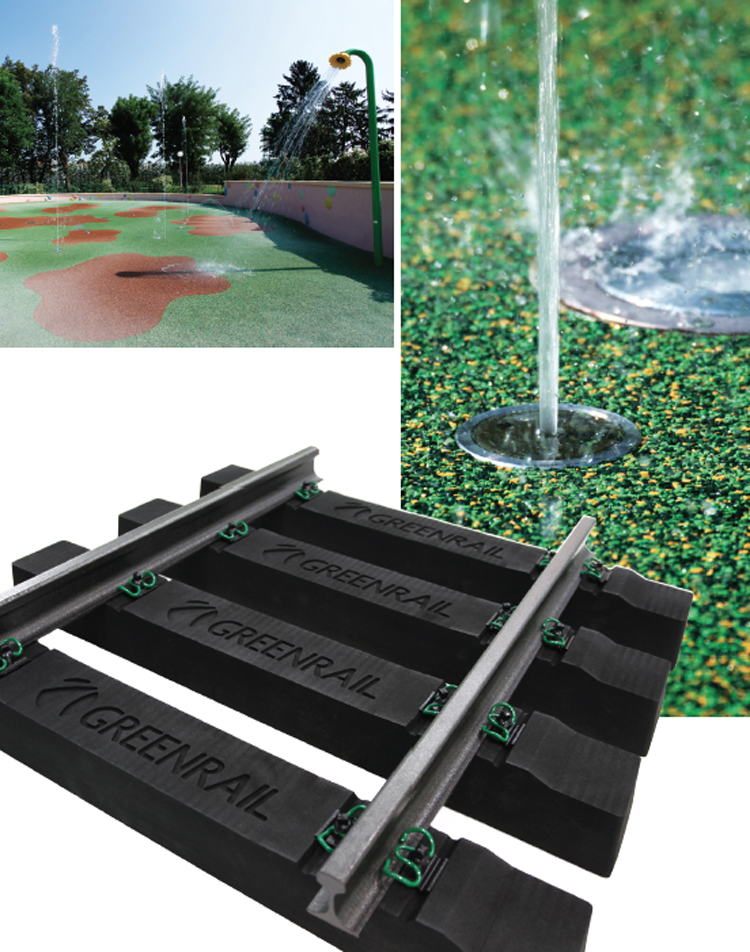 How Tyres Enter Homes
If the use of rubber as granulate, powder or shredded has gained some popularity, in the sports/play area segment (43% of the market), asphalt and street furniture (31%), in the building sector there is still a long way to go. Today, only 4% of the total recycling material is used for houses and buildings.
But the success of the church in the former ENAOLI area reveals interesting opportunities. "We have confirmed that rubber is perfect as acoustic insulation and anti-vibration material" explains Daniele Fornai, head of Ecopneus' Development of uses and regulations. A sector with strong growth potential with at least four acoustic panels producers obtained with recycled material in Italy, with a know-how envied by other European countries. So much so that a large share of panels produced in Italy is used abroad, thus confirming the value of made-in-Italy products. "Italy is becoming a leader in this sector, thanks to the quality of panels," Fornai adds. "Multilayered products are being manufactured, able to manage even complex acoustic and thermal issues, especially in industrial and civil buildings."
Although often neglected, in Italian cities the acoustic issue remains key. According to ISPRA, as much as 42.6% of noise sources subject to checks, over the past years, exceeded at least on one occasion the legal limits. But the engineering and real estate world shrug their shoulders. The acoustic problems have not been taken into great consideration even by sustainable building certification consortia.
But something is changing. "In the #4 version of LEED protocol drawn up by the USGreen Building Council – the American association promoting sustainability in the building sector – the acoustic aspect gained an importance that before was only peculiar to school buildings. Within the protocol there is a criterion – Acoustic Performance – covering an assessment of background noises of the HVAC (heating and cooling) system, of acoustic insulation and reverberation time," explains architect Paola Moschini, LEED AP for Macro Design Studio, a consulting firm on sustainability. "A sign showing the growing attention towards acoustic wellbeing not only by architects and town planners but also by world-famous systems of sustainability evaluation."
All uses of recycled rubber to redevelop the building industry
Sound dampening products for acoustic insulation of floors
They are systems based on the interposition between the top layer and the bottom structure (the floor) of a layer made of elastic material (normally between 2 and 20 mm thick), which allows to break their "jointness".
Cavity products for acoustic insulation of walls
The interposition of a rubber layer in cavity brick walls, a solution more suited for new buildings, enables to diminish the loss of insulation caused by cavity resonance. Generally, a 20 mm thick recycled rubber mat is used.
Products for damping the vibration phenomena of industrial machineries, hydraulic and mechanic systems and their components; products for insulation of buildings' foundations
To obtain the damping of such vibrations, the resilient material must have excellent elastic and damping properties, as well as good mechanical strength under pressure. Such characteristics make recycled rubber an important resource for the production of anti-vibration products. Anti-vibration bases in recycled rubber, besides guaranteeing high levels of elasticity, enables to obtain reduced installation height of machineries, thus guaranteeing fewer encumbrances in the building.
Adhesive Strips
Usually they are sold in 5 cm to 70 cm width rolls – smaller compared to sound dampening rolls – they are used to separate floors from partitions with a resilient layer. In this way vibrations and noises normally travelling through the solid components to go from one place to another are dampened by the elastic layer. The dampening effect of such technology also helps to avoid sound propagation between the two layers of the double walls.
The Future of Rubber
So, if matter performance will continue to be exploited, the demand for recycled rubber from ELTs is bound to grow. "We look carefully to the residential sector, where the volumes can become really important" Corbetta points out. With significant environmental returns. "The higher the value of ELTs the easier it will be to talk people out of discarding tyres or burning them illegally. Like copper: who throws copper away?"
Of course, ELT-derived rubber, like many other materials from waste is a bone of contention between cement factories and recovery material companies. Currently, considering the quantity actually recovered, 41% of ELTs collected is used for energy recovery, while 59% is transformed in new materials such as granules, steel and rubber powders. Energy recovery is simpler and benefits from a constant demand. "Those dealing with energy recovery are always looking for alternative fuels, also in waste. But we prefer materials' recovery" adds Corbetta. "Because it is established by law but also to promote a circular economy, keeping the value of recycled rubber high. In the future, this will help support an integrated production cycle (with the tyre producing companies): rubber powders derived from ELTs will increasingly be used in the blends for new tyres for cars and lorries."
At the moment, actually, the integrated cycle is not complete due to a devulcanization which is not entirely efficient. "But we trust that in the next few years it will improve significantly," adds Corbetta, confident about the rapid progress of research. Rubber's unique characteristics and performance make it too precious a material to be used as a "mere" energy source.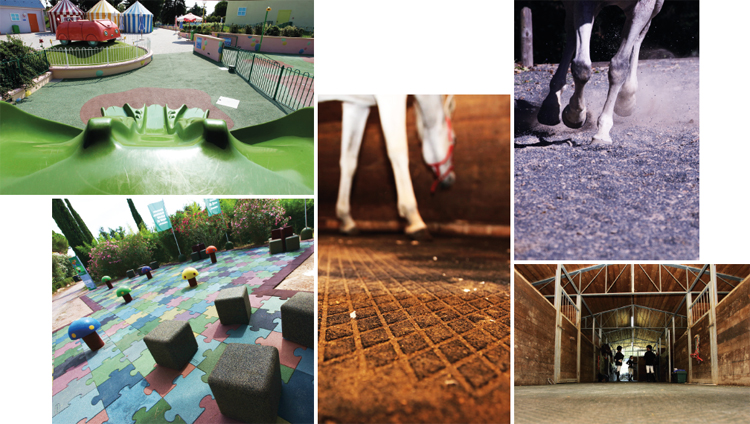 Info