"What you don't buy or use, will not be produced, will not be wasted. The less, the better. This is what we want to inspire."
ARTPORT_making waves is the curatorial collective that elicits and stimulates sustainable behaviour through art. An international platform that combines distant worlds through an interdisciplinary approach whose aim is to raise awareness and reflect upon everyday and global solutions to protect the environment with creative means. Anne-Marie Melster will discuss this aspect with us.
How did the idea of ARTPORT_making waves come about?
"The co-founding partner Corinne Erni and I met in New York in 2004 and one year later decided to set up a curatorial collective together, focused on art and climate change. When we started, people were actually laughing at our idea, today the issues dealt with underpin a movement that we are proud to have stimulated. Our aim was to introduce an environmental approach to the contemporary art world, putting together projects that could sensitize the general public towards more sustainable behavior. With our initiative, we intended contributing to social change: the curatorial collective formula enabled to involve associate curators from other countries."

ARTPORT_COOL STORIES IV: Katja Loher: yellow present, green present, purple future, 2014
Why discuss climate change through art? What is the relation between raising awareness and art language?
"Art has always had the power to access people with socially critical content. Young people understand immediately how food and climate change are related when they see an artistic video about burning forests to create grazing lands for cows or monocultures to feed the masses. The most effective way of engaging people in behavioral change is to work with the audience directly. People feel closer to art than to articles in newspapers or hard scientific facts. Contemporary art has the power to show facts, reveal scientific knowledge and local experiences but also provoke reactions through images. Scientific facts become smoother and easier if they are explained through art videos for example, which touch the senses and open the mind of the viewer.
"Art can be a combining element to bring people from different professional backgrounds around one table to discuss possible solutions. ARTPORT_making waves operates on multiple fronts (art production, organizing events and public initiatives, editor's note) also through an advisory service that we provide to involve companies and institutions interested in finding a way to organize more sustainable exhibitions and publications."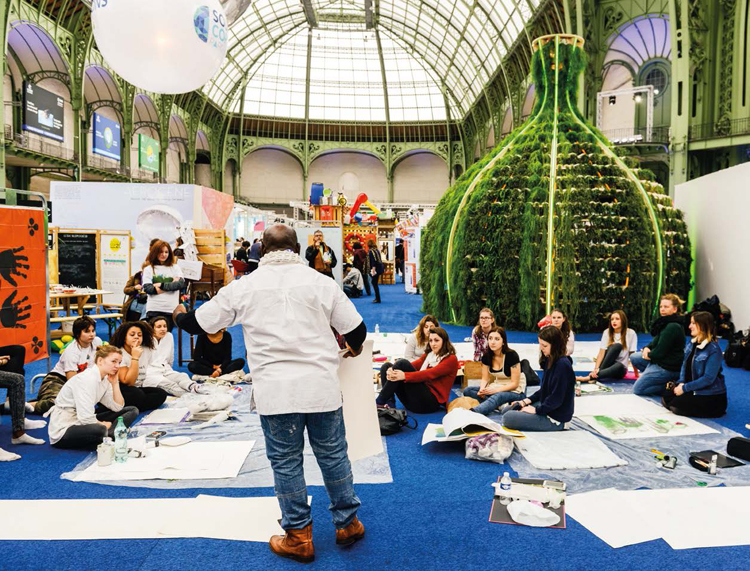 ARTPORT_making waves: Barthélémy Toguo: Bandjoun Station workshop at Grand Palais/COP21, Paris. Photo by Maxime Riché, 2015
I am particularly interested in your international perspective. What are the most receptive and welcoming countries to the ecological issues in the artistic field?
"Mexico and India are extremely receptive countries where people have not our Western living standards, and are confronted directly with the effects of climate change. Students, pupils, artists, curators, filmmakers, there are so many engaged people in these countries.
"We have non-profits in Germany, France, Spain and Switzerland; in the US we work with New York Foundation for the Arts. But we work internationally, choosing the country where we want to establish a new project through our collaborators or through the fact that specifically interesting events like conferences are happening there, so that we can address a certain public. We don't come with ready-made projects for a new geographical area. We prefer to work with local partners and let them choose which subject matter is important. We worked in this way with hundreds of children in Cancun and Quintana Roo as part of COP15, and then in Miami around the problem of rising sea levels and possible personal solutions and contributions by the kids through creating their own art work with local materials. They came up with ideas of how they and their parents could change their behavior and become more respectful towards nature."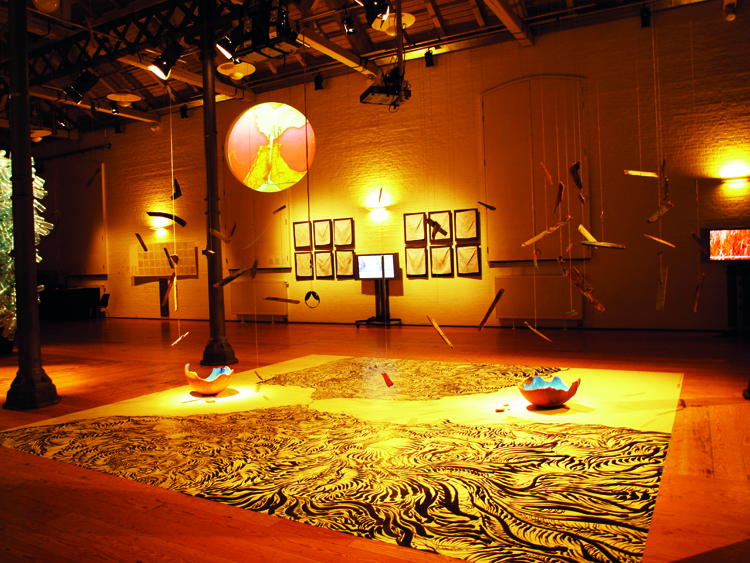 ARTPORT_(Re-) Cycles of Paradise, COP15, Copenaghen installation view Hall 55_3, 2009
What is the role of Sustainable Art in the contemporary art panorama?
"There are many artists who are focusing on socially-engaged art and climate change. They exhibit in important museums, are represented by influential galleries and collected by huge collectors worldwide. With this movement art changes from a mere luxury good to an important vehicle in society. In contemporary art there have always been fashionable subjects. We are happy that something which we have been focusing on for more than 10 years, has become a real movement in the arts. It started some years ago, but the COP21 UN Climate Change Conference in particular intensified this movement. I hope that this movement will last, that people don't just jump on board the 'climate change' fashion train, but everybody takes their responsibility seriously, also when prices on the market drop again and other subjects become more appealing."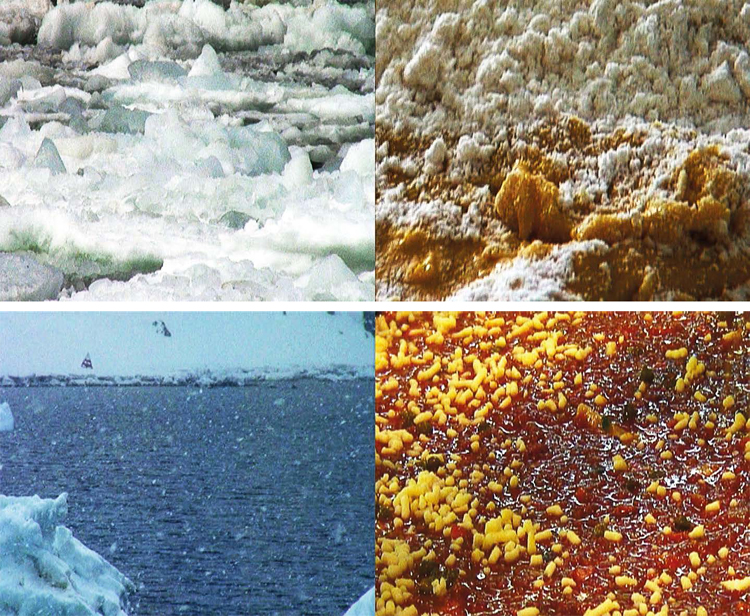 ARTPORT_COOL STORIES IV: Magdalena Correa: PARALLELS 11 and Magdalena Correa_PARALLELS 7, 2014
In 2016, ARTPORT_making waves presented COOL STORIES for When the Planet gets Hot IV at the Socrates Sculpture Park in New York. Tell me about this collaboration and this peculiar exhibition choice of welcoming the public inside containers...
"Socrates Sculpture Park is an institution in New York that shares our goals: Making art accessible to the general public and use public space to engage the public in a discussion around socially-engaging subjects. We've known them for some years now and proposed a public screening of the best of COOL STORIES I-IV in their park (a compilation of short videos from international artists focusing the subject of climate change were chosen by ARTPORT_making waves and Socrates). The best way to present videos open air is either on a big LED or an inflatable screen (which cause CO2 emissions) or in a container. We decided to choose recycled containers. A recycled container gives shelter from sun and rain, can be placed anywhere, creates an intimate space and lets the viewer directly immerse into the videos. A perfect combination."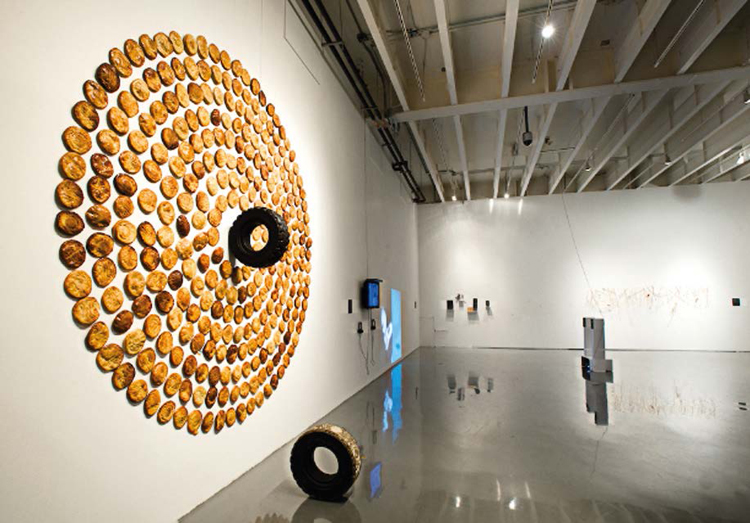 ARTPORT_(Re-) Cycles of Paradise: exhibition view Betsabée Romero, Anita Glesta, Ander Azpiri, 2010-2011. Photo by CCEMX
"(Re-) Cycles of Paradise" is an exhibition of yours on the relationship between climate change and Gender. "Mother.Nature," the work by Nnenna Okore, embodies this issue with sensitivity. Could you expand on that?
"Nnenna Okore's work 'Mother.Nature,' which was specifically created for this exhibition, is an installation comprising fifty containers in the shape and form of pregnant bellies made from handmade paper and wax. The work shows how a woman's maternal qualities can be extended towards the restoration and preservation of natural resources. The installation is not only an African position within the exhibition and an earthy counterpart to the technology based works, it is also a poetic approach to the aspects of re-cycling, water shortage and how to use found and natural material in African countries to face the effects of climate change. The work reflects on the notion of adaptation in the climate change debate."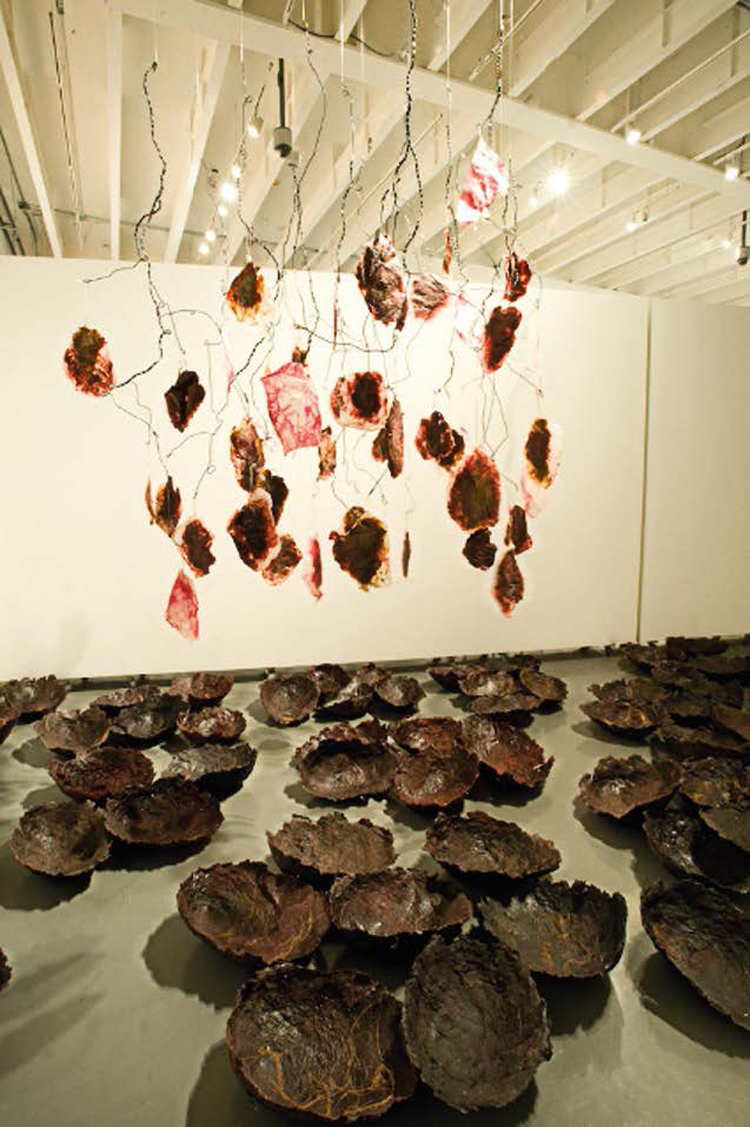 ARTPORT_(Re-) Cycles of Paradise: Nnenna Okore: Mother.Nature. CCEMX, Città del Messico/COP16. 2010-2011. Photo by CCEMX
Renewable Matter is particularly interested in recycling: could you name one of your artists linked to this topic?
"Re-cycling and re-using are important paradigms in this context. I could name several artists: Nnenna Okore, Betsabeé Romero, Perla Krauze, George Steinmann (he works with found minerals from Alpine waters and converts them into paintings), Charley Case, Meschac Gaba, Ander Azpiri, and some of the Indian artists: They work a lot with found material, convert it into art works, installations, sculptures, but also more scientific approaches like research, conferences and panels."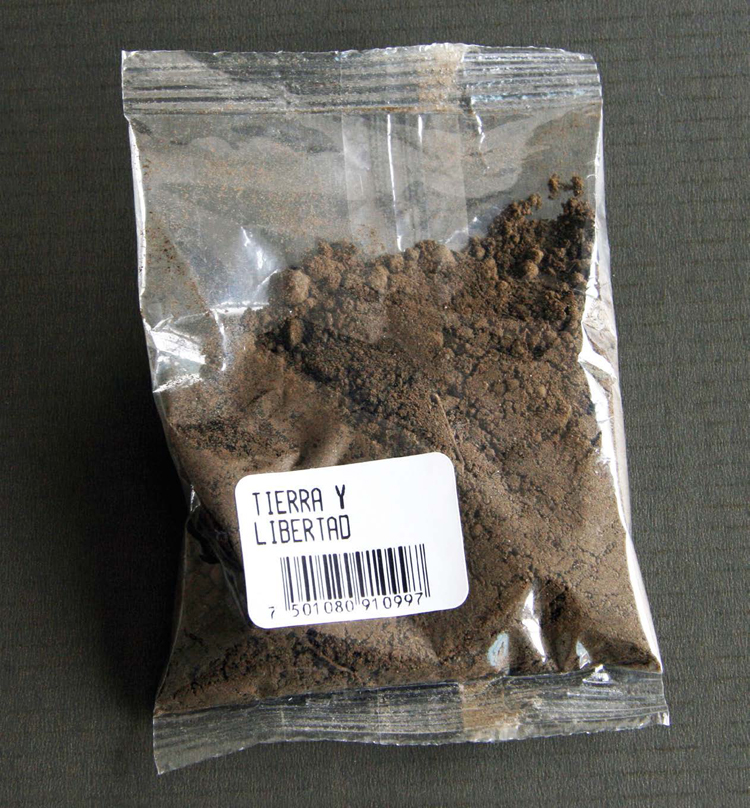 ARTPORT_COOL STORIES IV: Ivan Puig: Tierra y Libertad 3, 2014
What are ARTPORT_making waves future projects?
"We are preparing a rich project around food and food production in India which will also be taken to Germany. And we are planning the new edition of the short video competition dedicated to African artists; and an interdisciplinary project for Valencia (Spain) which is the World's Food Capital in 2017. And a few more which are not yet official."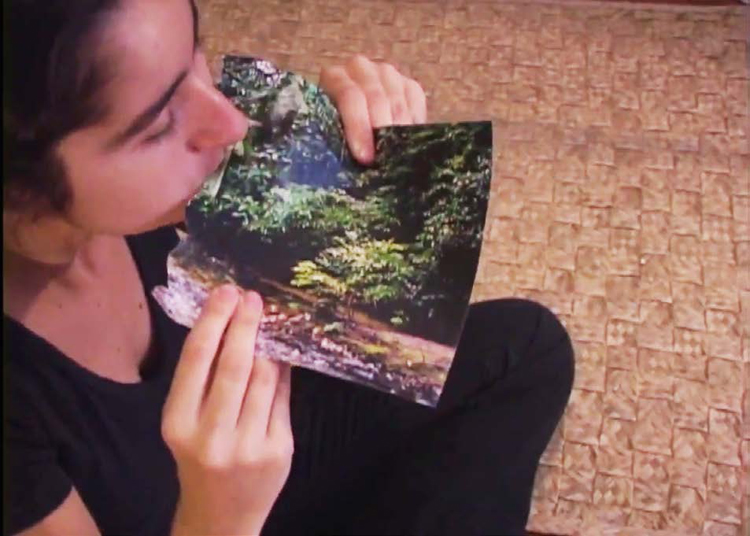 ARTPORT_COOL STORIES IV: Lia Chaia: Eating Landscapes 1, 2014
ARTPORT_making waves, artport-project.org