There is a new and visionary way to conceive buildings bubbling up in Europe. Enough with costly and complex construction sites, managed with 20th century modalities and knowledge. The construction work, both for new builds and renovations, will be planned and carried out off-site, pre-assembled in a factory and then fitted within a short period of time in selected sites, using robots. This is offsite construction, which comes with many advantages: from minimizing waste of matter to reduction of construction and disassembling costs (up to 25-30% less), a building's life extension and shorter duration of construction sites (up to half the time, and so minimum impact on people and services) and reduction of emissions throughout a building's whole life cycle.
Against this background, offsite construction seems a promising aspect of the circular economy and a potential element to relaunch one of the Union's most negative sectors (constantly in crisis since 2003) with a slight rebound in 2016. This theme certainly attracts lots of attention, as some may have noticed during the new edition – the sixth – of REbuild, the only international event together with EcoBuild, in London, to look to the middle and long term future of the construction sector from an original and unconventional viewpoint. From robotics to modular planning, from drones to IoT (Internet of Things) planned maintenance, the building sector is in for an unprecedented leap forward, modernising itself after almost thirty years of limited innovation, thus equipping the sector with 21st century economy's epoch-making transformations.
At REbuild the building sector and sustainability's intelligentsia analysed these new trends, discussed them with the market's top players and worked on radically transforming the sector, with a view to making it more circular.
"There is a lot of interest in this topic from the whole of the building sector," explains Thomas Miorin, REbuild inventor. "Today we can carry out offsite construction with wood, steel and even cement: the flexibility of options is a peculiarity of the new construction industry. This way to build 4.0 shows that very high quality can be combined with low costs, industrialization with variety, sustainability with architectural taste, new competences with automation, solutions for the regeneration of our cities with unprecedented export opportunities."
The bible where to find detailed information is Outlook REbuild 2017, the analysis document produced by REbuild's scientific committee for participants. "Offsite construction, prefabricating and other modern building methods – reads the report – reduce the intensity of work on site and concentrate it mainly in factories, enabling a restructuring of technologies and processes aimed at a higher efficiency and quality." This requires companies able to carry out detailed planning of all production and assembling phases, standardizing processes so that total control over times and costs can be achieved. Buildings constructed in this way will have constant performance, the only system variables being the external environment and users.
There are many examples of companies that have embraced prefabricating and offsite construction. For instance, Maurizio Focchi, Gruppo Focchi's CEO, specialized in casings for large architectural projects in the USA and the UK, such as the new Atlas Building, a 40-storey residential tower in London, started at Rovereto (Trentino), through its subsidiary IAMEC Srl, a new industrial initiative within metal technologies. Or Giovanni Spatti's work, Wood Beton's Chairman, who in only 30 days constructed Bio and Sea Residence in Jesolo, 11 flats on six floors, entirely made of wood. A record for a building that also embraced all the principles of sustainability.
Other important examples are Ergodomus Studio's building site, specialized in wood engineering, at the innovation Hub project at the University of Parma: a multi-storey building, also entirely made of wood, which will become the new VisLab's headquarters, a cutting-edge company in the field of research in self driving.
The wood load-bearing structure has been fitted in only four weeks by a team of four carpenters without the aid of a tower crane in the building site. Thanks to prefabricating and BIM, offsite construction and "what you draw is what you get" concepts have been taken to the next level.
Furthermore, Rubner Holzbau company has conceived a modular stadium, made of plywood, with low environmental impact and totally green. A middle-capacity structure can be fitted in 6/8 months at €1,500 per seat (€2,000/seat for smaller ones) as opposed to 18/24 months necessary to build traditional stadiums at €2,500/3,000 per seat. "Throughout the world there is an increase in the demand for middle capacity stadiums, from 5,000 to 20,000 seats, representing 80% of the world's total demand for this type of structure," explains architect and inventor Jaime Manca Di Villahermosa.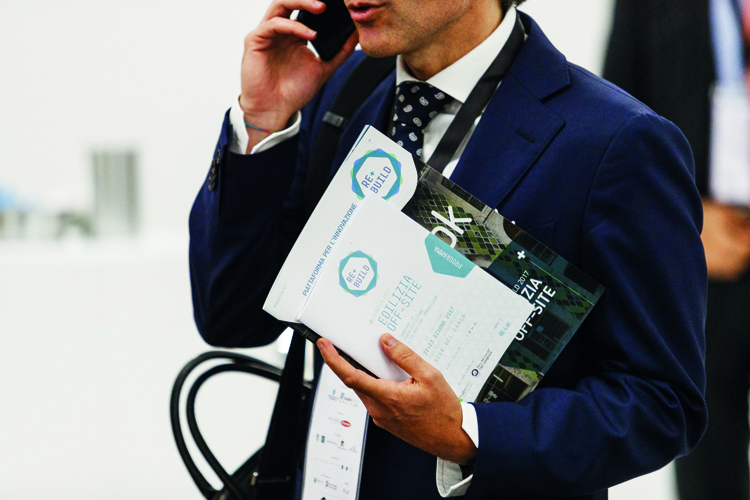 REbuild 2017: this edition's topic was offsite construction
A professionals' play
According to Thomas Miorin, offsite construction is characterized by five elements. First and foremost productivity, which has been constantly dwindling in the building sector over the years, as opposed to a comparative increase of 2.8 in the manufacturing industry. Then there is the issue of scale, seen that offsite construction must be able to tackle any size of project: from bungalows in a camping site to a large 450-room hotel. The third element is environmental sustainability, because offsite construction can (and must) promote and accelerate real estate requalification in a sustainable way. Quality and security follow suit, guaranteed by measurable standard processes, verifiable and reducing risks for employees (over 20% of work accidents in Europe, according to Eurostat, are in the construction sector) and the certainty of performance. Last, the fifth element, is digital infrastructure, which is key for managing efficiently offsite construction, a pre-requisite of industrialization of this sector.
While for new buildings offsite construction is a great opportunity to launch circular building, for many, the real market is requalification. Currently, in Europe, 35% of buildings is over 50 years old. Working on the introduction of efficiency measure in buildings, electrical consumption could be reduced by 6%, with a 5% CO2 emission cut. However, retrofitting existing buildings, occupied or used, is not simple. Compulsory relocations are often complex and the longer they are, the higher the probability that various problems may arise, from extra costs of the impact on mobility, quality of urban life, emissions, etc. "The correct way is to suggest solutions technologically able to guarantee limited operational times of the building site allowing tenants to stay in their homes, with limited inconvenience during the transformation phase of buildings," explains Ezio Micelli, scientific director of REbuild. "Similar measures are obviously not possible without offsite construction which is merely assembled on site, with a radically discontinued approach compared to the past."
There is some criticism, though: Mike Leonard, Building Alliance CEO, claims that most materials for offsite construction are imported (mainly from Asia), while in traditional building 80% of materials are domestic. "This could cost many jobs in the UK and affect the quality of buildings," claims Leonard in an article on the Guardian.
But today being protectionist is a wrong move. For offsite construction's forerunners this phase could spur the number of companies already specialized in semi-finished products (present throughout Europe), while creating a limited cycle of secondary raw materials for prefabricating derived from regeneration and requalification processes, typical of the circular economy. According to a report by SystemiQ and Ellen MacArthur Foundation, modular building will help the development of circular building projects, making the use of regenerated or recycled materials more simple and efficient, reducing its reliance on the American or Asian sectors and promoting recycling of end-of-life secondary raw materials. Moreover, in order to carry out the new offsite construction, the vast amount of matter available within the real estate market and other sectors of secondary raw materials can be tapped.
Politics too is interested in offsite construction: from Sweden, where in Stockholm the real estate crisis worsens by the day, to Italy, where the Ministry of the Economic Development sees in this new construction method an offshoot of industry 4.0, which is essential to relaunch the building sector, to the UK which is pushing for a sectorial industrial revolution. According to BuildOffsite, the sector's association, innovation in modular construction will determine the future of the British and European sector. With virtual construction software simulating building sites, integrated with an integrated production line process, expect no less than Google or Tesla on the market, which will rewrite the rules of the construction sector. We need to act before these foreign companies from America or Asia arrive, burying the national industry, states Gianni Silvestrini from the Kyoto Club. Trowels and mortar could soon end up in a museum of anthropology. Ministers of Economic Development, builders' associations and businesses are warned.
Outlook REbuild 2017, www.rebuilditalia.it/it/outlook-rebuild
Report Ellen MacArthur Foundation SystemiQ, Achieving "Growth Within", www.ellenmacarthur foundation.org/publications/achieving-growth-within
Info
Top image: Offsite construction stadium by Rubner. Duration of building site: 6-8 months