Perhaps the mere name of Novozymes is enough to adequately describe the Danish bioeconomy. The Bagsværd-based giant, 12 kilometres north-east of Copenhagen, holds 48% of the world market of industrial enzymes, having closed 2015 with over €3.3 billion value. But Denmark is not just a leader in the field of industrial biotechnologies. The Scandinavian country boasts a deep-rooted tradition of political support and favourable legislation towards sustainable energy technologies, such as wind power and energy efficiency. This has guaranteed a leading role in many of such green technologies and led to several industrial achievements. Dong Energy is a case in point, today being one of the leading investors in wind and off-shore farms in Northern Europe; or Vestas Wind, the wind turbine giant with installations in over 70 countries. But above all, it is a government's vision aiming at ditching fossil fuels from the energy and transport systems by 2050 that plays a key role.
The Leadership of Industrial Biotechnologies
If industrial biotechnologies are the engine behind the bioeconomy, Denmark is the location of its compartment. It is truly difficult to find a biorefinery in the world where Novozymes enzymes are not employed: Mossi and Ghisolfi at Crescentino (Italy), Raizen (JV between Shell and Cosan) in Piracicaba (Brazil), St1 Biofuels in Kajaani (Finland) are just a few examples. In Northwich, in the North-West of England, a 100% Danish initiative is underway, where the first plant in the world able to treat domestic mixed waste through enzymes to produce bioenergies is being built. Novozymes, which in 2009 featured in Forbes magazine within the 100 companies that would survive one hundred years, will provide the enzymes, but the REnescience biotechnology driving the plant was developed by Dong Energy (like Inbicon and Pyroneer biotechnologies), tested since 2009 in a demonstration plant in Copenhagen. The REnescience facility can manage 15 tonnes of waste an hour or 120,000 tonnes a year. This corresponds to waste produced by nearly 110,000 households in the United Kingdom. The biogas produced in Northwich will be used to generate almost 5 MW of electricity, enough to power almost 9,500 households.
The Danish leadership in the field of industrial biotechnologies stems from a historical vocation to support training, research and innovation. The Scandinavian country invests over 3% of GDP in research and development, according to EC data and is ranking 8th in the 2016 Global Innovation Index drawn up by WWF and Cleantech Group analyzing countries creating most green innovation.
The national government's plan for the development of the economy is also based on technological leadership. It is not a proper national strategy, but something very similar such as "The Plan for the growth for water, bio and environmental solutions", presented in 2013.
"Denmark – as the document reads – boasts a strong position on the international market for water, bio and environmental solutions. It produces technologies and solutions in a variety of ways to increase the efficient use of water and resources, to improve the environment and to reduce air pollution. Industrial biotechnologies are another strong point for Denmark."
A Panel of Experts on the Bioeconomy
To make the most of such strenghts and convert the country into a hub for growth in the field of knowldedge, technology and production – and effectively promote the development of a Danish sustainable bioeconomy – in 2013 the government created the National Panel of the Bioeconomy, bringing together 27 experts representing companies of the whole production supply chain, research world, non governmental organizations and various authorities. This Panel's main task, working along the lines of the German Bioeconomy Council, is to draw attention to the need of specific measures in favour of a sustainable bioeconomy, where resources and products are used to the benefit of the environment, climate, growth and employment.
One of the main topics dealt with by the Panel, meeting three times a year, is about economical and sustainable biomass availability, regarded as a vital element for the development of the Danish bioeconomy on a par with the promotion of research and creation of a market for biobased products. Biomass is key for the Danish bioeconomy stakeholders, not just for the national agricultural system and for the processing and biorefinery sectors, but also for cattle farming, which can benefit from access to new and better types of proteic feeds, ditching once and for all costly imports of GMO-free soy.
"In Denmark – as a Panel document of September 2014 reads – we are well placed in the development of the bioeconomy: we have the raw materials (biomass) from agriculture, from silviculture and fishing; we boast a strong biobased industrial sector and the necessary ability to research and innovate."
However, there are a few weaknesses, impediments that must be overcome to garantee adequate development for the bioeconomy. First of all – the Panel complains – there are no measures promoting market growth. "Currently, products from renewable sources cannot compete with equivalent products made using crude oil or other fossil materials. The price of fossil fuels does not take into account the real cost on the environment and climate, while many value chains of the bioeconomy are still in a development phase."
So, clear and stable political objectives able to encourage national and foreign investments in this sector are lacking: for instance a system of Green Public Procurement or certification schemes for solid biomass with transparent and operational sustainable criteria. Lastly, the Panel points out, there are some objective difficulties in going from the research of pilot and demonstration plants, to industrial-scale and commercial scale. "Technology must be totally able to compete with fossil-based products from day one, since there are no provisional niche markets where the investment for development can be recovered. Consequently, the threshold to reach commercial scale is technically high, while the possibility to attract the necessary private start-up capital is limited by the ensuing difficulty to recover the development costs through the market."
The Alliances for the Bioeconomy
To overcome obstacles to the bioeconomy's full development a series of public-private alliances have been formed in Denmark, on some occasions by the government itself. Biorefining Alliance is one of them, an organization operating to promote the country's bioeconomy, created in 2011 by Dong Energy, Novozymes, Haldor Topsoe (a Danish company specialized in catalyisis) and by the Danish Agriculture & Food Council, representing Denmark's agrobusiness, farmers', companies' and trade associations. "Our objective – director Anne Grete Holmsgaard claims – is to strengthen Denmark's position and to create employment in the value chain of the production of sustainable biomass for advanced biobased products."
State of Green is a proper public-private partnership, founded by the Danish government, the Confederation of Danish Industry, the Energy Association, the Danish Food & Agriculture Council and The Danish Wind Industry Association. Supported by no less than Prince Frederik, State of Green brings together all the leading actors of the Danish bioeconomy, of the circular economy and the efficient use of resources. "Through State of Green – says executive director Finn Mortensen – we offer decision makers, the international commercial community and the media an opportunity to get to know and benefit from technologies and lessons learnt from the Danish green community."
So, State of Green is an advocacy but also a showcase for the Bioeconomy made in Denmark. Its members include Arla Foods, Scandinavia's major dairy industry and the seventh in the world. The Aahrus-based agricultural company anchored its growth strategy on environmental sustainability. The 2020 strategy, launched in 2011, covers the whole of the value chain ("from cows to consumers") and aims at reducing CO2 emissions by 30% per kilo of milk produced in the farm compared to 1990, and 25% of processessing, transport and packaging compared to 2005 levels. All this thanks to 50% use of renewable energy, to a reduction of the same percentage of food waste, aiming to achieve 0% waste in the facilities and 100% recyclable packaging. "Today – highlights Anna Flysjö, Life Cycle Sustainability Manager – 18% of total energy used by Arla comes from renewable sources and greenhouse gas emissions has been reduced by 14% compared to 2005. All this despite an increase in production, meaning that the reduction per unit produced is even higher."
Even the Beverage and Toy Industries Turn Green
Denmark's green footprint is also shown by two industrial giants in their own respective fields: Carlsberg and Lego Group.
Carlsberg, fifth world group for beer production, operating in 50 countries with 31,000 employees, in 2015 announced the development of the first fully biodegradable wood fibre bottle for beverages (Green Fiber Bottle). The announcement was made during the World Economic Forum in Davos, where the Danish multinational was asked to take part in a debate on food waste. It is an all-Danish three-year project: indeed, besides Carslberg, other institutions are involved such as Technical University of Denmark, ecoXpac, a packaging company providing its own "thermoformed fibre" technology and a Danish fund (Innovation Fund Denmark) funding the project, in sinergy with the Horizon 2020 European programme. All materials used in the bottle, even the cap, will be developed with biobased and biodegradable materials, first of all from wood fibre from sustainable sources.
"If the project is successful, as we believe, it will mark a change of course in our options for liquid packaging and it will be another important step in our way towards a circular economy, with zero waste," declared in Davos Andraea Dawson-Shepherd, then Vice President Corporate Affairs.
The Green Fiber Bottle project falls within Carlsberg's strong strategy towards a circular economy, promoted through the Carlsberg Circular Community, a collaboration between the Danish multinational and other selected partners aiming at achieving a zero waste economy using the Cradle to Cradle® platform, created by Professor Michael Braungart, for the development and marketing of new products. Basically, products must have a better quality for consumers, not involving health risks and be both economically and enviromentally efficient. According to what stated by Jørgen Buhl Rasmussen – Carlsberg Group's President and CEO – "packaging is responsible for over 45% of all Carlsberg's CO2 emissions."
The objective to reduce its own CO2 emissions also pushed the toy giant Lego to invest in research, development and implementation of new sustainable raw materials, to be used in the production of its famous colourful bricks and packaging.
The company, created in 1932 in Billund, in June 2015 announced within its sustainability targets a series of investment plans of a billion Danish Krone by 2030 (about €135 million) and the employment of over 100 workers, thanks to the inauguration of Lego Sustainable Materials Centre, which will become fully operational by the end of this year. Lego Group's great challenge is to achieve completely biobased brick marketing by 2030. "A challenge that is both complex and thrilling" according to Jørgen Vig Knudstorp, CEO and President of the Danish group, which will guarantee "research and development of new materials that will allow to continue to offer experiences of high-quality creative play in the future, without compromising the environment and the future of generations to come."
Bycicles Are Bioeconomical
The bioeconomy is not only an economic revolution. It is also – perhaps mainly – a cultural revolution. In this respect, Denmark's strong vocation for the bioeconomy is testified by the vast use of bycicles as a means of transport. The Scandinavian country boasts 12,000 kilometres of cycle paths. In 2009, the Danish parliament allocated €134 million for the National Cycle Fund, which funded 388 projects. In June 2014, the government made available €24 million for a cycle superhighway project and to improve cycle parking. The Danish Cyclists' Federation boasts 16,000 members.
And there is more: Using bycicles is also beneficial for business. According to a study by COWI, a consulting company [...] cyclists and pedestrians contribute to 50% of retailers' takings in big cities centres and to 25% of takings in small, medium-sized cities. Indeed, cyclists visit a higher number of shops compared to motorists.
Once again, the idea that closing cities centres penalizes business is debunked. The investigation has instead shown that cyclists and pedestrians have a positive influence on business because they spend their money in restaurants and shops.
"Plan for growth for water, bio and environmental solutions" (March 2013), tinyurl.com/hg34k83
The National Bioeconomy Panel, Denmark as growth hub for a sustainable bioeconomy (2014), tinyurl.com/zrdqjww
State of Green, stateofgreen.com/en
---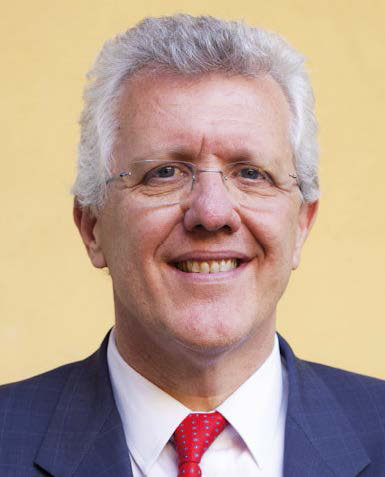 Interview with Alberto Frausin, Carlsberg Italia's CEO
Edited by M. B.
Beer (sustainable) Galore
Producing beer sustainably. Carlsberg, the beer giant with a turnover of €10 billion a year with its various brands – Carlsberg, Tuborg and Birrificio Angelo Poretti – and its Danish people made a proper motto out of it. Renewable Matter talks about it with Alberto Frausin, Carlsberg Italia's CEO.
What does sustainability mean for Carlsberg?
"It means producing beer at the highest possible level of quality, without affecting the retail price for consumers. For Carslberg, sustainability falls within the concept of quality. It takes into consideration an assessment of the environmental impact of the product's whole life cycle, the so called Life Cycle Assessment (LCA)."
To what extent, in your opinion, Carslberg's attention for sustainability depends on the fact that it is a Danish company?
"To a very large extent. Environmental sustainability is in the Danish DNA, on a par with the great attention given to research and development, to which our company allocates 25% of profits. In a way, the attention for the environment is so deep rooted in Denmark that is taken for granted in everything that is made, from individual choices to political and collective ones. In February 2015, Carlsberg launched the Green Fiber Bottle project, a 100% biobased bottle produced with fully biodegradable wood fibre."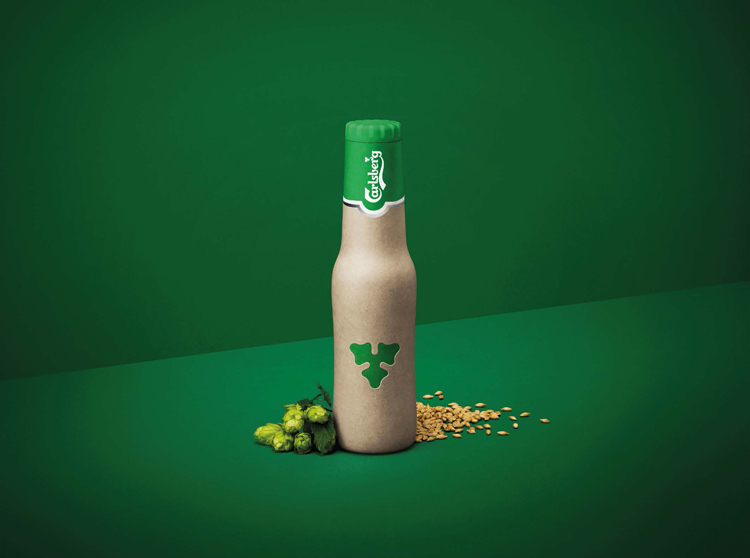 When will we be able to see this bottle on the market? And more importantly, will it be able to preserve the aroma and taste of beer?
"The launch is expected to take place on pilot markets in 2018. In fifteen-twenty years all glass bottles will be replaced. We are certain that the new bottle not only will be able to keep the quality and freshness of beer, but consumers will be able to buy it at the same price. Green Fiber Bottle will be produced with fibres from responsibly-managed sources, with trees replaced at the same rate as those felled. Despite the fact the bottle can naturally decompose and be thrown away with organic waste, our intention is to devize a specific waste management system, just as it happens today with bottles and cans."
What other projects is Carlsberg developing in the field of the bioeconomy, of the circular economy and sustainability in general?
"I would like to quote a project I am very proud of, because Italy is the leader. Our company in Italy, restoring a patent by Carlsberg Group, introduced on the market the DraughtMaster™ Modular 20 system using recyclable PET kegs (as opposed to steel) where tapping can occur without adding CO2. In this way, the quality of beer improves considerably while avoiding saturation and oxidation processes; beer itself is kept unchanged and garanteed for over a month since the opening of the keg, compared to 3-4 days of traditional kegs.
"According to LCA analysis, the new system with PET kegs reduces CO2 emissions by 29% per 100 litres of beer produced, compared to steel kegs. A comparison between DraughtMaster and the bottle systems shows that every 100 litres of beer CO2 emissions drop to 36 kg compared to 131 of glass, while with regard to waste produced, they go from 29 kilo to just 5, just as water consumption which is halved (609 compared to 1,150 litres).
"Against the wider picture of environmental sustainability the PET keg supply chain has a much lower footprint compared to glass bottles, if the European Commision Environmental Footprint is used as a parameter. If, on the other hand, circularity is taken into account, the PET keg's contribution is represented by de-materialization and the more efficient use of resources, thanks to the fact that a particularly light material is used to package and distribute similar quantity of beer. Steel kegs must return to the factory to be refilled, while our system uses a very light PET that is then recycled, even though it is still produced using fossil fuels."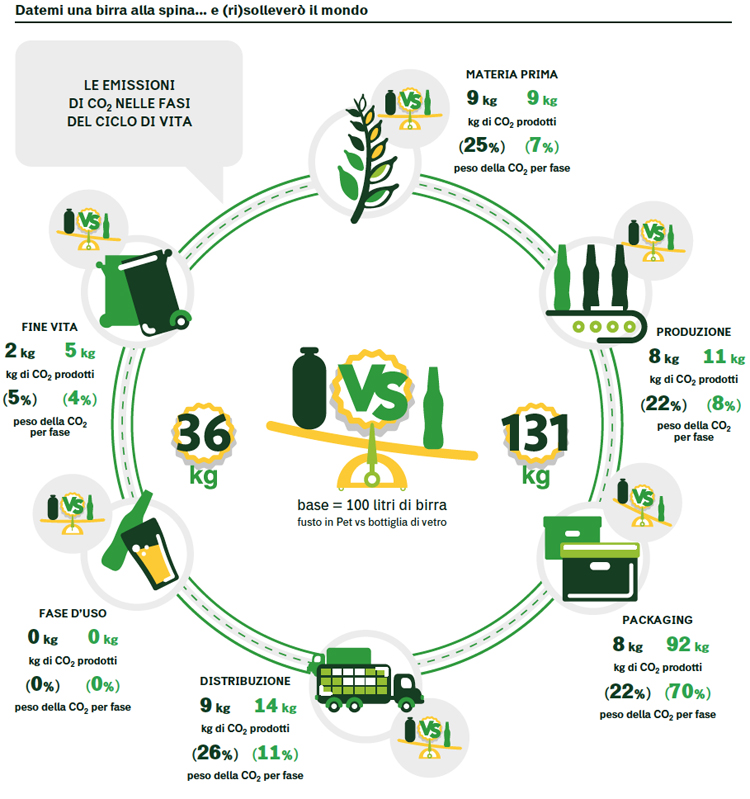 In your opinion, what is Denmark's distinguishing feature with regard to support to innovation and environmental sustainability?
"Danish people are aware the economic development is underpinned by a country's ability to innovate. That's why there are ongoing investments, both public and private. Universities are excellent, with great ability to attract qualified staff. Moreover, there is a technological transfer system in place able to turn basic research into industrial innovation. This system has only one little drawback: the slowness in the implementation of policies. That's the reason why, despite Denmark being the leader in the bioeconomy, a national strategy in this regard is still lacking."