In the collective imagination, steel is the indestructible metal (an alloy to be more precise) par excellence. As a matter of fact, it is no accident that it belongs to those materials, such as glass and aluminium, which are seen as permanent: once produced, it can be recycled ad infinitum. According to Domenico Rinaldini, President of Ricrea, "Steel is the most recycled packaging material in the world."
And in a continually evolving world, there is an increasing number of examples showing how this material can adapt.
One of the most recent fashionable trends of steel is designer containers to take home dining-out leftovers. This idea, called family bag, was made possible thanks to Ricrea consortium in partnership with the Ministry for the Environment and Unioncamere Veneto, including the entire CONAI system and other supply chain consortia. The aim is to awaken public opinion to food waste, avoiding leftovers ending up in the dustbin.
"I worked really hard to start this project, representing a culturally important change for all Italians," explains Barbara Degani, Ministry for the Environment undersecretary, "Family bags are an upgraded version of doggy bags, legitimizing, thanks to a safe and designer container, the idea of asking for it at the end of a meal, thus doing away with our collective embarrassment. To avoid wasting must become a new Italian lifestyle."
But the connection between steel and food can take up other forms as well and has been going on for much longer. Giovanni De Angelis, CEO of ANICAV (Italian Association of Industrial Vegetable Preserves) declares, "For over 150 years, steel cans, thanks to the product healthiness and food safety they offer to consumers, have been the most used containers in our companies producing tomato-based products. Besides retaining nutritional and organoleptic properties, they are absolutely sustainable, guaranteeing total recyclability."
To give you an example, in Italy, steel containers – mainly cans – used every year for the production of tomato-based products amount to 3.5 billion: put one after the other they would amount to 700,000 km, or 17 times the circumference of the Earth.
Moreover, last December, the partnership between tomatoes and steel led to an event-exhibition that took place in Città della Scienza in Naples, devoted to the history of preserving tomatoes in this very metal.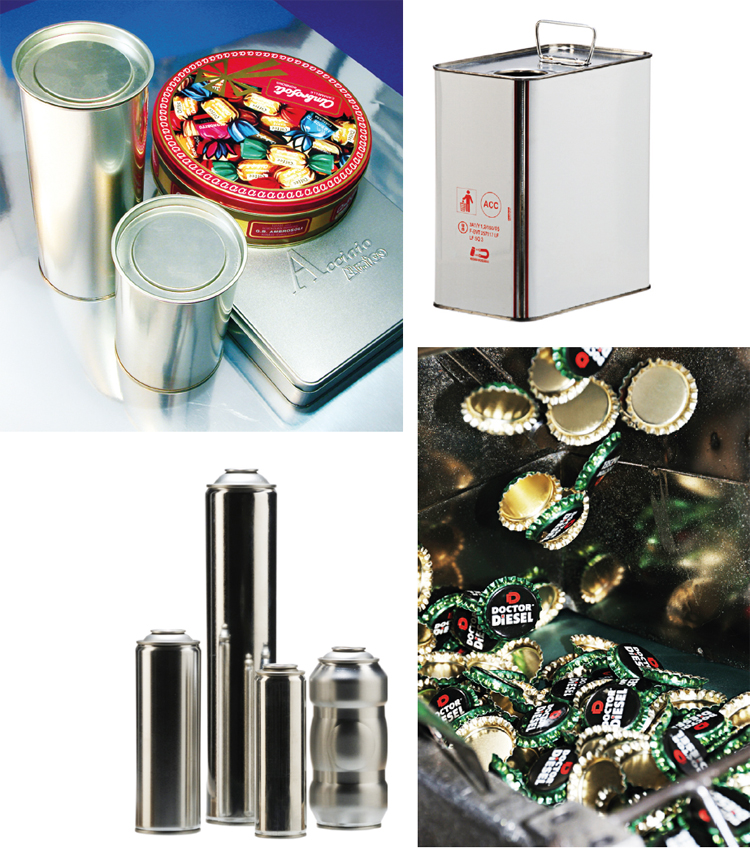 In this context, the educational aspect becomes particularly significant. For instance, in Pollenzo, in the Cuneo area where Università di Scienze Gastronomiche (University of Foods Sciences) commissioned by Slow Food is based, RICREA trained and gave "tins classes." As a matter of fact, understanding how and why we use certain types of containers rather than others is not that obvious and at the same time it can become very important for all those wishing to work in the food handling sector.
According to Giovanni Cappelli, member of the board of directors of RICREA Consortium and manager of ANFIMA, the association of metal packaging and the like, historically, the use of steel in the food industry did not happen by chance. "This was possible, and even more so today," he explains, "Because food metallic tins are hermetic and practical. They can be kept at room temperature; they are strong, safe and unbreakable, protecting their contents from light and air; they do not require special precautions while offering a longer shelf life. Moreover, since they can be recycled ad infinitum, from an environmental protection point of view they are the best." "Tins," continues Cappelli, "are a real safe of nature. They are the packaging method with the lowest waste rate, next to zero. Thanks to all their properties, the environmental impact of steel containers for food has been cut by 30 %."
In our kitchens, we can find a plethora of foods conserved in steel tins: from tuna to canned fruit, from coffee to peeled tomatoes, sweets and liqueurs. Even steel kegs and aerosols, in the beginning characteristic of other sectors, thanks to their versatility and safety, have become over time useful containers and even tools for food. Not to mention beer crown caps, various capsules for glass bottles and jars or lids for so-called easy-open containers.
Apropos of steel containers, there is a story going around, which really happened during the Crimean War. It took place in mid-19th century, between 1853 and 1856 to be precise. At the time, it was called Eastern War: on one side the alliance amongst France, Britain, Sardinia and the Ottoman Empire and on the other Russia. The official cause involved the possession of sacred sites in the Ottoman Empire. Obviously, political reasons were completely different, the fear that Russia could expand into the Mediterranean. In this difficult historical situation, steel tins played an extremely important role. They were highly appreciated and used on battlefields because they were deemed an invaluable provisioning tool. In particular, English soldiers were able to avoid contracting scurvy while consuming safe food.
ANICAV, www.anicav.it
ANFIMA, www.anfima.it
Info
Top image: Nook Fulloption/The Noun Project
All Plastics for Food
It should be enough to remember that today – according to COREPLA, the National Consortium for the Collection, Recycling and Recovery of plastic packaging – thanks to the ongoing development of new technologies it is possible to make PET bottles with 50% of recycled material.
Our homes are full of packaging for food and beverages made of all sorts of plastics. The most widespread ones are the following:
Polyethylene Terephthalate, of the polyester family, for its characteristics of transparency, resistance and gas barrier, is mainly used for the production of bottles for fizzy drinks and food trays.
Polyethylene (PE) is the simplest amongst synthetic polymers and it is the most common plastic material. It is a thermoplastic resin particularly suitable for the production of cans and containers for food. Pipes for water distribution are often made of polyethylene.
Low-density polyethylene (another thermoplastic of the polyethylene family) is mainly used for the production of flexible products such as films and foils – including bags and sacks – used both for packaging and agriculture.
Isotactic Polypropylene, another thermoplastic, is the famous invention by Nobel-prize winner Giulio Natta, marketed in the 50s and 60s under the name of "moplen." This is one of the most common plastics, used for household goods and toys, but also for many sturdy packages (cans, bottles) and flexible (automatic packaging films).
Last, polystyrene, another very successful polymer (of styrene), used from packaging to the production of disposable flatware.
According to COREPLA, in 2015, about 900,000 tonnes of waste from packaging in plastic from separate waste collection have been recycled in addition to 327,000 tonnes deriving from independent recycling. Also, 324,000 tonnes of packaging still struggling to find industrial solutions towards mechanical recycling and the market have been recovered, which produced heat and clean energy.
Info
Why Wine and Oil Go Hand in Hand with Glass
What have wine and oil got in common? First and foremost, certainly the fact that they are two iconic products of the Made in Italy trademark, much appreciated (and consumed) in Italy and abroad. Second, the packaging. Indeed, in both cases, the main material used for their preservation is glass.
The reason for it has been recently illustrated during a conference by Assovetro during which two pieces of research on the use of glass to contain wine and oil have been presented, organized by the Department of Agricultural, Food and Agro-Environmental Sciences in Pisa and by the Department of Science and Technological Innovation of the University of Eastern Piedmont – Alessandria.
Both studies showed that glass represents an irreplaceable packaging material to keep unchanged all the nuances of taste of these two products, to protect the precious substances for health, to isolate them from external factors, avoiding oxidation while extending their shelf life. All this helps the environment, since glass bottles – a permanent material – represent a perfect example of the circular economy.
Specifically, as for wine, the best results reported in the University of Pisa's research were in glass bottles, closed with a cork, better if kept in a horizontal position. As for the conservation of the oil properties, The University of Eastern Piedmont's research pinpointed dark glass as the best packaging.
Info