A circular transition. Slovenia launched this campaign during the Third Circular Challenge Conference held on the 10th and 11th May 2018 in Kostanjevica na Kriki and Maribor, and endorsed by Circular Change, a non-profit organisation born to create a network of expertise and propel the entire nation through an environmental, economic and social transition.
A true paradigm shift which could lead Europe's little nation to become a new permanent lab for best practices, international exchange, as well as public and political debate. In Slovenia's first roadmap for the circular economy, the excitement and inspiration characteristic of a young nation is palpable. A country that is open to innovation and able to seize on the opportunities of a new economic model and the recent EU Circular Economy Package which was approved in April. Therefore, an opening for a new model of production and consumption, which could save Europe at least €600 billion by 2030, whilst creating 170,000 new jobs by 2035.
"I established Circular Change three years ago, when I realised the topic of the circular economy was a boat we could not miss," says Ladeja Godina Košir, founder and director of Circular Change. "Coming from the world of industry and innovation, it was a logical choice, because I have always been interested in sustainability. At last, this model offers an opportunity to link the various industrial sectors, not only in our country, and to create something new." Her enthusiasm is catching: "It started off as a platform to create a network amongst various entities and to raise awareness on the subject. The next step has been to create an international board that is still evolving. The aim is to create an inclusive, creative society that is able to have fun."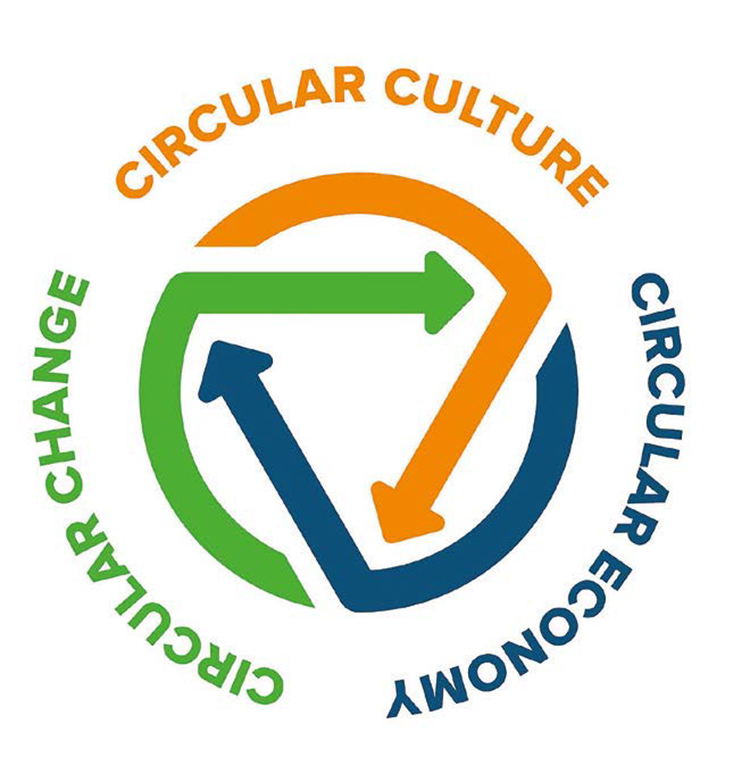 The transition towards a circular economy is a complex and long-term process. For an in-depth analysis of this process the roadmap uses the so-called "circular triangle" principle.
Sustainable agriculture and circular fashion
The challenge of the century will be to produce food in an efficient and sustainable manner throughout the entire supply chain. Slovenia, a Country highly dependent on agriculture, is already moving in this direction: Paradajz d.o.o project is a case in point. It produces low-environmental impact Lust tomatoes. The company has developed an innovative farming method for solanaceous crops, which is deemed to be one of the most innovative in the world: saplings, selected from local seeds, are grown on a peat and coconut fibre substrate, using rain water for irrigation, geothermal energy to heat greenhouses and integrated pest management (IPM). Thus, high-quality tomatoes are produced and then sold throughout the country.
Furthermore, the Ljubljana-born haute couture designer Matea Benedetti was one of the finalists in the Green Carpet Talent Competition held in Milan. Sustainable and circular fashion is her signature production. A whole fashion line produced with recycled or bio-based materials, and leather items produced from pineapple leaves or sewn with fibres obtained from recycled PET bottles. Moreover, the wool and cotton employed is all organic.
"Slovenia is a small nation – with a population of about two million – but it can represent the perfect field in which to experiment this model," claims Ladeja Godina Košir. "Our ambition is to become a hub for the circular economy. We actively work in partnership with the government that is supporting us and we are working to implement a roadmap."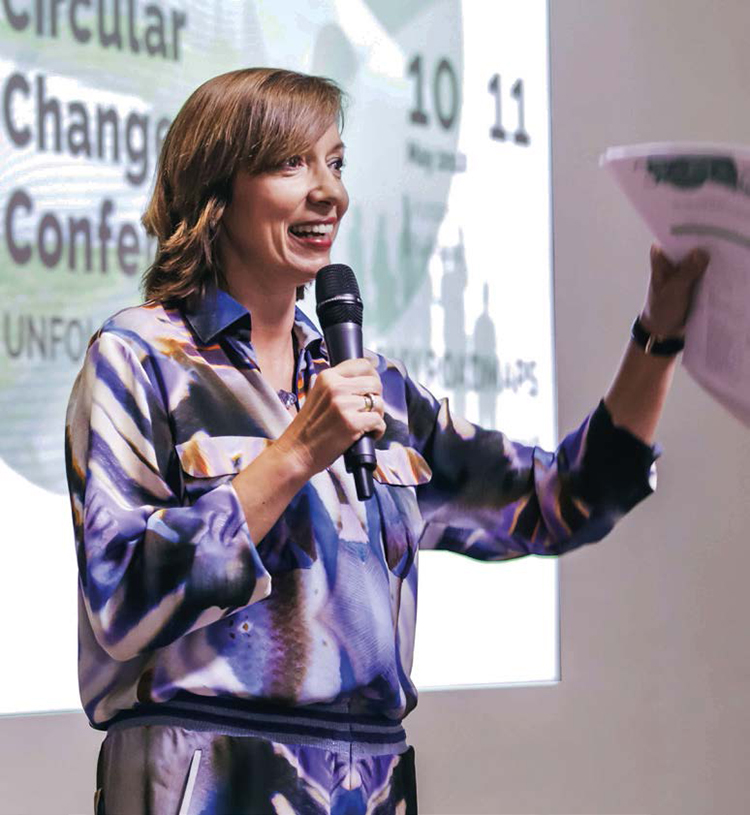 Ladeja Godina Košir, founder and director of Circular Change.
Make room for the bioeconomy
Today, Slovenia imports 71% of its raw materials, while 60% of its surface is covered in forests: while it is Europe's fourth country for forest cover, it is highly dependent on imports. The linchpin? Focus on the bioeconomy: wood, which is a largely untapped resource, is naturally circular and has what it takes to become a raw material of choice in the construction industry and the energy and industrial sectors. Celcycle consortium was created with this in mind, in coordination with the Ljubljana Pulp and Paper Institute and with the aim of developing a circular economy model based on biomass as a renewable resource. Over twenty partners actively work together in all sectors, ranging from paper to chemistry, and from construction to automotive, in order to make the bioeconomy Slovenia's pride and joy.
Anders Wijkman's Opinion
Anders Wijkman Co-President of Club of Rome and President of Climate-Kic.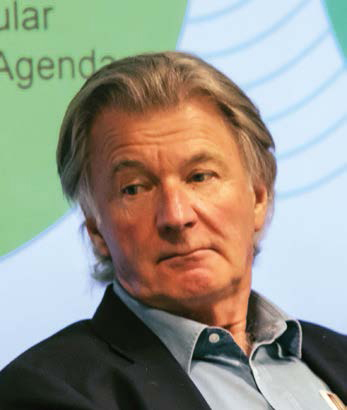 According to Anders Wijkman – co-president of the Club of Rome and President of Climate-Kic – who took part in "Circular Europe – What is next" roundtable, Europe will need laws and incentives to develop an industrial model able to promote secondary raw materials in order to go from a linear to a circular model.
Our economic model is based on the idea of infinite growth, with limitless resources. Do you believe that the circular economy can play a role in moving on from this paradigm?
"Today, we are still living as if there was no tomorrow or as if the planet has limitless resources. However, this is not the case. A situation described in the concept of 'an economy in a full world': we still have the same economic model as we did when there were 1-2 billion people, whereas today there are almost 8 billion. This is why we have to rethink the way we manage our resources, both in terms of demand and pollution. The idea of a circular economy is certainly a sensible and simple approach, but it will require substantial commitment for its implementation. This is because, for instance, most investments are made in the linear model and this will go on until they remain profitable. The European Commission has implemented a few initiatives, but it is still not enough. The system won't change by itself."
There are certainly some positive examples. However, is a market that is able to intercept secondary and recycled materials still lacking?
"Today, we still experience quality problems caused by bad planning. Until we pay more to use natural resources, all this will carry on. A radical change is necessary. For instance, by paying more for natural resources. Companies are still paying far too little for raw materials, which are kept cheap, whereas secondary materials remain blocked from the market. We need to think of a new system of incentives for this kind of market to flourish."
Europe, with the new Circular Economy Package, seems to be aiming for this result.
"Something good has been done, albeit still not enough. New standards, planning criteria and incentives have not yet been considered. Europe is large enough and boasts large industrial groups that operate at an international level. Despite the fact that it might be complicated in a globalised market, Europe is large enough to impose new standards."
Circular Change, www.circularchange.com
Top image: Presentation of the Circular Economy Roadmap in Maribor.