Sustainable processes. It is not just a question of matter and energy, but often of methods and processes as well. This is a new approach taking hold in the management of industrial activities and often entails the choice of sustainable raw materials and the reuse of industrial waste. All these aspects are little known to the public at large and often to ecology experts as well.
Geca – a printing company founded in 1979 near Milan employing 35 workers and with a €5.5 million turnover in 2014, nearly half of which deriving from publishing – decided to follow the sustainability path. A non-specialized company that in 2009, partly to respond to the economic downturn, decided to bet both on production and process quality.
"First of all, we deeply analysed our production process, especially in the light of new technologies. To be used not to reduce our employees' work, but to make the most of it, without compromising on quality," Luigi Bechini, Geca's marketing manager, explains. "We created a production cycle based on a maximum length of 3 days, all included, completely optimizing our production." The company's challenge was to combine quality, process flexibility and sustainability in a period of economic downturn. "After withdrawing from the art and photo books' market, now mainly printed in the East, we moved into commercial catalogues and book publishing," Bechini continues. "But for the latter we had to offer something better than our competitors. First, we completed the production cycle by internalizing both bookbinding and cover finishing. Then, we invested a lot in specializing on catalogues and books that, despite the economic crisis, are still seeing an increasing demand."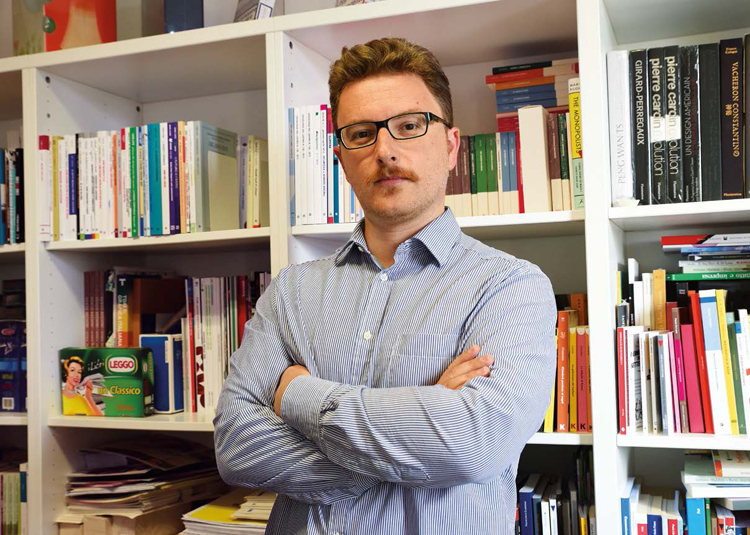 Luigi Bechini
Problem Solving
This is how the company was able to stand apart from many of its competitors, cutting processing times, which has also enabled the improvement of its process sustainability. In fact, thanks to the reduction of processing times, Geca offers the opportunity to solve two of the biggest problems of the book industry: returns and warehousing. Returned unsold books are often sent for pulping; reducing the first run enables publishing houses to cut the number of volumes destined to this inglorious end, thus cutting considerably costs and waste of raw materials. "The reduction of printing times enabled us to offer efficient solutions for an ad hoc tailoring of the first run," Giancarlo Spada, sales manager, explains. "In this way, when publishers run out of stock, they can supply distributors with reprints within 48/72 hours, while if this does not happen, they do not have a surplus and this enables them to save money, transport and paper."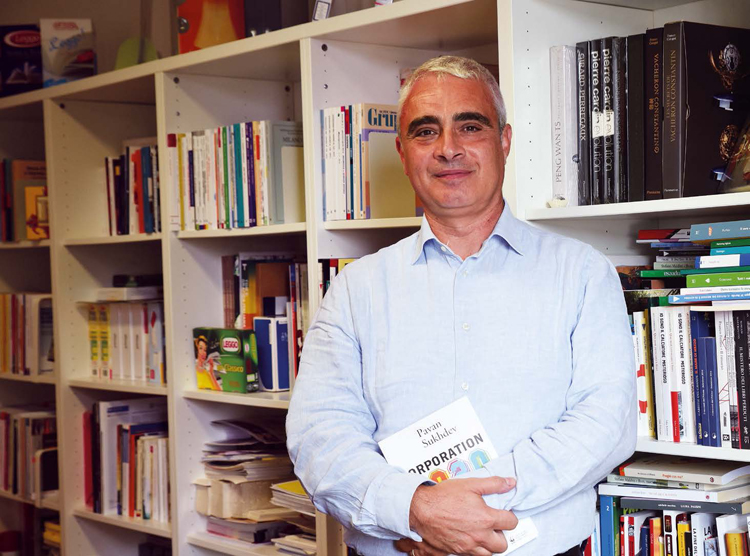 Giancarlo Spada
And the company is exploring this flexibility even further thanks to digital printing that has now reached a good quality level comparable to offset printing that, until 2010, was the only solution available to customers. "To reprint using offset printing is pure folly due to set-up costs, while with digital printing it is possible to print even a small amount of copies," Spada claims. "The idea is to move towards zero warehousing. At the moment, we are in the region of small runs, 150-200 copies. But this number can be reduced even further."
FSC Paper Playing the Leading Role
As far as more "traditional" sustainability is concerned, that regarding raw materials, Geca was one of the first printing works to use FSC paper. "At the beginning, we had to work hard to promote this paper, as it happened with recycled paper, because it was seen as low quality," Bechini continues. "And back then we were amongst the first to report the abuse of the FSC seal, even by big publishing houses. An issue that was discrediting sustainability in the paper sector. Today, 30% of our products carries the FSC seal, but in reality the percentage is a lot higher." As it happens, books are printed on FSC paper, but clients do not want to use the seal. It has nothing to do with costs – the seal is free – but it is due to cultural legacy, including underestimation of the value of such certification, even from a commercial point of view. Or the belief that the FSC logo clutters a product's graphic. "Now things have improved, but at the beginning it was very hard to get the FSC logo accepted. Today, 90% of the paper we buy is FSC certified, but we also promote various kinds of recycled paper, some of which present excellent printing quality" Bechini says. This is an interesting incident that says a lot about how the value of sustainability is perceived outside the environmental world.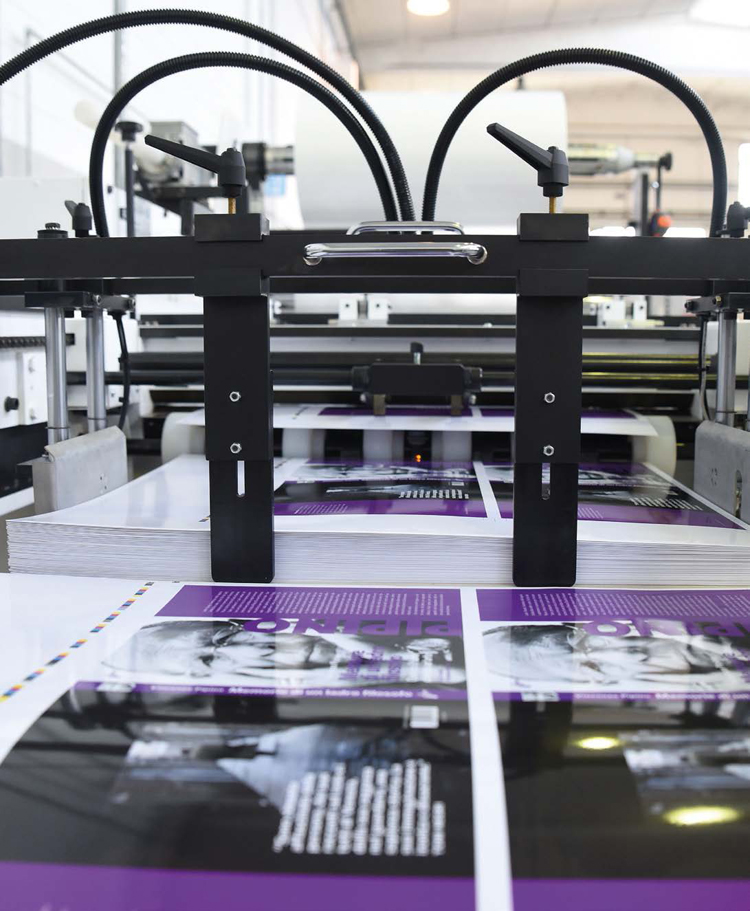 Almost Zero Waste
Geca paid as much attention to industrial waste as it did to production optimization. The only special waste produced is that deriving from the cleaning of printing machines. Besides solvents for cleaning printing cylinders and rubber rollers (their use is defined by the standard cleaning procedures indicated by the machines' manufacturer), there are ink residues – half a barrel every two year – amounting to 55 litres per year or 150 ml per day. If referred to the company's turnover, €5.5 million per year, we could say that Geca produces only 1 litre of ink waste every €100,000 of turnover. A very important sustainability indicator.
In the printing process, nearly all the water used is recovered and nearly all inks are vegetable based. "These are high performance inks, you can't tell the difference, that contain no mineral oils, have better drying times and excellent rub resistance. They also maintain these qualities with more difficult papers," Bechini assures us. "They basically cost the same as other inks but they make printed paper more sustainable and easier to recycle." While, as far as paints are concerned, only water-based ones are used and their residues are not even considered special waste.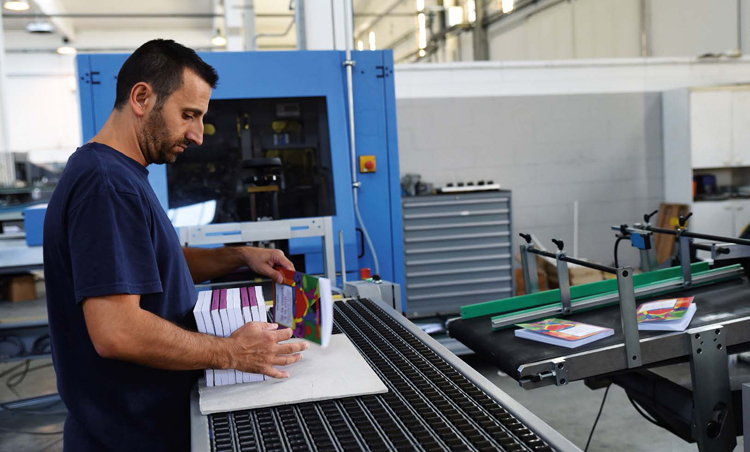 Geca's attention to the whole supply chain led it to take care also of what lies upstream, the production "gateway": quotes. For over two years, companies and publishing houses interested in using Geca's services have been able to ask for a quote online, thanks to a system able to satisfy, through a sophisticated algorithm, even the most complex and detailed printing requirements. "This was a key element of our success: an instrument devoted to professional customers that we created when we started catering for the needs of publishing houses. The system is extremely specialized in books and catalogues budgeting and provides quotations optimizing costs, thus enabling to obtain prices that are some of the best on the market," Spada adds. "Xquote, this is the name of the system, can tell a client which format to choose to avoid wasting paper or which weight to prefer. It has enabled us to expand our customer base since it has improved our budgeting ability." Xquote can also advise customer on saving and efficiency and on how to optimize downstream production processes. Geca invested on this budgeting system with the aim of reaching all Italian publishers (about 1,500); Xquote enabled the company to increase tenfold the number of customers in the publishing world, providing thousands of quotes that it would have be impossible to manage with human resources.
Foolproof
As if this were not enough, the budgeting system also reduces to a minimum errors during the production management, since all data contained in the quote are foolproof and sent to Geca's internal production chain. So, only what clients asked for in their order is produced, thus drastically reducing time, materials and resource waste. Once again, thanks to proper and accurate process management overall sustainability can be increased.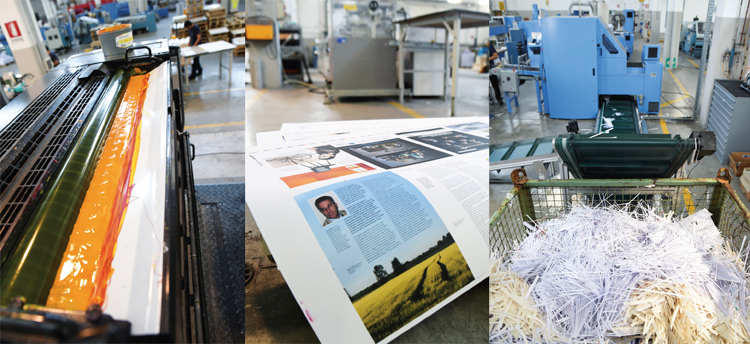 As for energy conservation, the company did something very simple: it changed its factory, a wise choice. "Since we work on smaller orders, our need for space also decreased, this is why we could choose a smaller factory, thus reducing energy consumption." Lighting: having chosen a factory with excellent natural lighting has enabled us, from the first year, to reduce our electricity bill by 26% while maintaining the same turnover and number of machines. "The next step will be to move to LED lighting," Bechini adds. "But there is another detail that I would like to highlight. The disincentive on using blueprint process on paper that we have replaced with digital forms that can be sent online. Printing, but above all blueprint process 'logistics' has thus been removed, further reducing costs and resource usage.\"
But Geca has something really unique: attention to details and professionalism of all its employees. Indeed, during our visit, we noticed that all workers are totally devoted to the product, be it a book or a magazine, and thorough checks are carried out at every stage, up until when the book ends un in the warehouse, ready to be shipped.
Info