Then he got an idea. He and two friends had been talking for months about finding a way to address the issue of plastic pollution in the world's oceans by starting a business making products out of that trash. "I thought, 'Wow, maybe skateboards could be our product'", he says. "It would be a great tool for educating the younger generation on this issue."
Fast-forward 18 months, Kneppers and his business partners, Dave Stover and Kevin Ahearn, have started a skateboard company they named Bureo, which means "the waves" in Mapudungun, the language of the Mapuche, the native people of Chile. They recently shipped their first batch of skateboards, the Bureo Minnow Cruiser, to select shops in California, Chicago, and New York.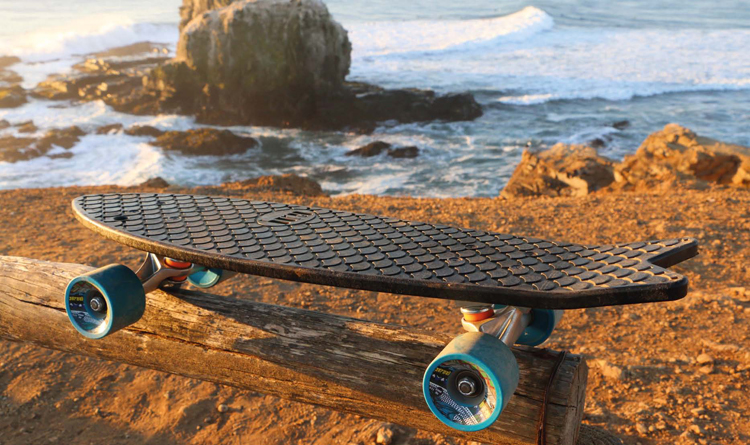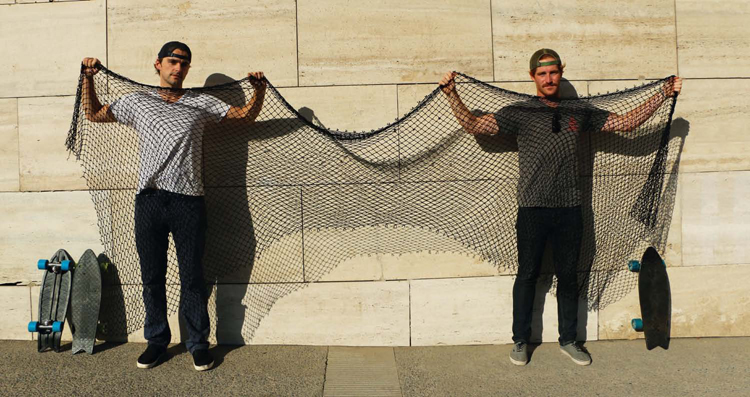 What makes the Minnow different from dozens of other skateboards is the fact that it's built from trash. The board's 25-inch skatedeck is made out of recycled plastic fishing nets. What makes Bureo different from most companies is that it's just as focused on its recycling mission as it is on selling its product. Kneppers, Stover, and Ahearn – who grew up near beaches in the United States – formed the company with a mission to do something positive to address the growing problem of ocean plastic pollution.
"As surfers who have spent our lives around the ocean, we have a deep connection with the ocean", Stover said. "We needed a product that would support our idea for a sustainable collection and recycling program and make a skateboard fit our mission to address this problem in a positive way."
The group decided to focus on recycling fishing nets because 10% of the ocean's plastic waste comes from fishing gear and because the nets can harm marine life: dolphins, sea turtles and seals can get tangled in them and often die. Chilean fishers typically dump worn nets in the ocean because disposing of them is costly; landfills are privately owned in the country, and getting garbage to them requires paying for a truck to haul it away. Kneppers was quick to add that the net littering is not just a Chilean problem. "When we were doing our research", he said "we talked to people in California and on the East Coast, and everyone's admitted to doing it at times for convenience".
He and his business partners created a program they call Net Positiva, Chile's first-ever fishnet collection and recycling system. They distributed collection bags in three villages and offered to compensate the local fishers' organizations for every kilo of recycled nets; the groups could then distribute the money to their members. "We collected over three tons in the first six months", Kneppers said. "We hope to soon extend the program to three more locations, as the whole model is designed for scalability."
The idea for a recycling program came before Kneppers had his moment of inspiration at that music festival in Santiago. He and Stover were roommates while they were working in Australia in 2011. Both are avid surfers, and they often stayed up late talking about how to tackle plastic pollution in the oceans – something they were reminded of each time they headed into the surf. (Ahearn, also a surfer, joined them later when they realized they needed a designer.)
Once they had a product in mind, the hard part followed: how to actually make their dream a reality. They went to Kneppers' alma mater, Northeastern University, which runs a program for potential entrepreneurs. The university provided them with a coach and some initial funding that allowed them to test the fishing nets to see if they would be durable enough to create a skateboard. From there, they applied for and received a grant from the Chilean government through a program called Start-Up Chile to help set up the net recycling program. Finally, they turned to Kickstarter, launching a campaign in April 2014 that quickly raised $64,000 – more than twice their $25,000 goal – which allowed them to start production on a large scale.
Net Positiva
Bureo's fishnet collection and recycling program, Net Positiva, has been set up and running with support from the Chilean Government since 2013. In this time, the team has collected over 10 tons of fishnet waste, diverting the material from ending up in the Ocean, being burned on the beach, or placed in land fills. The fishnets are made from a multifilament Nylon 6 weave, which is a highly durable and highly recyclable material, which make them an excellent candidate for upcycling into new products. Bureo is working along the coastline of Chile in local fishing communities to provide an environmentally friendly disposal infrastructure for this waste. The nets are collected in the fishing ports, with money being returned to the communities to fund education and recycling programs. For every kilogram of nets received, Bureo pays an agreed upon price for the net material. Local workers are then contracted to assist in cleaning and preparing the nets for recycling. The nets are then loaded on "deadhead" trucks, that would be otherwise returning to Santiago empty, and delivered to the recycling and manufacturing facility in Santiago, Chile's capital city. At this facility, the nets are shredded, spun, and repelletized for use in new products, the first of which being Bureo's Minnow plastic cruiser skateboard. The decks are injection molded at the same facility in Santiago, after which they are shipped via Ocean freight to the Bureo headquarters in Southern California for final assembly and distribution.
It can be very challenging for the fishermen to manage the disposal of their old nets, which is part of the reason why it makes up a significant proportion of the oceans' plastic pollution. Our research found programs in other countries that were providing the fishermen disposal points for their old nets to eliminate the harmful waste before it pollutes the marine environment. In response, we pioneered "Net Positiva". This provides an additional income and the incentive to make sure these nets are not ending up in the marine environment.
Within the surf/skate community people have been really stoked on our program and the boards. We think we have opened some eyes for sure, and brought a new level of sourcing sustainable materials to the skate industry. We plan on continuing to contribute to the sustainability movement that is taking hold, and keep pushing the envelope with our designs and ideas.
The recycled nets are melted down and fed into an injection mold that creates the skate decks, which have a fishscale pattern across their surface for better grip. But the sustainability of the boards doesn't end there. The wheel cores are constructed from 100% recycled plastic, and the wheel exteriors are made from 30% vegetable oil. The company uses 100% recycled paper and cardboard for packaging and only transports the nets from the villages to the factory in Santiago on trucks that have brought other cargo to the villages and would otherwise return to the city empty.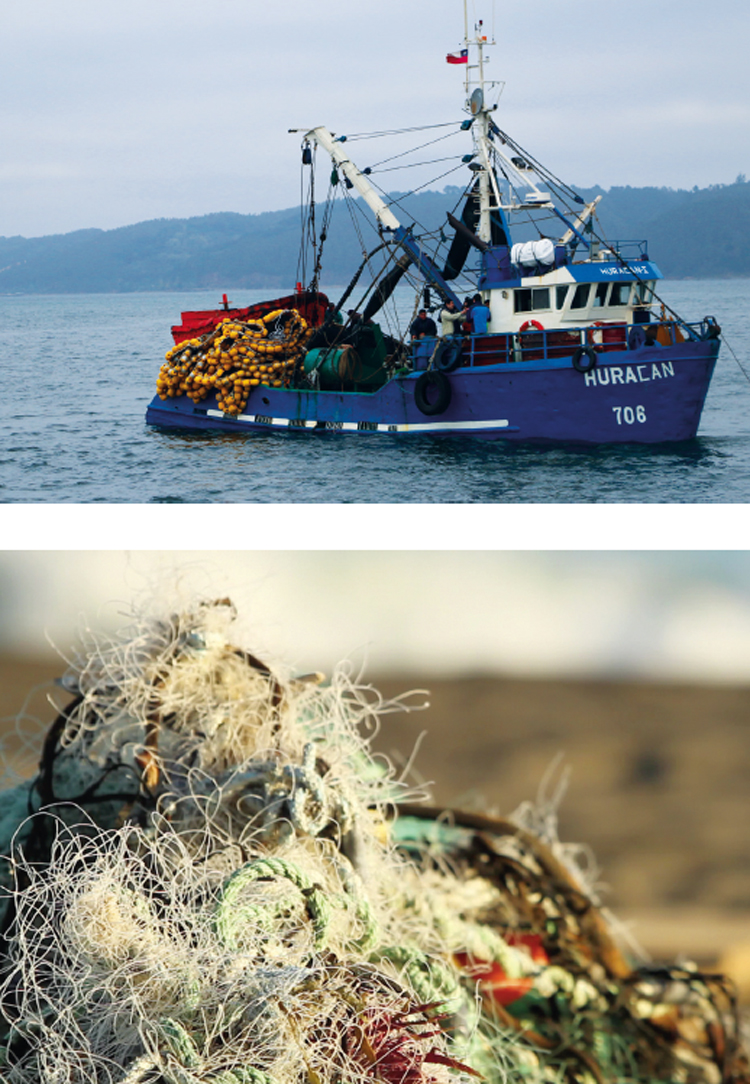 Outdoor clothing and gear company, Patagonia recently announced that it is investing in the company. "Bureo is not your typical startup – they've invented an incredible recycling program by rallying the fishing industry in Chile to turn plastic ocean waste into a great product", Patagonia CEO Rose Marcario said in a press release. "We're investing in Bureo's vision to scale their business to a global level and make a serious dent in the amount of plastic that gets thrown away in our oceans."
Kneppers, Stover, and Ahearn's commitment to sustainability goes beyond upcycling skateboards, however. The three recently spent the summer participating in beach cleanups in California as part of the 5 Gyres Plastic Beach Project, and at each stop they raffled off a Minnow board to volunteers who helped with the cleanup. They have also partnered with the Save the Waves Coalition and the Surfrider Foundation, which are working to clean and conserve coastlines around the world. In addition, they are planning a line of organic cotton T-shirts that will help fund Unidos Por Aguas Limpias, a nonprofit in Chile that works to preserve natural areas around surfing areas and has an annual beach cleanup project every March.
"We believe the boards are just the beginning", Ahearn said. "We want to continue innovating and finding solutions to ocean plastic pollution."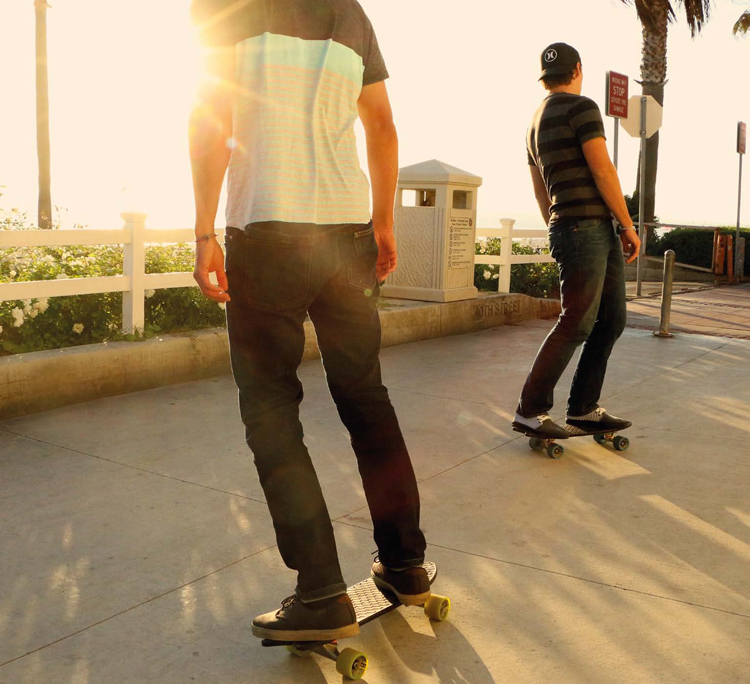 Kneppers says the local fishers were initially a bit suspicious of the three partners when they proposed this project. But that changed when they were able to hand out the finished product. "They have pride", he says. "They loved grabbing and examining it." Then, he adds, they handed the board to their children – who knew just what to do with it.
This story was produced in partnership with FUTUREPERFECT http://www.goethe.de/ins/be/prj/fup/deindex.htm
Info
http://www.bureoskateboards.com