Do you remember the old "whip-round" we used to have amongst classmates to buy a present? Well, compare that to the viral potential of digital technologies, to Internet platforms and social media, to solidarity projects, to research or entrepreneurial initiatives looking to raise funds. If you add a few zeros at the end you will get the number of people reachable online in the digital crowdfunding or fundraising for non profit or profit projects. A funding channel available all over the world offering visibility to a world of startuppers, researchers, musicians, designers, video-makers, writers and voluntary organisations. Sometimes even local administrations can be involved through neighbour crowdfunding, the so called civic crowdfunding for the collective funding of public works or programmes.
Due to the financial crisis (causing companies to look for alternative sources of funding) and the cancellation of risk-free returns (pushing investors towards new products) it is a world market that in 2014 was worth over $16 billion, 70% of which carried by peer2peer lending and distributed like so: 9.46 billion in North America and the US, 3.26 in Europe and 3.4 in Asia (source: "1° Rapporto italiano sul CrowdInvesting," Politecnico di Milano). A resource flow which, according to the estimates by Massolution Crwodfunding Industry Report 2015, last year soared to $17.25 billion in North America and the USA, 6.40 in Europe and 10.54 in Asia.
Worldwide, American kickstarter.com is the leading platform of the reward-based crowdfunding where the money offers for published projects are rewarded with a non-financial gift, such as a gadget, a T-shirt or tickets for events. Or with and advance sale at a reduced price of the product if the fundraising initiative reaches the target to start production.
A little farther down, there is the other American giant, indiegogo.com, which has recently started its equity crowdfunding, where investors participate in the risk capital of start-ups by becoming a member.
In September 2016, kickstarter, now operating in Italy as well, had over 15 million donors. Amongst the most popular projects there was a Ben Harkins – a deejay and developer of parlour games and software – with his unusual board game inspired by the planning or art glass windows for Sagrada Familia, the famous unfinished cathedral by Catalan architect Antoni Gaudì. With a collection of over $80,000, Harkins had more than trebled the amount requested. Fathom is another successful company specialized in sea explorations: for a high-definition portable and easily manageable underwater drone, promising to let you see the world through different eyes, it collected over $194,000, equal to 124% of the initial target.
Sabina Radeva also hit her target. After her degree in molecular biology at Max Planck Institute in Germany, she gave up research for a career as a graphic designer which is "more rewarding than her work in the lab," as she sums up in her profile on kickstarter: after 46 days from the expiry of the publication of her announcement, her illustrated book to teach children the Darwin's theory on natural selection she had exceeded her target by nine times. Put forward by Emily Hunt Turner, a young lawyer from New Orleans, the All Square stood out as well. It was a non-profit social-targeted project: a retailer of grilled cheese to offer jobs to people with a criminal record. Target: $50,000 for the usual start-up costs.
Zooming around Europe, the leading country is the United Kingdom, record holder in the field of equity crowdfunding. So far, the crowdcube.com platform alone has collected over £168 million.
Italy in Figures
In Italy, despite its head start at international level with produzionidalbasso.com, – a true international pioneer born in 2005, even before Facebook, to fund artistic self-productions, from music to the publishing industry, theatre and design – figures are lower, but they are picking up with some original elements as it will be explained below.
Overall, at the end of October 2015, in Italy there were 69 operational platforms and 13 were being launched, with an increase of 68% compared to 2014, when only 41 were operational. The snapshot was taken by "Il crowdfunding in Italia. Report 2015," a map of Italian platforms carried out by the University of Sacro Cuore in Milan, sponsored by Tim, started.it's technical support and co-ordinated by Professor Ivana Pais, an expert of this phenomenon (see interview).
If the increase of players confirms the growing attention to alternative funding channels on the Internet, it also indicates a penalizing fragmentation. It is no coincidence that the incremental trend is accompanied by a high mortality rate of platforms.
As for revenue sources, commissions on transacted value ranks first, followed by the supply of paying advisory services, sponsorships and advertising.
Amongst the assessed platforms, Smartika and Prestiamoci – the two leading peer-to-peer social lending companies – have the most dynamic movement of money.
With regard to the general reward-based crowdfunding, not specific to any project in particular, as opposed to, for example musicraiser.com, devoted to music initiatives, the leading platform in Italy is Lucca-based eppela.com. Created at the end of 2011, it has already ensured funds to over 2,500 projects and raised about €12 million. With almost 250,000 registered users and over 80,000 unique visitors per week, for contacts, projects and fundraising is top of the list in Italy and amongst the top five in Europe. Online projects range from comics and games, to art and design, cinema, theatre, technology and non profit social innovation. The pre-launch selection is very hard: "Out of the 60 proposals we receive on average every day, 90% is discarded, in order to guarantee the quality of those approved and to protect donors, financers," points out Fabio Simonelli, Eppela's member and project manager. A choice that up until now has paid off, since 60% of the campaigns reaches the target. Moreover, Eppela is the benchmark platform for the crowdfunding initiatives of giants such as Poste Italiane, UnipolSai and Fastweb, with which it collected €1.5 million.
The Livorno-based starsup.it is the Italian leader in the equity crowdfunding sector. "Our platform focuses on scientific and technological innovation," explains Matteo Piras, one of the four members. "The sectors in which the start-ups we hosted operate are the green economy, pharmaceutical research, software, medical equipment, fashion, smart cities, nautical and mechanical sectors," continues Matteo Piras. Started in January 2014, after fourteen closed projects (two are still underway) Starsup has six successful projects, for a total of €1,656,000. Amongst these, Cantiere Savona, which raised €380,000 for the development of a solar/thermal hybrid yacht and Enki Stove, with a total of 240,000 to produce ecological barbecues exploiting the open pyrolysis process. Nova Samor has reached its target with its solar pumps NS1, a solar energy product absorbing radiation producing directly useful mechanical work, so as to eliminate losses to the passage from solar energy to photovoltaic electricity and end mechanical work.
According to Piras, "a successful start-up profile must include the right mix of competence and experience, i.e. a team of young and more mature people. Another strategic factor is the reliability of the objective-budget: a pared-down estimate makes investors suspicious about the business plan reliability." Can the usual testimonial be of any help? "To inspire confidence, projects need to be endorsed by a leading investor with a certain authority, such as a university incubator, an industrial partner, a professional investor or a so called business angel," replies Piras. We asked him what he envies about the Anglo-Saxon world. "Everything! In the USA and the United Kingdom there is a much more favourable fertile ground for innovative start-ups and the market of private financers. In Italy, people still carry on investing in bonds, insurances, real estate and debentures."
In Bologna, there is another innovative reward-based platform, founded by five women with a degree in management of creative cultural activities. Its name is Ginger, an acronym for Gestione Idee Nuove e Geniali ("Management of new and ingenious ideas") for Emilia Romagna. It was the first in Europe to make this strategic choice, and its characteristic is that it is linked to the local area. Moreover, unlike some other "digital purists," it encourages planners to make offline presentations as well, because as co-founder Agnese Agrizzi explains "face2face meetings help build a community of donors, starting from the so called friends and family, i.e. the closest people in the area."
Ginger became famous with Un passo per San Luca ("A step for San Luca"), one of its first civic crowdfunding campaigns carried out in collaboration with the municipality of Bologna to co-finance the restoration of the colonnade of San Luca, three and a half kilometres of 17th century arcades climbing up a Bologna hill as far as the same-name basilica, a renowned destination for pilgrims and lay healthy walkers. One of its trump cards that contributed to its success was the original contemporary art object offered as a reward: a huge plastic frog available in a range of colours. There are several successful solidarity stories such as the campaign Il mio nome è coraggio ("My name is courage"), launched by the parents of a girl with a rare genetic disease to cover the costs to alleviate her physical pain and promote her primary physiological functions. The reaction of the over five hundred donors was extraordinary: the target of €15,000 was doubled.
The already mentioned produzionidalbasso.com, up until now has raised €3,154,254 for over 1,400 projects. Recently it hosted Che aria tira? ("Which way is the wind blowing?"). A project of DIY air quality monitoring devices, an initiative promoted in Florence by Mamme no inceneritore ("Mothers against incinerators").
Then there are platforms devoted to the usual donations such as retedeldono.it and iodono.com, that after the island was flooded, it hosted the project È ora della solidarietà: emergenza Sardegna ("It is time for solidarity: Emergency Sardinia"). It raised €138,896.
Mistakes To Avoid
But what are the most common mistakes to be avoided in order not to let the collection fail? "Upload the projects without involving before, during and after the campaign the target community of donors, deluding yourself that money will arrive as if by magic. Another mistake: a poor presentation of the project, not accompanied by a video, which must be brief, fresh and effective, where the project maker commits himself conveying his/her enthusiasm for his/her proposal; an offer of trivial and not palatable rewards," explains Giacomo Cassinese who in April organized Crowdfest, the first Italian festival to make crowdfunding known and put online all protagonists, "since everyone does their own thing, while there is a need for interaction to spread culture," he complains.
As for current and future opportunities for crowdfunding in Italy, its weakness, according to Agrizzi, is due to little awareness that culture, art, creative and young companies are essential components of society, and such insensitivity makes people less inclined to donate, aggravated by the digital divide and diffidence for purchases and online payments with credit card. That's why Ginger encourages the offline fundraising throughout events and it has introduced donations via bank transfer. Otherwise, there are two positive signs: "Some leading platforms are shaping up, a trend that will help overcome fragmentation. Moreover, universities, incubators, foundations and trade associations invite us to hold workshops on crowdfunding, because people finally understand that in order to be effective the right know-how is needed."
Simonelli thinks positive as well: "In Italy there are quite a lot of smartphones, so if digital illiteracy is a discouraging factor, with regard to mobile phones there is no digital divide. This is what we need to work on" he remarks.
"1° Rapporto italiano sul CrowdInvesting," tinyurl.com/hjsqlft
Kickstarter, www.kickstarter.com
Indiegogo, www.indiegogo.com
"Il crowdfunding in Italia. Report 2015," tinyurl.com/zazp37a
For an in-depth analysis on social lending see S. Zamboni, "When Loans Go Social," Renewable Matter 11 (tinyurl.com/zfewzag)
Eppela, www.eppela.com/it
Starsup, www.starsup.it
---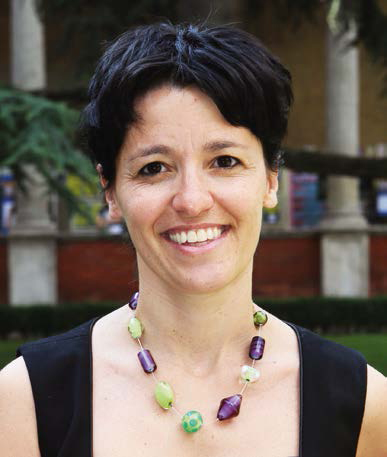 Interview with Ivana Pais, Professor of Economic Sociology at the Faculty of Economics at Università Cattolica
Edited by Silvia Zamboni
Crowdfunding: This is How to Build a Successful Project
An expert in social network and digital professional communities, co-author of the volume Crowdfunding. La via collaborativa all'imprenditorialità (Egea, 2014), Ivana Pais is Associate Professor of Economic Sociology at the Faculty of Economics at Università Cattolica del Sacro Cuore in Milan. Here is her opinion on the subject.
According to the figures available, the Anglo-Saxon countries are the world leaders in crowdfunding? How is that?
"Since it is not a matter of either or with regard to conventional funding channels but rather a complementary channel, in the Anglosaxon world characterized by a society where people are more used to digital tools, where the venture capital chain is quite developed, where private investments and funding to companies are common and where the entrepreneurial world is strongly oriented towards innovation, crowdfunding thrives, while it struggles where this venture capital fabric is lacking."
Recent estimates show that Asian markets are emerging.
"In terms of numbers the latest international reports show a strong growth of the Chinese market, of which we have not yet fully understood the scope nor its success, although it goes without saying that the number of people visiting platforms affects overall performance. And the Chinese population exceeding one billion is certainly an extraordinary reservoir."
As for the Italian market, what are the strengths of Italy's crowdfunding?
"Strong attention to social issues. Perhaps it is not a strength, strictly speaking, but it is a distinctive feature compared to more business oriented Anglo-Saxon platforms."
And what about its weaknesses?
"Italy's socioeconomic structure is still resistant to digital payments. Moreover, there is an element of structural weakness of a linguistic nature: an English platform can access a much larger market compared to an Italian one."
What are the characteristics of a successful project?
"From our analysis of third sector projects, funds tend to be allocated to circumscribed projects, with a good visibility on social networks and in particular on twitter. Also, those describing themselves with a video, which is common practice abroad but not in Italy."
What is the classic profile of a platform viewer?
"The basic difference is between those investing (equity crowdfunding), those pre-purchasing an object (reward-based) and those donating. The common features are access to the Internet and electronic payment and money availability. So, it is not an environment for boys, but it is mostly frequented by males, especially from Northern Italy, while women have their say in donations."
Can you see any links between crowdfunding and the circular economy?
"Not direct ones. And yet in their presentation, many of the funded products show strong attention to reuse of materials and aspects of sustainability as values around which the community should be built. The rationale behind crowdfunding and what sets it apart from venture capital is the building of communities around a variety of shared sensitivities. In this respect, the circular economy acts as a binding factor."