Curiously enough, Expo 2015 life cycle is not over yet. Obviously it no longer involves thousands of participants (countries, civil societies and partners) and millions of visitors, but "objects" that were used during the six-month event and that now will be used in other contexts and for other purposes.
Since the end of the event, Expo 2015 Spa, a company now being liquidated, has started the project Riuso ("reuse") with the aim of exploiting the material assets still in its hands promoting the principles of the circular economy, one of the key messages linked to sustainability as a crucial immaterial legacy of the exhibition.
From a legal point of view, its activity comes under the collection and sorting of "non-waste goods" made available for reusing, as per art. 183, paragraph 1, letter r) of Dlgs 152/2006: "Reusing: any operation through which products or their components which are not waste are reused for the same purpose they were intended." This is why it did not need the authorization pursuant to art. 208 of Dlgs 152/2006, since it is regulated by Dm 8 April 2008.
Indoor and outdoor furniture, installations and equipment, kitchens for collective catering, potted plants, office equipment including IT material, vegetable assets, separate collection bins, official objects and gadgets, volunteer and worker uniforms are the main types of goods included in the project Riuso.
At the end of Expo Milano 2015, over 300 applications for reusing these goods for social purposes were received from various subjects: for instance, from bodies that had provided their services for free during the event, parishes, municipalities and many non-profit associations. And from many private volunteers from Milan and beyond.
In order to manage this project, the company established some rules to allow the goods it owned to have a "second life" with the objective of carrying out with the least economic impact the operations of conservation and transfer to third parties, avoid generating waste to be sent for disposal and favour the agreements with Arexpo of reusing goods directly on the exhibition premises also within the first reuse initiatives of spaces in Summer 2016.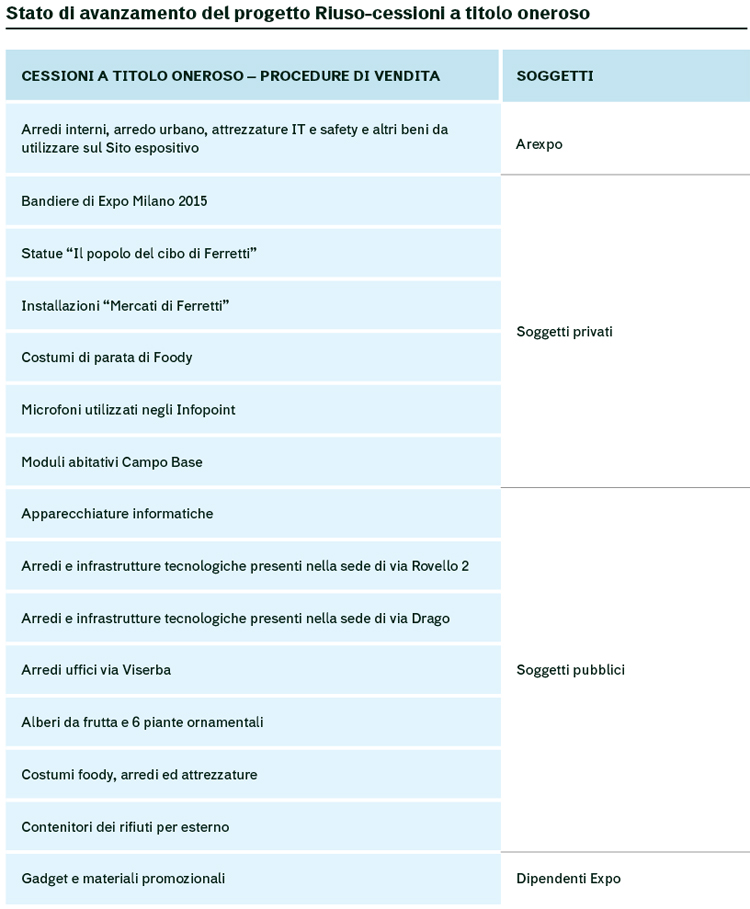 First, the procedure entailed verifying the "history" of the different types of goods: from the purchase cost to what it was used for, from the state of preservation to packaging, stocking and transport costs as well as those that might be necessary to prepare the goods to be given to third parties. For example, functional restoration such as cleaning of kitchens, computers' data cleansing, digging up plants or changing infographics on waste bins. Moreover, normative/contractual obligations concerning sponsored goods, market interest in buying a specific item were analysed putting in place selling procedures or free transfers. Requests received, although not bestowing any pre-emptive right for free transfer or buying, definitely helped identify needs, willingness to meet predictable costs and the different transfer options.
For the most desirable chattels, transfer procedures were put in place, both through public auctions as well as expression of interest from public bodies and partners and – if in line with public procedures' rules – through private contracts. The objective was clear from the very beginning: procedure transparency and the chance to recover money for the company's coffers (approximately €1,000,000 exclusive of VAT), within the normative framework of Codice degli Appalti ("procurement code").
At the same time, at the end of 2015, Expo 2015 and Fondazione Triulza signed a memorandum for the management of free transfer of goods deemed as valueless from an economic point of view (for instance, clusters kitchens, Field Operator and volunteer uniforms, tablets, gadgets and promotional material with prestigious logos). These were intended for specific beneficiaries such as public bodies and non-profit organizations to be identified through a transparent public procedure. For the share management of this procedure, and in particular for the definition of acceptable beneficiaries and granting criteria, a guiding committee was set up including Fondazione Triulza and Expo 2015 representatives as well as their partners.
For instance, the guiding committee thought it right to create lots big enough (in terms of numbers for each product category) to form a "critical mass" to guarantee a sufficient cover in case of direct reuse or charitable sale to collect funds for social projects. For instance, the minimum number of tablets per school was set to 20 so that they could be used in classrooms and to 10 for classrooms operating in paediatric units in hospitals. Moreover, it balanced allocations, planning a higher number of lots to grant to bodies within a 350-km radius from the Expo site in order to limit transport and costs.
Within the procedure of free transfer, between the end of July and the end of September 2016, 3,501 applications were received, which were analysed to establish the acceptability of applicants (who received help to clarify doubts and overcome difficulties), and then beneficiaries were drawn for group of goods divided into lots, before a notary according to criteria established by the guiding committee. Moreover, Fondazione Triulza took charge of preparing the over 230 lots and delivering them to beneficiaries, in collaboration with Expo 2015. A "monstrous" task, amply rewarded by the results achieved and beneficiaries' satisfaction.
35% of requests received was interested in kitchens, 28% in tables and the remaining 37% in gadgets, clothing and various accessories. Anticipated reuses, that is "the second life" of these goods made the most of creativity and the ability to understand the needs by civil society organizations who, from North to South, were able to put in place initiatives to improve the use of such goods. From the reuse of refrigeration units and shelves in the solidarity emporium in Naples by Goccia di Rugiada charity; to the reuse of fabric bags turned into satchels by Archè Charity who gave cotton shopping bags to the children in a village in Zambia where they can be used as school bags replacing plastic bags. Thanks to these kitchens, Civil Defence volunteer Associations in Rozzano, Pero and Fano will be able to prepare food in emergencies, while the Field Operator uniforms will be used by the young workers of Comunità San Patrignano.
Other solidarity initiatives, for instance, entailed the transfer to Regione Lombardia of 3 housing modules located in the logistic base camp of Expo 2015, requested to be donated to the Municipality of Acquaviva Picena (Ascoli Piceno area) to help the people hit by the earthquake. Another donation, despite huge managing and logistical costs incurred by the recipient, the installation Agorà to the Municipality of Monza and Vertical farm to Enea. The last lot of IT equipment for which a buyer was not found, despite the call for tenders, will be given to schools and other non-profit associations through Fondazione Triulza and Banco Informatico, for social uses.
Expo 2015 Progetto Riuso ("reuse project") represents – unique for its magnitude in Italy and probably in Europe, for the type and quality of goods involved and its practical complexity – a good example to stimulate reuse in public bodies and subsidiary companies, in order to tackle social and environmental challenges against waste and save resources, in a transparent, efficient, creative, inclusive and responsible manner.
Info