Do you have a sweater you really like, but so do moth which left a clear trail on it? Did your children break the toy train they got as a Christmas present? Do you have to reposition your bicycle brakes? No worries, even if you have to repair a small domestic appliance, or a digital device, at Repair Café somebody is going to be able to help. And he or her will do it for free, thanks to the philosophy of this self-help group, that goes stubbornly against the usual use-break-throw away mentality. All this in a friendly atmosphere that helps socializing. That's why Repair Cafés are usually located in welcoming places where you will find repairing tools made available by the many volunteers, experts in different branches of repairing, as well as a nice tea, coffee or piece of cake.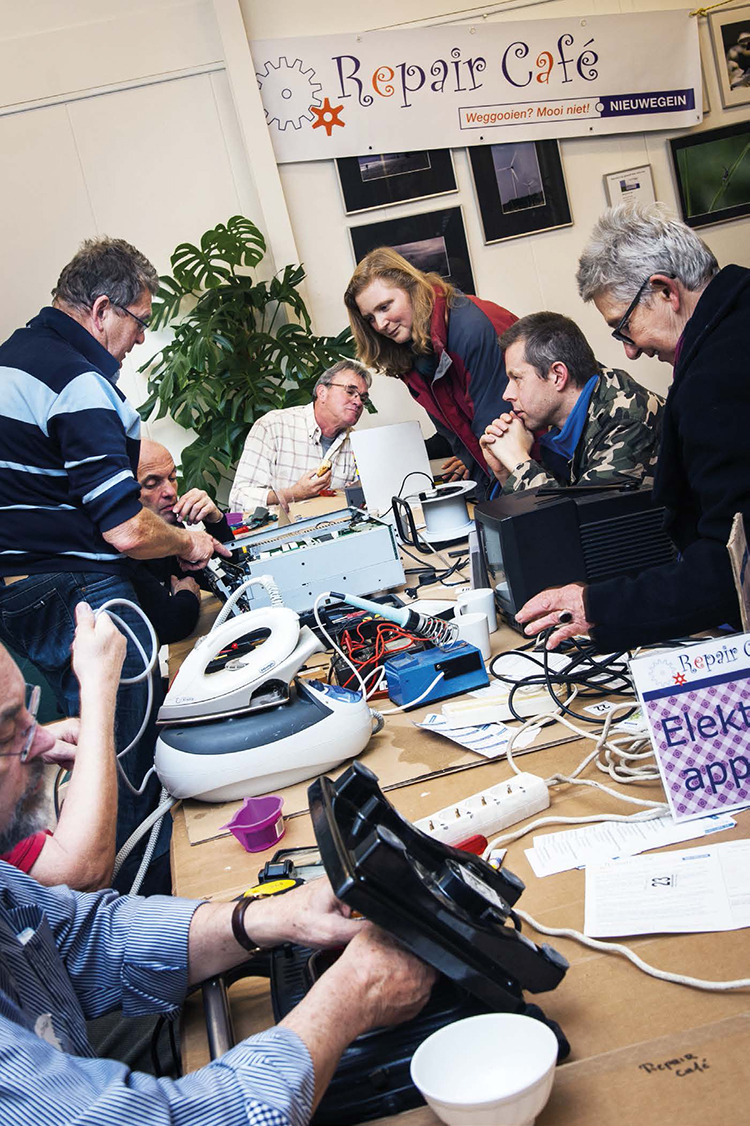 The original idea of Repair Café was born in Amsterdam thanks to the journalist Martine Postma who in 2009 decided to take action after writing for years about domestic waste reduction and prevention. "Thinking about why we produce so much waste, I came to the conclusion that this happens also because people have lost the habit of repairing broken objects," explains Martine Postma to Renewable Matter. "To make the art of repairing popular again, I could rely on experts that were willing to work as volunteer trainers. But we needed an attractive and easily accessible location, just like the shops where you can buy new objects to replace the old ones, and that are just around the corner."
Easier said than done, with a press release on newspapers, radio and television Postma launched the first meeting, that was a real success. "More than 80 people came, and this was well beyond my expectations."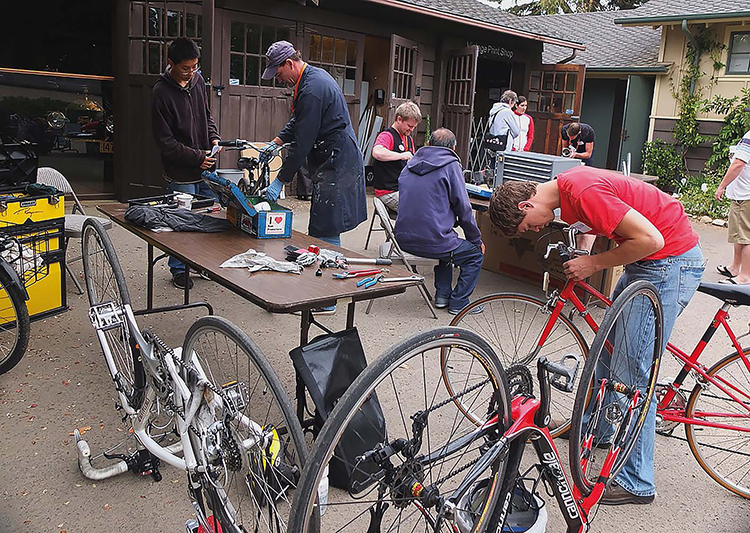 Today successful Martina Postma is head of the International Repair Café Foundation, that coordinates the creation of similar initiatives, also thanks to an instruction kit available online. By the end of 2017 throughout the world there were already 1,450 Repair Café, 300 more than in 2016. This means that under the guidance of hundreds of volunteers, thousand of citizens have given a second life to a huge amount of objects that would have otherwise been thrown away.
"According to the last yearly report, in 2016 about 357,000 objects were taken to the Repair Café, 70% of which (that is 25,000) have been successfully repaired" explains Postma. "According to our experts, in terms of carbon savings this corresponds to 25,000 kg of CO2 that were not released in the atmosphere."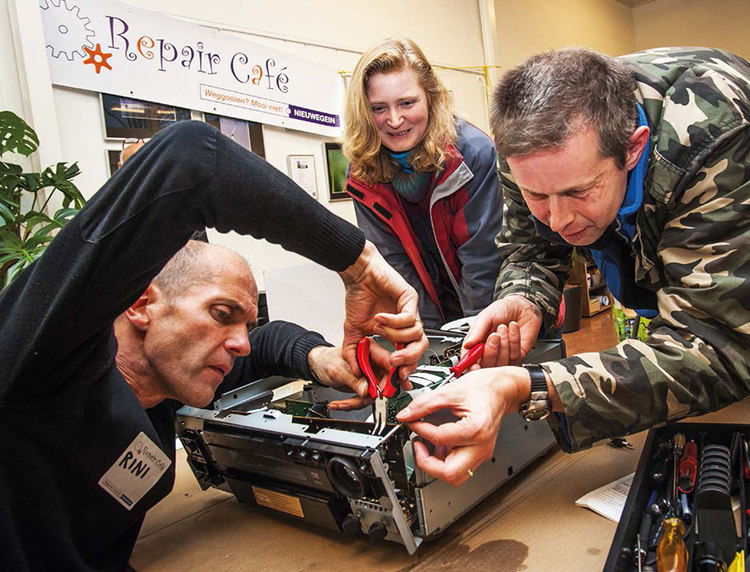 And there's more: on October 6, Fixfest took place for the first time in London. This is a three-day international event including meetings, workshops and best practices exchanges that was joined by more than 200 repairers, public administrators, companies and people coming from all over the world. Moreover, every year in October the International Repair Day takes place on the third Saturday of the month. In order to consolidate the world community, during the Fixfest the International Repair Café Foundation has launched the Open Repair Alliance together with The Restart Project (UK), Fixit Clinic (USA), Anstiftung Foundation (Germany) and iFixit (USA), different associations working to spread the culture of repairability and illustrate the various repairing techniques, even online.
"Our organisations play an important role in the promotion of the pro-repairing movement," explains Ugo Vallauri from The Restart Project. "We can share how we managed to solve problems, and share what are the most frequent kinds of damage and the difficulties in repairing them, in order to reach a higher level of repairability of goods." Moreover, adds Potsma, "by joining together, our power towards producers, designers, politicians and consumers increases."
But what's a typical meeting in a Repair Café like? "Usually during our events there are 4 or 5 desks. There's one desk to repair domestic appliances, one for clothes, one for bicycles, a carpentry desk to repair furnitures and soon we will start a desk for electronic devices" explains Raffaele Timpano, who is an economist for AIF (Amici Italiani di Raoul Follereau, "Italians Friends of Raoul Follereau"), an NGO working in international cooperation, and President of the Bologna Repair Café Rusko. This last name stays for "Riparo Uso Scambio Comunitario" ("Repair, Use, Community Exchange"), and amusingly recalls the term "rusco," which in the local dialect means house waste.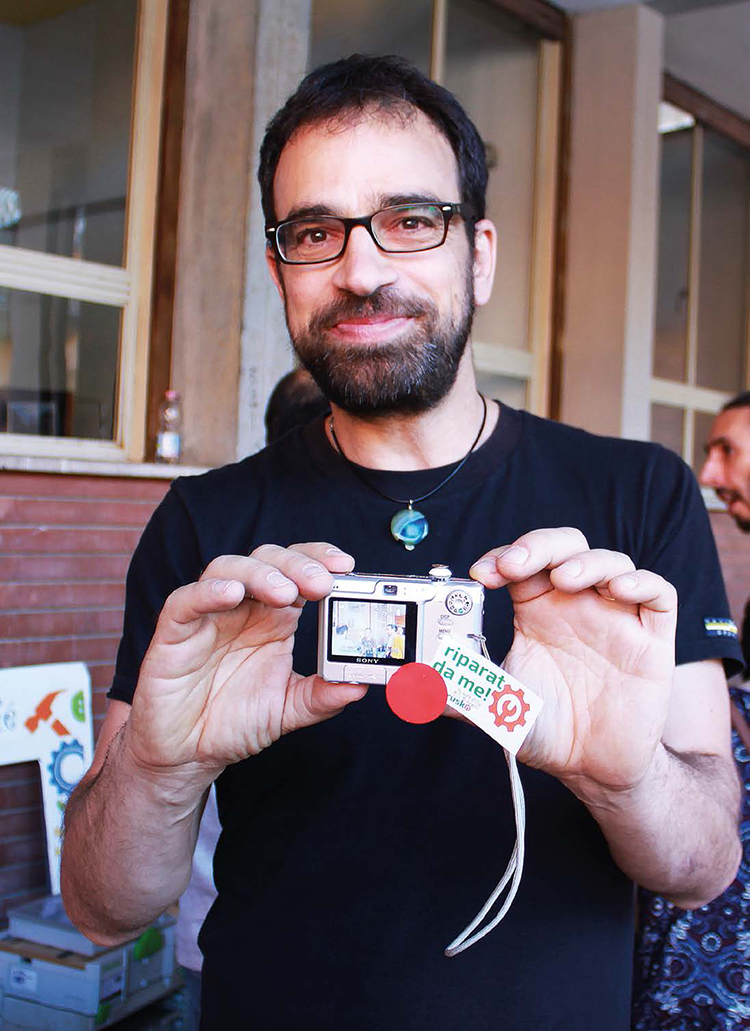 Rusko does not have its own headquarter due to lack of funds, and therefore has introduced an innovative travelling model, moving around different areas of the city. "We don't ask for money. Our objective is to teach people to repair in order to increase the community's resilience by recovering the manual skills that have been lost with consumerism. How many time we hear from artisans themselves that it's not worth repairing because it's cheaper to buy a new object" states Timpano. "However this way people do not feel responsible for their consumerism, all is measured just in terms of price and we also loose the emotional connection with we objects we own." For what concerns the average profile of the people that make use of Rusko "in the suburbs of Bologna we had people with economic difficulties and migrant women from Syria and Egypt, who were happy to find here repairing practices, just like in their own counties," explains Timpano "whilst in the city centre we had people who believe in the ecological value of this initiative, and in the importance of education in fighting against waste. The most enthusiastic were the children we met during our initiatives in primary school, who were excited to repair their toys and bicycles."
According to Postma "the biggest success we detect everywhere is the change of mentality in the people that come to Repair Café: they learn that it's possible to repair things, and also that it's fun to do it." A bottom-up way to circular economy, self-managed and solidarity-based. That is also good news for the household budget.
Repair Café, repaircafe.org/en