How is Italy doing in the huge circular economy challenge? The answer: not bad. This might come as a surpirse to some, but Italy is actually doing just fine. Better than many other EU countries. Perhaps, Italians are not as good as the Dutch at describing their efforts, or maybe the country simply doesn't flaunt the results they have achieved.
According to Eurostat, between 2000 and 2017, Italy took considerable steps towards an efficient use of resources, growing by about 90%, even though between 2014 and 2015 it experienced a downturn in excess of 10%. Compared to the five most developed European economies, Italy is the second best performer after Spain, which over the last few years has experienced staggering growth.
It should be borne in mind that, in Italy, such growth occurred without a coordinated framework of initiatives towards circularity, whereas Germany and the United Kingdom have adopted and implemented ad hoc initiatives for years. So, when Italy will also have such tools, considerable progress is to be expected and it may even take the lead.
Eurostat provides us with more good news: according to the latest survey (2014), Italy is ranked fourth in Europe with a 67% recycling rate compared to the amount of waste produced, immediately behind Belgium, Slovenia and the Netherlands and in any case first amongst the strongest economies (Germany, France, the United Kingdom and Spain).
However, there is room for improvement. Currently, a nationwide positioning document has been produced, and over the last few months there has been an ongoing consultation process on the document dedicated to indicators for the measurement of the circular economy.
The first document already points to a few directions that should be taken in a future strategy, for instance the opportunity to act with new tools in organic waste management, the need to promote a "National Environmental Education and Communication Plan" promoting new consumption models or a tax reform for higher productivity of resources. The second, instead, aims at singling out a shared model to monitor the progress of the circular economy in Italy.
In addition, over the next few months, the European Delegation Law will include a delegation to governments for the transposition of the directives on waste.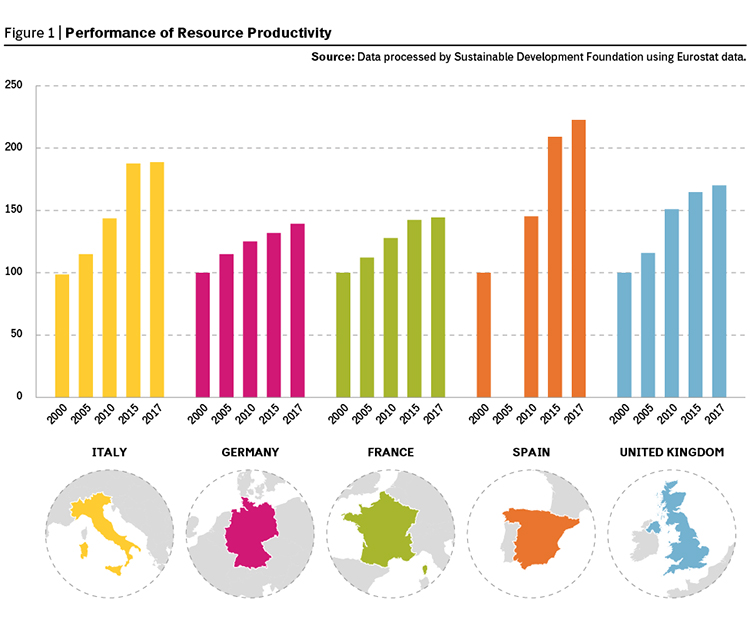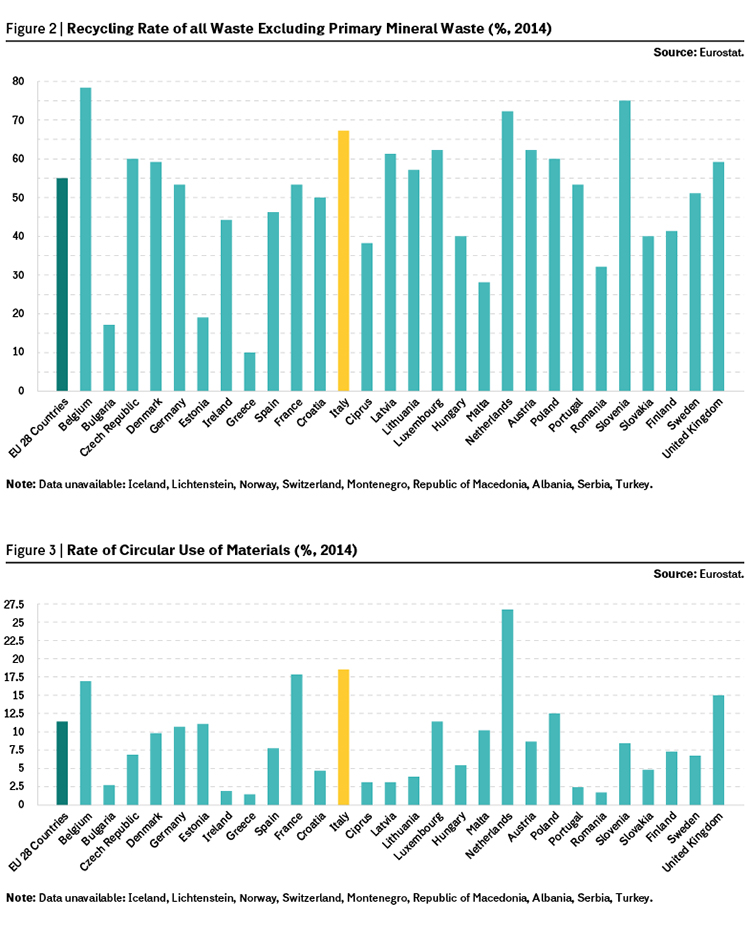 Regional administrations such as Emilia-Romagna, Campania, Marche, Friuli Venezia Giulia, Calabria and Apulia have been bustling for quite some time. Through laws, measures, creation of forums and project funding they have adopted policies aimed at circularity. So, it is quite safe to say that the development of the circular economy is a topic already being included in many Italian institutions' agendas and bound to become increasingly relevant.
Sadly, it is not all good news. Italy has not reached minimum targets for WEEE collection, as well as recovery and recycling of end-of-life vehicles; thereby opening the door for infringement procedures. Such failures are a sign that governance models of Extended Producer Responsibility (EPR) systems are not working. Also due to resistance by some industrial sectors.
The situation is particularly serious for end-of-life vehicles. Indeed, Italy has adopted a model whereby producers are not financially liable for either carrying out proper waste management or for failing to achieve targets. In other words, here we are faced with a system of "Extended Producer Irresponsibility."
Furthermore, there is a great deal of confusion around the subject of EPR – even from an ideological perspective – which could worsen the situation in view of the transposition of such directives. There is indeed the burden of an investigation being carried out by the Competition Authority invoking competition as one of EPR's founding principles. A conclusion that seems misleading since the main purpose of EPR policies – as the very European legislator claims – is to achieve environmental goals and not that of guaranteeing competition. In short, tools are mistaken for ends.
Measures that will guarantee economic resources in the transition towards the circular economy in Italy will be another hot issue. Such resources do exist, but access to them will not be easy, especially in the short term.
We are talking about a figure between €16 and €26 billion a year. Currently, according to the Ministry of the Environment, environmentally harmful subsidies total €16 billion euros, and environmentally neutral ones come in at around €9 billion. While subsidies classified as "environmentally friendly" amount to €15 billion. Therefore, although the resources exist, they are not available at the moment. It's just a matter of reallocating them.
To avoid social backlashes, a transparent and open debate should be initiated; leading to the sharing of a programme for their gradual reallocation. Just announcing such initiatives would be a formidable sign for investors and the financial world.
Even the less ambitious option on its own, namely introducing a ban on environmentally harmful subsides, would give a strong boost to those economic activities in line with sustainable development objectives. However, this would certainly not be comparable to the impetus generated by devoting such values to the circular economy.
Moreover, there are also other issues, particularly legislative ones, that could be overcome when transposing new directives. Amongst many, two are worth mentioning. The first concerns regulating acceptable waste recovery and recycling technologies, penalised by a framework that as a whole dates back over 20 years. In the meantime, new practices have emerged and new materials and products have been marketed that do not have useful legislative reference frameworks, putting authorisation authorities in an awkward situation and slowing down research and investments.
The second one is down to the lack of provisions promoting reuse: in some cases regulations are even dissuasive. Suffice to think that VAT applicable to the repair of an object is 22% whilst to manage it as waste is 10%. Less than half.
Despite this, the Italian production sector is sensitive to environmental issues. According to Accredia (The Italian Accreditation Body), in Italy there are about 180,000 environmental registrations, even if according to research carried out by Fondazione per lo Sviluppo Sostenibile (Foundation for Sustainable Development), Italian companies rank 41st worldwide for investments in the green economy (2016 data). This data is corroborated by another piece of research by the Foundation, according to which as much as 27.5% of Italian businesses are "Core Green," meaning they produce environmental items or specifically designed high performance environmental goods or services, whereas 14.5% is "Go Green," meaning they have adopted green management models. Amounting to a total of 42% of companies.
The business and research domains have also taken action. Ecodom has created an interactive web platform – The Italian Atlas of the Circular Economy – carrying out a census and illustrating the experiences of businesses and associations committed to applying the principles of the circular economy in Italy. ENEA (National Agency for New Technologies, Sustainable Energy and Development) has developed industrial symbiosis projects in Sicily. Novamont patented a biodegradable polymer some time ago. Fater built the first nappy-recycling plant in the world. Viscolube patented a high-efficiency technology for the regeneration of mineral oils. Castalia is carrying out, together with Fondazione Sviluppo Sostenibile, a project for capturing supernatant plastics (those carried by currents under the water surface) in the Po River.
Enel has started an action programme with a noticeable increase in electric vehicle charging points and a procurement protocol considering only suppliers able to carry out LCA (lifecycle assessment). Italy was also the first country to launch an international magazine on the circular economy, Renewable Matter, which has now been published for four years running.
Accredia, www.accredia.it/banche-dati
"Relazione sullo stato della green economy. L'Italia in Europa e nel mondo 2016" (Report on the state of the Green Economy. Italy in Europe and the world, 2016), tinyurl.com/y9zo4jfz
"Relazione sullo stato della green economy in Italia" (Report on the state of the green economy in Italy), tinyurl.com/y8bow42q
Cen, circulareconomynetwork.it
Foundation for Sustainable Development Activities
Founded in 2008 by Edo Ronchi, former Minister for the Environment in the Italian national government, and promoter of the first framework law on waste management, thew Foundation for Sustainable Development has been working on the issue of circularity by carrying out studies, research and analyses to investigate the Italian system, understand its weaknesses and strengths and come up with proposals. It has promoted meetings, debates and forums with the business world to raise awareness on circular economy topics and promote the exchange of good practices.
The Foundation has collaborated with the Ministry of the Environment to define the Italian position during negotiations on the circular economy at a European level and is collaborating with Regione Campania to define a region wide circular economy model.
This year, the Foundation created the Circular Economy Network (CEN) with the aim of:
promoting, collecting and disseminating studies, research and elaborations on the circular economy;
defining key indicators of circularity and analysing national performance;
recognising the main criticalities and barriers to be removed, indicating possible solutions;
developing strategies, policies and measures to submit to decision makers, promoting a positive dialogue between businesses and the institutions;
promoting and spreading good practices and best techniques.
Each year, the CEN will publish a report on the state of the circular economy in Italy, organise a convention for promoters and members and reward the best start-ups in the sector. The network intends to organise conventions, debates and seminars on the topic. There will be two events in November: the first during Ecomondo Fair in Rimini in collaboration with Consiglio Nazionale per la Green Economy (National Council for the Green Economy) and the second one in Rome, on the potential and obstacles of the circular economy in Italy. At the moment, the network is made up of 13 promoting companies, including Grt, Aitec, Burgo, Fater, Hera, Ecodom, Green Rail, Ecopneus, Conai, Montello, Novamont, Uliveto Rocchetta, Cobat, and over 100 adherents. The objective is to increase membership and become a point of reference for the promotion of the circular economy in Italy.
Fondazione per lo Sviluppo Sostenibile, www.fondazionesviluppo sostenibile.org
---
Italian Incubators
by Antonella Ilaria Totaro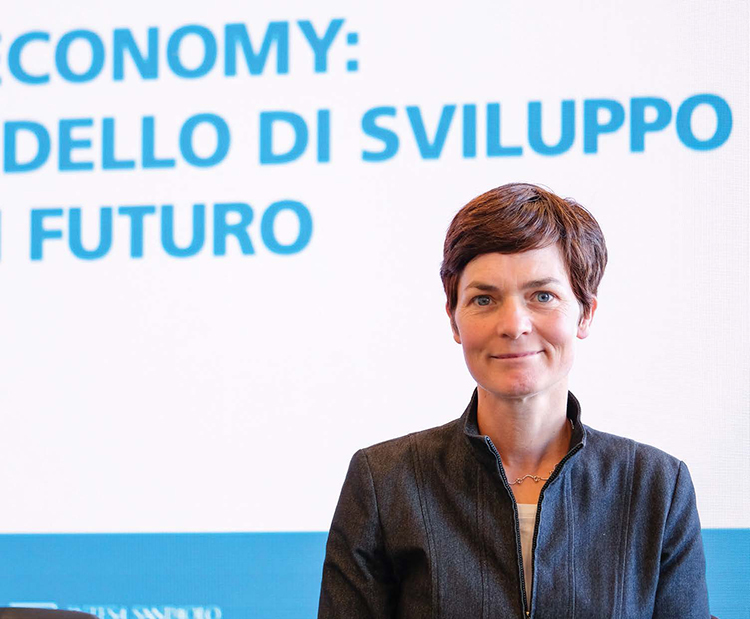 Ellen MacArthur
CE Lab
Inaugurated at the end of September 2018, the Circular Economy Lab was born from the collaboration between Gruppo Intesa Sanpaolo, financial partner of the Ellen MacArthur Foundation, and Fondazione Cariplo, a banking foundation devoted to promoting projects of social value. CE Lab's objective is to become a reference point for issues relating to the Italian circular economy in Milan.
This new laboratory is a space designed to foster the growth and development of start-ups and small, medium and large businesses, a fertile ground for the creation of projects and relationships that also involve larger companies, research centres, universities and other local groups. Aiming to promote circular businesses and develop an economy unencumbered by ties to the exploitation of natural resources, the Lab will focus its activities on open innovation, education and impact investing. The objective is to accelerate the growth of enterprises with high technological value, such as projects related to advanced robotics, bio-based materials, energy storage, genomics, virtual reality and manufacturing 4.0.
Trace x Novamont is one of the first open innovation initiatives to pass through CE Lab; it is a Call for Proposals that originates from a collaboration between the Turin based Intesa San Paolo and the Novara based Novamont. Research centres, start-ups and SMEs are encouraged to develop technologies and solutions related to industrial biochemistry, enhancement of lignocellulose biomasses, precision agriculture and enlargement of the bioplastics, bio-lubricants and biocosmetics sectors.
CE Lab operates from the redeveloped spaces in the ex-Ansaldo area, already home to Cariplo Factory, a hub dedicated to open innovation projects and the promotion of young talent. Opened just over two years ago, it aims to generate new employment opportunities in the digital sector.
Gruppo Intesa Sanpaolo also plans to create a €5 billion ceiling for the next four years, committing to push small, medium and large businesses towards more innovative and circular business models through better conditions for access to credit.
Circular Economy Lab, circulareconomylab.com
---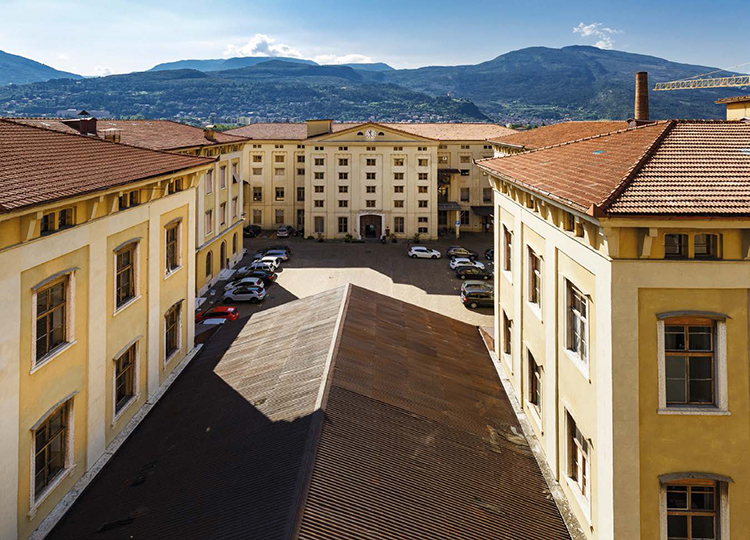 Progetto Manifattura
Progetto Manifattura, which has been operating since 2011 out of Rovereto, in Trentino Alto Adige, is one of the largest European incubators. Here green-economy start-ups work alongside older businesses, research and development centres, makerspaces and manufacturing laboratories.
Progetto Manifattura's four main areas of activity are: cleantech and renewable energies; circular economy; sustainable construction; and environmental services. In addition to these, the hub is increasingly welcoming new businesses involved in sustainable mobility, with a particular focus on the bike-economy, home automation and the sports industry.
The cluster is also home to Habitech, Italy's first Energy and Environment District, as well as the Italian Green Building Council and the bioinformatics research centre Microsoft-COSBI.
Progetto Manifattura today welcomes 48 businesses, with a total workforce of 205 people, that should grow to 250 by the end of 2018. The average age of the hub's entrepreneurs is 32, most of which are graduates, with the ratio of women to men being around 50%. The incubator's expansion has been constant: since its inception in 2011, the workforce has increased by an average of 50% a year, and the project's companies can boast a revenue of €300 million.
The hub's facilities are also expanding: new offices, occupying almost 26,000 square metres, are currently under construction and scheduled to be completed by January 2020. After this renovation, productive and office space will have doubled, allowing for the presence of 100 businesses and an estimated 1,200 employees.
The structure of the incubator is itself a case of urban regeneration. Progetto Manifattura is located on the site where Manifattura Tabacchi di Rovereto operated for 150 years. After its closure in 2008, the autonomous Province of Trento redeveloped the old tobacco works through its own agency for territorial development, Trentino Sviluppo SpA.
Progetto Manifattura, www.progettomanifattura.it