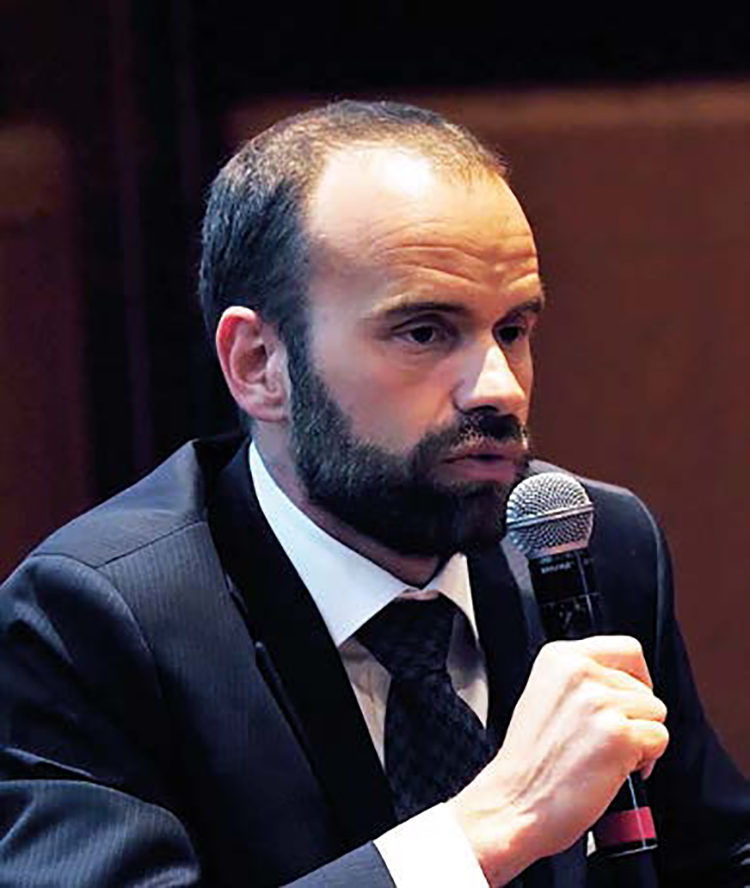 Producing renewable energy automatically allows a company to be considered as a circular enterprise. What happens, however, when a large holding company in the energy sector, which has decided not to build any more coal-fired power stations and go all-in with renewable energies, applying circularity to every aspect of its business model, from procurement to asset management, from services to business innovation? Well, one might joke that it has becomes a "squared" circular enterprise. In reality, though, Enel is taking this challenge extremely seriously and working with conviction towards applying circularity to its every component, business unit and countries where it operates. The hope is that these changes will not only revolutionise the functioning of the company, but also inspire the industrial world around it. To this end, in November 2017, Enel launched the Alliance for Circular Economy in collaboration with Intesa Sanpaolo. A Manifesto for CE was created, along with various promoters including Novamont, Costa Crociere, Gruppo Salvatore Ferragamo, Bulgari, Fater and Eataly. Today, Enel wants to become a circular role nmodel on a global scale. Renewable Matter spent some time talking to Luca Meini, Enel's Head of Circular Economy and Environmental Strategies, at the company's offices in Rome, with the aim to better understand the company's strategy for leaving the linear industrial model forever.
When was Enel's circular vision born?
"Six years ago, we ceased all investment in thermoelectric energy, concentrating our investments on renewable energies. Then, three years ago, in line with Enel Group's new and inclusive Open Power approach, we decided to pursue a circular economy strategy, applied not only to the production of energy but to every aspect of Enel's areas of interest. Here we set out the pillars of circularity, namely renewable inputs, life-extension, product-as-a-service, sharing and end-of-life (EOL) management. These were systematically applied both internally within our divisions, and also on the global strategy level. Today all the divisions have extremely relevant projects within this framework, all measured thanks to out Circul-Ability Model.
One of our flagship projects is Futur-e, an upcycling scheme involving 23 thermoelectric power stations across Italy. These plants have been decommissioned and we are currently working to apply an integrated platform through which they can be repurposed to function for something other than the production of energy. Each regenerated asset will become a new space dedicated to activities with a new economic and social purpose. One of our most advanced projects revolves around the former Enel gas-turbine power station in Fossoli, in the province of Modena, which opened in 1980 and closed in 2013. This plant, which has been completely dismantled, is set to become the Group's innovative logistical centre for northern Italy. Across the country, dozens of industrial sites have been abandoned and have gone unused for decades. Our company, however, immediately began to manage its former power stations with an aim to create value and generate thousands of jobs and opportunities.
A similarly important project centres around the measurement of the circularity metrics from our 8,000 suppliers at the global level: our team are developing ways to assess the circular performance of all our suppliers, to increase our understanding of their impact and help us find the best opportunities for intervention and improvement. The platform we are applying for our metrics is the Swedish-developed EPD – Environmental Product Declaration – which defines categories of products and applies a metric similar to the LCA (Life Cycle Assessment). This measurement is the basis which allows us to innovate with the seller and try new solutions to make the business more sustainable.
Additionally, a new division called Enel-X, was established last year by unifying all the business line without ties to commodities and distribution, like electric vehicles, demand-side-management and home automation. Its work now consists in applying the circular approach to all new projects, and finding new business models and services to increase circularity as much as possible."
How do you measure your circular performance more generally?
"On the Group level, we have developed a Key Performance Index (KPI) Circul-Ability Model that has even been utilised by the Italian government in its national strategy, and has been well-received internationally. This has been useful in giving us a more organic and complete framework of the overarching theme that encompasses all our initiatives, and gives us a better understanding as a holding company, of how successful each company's initiatives are."
Is end-of-life (EOL) an important theme for Enel?
"Absolutely. The EOL of solar panels and batteries (both for storage and electric cars) is a question that Enel is studying deeply. This theme has growing importance all over the world, for reasons of environmental sustainability and strategic security.
On the other hand, our distribution division is working on the replacement of 31 million smart-meters, which will be achieved with circularity in mind, by avoiding the waste of materials and components."
What method was used to transform a large company such as Enel into a circular business?
"We didn't adopt a strategy that was created externally and then imposed from above. Our circular 'vision' was born from a series of different ideas, with the coordination and support of Innovation and Sustainability on the Holding level. As the theme progressively developed, the organisational aspect grew stronger with it. Business opportunities were identified that would be to the genuine interest of each division, and thus an internal strategy was created, taking advantage of the company's know-how on the competencies for specific projects, finding new opportunities that emerged from the analysis of products and processes, and collaborating with all our external counterparts, from peers and institutions to research centres and associations. This all leads to the fluid and collaborative community that exists today, which involves each Business Unit and Country, with coordination from the Holding level."
What role can institutions have on the circular economy theme?
"Undoubtedly, institutions play a fundamental role, because there are multiple legislative norms that are still tied quite strongly to a vision of linear economy. Specifically, there remains a separation between sectors which effectively impedes the development of circular solutions where the waste from one sector becomes the input for another sector, while circular economy presupposes this kind of continuous osmosis. Legislation also has an important part to play in supporting new technological solutions which could be enormously beneficial in terms of competitiveness and environmental impact, like electric vehicles and urban integration with renewable energies."
Futur-e, corporate.enel.it/it/futur-e