Music is born out of silence. And silence can stem from a discarded tyre, after years spent squealing on tarmac. The project for the acoustic improvement of Parma's Toscanini Auditorium, carried out thanks to Ecopneus, Italy's non-profit company for the management of end-of-life tyres (ELTs), almost seems like a Zen parable on the cycle (and recycle) of life.
Inaugurated in summer 2018, and designed by Studio A+C Archiettura e Città with acoustic consulting by Genesis, the project mainly involved Sala Gavazzeni, the largest practice room of the "Arturo Toscanini" Centre of Music Production. This venue – a 400 m2 and 5-metre-high area – was soundproofed by adding 960 m2 of sound-absorbing panels containing over 3,300 kg of ELT-recycled rubber.
"Music – explains Maestro Luigi Ferrari, the curator of Fondazione Toscanini – converses and blends in with the environment where it is produced. However, it does not tolerate interference. From an acoustic point of view, every room must be an isolated and closed system. If this is true of an auditorium, it is even more so when it comes to a practice room and all the more fitting when this is, if necessary, used as a recording studio." Like a clockmaker, listening carefully to the slightest variation in clock ticking, "a conductor must pick up on the smallest detail of every single instrument during the execution."
So, clearly, soundproofing a venue devoted to music in one of its highest manifestations is the most challenging objective for anyone wishing to promote new materials and solutions for acoustic insulation with recycled rubber.
"In the past, we have already obtained evidence of the excellent acoustic performance of such materials and we are honoured that a prestigious institution such as Fondazione Toscanini chose recycled rubber materials," highlights Giovanni Corbetta, Ecopneus' Managing Director. "Dealing with such a project in one of Italy's iconic venues of symphonic music is further evidence of the soundness of such technology. If even a prestigious institution such as Fondazione Toscanini was satisfied with the result of the intervention, then this solution can be adopted for the overwhelming majority of situations where venues require acoustic improvement."
Maestro Ferrari also states that: "From the experience that I have accumulated over the past months of running a practice room, we can say that recycled-rubber panels perfectly fulfilled our needs. We showed that in Italy it is possible to build fine, useful and sustainable structures both from environmental and economic viewpoints."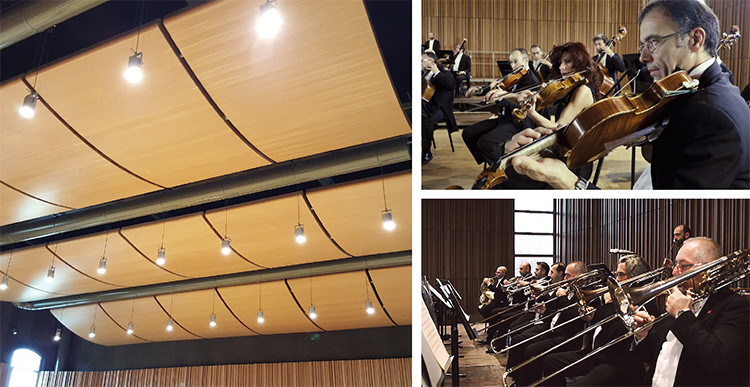 Acoustic Vocation
After all, Toscanini Auditorium is not the first important example of ELTs musical vocation. As early as 2015, in partnership with Legambiente, Ecopneus supported the acoustic improvement of former Enaoli's Church in Rispescia, near Grosseto. Often used for conferences, concerts and theatre performances, the church experienced excessive sound reverberation issues: in practice, voices and music got lost in the environment and what the audience heard was a series of confused noises. Therefore, Vie en.ro.se engineering studio designed an improvement intervention to create a versatile as well as acoustically-pleasant environment, using only natural, recycled or recyclable materials: plants, wood, polyester from PET-bottles and above all ELT-recycled rubber, mixed into sound-absorbing panels.
Thanks to its intrinsic properties such as porosity and density, recycled rubber is an excellent material for noise and vibration reduction in buildings. Compared to other organic materials used for the same purpose (cork, for instance) it has the advantage of being virtually imperishable. Indeed, ELT-derived rubber has a delayed bacterial development, it can withstand thermal shocks, humidity and moulds and it is not affected by sunlight and chemicals. Basically, over time, it preserves all its properties: a precious characteristic within the construction sector, where durability is one of the first factors in the choice of building materials.
Rubber powder and granules from ELT shredding can become a source of secondary raw material that can be used in the construction sector, and combined with polyurethanes or other thermoplastic compounds, it can be turned into a series of high-performance soundproofing materials. Not only noise-absorbing panels for public buildings or concert halls but also, and above all, "day-to-day" solutions, ideal for civil building and the industrial sector. For instance, quietboard for flooring, or filler for walls, as well as anti-vibration mounts for noisy industrial machinery or for equipment such as lifts, boilers and thermal power stations.
ELT rubber's exceptional soundproofing characteristics are also a possible solution, albeit partial, to road traffic noise pollution; responsible, according to the European Environment Agency's data, for over 10,000 premature deaths per year in Europe alone. Added to asphalt bitumen, ELT powder helps halve the noise produced by vehicles, whilst also guaranteeing increased compactness and longer life to the road surface with optimal grip, thus benefitting road safety.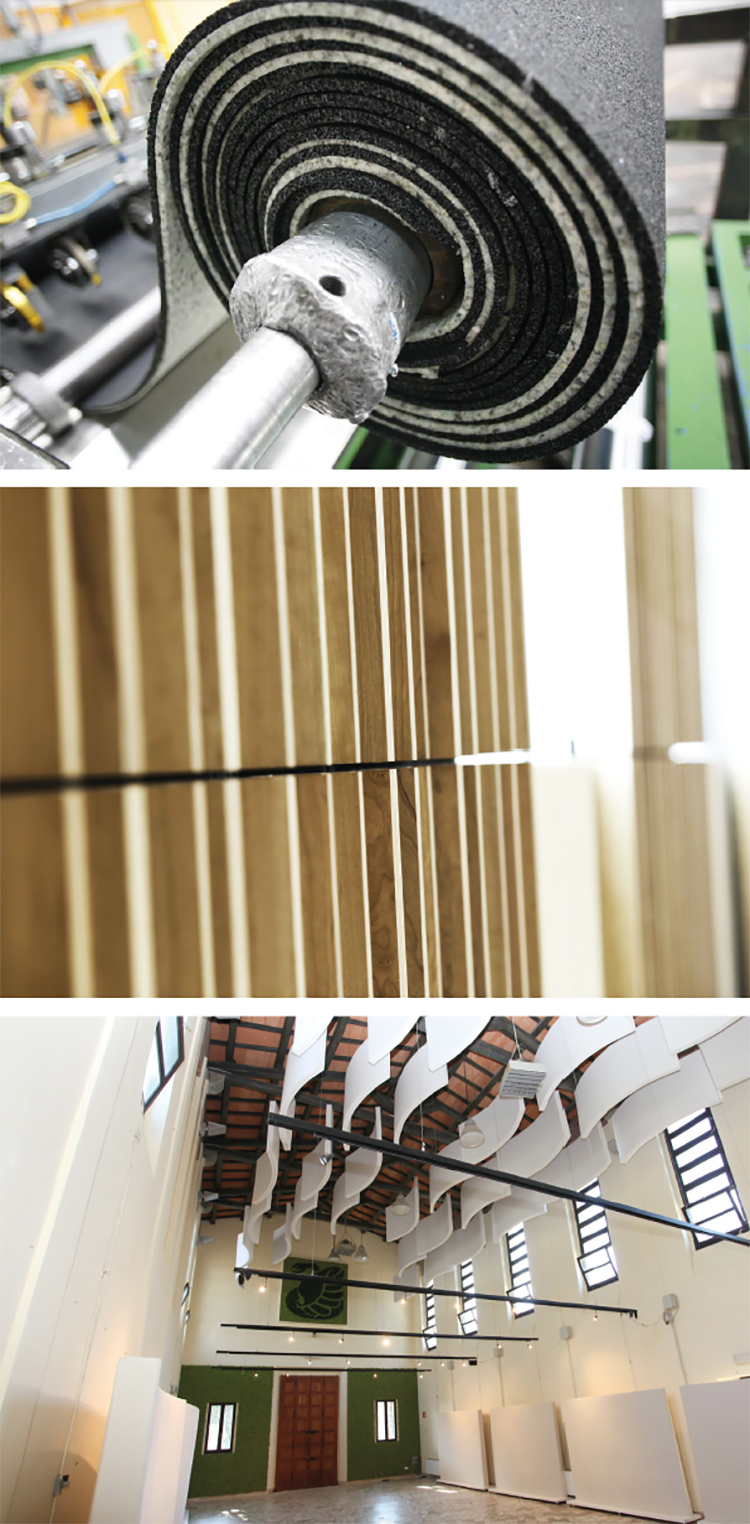 A Further Push from Public Administrations
A line of tyres twice the circumference of Earth is the quantity of ELTs Ecopneus has collected and recycled in just 7 years of activity. This is an impressive picture, but, on second thought, absolutely consistent with the size of the Italian automotive sector. This means 35 million tyres that every year reach their end of life, amounting to 350,000 tonnes of ELTs available to recycling companies. Of which, in 2017, Ecopneus alone processed over 241,000 tonnes.
For the use of recycled rubber in new production cycles, the company focuses mainly on three sectors: sports and outdoor (football pitches, multiuse areas for basketball and volleyball, gyms and flooring for riding centres), tarmac and road infrastructure and obviously the construction sector, and especially on soundproofing.
The public building sector could now offer a decisive push towards an increase in use of ELT rubber. Issued about a year ago, the latest Ministerial Decree on tenders for public building includes recycled rubber obtained from ELTs among the materials that can be used to meet minimum environmental criteria (CAMs).
"The decree," explains Daniele Fornai, Ecopneus Innovation Manager, "provides that if the planning of a new public building, or the refurbishing or regeneration of a public building, entails the use of heat and sound insulation materials containing rubber, at least 60% of this must come from recycling." "The introduction, also thanks to our constant commitment at ministerial working groups," continues Fornai, "addresses the needs of the market and the national ambitions of achieving recycling objectives by 2020. Thus green public procurement can become a central tool to stimulate, through the leverage on public demand, supply and use of high value environmental products."
At this point, the biggest criticality could derive from the public administration's lack of an adequate number of technical specialists that are able to evaluate the quality of products offered by those taking part in green procurement and, above all, to measure the positive acoustic effect obtained following the works carried out. "Even the lack of monitoring on the actual application of CAMs," they add at Ecopneus, "penalises the efficiency of this tool." The main problem in this case is the lack of standardisation of control systems. "For this very reason," concludes Fornai, "Ecopneus has started a national monitoring plan on the application of CAMs in over 100 municipalities carried out by Punto 3 srl in collaboration with Associazione Comuni Virtuosi (Association of Virtuous Municipalities)." Another circular action adopted by Ecopneus, which thrives on virtuous and quality driven choices.
Auditorium Toscanini di Parma, www.paganinicongressi.it
Ecopneus, www.ecopneus.it